DCOVA Cafe @Logan Heritage Building Penang
BY CK Lam
DCOVA Cafe on Bishop Street in George Town Penang caters to a diverse downtown clientele of corporate types and town visitors. The cafe housed in the Logan Heritage Building takes over the space that was once Lighthouse Cafe. The all day dining cafe welcomes visitors with its food, cakes, tea and a vast selection of coffee.
We started exploring the several varieties of hot coffee drinks made using throwback coffee beans from Papa Pahleta. The throwback is a composition of Brazil Cerrado, Sumatra Ratawali Valley and Tobing Estate. I enjoyed the espresso solo, which gave satisfying flavors of dark chocolate.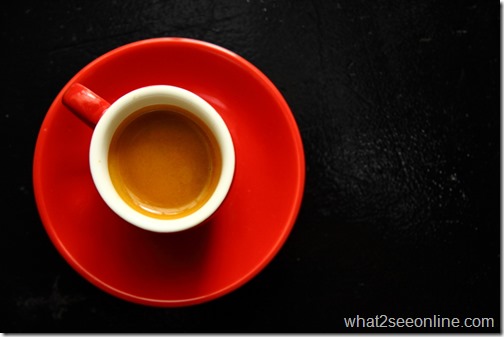 For those who prefer their coffee with milk, go for DCOVA's renowned Aussie Strong Latte. Available also in cold, this creamy rich concoction of espresso with milk is by far one of the popular choices.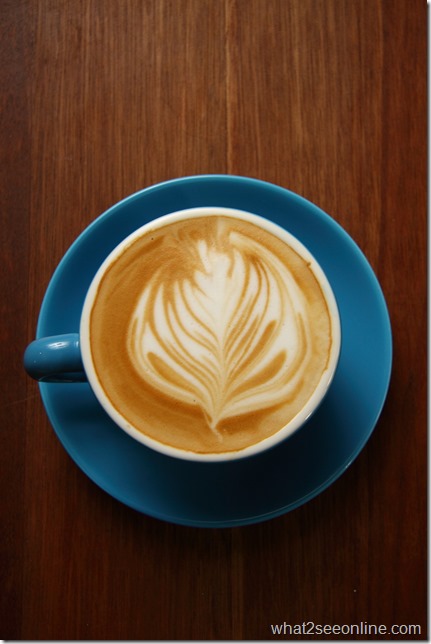 Preparation process of grinding, distributing and tamping
The menu features healthy bites of salads to sandwiches, baked rice and a variety of pastas.
The Teriyaki Chicken Salad came with chunks of chicken glazed with teriyaki sauce served on a bed of fresh mixed greens, halved cherry tomatoes and carrot. Light and yet fulfilling, the salad was served with Japanese goma sauce and generous toppings of chopped walnuts and sesame seeds.
Teriyaki chicken salad RM17.90
Priced at RM18.90, the Classic  BLT has strips of bacon, lettuce, tomatoes and onions nestled within the nicely toasted English muffins. Do try this sandwich served with a side salad tossed with balsamic vinegar.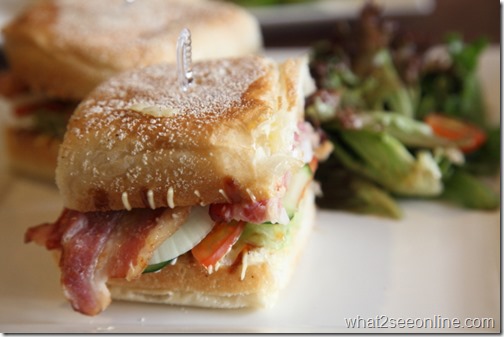 Classic BLT RM18.90
Pasta-lovers will be spoilt with the many choices. One of DCOVA's favorite pasta is the Carbonara Dcova, made with back bacon, cheese and delicately balanced with a raw egg yolk.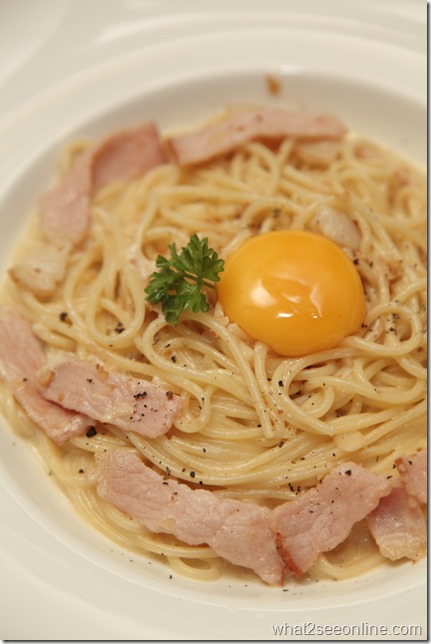 Carbonara Dcova RM16.90
The Spicy Prawn Aglio Olio also has a popular following. The pasta cooked nicely with garlic, mizuna, olive oil, deveined prawns and cuttlefish had a good kick of spiciness. This is one of the spaghetti dishes I will return for.
Spicy prawn aglio olio RM18.90
We also tucked in to the newly introduced Cheesy Baked Rice and the Chicken rice ala Dcova. Among the two rice dishes, we enjoyed the latter. Consider as Dcova rendition of Asia's Hainanese chicken rice, the dish came with seared chicken thigh along with fragrant chicken rice and a sunny side up. The chicken marinated with herbs and garlic was juicy when we cut into it.  A side portion of salad round up the flavors.
The Cheesy Baked Rice may not be for me, but for baked rice lovers, do give it a try. You might be pleasantly surprised with the dish made with Mozzarella and cheddar cheese. It comes with three topping choices: tuna, prawn and sausage. The Cheesy Tuna Baked Rice that we had was priced at RM18.90.
   Chicken rice ala Dcova RM18.90
After the meal we had some DCOVA signatures – Summer Strawberry and Affogato. Both were delightful not only on appearance but also on taste.
The affogato came with a mix of espresso with vanilla ice cream. The refreshing ice cream provided contrasts and delights to the strong espresso. Great value for the affogato, priced at only RM8.50.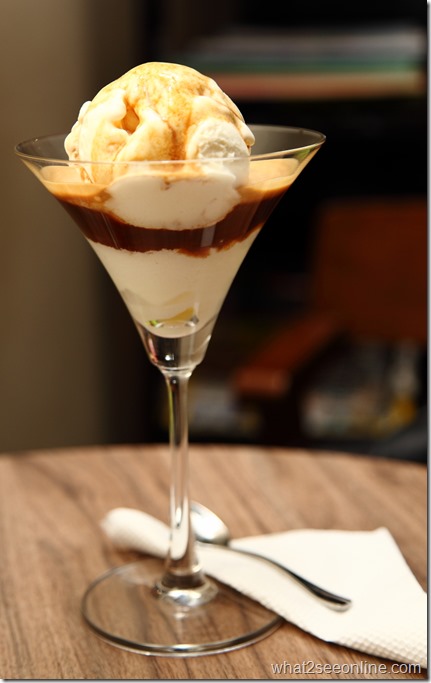 Affogato RM8.50
Get fresh with the Summer Strawberry, a healthy serving of fruit smoothie. Made with fresh strawberries blended with just milk and ice, the smoothie was delicious. Do try your luck as it is only on the menu when fresh strawberries are readily available.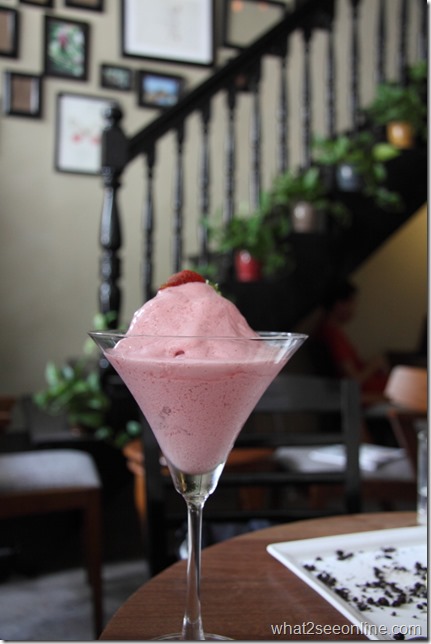 Summer Strawberry RM12.50
We had some coffee and tea with several desserts which included the homemade Lemon Cheesecake, Salted Caramel Walnut Tart, Creme Brulee and Y&G.
The Y&G with yoghurt and granola is great as a dessert besides being merely just a "healthy start". Served with kiwi, it easily please just about anyone with its creamy flavors.
Y&G RM8.90
For the homemade Lemon Cheesecake with oreo crumble, the creaminess was nicely done but the taste could be brighten up with depth of refreshing lemon.
The Salted Caramel Walnut Tart (RM13.90) was served with a scoop of vanilla ice cream. It has a hard textured crust but the taste of the filling has right touches of saltiness and sweetness.
The Creme Brulee (RM13.90) has the edge over the other two desserts with nicely torched up caramelized topping and rich in flavor.
Homemade lemon cheese cake & salted caramel walnut tart
The cafe also serves non caffeinated drinks (chocolate), tea and variety of chiling thirst quencher: San Pellegrino and Acqua Panna.
While all the six types of tea looked inviting, we had our mind on the Shanghai Rose Tea. The tea with pleasant floral rose is a blend of Ceylon black tealeaves, infused with sweet sultry flavors of lychees. The tea set came nicely presented in glassware with condiments of honey and slices of lemon.
Shanghai Rose Tea RM15.90
It is definitely worth checking out Dcova. With its all day dining, the cafe will be a contender for the many surrounding cafe business.
The interior of the shop is a mix of warm hues of black, brown and white and with the intact old charming staircase, the cafe radiates history and identity of the Logan Heritage Building.
Currently the cafe is open daily.
Dcova Cafe
No.4 Lebuh Bishop
Logan Heritage Building
Georgetown
10200 Penang
Tel: 04- 261 3121
Business Hour:
10am until 10.30pm (Monday – Thursday)
10am until 12midnight (Friday and Saturday)
8.30am until 9pm (Sunday)
* Many thanks to DCOVA  Cafe for extending this invitation.