Monkey Cup Cafe on Chow Thye Road Penang
*This cafe has since closed down

Cafes grew rapidly in Penang for the past few years and are still growing. The latest on Chow Thye Road is Monkey Cup Cafe. Having opened over a few months, the corner unit cafe with its walls painted in grey got its name from the tropical pitcher plant – monkey cup.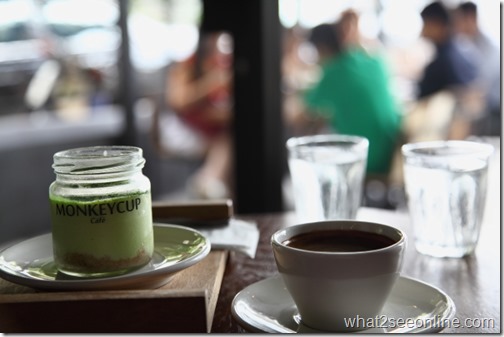 There is something special about Monkey Cup Cafe. The cafe serves coffees using peaberry coffee beans imported from Thailand besides tea, desserts and simple dishes that Thai cuisine is renowned for.
The peaberry coffee gives a cup of robust strong flavored coffee yet without the bitter nor acidic aftertaste. So far, the cafe has been receiving positive response from visiting coffee enthusiasts.
A peaberry coffee bean results from a coffee cherry (fruit) producing just one relatively round (football-shaped) seed (bean) as opposed to the usual two half-beans which are roundish on one side and flat on the other side.

Peaberry coffee beans are considered the "champagne of coffee beans due to its higher density and more concentrated, robust flavor, rich aroma and with a distinct acidity. The distinct qualities of peaberry coffee beans may be due to the beans getting more nutrients from the coffee tree while developing within the coffee cherry (fruit).
… info from Espresso & Coffee Guide
Ordering and payment is made at the counter. From the chalkboard menu, customers can select the beverages and food.
Try coffee creations like the macchiato, piccolo latte, mocha, cappuccino, ristretto or go for the many hot teas.
The cafe introduces ice doicetto, iced black latte, ice cocoa besides the ice green latte, a familiar cool drink but with yet a different taste. On the non-caffeine side, there are fresh juices including apple, carrot and orange.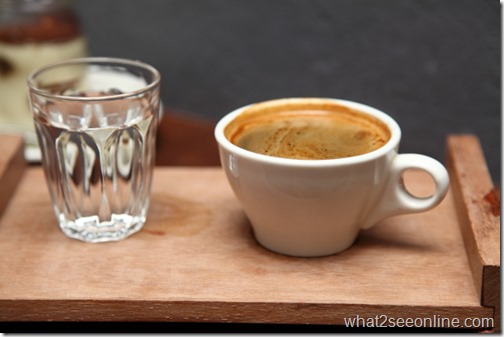 Americano
  Caffe Latte
If you are looking for something sweet, there is a range of interesting desserts, including non-bake matcha cheesecake, strawberry cheesecake, blueberry cheesecake, oreo cheesecake, mousse, creme brulee, croissants and muffins. Especially popular is the chocolata.
The chocolata is an indulgent dessert and each bite delights with deep notes of premium Belgian chocolate. It is recommended pairing it with a cup of Americano.
Chocolata
Tiramisu peaberry
Monkey Cup also serves up savory Thai specialties plus some other dishes. For those who prefer a light and appetizing starter, the Som Tum is the dish to start.
The famed Thai papaya salad brings out the best of Thai flavours, tastes and textures.  Made with orange, green apple, long beans, chili, carrot, baby tomatoes, garlic, shredded green papaya, roasted peanuts and dried prawns, the salad is refreshing tossed in a sweet, tangy and spicy dressing.
If you prefer a mild version, just let them know and they will adjust it for you.
Som Tum RM10.80

The cafe boasts another Thai staple – Phat Thai made with homemade recipe, using tofu, chili, crushed peanuts, cucumber, bean sprouts and lime juice.
The plate of Thai style stir fry rice noodle excite the palate with sourish and spicy heat and it leaves me wishing for a bigger portion.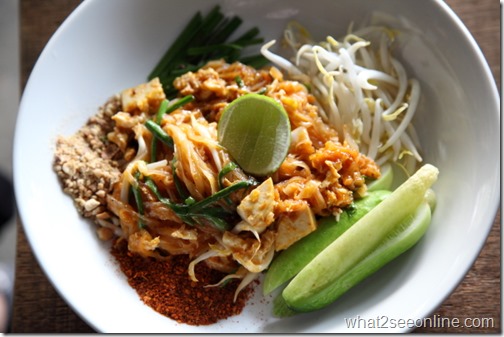 Phat Thai RM10.80

If you are not craving for Thai dishes, you can opt for the BBQ Chicken Burger, Teriyaki Chicken Burger, Salmonie or the Angelababie.
The latter has al dente thin angel hair prepared with chicken ham and mushrooms. The sauce is flavorful but rather creamy.
Monkey Cup Cafe draws the nearby working crowd with its daily opening hours from 9am till 12:00 midnight. Its casual outdoor patio is a relaxing spot, especially during the night.
Pots of monkey cup decorate the entrance of the cafe
Monkey Cup Cafe
36C Jalan Chow Thye
10050 Georgetown
Penang.
Tel: 012-209 5536