Tom Yam Noodles at Jalan Raja Uda, Butterworth Penang 光华小学旁边
BY CK Lam
Jalan Raja Uda in Butterworth, Seberang Jaya is overloaded with many hawker food stalls and some has since become beloved local dining spots. One such spot is the tom yam noodle stall located in a shoplot beside the SRJK (C) Kwong Wah Primary School. Due to not having a signboard, most customers brand it as the Kwong Wah Tom Yam for its near distance to the Chinese school.
Here, you will find warm comfort noodles cooked in clear soup besides the renowned tom yam soup.
Customers get to choose from an abundant of add-on ingredients, such as the fish balls, meat balls, ham, prawns, fried fish meat, crab meat sticks, sausages, fried beancurd sheet, minced meat, bacon, ham and squid.
For mushroom, there are choices of Chinese black mushroom or the abalone mushroom. And of course, many can't miss out adding an egg too. There are many types of noodles – namely the instant noodle, thick noodles, vermicelli and rice.
Prices varies depending on the chosen ingredients.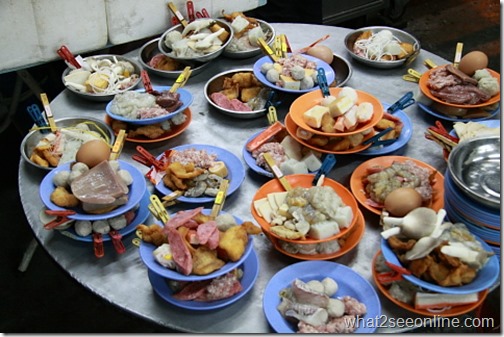 The owner get the orders right using pegs
We had the tom yam beehoon which comes with minced meat, pieces of deep-fried fish and garnished with plenty of mint leaves. The broth is appetizing with delicate balance between light spicy and sour flavors.
For the clear broth, we chose to have it with vermicelli, minced meat, deep-fried fish and heh-ko bak (mantis shrimp). The ingredients bring out seafood sweetness and meaty flavors. Garnished with plenty of chives and fried garlic, the bowl of vermicelli is enjoyable with the ingredients dipped in soy sauce with freshly cut chili padi.
Although the clear broth is flavorful, it is less popular compared to the tom yam version.
The location of the shop is easy to find, as it is just nearby the school. Click here for the Map Location. Plastic tables and chairs are set on the five foot way and the roadside in front of the shop.
Waiting time can be a bit long.
Raja Uda Tom Yam Noodles
7121G Jalan Raja Uda
12300 Butterworth
Pulau Pinang
Tel: 012-5742696
Business Hour : 6.30pm – 2am
Closed on Tuesday