Educated Sips with Wine Daddy at Vistana Hotel Penang
BY CK Lam
The Wine Daddy's 'wine journey' of discovering wines took place recently in Vistana Hotel Penang. I was invited to join in the session, comprising 45 minutes of theory, followed by two hours of tutored tasting.
Hosted by Prakash Ragavan, the 'Wine Daddy', the event offers a lot to know about wines. The wine enthusiast with a diploma in wine shared his knowledge and guided everyone through the assortment Old World and New World wines.
It begin with the NV Renaixenca Cava Brut, a sparkling wine from Spain and on to the whites – Los Cardos Sauvignon Blanc 2013 from Argentina and Heroes Sauvignon Blanc 2012 from Chile.
The Los Cardos Sauvignon Blanc 2013 from Argentina was less favorable initially, with many perceiving that the wine smells a bit like like "cat pee" (yes, this is an acceptable description of the pungent aroma sometimes thrown out by a Sauvignon Blanc). However, with a little air, the wine started showing ripe fruit notes and floral hint. An example of wine evolution in the glass.
One can easily fall in love with the Heroes Sauvignon Blanc 2012 from Chile. It became a favorite for some with crisp and refreshing texture, and fruity flavor.
The reds were next on the table and what caught my attention was the Porcupine Ridge Cabernet Sauvignon 2012. The label on the wine bottle had a cute porcupine with sharp spikes. This red with 14 per cent alcohol by volume, possessed firm tannins.
The second red was the Gran Hacienda Cabernet Sauvignon 2012 from Chile. With ruby red hue, it was pleasantly nice on the nose.
The next two reds were the Porcupine Ridge Syrah 2012 from South Africa and the Mcpherson Shiraz 2013 from Australia.
A dessert wine rounded off the list nicely. The Brown Brother Orange Muscat & Flora 2012 from Australia revealed a nice balanced flavour with no cloying sweetness. Prakash recommends the wine be served very chilled.
The wine tasting experience also offers information on grape varieties, reading wine labels, information on cork vs screwcap and hands-on-demo on the correct way to open still and sparkling wine.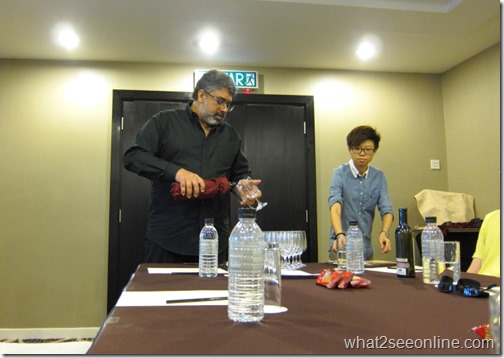 It was a fun afternoon with everyone gaining more understanding of wines from Prakash .
Wine Daddy is planning many more wine journeys and wine labels to appreciate in the future. For more information, do visit their website and facebook page.
Wine appreciation with Selina

Wine Daddy Sdn Bhd
7 Jalan Setiakasih 7
Damansara Heights
50490 Kuala Lumpur
Tel: 012 2 199 122