Lecker Ecke German Cuisine on Burma Road Penang
The outlet has since closed down
Penang is home to a few German restaurants, including the hardly touristy Lecker Ecke. Located on Burma Road, the quaint restaurant welcomes diners with simple and pleasant decor.
The restaurant's wall is dominated by a chalkboard with daily specials. Owner cum chef Nicholas Cheng mentioned that he is sticking closely to the recipes used during his culinary career in Hamburg, Germany.  While pork and beef are the standard meaty selections, the menu also features poultry and seafood.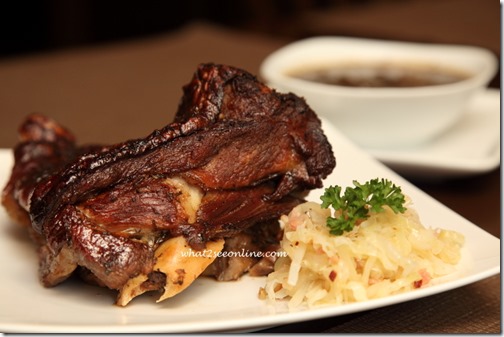 Crispy pork knuckle, bratwurst and schnitzel are some of the dishes served up during our visit.
For beverages there are the fresh banana with fruity flavors such as apple, mixed berries or pomegranate. We had the fresh banana with pomegranate, a refreshing drink flavored and tinged red with pomegranate.
Also available is the Weissen beers and custom-made Alsterwasser, a light beer priced at RM11.90 for a 300ml glass.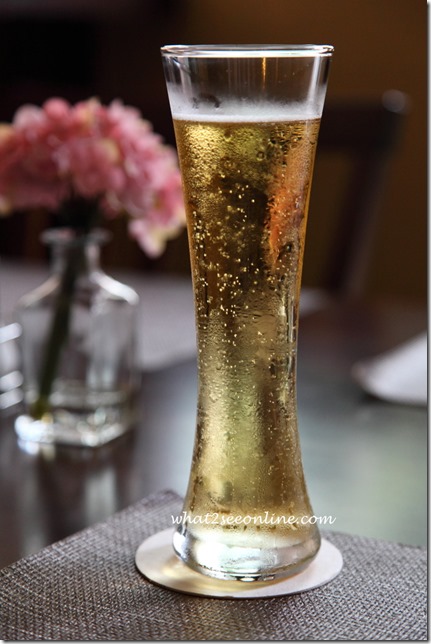 Alsterwasser
  Fresh Banana with Pomegranate RM7.90
Our meal started off with the Linsen Soup, brimming with bacon, sausages, potatoes, carrot and three types of beans. Adding some vinegar highlights this filling, comfort bean based soup.
The signature Pork Knuckle is a hit among diners. Its version prepared with nice flavor combination was served with sauerkraut and gravy. The white sauerkraut had extra depth of flavor with added bacon bits while the gravy made with onions and green apples had a lovely distinctive apple taste.
We had the  pork knuckle with crisped skin and juicy meat texture paired with the cool beer, Alsterwasser.
Booking a day in advance is recommended, with half and whole portion at RM70 and RM130 respectively.
Pork Knuckle – half portion RM70
Rindererouladen (beef rolls) is one of many dishes that is synonymous with German cuisine. Cooked in a gravy with meat sweetness, red wine and vinegar, the large beef rolls wrapped in thinly sliced topside came stuffed with pounded meat, onions, gherkins and bacon.
We tucked into the beef rolls and the accompanying well-cooked pasta and salad. I enjoyed the pounded meat with slight sourness of gherkins and hint of bacon saltiness. The topside which bound the ingredients together however was a bit dry. I chewed it while savoring its taste.
It would be nicer if there was crusty bread to sop up the gravy.
Rindererouladen RM25.90
Do not miss the Lammgulasch (lamb). The lamb which has a strong flavor of its own was slow cooked with herbs and spices, onions, carrot and paprika. The flavours were full and well balanced, and it leaves us wanting more. It was served with salad and steamed potatoes.
Lammgulasch RM 26.90
The next dish was the Schnitzel Mit Bratkartoffel (pork). Priced at RM22.90, it has a huge thin piece of pounded pork cutlet coated with a light crust of breadcrumbs. It was served alongside a salad and roast potatoes with bacon bits and onions.
A squeeze of lemon juice and a dash of mustard with sharp flavor lend a different flavor to the pork.
Schnitzel Mit Bratkartoffel RM22.90
Dining at Lecke Ecke is not complete without trying the sausages. The Bratwurst Servierplatte (Sausage Platter) has two homemade sausages, one served on sauerkraut and another smothered in curry sauce.
The pork sausages were flavored with spices and herbs. The accompanying salad and creamy potatoes lightened by sourish gherkins provided even more delightful eating.
The platter is good for sharing and to nibble over drinks.
Bratwurst Servierplatte RM31.90
For lunch, the place offers a three-course set lunch. At an affordable price of RM16+, the set includes salad, main and iced peach tea. The three options of mains include Klien Bailcher Mit Salzkartofeln (pork), Huhnerfrikasse Mit Reis (chicken) and Spaghetti Nit Champignon Sahne.
The Klien Bailcher Mit Salzkartofeln piqued our interest with homemade meatballs dressed in  cream sauce made with mustard, tomatoes, parsley and herbs. The meatballs made a complete meal with steam potatoes.
Lecker Ecke also carries a selection of red and white wines. With Nicholas busy cooking up delicious fare in the kitchen, members of the family help out in running the restaurant.
Owner cum chef Nicholas Cheng
Our first visit was indeed pleasurable. We are already planning our return to celebrate our friend's birthday.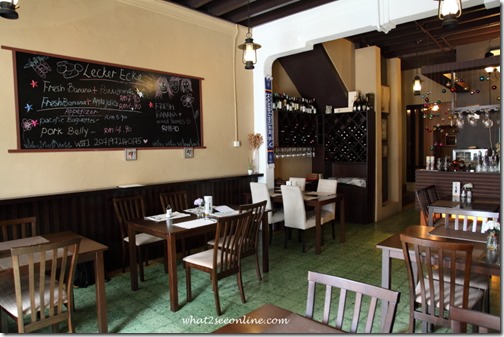 Lecker Ecke German Cuisine Restaurant
233-C Jalan Burmah
10050 Penang
Tel : 04-2265372
Business Hour: 12pm – 3pm &  6pm – 11pm
Closed on Tuesday