Moody Cow Cafe in Transfer Road Penang
BY CK Lam
If you are looking for new cafes to spice up your coffee break, you can do just that by visiting Moody Cow Cafe (MCC). Located along Transfer Road in George Town Penang, this cafe boasts big taste in cheesecakes.
Opened in November last year, the cafe set out in red and green offers a warm interior.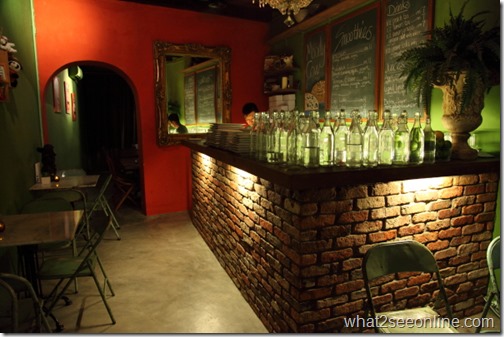 Besides the ground floor seating area, the small cafe also made use of its first floor, furnishing the area with plenty more seats.
With a background in interior designing, baker Sunny Chang is truly passionate about baking. He delve himself with ideas, and make the cheesecakes with one-of-a-kind creations/flavors.
Tempting varieties include rainbow drops, mango kisses, coffee nutty, cheezy jack, super peanut butter, oreo oreo, banana heaven, moody blue, expresso, drunken black widow and summer fruity. The serving size is big enough for sharing.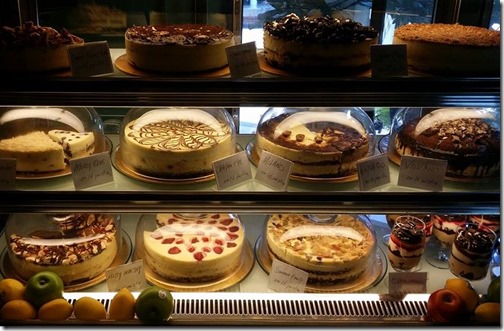 More MOOdelious cakes – via MCC facebook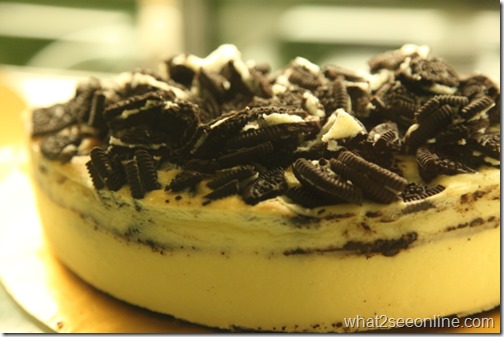 To complement the recent mid-autumn festival, Sunny uses salted eggs to give the cheesecake a new dimension. Varieties of cakes for this special festival include Beijing moon, D'Moon, Hot Summer Moon and Full Moon. These cakes are appreciated by the customers and are now served on certain days of the week.
The Full Moon cheesecake prepared with two layers of chocolate cake, sweet salty flavors and many salted egg yolks is a bit heavy for me.
My favourite, though, is the cheezy jack, which is a marriage of the local chempedak fruit and cheese. This Moody Cow Cafe favorite is a creamy treat, with well-rounded balance of sweetness and bold flavor from the many pieces of chempedak.
Cheesy Jack (chempedak cheese cake) priced at RM16 per slice

Equally tempting option is the sinfully rich peanut butter cheesecake. With smooth texture and wonderful blend of peanut butter against the chopped nut toppings, it had me wanting more.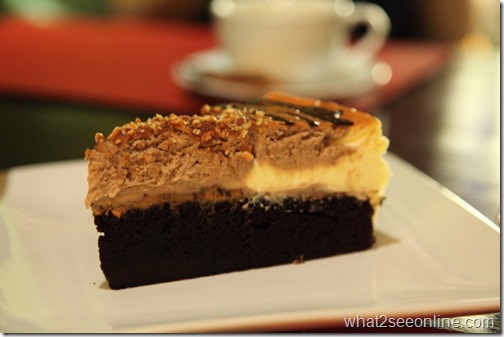 Peanut butter cheesecake at RM16 per slice

Apart from cakes, Moody Cow Cafe also serves a food menu of pastas. Choices include mussels and seafood spaghetti and black pepper beef spaghetti, a beefy dish with strong hint of black pepper.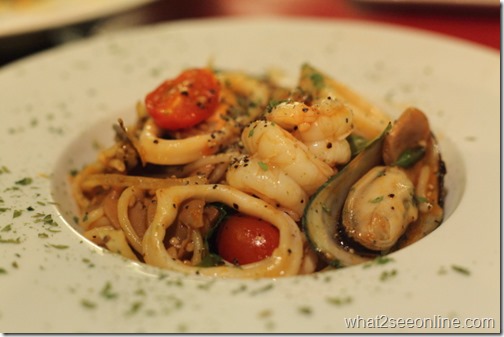 Mussels and seafood spaghetti RM24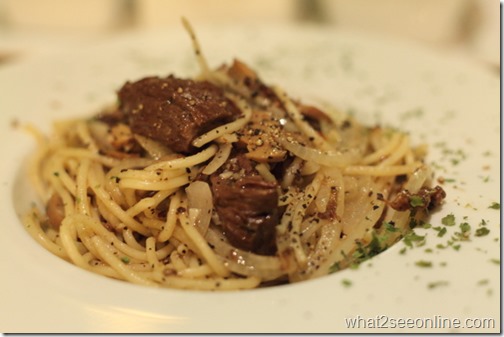 Black pepper beef spaghetti RM22
Moody Cow Cafe Penang is attracting the dessert crowd with its daily opening hours from 2pm till 12 midnight. For beverages, the cafe serves a range of juices and smoothies, which are great alternative from the handful coffee choices made without using a coffee machine.
Moody Cow Cafe Penang
170 Transfer Road
10050 George Town
Penang
Tel: 016-410 1995
Business Hours: 2pm to 12am (Daily)