Flavour Guide on Penang Hawker Food: Penang Hokkien Mee
BY CK Lam
Penang is a hawker paradise with a huge variety of interesting street food stalls offering plenty of good and reasonably priced Chinese, Malay and Indian cuisine. I revel in the delights of hawker food, sold throughout the market area, neighbourhood stalls and the narrow back alleys of Penang.
Some of the stalls offer sitting areas while others have none, so you may have to eat while standing up – a bit of a challenge. However, it's an even bigger challenge to decipher what goes into each dish and just where those flavours dancing on your palate stem from. This is where I can help.
Hokkien Mee
What it is: Also known as prawn mee, Hokkien mee is served with choice of either blanched yellow noodles or rice vermicelli, or a combination of both.
 Hokkien mee with add-on pork ribs
Condiments include hard-boiled eggs, sauteed tiny prawns, sliced pork, fried shallots and bean sprouts. Some stalls offer add-ons with additional charge. Choices include pork ribs, pork intestines, roast pork and mantis prawns.
Sauteed shrimps and strips of pork topping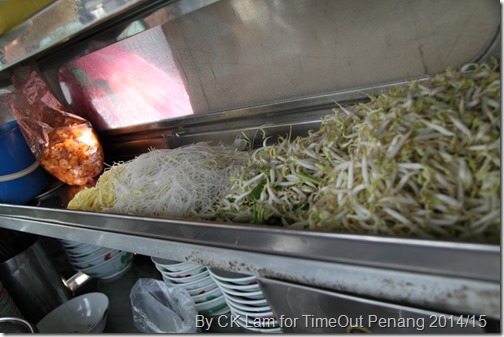 Choice of bean sprouts along with yellow noodles or rice vermicelli
How it's prepared: The soup holds the magic for this dish – it's boiled with chilli oil, prawn shells and pork bones. The result is an addictive spicy-sweet broth. When served, a spoonful of fried chilli paste is provided for extra spiciness.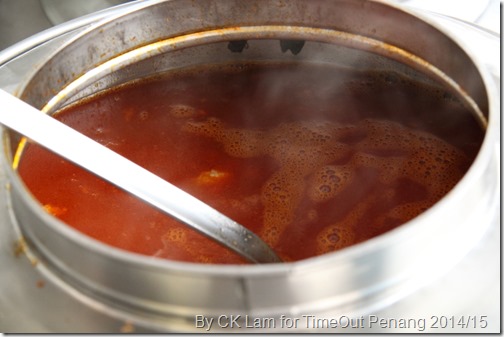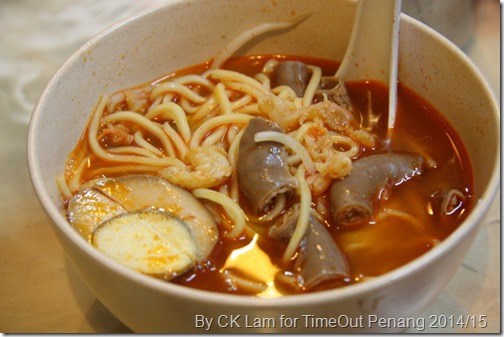 Hokkien mee with add-on pork intestines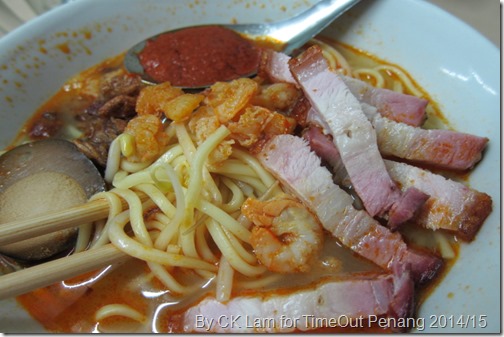 Hokkien mee with add-on roast pork
Where To Try:
One Corner Cafe
Jalan Bawasah (Behind Penang Plaza)
George Town
Penang
Business Hours: Around 7.30am
Closed on Tuesday
Tip: The Hokkien Mee at this stall comes with only shrimps and fried shallots. Go early as this stall has a large following among Penangites and tourists alike.
Jalan Air Itam
Penang
Business Hour: 3pm till around 7pm
Closed on Tuesday
Tip: There are no tables or chairs here; customers have to make do with either standing or squatting. Do bring along a hand towel to lessen the heat while holding the bowl of Hokkien mee.
Green House Hokkien Mee
Burmah Road (Opposite Chew Thean Yeang Aquarium)
George Town
Penang
Business Hour: Dinner till late in the night
Tip: Do check out the Hokkien Mee with instant noodles instead of yellow noodles.
* This is a reproduction of a part of my article published in TimeOut Penang guide 2014/15. The guide can be purchased at their website.