Old Shanghai Restaurant at Chime Heritage, George Town, Penang
BY CK Lam
Old Shanghai Restaurant at Chime Heritage building on Jalan Bawasah in George Town, Penang is a place specializing in Shanghainese cuisine.
One of the quintessential dishes is the delicate xiao loong bao (Shanghai steamed soup dumplings). Featured in most Shanghai restaurants, the xiao loong bao with flavor-packed meaty filling and flavorful broth are steamed in bamboo steamer.
The xiao loong bao is an absolute favorite of mine, delicious with simple ginger stripes in punchy black vinegar.
Cold appetizers are great accompaniments to the meal. There is the sour and spicy pickled Chinese cabbage with cut red chillies.
On other visit, there is the dish of braised wheat gluten with black wood ear mushrooms, peanuts, black mushroom and lily-flower. This dish is not very well-known to many but it really taste great.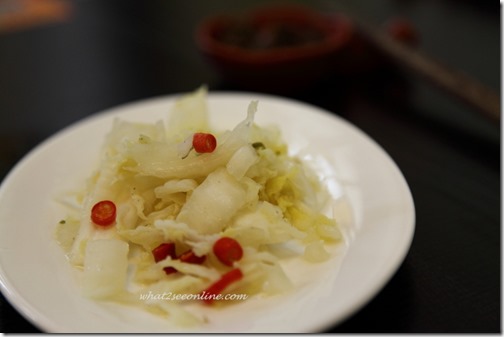 Hot and sour dish

The lady boss introduced us to two deeply traditional dishes – the Drunken Chicken and Salt Tea Duck. The Drunken Chicken is prepared with Chinese wine, giving the meat that pungent flavor. Both the meat are delicious eaten cold.
Drunken Chicken
Salt tea duck RM12
From the menu, one can order several different noodle dishes – steaming bowl of Spicy Meat Noodle RM12 and the dry Scallion Oil Noodles.
My favourite of the two is the scallion oil tossed noodles. The noodles are prepared with very few ingredients, but yet so deliciously tasty.
Spicy meat noodle RM12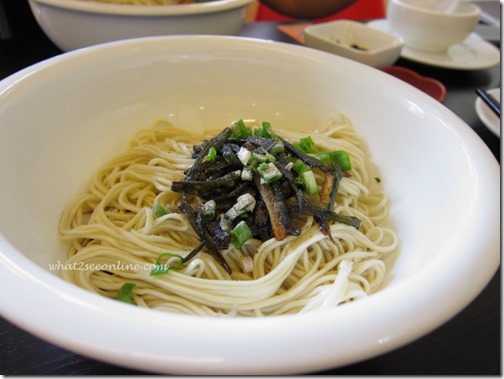 Scallion Oil Noodles
There are many different versions of dumplings, with anything from boiled to pan-fried. The first dish is boiled crescent shaped pork chive dumplings – bursting with freshness from loads of chives and meat. Whilst delicious eaten as it is, it also benefits with a dip in the accompanying vinegar mixture.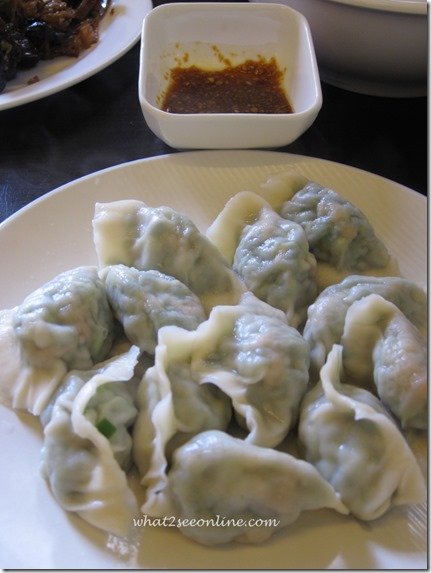 Pork Chive Dumplings
The second dish is pan-fried dumplings (shengjianbao 生煎包) with crunchy crisp-fried bottom and soft steamed top sprinkled with chopped scallions and sesame seeds. Prepared with a flavor meaty packed filling, the dumplings are firstly pan fried in oil on the underside and then cooked covered (with some water), resulting with the crisp browned bottom and a great flavor.
For dessert, we had the deep-fried pancake with red bean paste filling. With slightly chewy texture, the  sweet pancake is just above average compared to the other many savory dishes.
Old Shanghai Restaurant 老上海
15 Chime Heritage
Jalan Bawasah
10500 George Town
Penang
Tel: 04-226 0315