9-Ten Thirsty Hen Cafe @ Permai 32, Tanjung Bungah Penang
*The outlet has since closed down

Our recent discovery is 9-Ten Thirsty Hen, a casual cafe located in Permai 32 in Tanjung Bungah, Penang. Launched a couple of months ago, the simple outlet sporting the hen image offers reasonably-priced, comfort food.
Dinner guests will experience dishes at the family-owned cafe, taken care by siblings Visarn Noel and Uppasara Nicole.
Nicole takes care of the front while brother Noel and his friend Shane Chee are the chefs who make what comes out of the kitchen. Both the chefs proceeded with cooking from scratch – including curing ham and bacon.
We had a great night out with some friends on our first time visiting the cafe. To get things started, we shared two salads. The Caesar Salad served topped with grated cheese comes with combinations of lettuce, hardboiled egg, toasted croutons and house-made bacon.
 Caesar salad with bacon RM15
On the other hand, the Garden Salad drizzled generously with the more exotic passion fruit vinaigrette is one I enjoy very much. The vinaigrette with sweet-tart fruity flavor complemented the greens well.
Garden salad RM12
At RM18 for half dozen and RM36 for a dozen, the skewers of pork satay with original flavor leaves me delighted, but some friends liked the green curry flavor.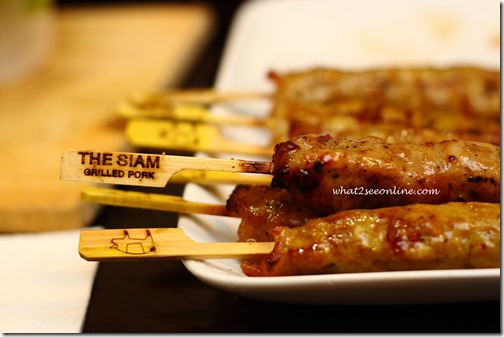 The cafe also serves Buffalo Wings, with half a dozen at RM15 and a dozen at RM28.
Elevated with drops of tangy lemon juice, this delightful finger food with intense flavor disappeared from the table in a matter of minutes.
The next dish is the Chicken Bacon Pie. Priced at RM19, the dish served piping hot from the oven is well done and tasty.
The pie has a nice dark golden brown crispy crust and rich stew brimming with chicken, bacon and mushroom. We savored it with the accompanied salad.
The pasta selection includes a Spaghetti Carbonara, Aglio Olio and Penne Bolognese. The Spaghetti Carbonara dressed in a creamy sauce with bacon, mushrooms and freshly ground black pepper delivered creamy comfort.
Aglio Olio is next. This simple dish with bacon and dash of spiciness could have been better. It needed a little more salt.
The Penne Bolognese is the only pasta dish without bacon, and it delights with a simple list of ingredients—minced beef, mushroom, plenty of cheese and vibrant tomato sauce.
Aglio Olio RM16
Spaghetti Carbonara RM19
Penne Bolognese RM18
Besides food, there is a lot of beverages too – coffee, tea, beer, fresh juice, milkshake, smoothie and ice blended. We had the apple cider, Sancha Shake, Apple Bliss (blend of apple and mint) and the Oh La La.
The Oh La La is a blend of rosella, lime, mint leaves and soda. It is light and refreshing, but surprisingly without the red rosella colour.
Oh La La & Apple Cider
Sancha Shake & Apple Bliss
Winding down the night, we shared a few desserts complemented with coffee. The chefs even made the cakes and cookies themselves instead of out-sourcing them. The home-made sugary treats are kept simple. We tried the chocolate cake garnished with vanilla custard and the butter cake with lemon curd.
Butter cake with lemon curd
Chocolate cake with vanilla custard
Both are wondrous, as is the incredibly crispy banana chocolate puff with creamy chocolate within. This chocolatey dessert comes garnished with vanilla custard.
Banana chocolate puff
Cookies include choices of cranberry and coconut, chocolate chips and chocolate chips with oatmeal.
The group of us are smitten with the dishes and we definitely will be back to try more.
The cafe only open Wednesdays to Mondays, from 5pm to 10pm.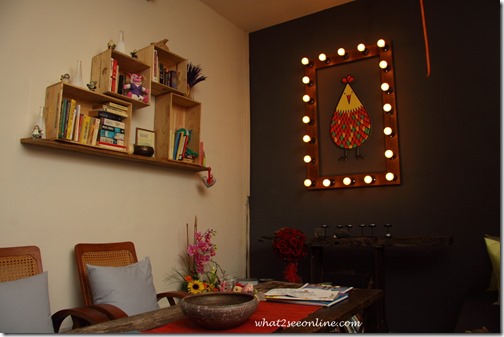 A corner with comfortable sofa and couch
9-Ten Thirsty Hen
12A  Lebuh Lembah Permai 4
Permai 32
Tanjung Bungah
Penang
Tel: 04-890 0787