What The Duck Restaurant on Nagore Road Penang
BY CK Lam
The name of the restaurant itself, What The Duck is enough to reassure you that the place specialty is duck dishes.
Set in a double storey heritage building on Nagore Road in George Town, Penang, the restaurant run by Chef Daniel C.Y.Tan offers a menu with inspired duck dishes prepared in both Western and Asian style.
We visited the restaurant for a lunch of duck flavors. There are choices of crisp greens and appetizers to start off the meal.
The unusual Duck Lover Platter of Trio offers the duck chowder with bread stick, smoked duck on toast with tomato cilantro salsa and a Thai-style duck roll. Served with pieces of duck meat and button mushroom, the chowder boiled with vegetables was creamy enough.
This appetizer with a wonderful interplay of flavors and textures is well worth a try.
Duck Lover Platter of Trio RM15.50
The Seafood Pumpkin Broth served with bread stick is one of the choices to warm the soul. The seafood-based soup with pieces of prawns and squid has light amount of creaminess. Subtle sweetness and fragrant note of Pernod liqueur was also delicately highlighted.
 Seafood pumpkin broth RM10
For mains, Chef Tan recommended their specialty Duck A-La Orange and the Duck Confit. The texture and taste of both the duck dishes were quite different.
The Duck A-La Orange was served on blanched vegetable, with potato rissole plated beside. It started with a nice texture skin which was slightly crisps, followed with the succulent duck meat. The accompanied caramel orange sauce was mild. It would be amazing if  they serve the sauce with more citrus flavor, so that it cuts through the richness of the duck meat.
Duck A-La Orange RM17.50
The other specialty – the Duck Confit was served on a bed of Kumara mashed potatoes and roasted garlic.
Chef Tan brought out the depth of flavor and tenderness of the duck with the combination of confit cooking and right balance amount of spices. It was good enough to eat it without the accompanied longan sauce.
Duck Confit RM18.50
For desserts, there is a line up of mousse, pudding, crepe and homemade ice-cream. It includes Ducky Cream Brulee, Double Boiled Duck Egg Pudding and luscious name such as Duck Too Soft which has warm white chocolate fondant with salted duck egg custard.
We had the sizzling brownie to share. The brownie tasted quite divine with the special ice cream and duality sweetness and fragrance of the caramelized banana sauce.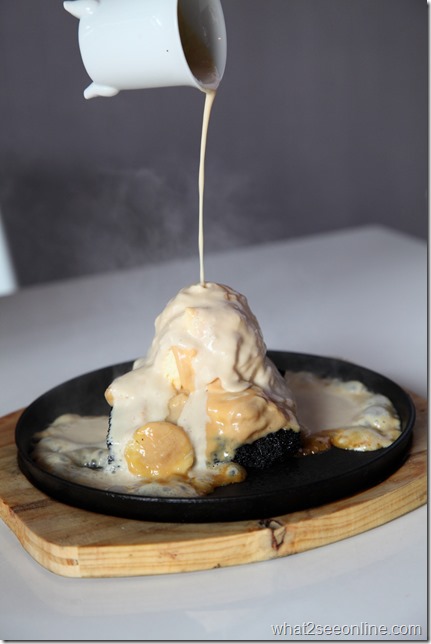 Sizzling Brownies RM15
There are Asian dishes in the ala carte menu too, such as the Thai style duck noodle soup, Hainanese yam duck, Thai style red curry duck and Balinese crispy duck.
Vegetarian dishes are available too, with choices of vegetarian duck fried rice, spicy vegetarian pasta and also potato croquettes.
Like most of the heritage shop houses in Nagore Road, What The Duck Restaurant is architecturally interesting and definitely worth a few photos.
What The Duck Restaurant
40 Nagore Road
George Town
10050 Penang
Tel: 04-227 8840
Business Hour:
Thursday – Tuesday
12pm to 2.30pm
6pm – 10.30pm
Closed on Wednesday
* Many thanks to What The Duck Restaurant for extending this invitation.