Ah Soon Char Koay Teow /Koay Teow Th'ng at Hillside, Tanjung Bungah, Penang
BY CK Lam
The fried char koay teow and the light noodle dish of koay teow th'ng is a popular hawker food across Penang. For those staying around Hillside in Tanjung Bungah Penang, one best place to try these two dishes is at Ah Soon Char Koay Teow stall.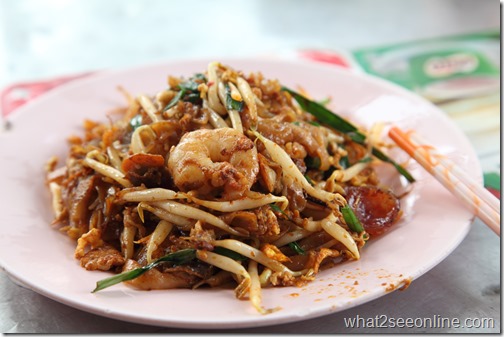 Offering its trademark koay teow thng (flat rice noodle) and char koay teow, the stall was opened in 1983 by Tang Teow Soon (popularly known as Ah Soon) in Kafe Huat Heng. Assisted by his wife and son, Tang Chun Siang, the family run business also offers delivery services to those residing in Tanjung Bungah area.
The business has grown into a popular food stall and soon after, Ah Soon has relocated the business to a larger space further down the road, known as Ah Soon Cafe. Although with the change of place, many customers are returning as Ah Soon still maintains the quality of the food, especially the char koay teow which is still charcoal-cooked.
He also continues with the delivery service if time permits. "As long as you order three packets on each order, I will still get them deliver to you (in Tanjung Bungah area)," says Ah Soon.
 Tang Chun Siang taking over the stove
The plate of char koay teow fried over charcoal fire with lard, chives, crunchy bean sprouts, Chinese sausage, prawns and cockles  is priced at RM4.50.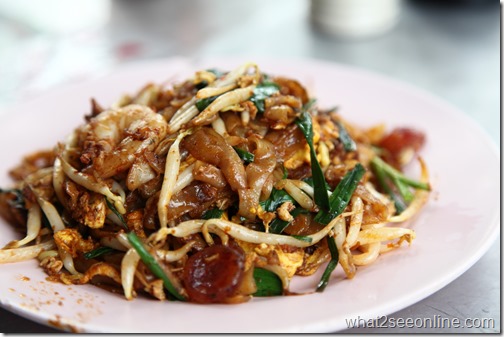 But if that's not enough to satisfy your cravings, supplement it with a bowl of koay teow thng.
The koay teow thng comes with a choice of koay teow, beehoon or yellow mee.  Condiments of sliced red and green chili padi in light soy sauce are provided.
The koay teow thng in a light chicken meat soup is served with vegetable, meat slices, fishcake slices, two types of fishballs with bouncy texture and a drizzle of deep-fried garlic oil.
Koay Teow Thng RM3.80
Ah Soon Cafe is open from 11am in the morning till 7pm daily except Tuesdays. They even offer light breakfast dishes of soft boiled eggs and toast.
Ah Soon Char Koay Teow @Ah Soon Cafe
Jalan Sungei Kelian
Hillside
Tanjung Bungah
Penang
Tel: 012 455 0382