Halal Festive Celebration at Evergarden Chinese Restaurant in Evergreen Laurel Hotel Penang
BY CK Lam
Although Penang boasts quite a large number of hotels, surprisingly only a few have their own Chinese restaurant outlet. One of the few remaining hotels with existing Chinese restaurant is Evergreen Laurel Hotel Penang. Located along the popular tourist belt of Gurney Drive, the five-star hotel under the Taiwan-based Evergreen Group is home to the Evergarden Chinese Restaurant.
Spacious with a large dining area and many private rooms, the renowned Chinese restaurant on the first floor of the hotel pride itself with the HALAL certification.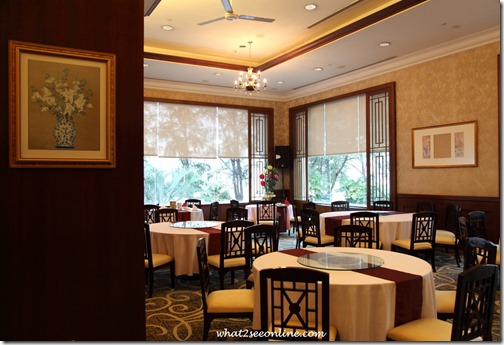 The Chinese restaurant is made available to diners for dinner with Chinese cuisine prepared by Chinese chef Lim Kim Hai and his team. Besides a la carte Chinese menus, and set menus, the restaurant is also offering (from early this year) Nyonya and Hainan Delights, which features dishes prepared with plenty of fresh herbs and spices.
The first dish is the Salted Vegetable Duck Soup (Kiam Chai Ark Thng). Kept warm on the table by a stand fire, the soup is impressively packed with pieces of Chinese black mushroom, China salted mustard greens, and tomatoes.
The soup has all the characters that we are looking for – nicely balanced with gentle hint of nutmeg and savory, salty and sour flavors.
  Salted Vegetable Duck Soup
Then we moved on to the Mang Kuang Char. Coarsely shredded mang kuang (yam bean), carrot, ju hu (dry cuttlefish), hae-bee (dried prawns), Chinese black mushroom and minced chicken are made into this stir-fried dish.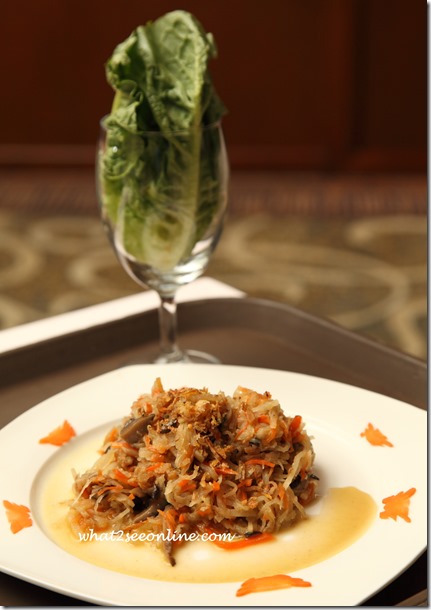 Enhanced with strong flavor of cuttlefish and hae-bee, the stir-fried mang kuang char is eaten wrapped with lettuce leaves and some sambal belacan – altogether appetizing and spice up.
Inchi Kabin is a deep-fried chicken dish. Marinated for 24 hours, the chicken is smartly done with depth of marination.
Worcestershire sauce with cut red chilli is a staple sauce for the dish. A slight dip of the sauce is sufficient to fully savour the chicken imbued with flavors and aromas of spices. It is delicious and addictive.
Inchi Kabin
After pleasing our palate with the deep-fried chicken, we continue on with a series of rolls.
The Lobak is made with a filling of chicken marinated with ngoh hiang hoon (five-spice powder) and soya sauce. The filling wrapped in beancurd skin is deep fried and served with chilli sauce topped with toasted sesame seeds.
We appreciate the flavor of the Lobak much more as compared to the Spring Roll which could do with smaller quantity of five-spice powder.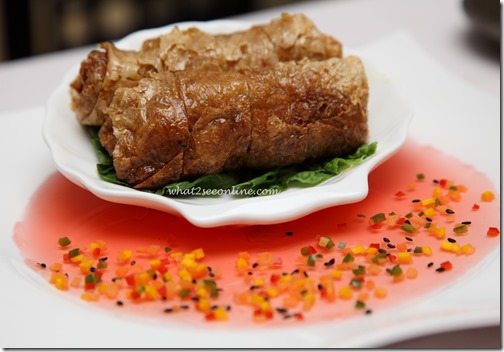 Lobak
A huge crispy Lengkuas Fried Fish is presented with the sauce served separately.
The vibrant warm sauce is then poured onto the deep-fried fish at the table. Be prepared for the distinct taste of the sauce, made from assam water, garlic, curry leaves, curry powder and lengkuas (galangal).
We had some white rice with this fish dish and the next two dishes of prawn and vegetable.
  Lengkuas Fried Fish
The Assam Prawns arrived at the table with shells intact. The chef skillfully coat the prawns with generous amount of marinade made with simple ingredients of thick assam juice (tamarind), salt, sugar and dark soya sauce. The combination works well, with the prawns so full of flavour, not too sourish nor too sweet.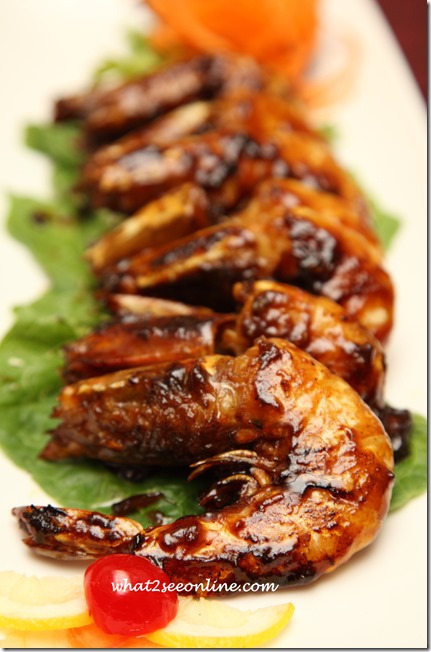 Chef Lim's version of Sambal Kacang Botol has loads of flavorful goodness from hae-bee (dried prawns), onions, large prawns, sambal and crunchy freshness from the kacang botol (four angle bean). The coarsely pounded sambal is made using chillies, onions, garlic and bit of belacan.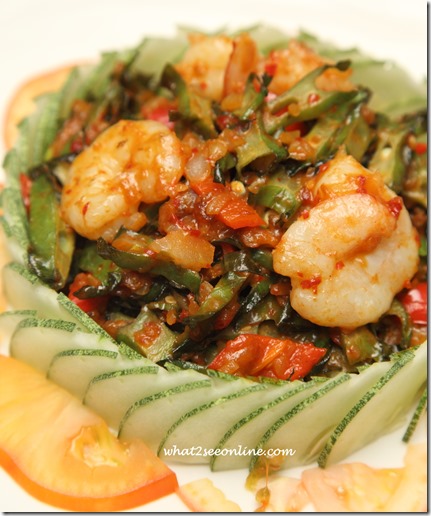 With the Chinese New Year just around the corner, Evergarden Chinese Restaurant is offering the Chinese New Year Set Menu with a selection of traditional-style dishes, and two of the chef's Nyonya specialties. The menu is priced at RM1299.00++ (for 10 person), and complete with a bottle of wine. This promotion will be available from 18th February to 22nd February 2015.
The Prosperity Foutune "Yee Sang" with Salmon Fish starts off the meal and the Deep-Fried Glutinous Rice Ball with Lotus Paste together with Double Boiled Sweetened Red Dates, Dried Longan Gingko Nuts and Lotus Seed dessert as the final sweet course.
In between there is the Deluxe Chilled Lobster Salad with Fresh Fruit Combination, Shark's Fin Soup with Dried Scallop in Brown Sauce, Braised Sliced Abalone with Sea Moss, Sea Cucumber and Black Mushroom, Inchi Kabin, Lengkuas Fried Fish, and Fried Japanese Noodle with Seafood and Black Pepper.
Evergarden Chinese Restaurant offers private rooms, with the spacious Emperor Room accommodating 18 diners.
The restaurant is open daily except Monday from 6.30pm until 10pm.
For reservations, call 04-2269988.
Evergreen Laurel Hotel Penang
53 Persiaran Gurney
10250 Penang
Malaysia
* Many thanks to Evergreen Laurel Hotel Penang for extending this invitation.