Miam Miam Penang at Gurney Paragon Mall Launches New Menu
BY CK Lam
Miam Miam Penang, the French cum Japanese Restaurant, located in Gurney Paragon Mall, has launched its new menu. The menu with its fresh appearance is broader, and includes selections of Miam Miamliciousness souffle, parfait, French toast, to name a few.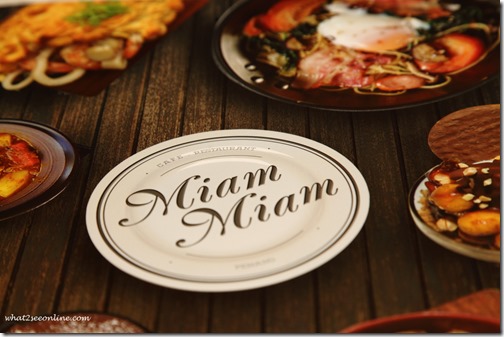 A table of five, we shared several soups and salads, savory dishes, pastas and desserts. One hugely popular sugary treats is the parfaits. Made with low fat Australian milk softee, the parfaits are available in delicate flavors such as matcha, twin and vanilla.
The Twin Delight was a delicious mixture of matcha and vanilla softee. The many ingredients this parfait has to offer, was corn flakes, digestive biscuit, dango balls, kanten plum jelly for a sourish punch and vibrantly nutty Japanese black sesame sauce.
 Twin Delight with matcha and vanilla softee
The second dessert was the MM Parfait with vanilla softee. A medley of caramelised macadamia, cashew nuts, almond and chocolate digestive biscuit added layers of crunch against the vanilla softee topped with a drizzle of chocolate sauce.
 MM Parfait with vanilla softee
More parfaits arrived at our table, this time with concoctions of Matcha Parfait, Cookies and Cream Parfait, and the Berries & Cream Cheese Parfait. Our friend, Poon, however passed over the first two choices in favor of the latter which came with strawberries, blueberries, digestive biscuit, cream cheese and vanilla softee.
The Matcha Parfait easily satisfied my green tea dessert craving with matcha softee, corn flakes, green tea jelly and earthy red bean paste.
Matcha Parfait, Berries & Cream Cheese Parfait and Cookies & Cream Parfait
Regulars at Miam Miam Penang will see a new twist of the famous French Toast. The new menu carries the Caramelised Banana French Toast, topped with caramelised banana with aromatic caramelised taste.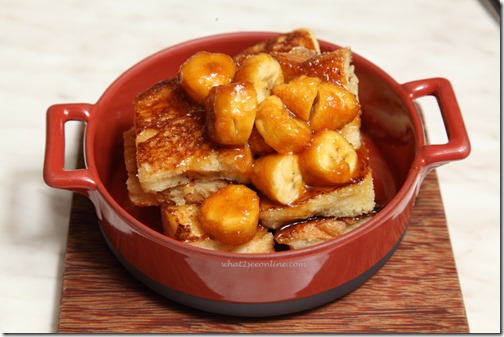 Miam Miam's renowned sweet souffle and pancakes creation are much sought after. The souffle choices include Varlhona, Matcha, Vanilla and the new added Caramelised Banana.
For pancakes, choose from creations like Caramalised Banana, Apples & Granola and the more unusual Caramelised Balsamic Strawberries Pancake. The latter with a balance of tart and sweet is worth trying. Some of us found it quite refreshing while others had difficulty getting hooked on.
Caramelised Banana Souffle and Caramelised Balsamic Strawberries Pancake
The Creme Brulee came with a nice torched crust of caramalize sugar, and Miam Miam Penang goes beyond the usual and served this dessert with vanilla softee. It was a welcoming and fun contrast.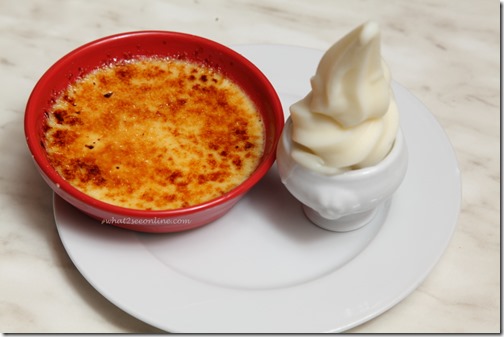 Before the desserts, we have already sampled a brunch of savory main dishes. We had two soupe du jour (soup of the day) served with warm crusty bread. The bowl of Lobster Bisque was a rich creamy soup with robust sweet deep flavor of lobster.
I especially loved the flavor of the Mushroom Soup, prepared with herbs, and small chunks of button, shitake and abalone mushroom. The soup was nicely perked up with a dash of truffle oil.
Lobster Bisque
 Mushroom Soup
We were given two salads. The refreshingly light Japanese Wafu Market Salad came with assortment of radish, carrot, lettuce, bonto, and Japanese notes of shoya dressing.
The MM Caesar Salad made fresh with a medley of bacon, egg, anchovies and Romaine lettuce was overpowered by strong garlicky kick. A little less amount of garlic would have kept this simple salad dish perfect.
Japanese Wafu Market Salad
MM Caesar Salad
The Japanese Curry Dip Dip is a welcome sight for Japanese curry lovers with a bento box loaded with salad, toasted baguette and a bowl of mildly spicy Japanese chicken curry.
The rice dishes enhanced with subtle Japanese flavours are apparently popular among diners, especially the young ones.
For those who like the mildly spicy Japanese Chicken Curry, you may like to try the curry with omu buttered rice. Instead of serving the curry in a separate bowl, this version has the curry poured right on the mound of rice.
Japanese Chicken Curry with Omu Buttered Rice
The second rice dish was the Souffle De Mer. The puffed savory souffle with airy and foamy egg and cheese topping arrived in a cast iron pot. Inside was a filling made up of fluffy aromatic Japanese garlic rice, prawns, scallops and squid. I personally like this rice dish.
Souffle De Mer
Miam Miam Penang is also serving Japanese style pastas. The portions are hearty and great for sharing.
The Seafood Aglio Olio offers prawns, scallops, sun-dried tomatoes, chilli and garlic served with spaghetti tossed in extra virgin olive oil. The dish came with an optional side of Japanese chili flakes for those who like it more spicy.
  Seafood Aglio Olio
For those who contemplate about having a vegetarian dish, you could go for the Al Funghi. The pasta dish prepared with olive oil brims with assorted seasonal mushrooms such as shimeji, shitake, button and portabello. The taste was good, but can use some tweaking with less olive oil.
  Al Funghi
We had an eclectic mix of drinks, from Mixed Berries smoothie to Berrylicious, and Mixed Berries drink. The latter prepared with raspberry, strawberry, blueberry and soda water was fresh and sharp.
Of course, coffee, chocolate, matcha, tea, soft drinks, juices, beer, cider and a selection of reds and whites are also part of the menu.
It is great to see Miam Miam Penang churning out great meals, with emphasis on quality and variety since it opened its door in 2013.
Miam Miam Penang
163-C-1-01/2, St Jo's Gurney Paragon
Persiaran Gurney
10250 Penang
Tel: 04 226 7818
Business Hour: 11am – 10pm Daily
* Many thanks to Miam Miam Penang for extending this invitation.