Gout De France / Good France: A French Dinner @ 1885, E&O Hotel, Penang, Malaysia
BY CK Lam
Eastern & Oriental Hotel, Penang, Malaysia celebrating International Gout De France/Good France
On 19th March 2015, 150 countries around the world will be celebrating French gastronomy in conjunction with the Gout De France/Good France.
Inspired by Auguste Escoffier's "Dîners d'Épicure" (Epicurean Dinners), the "French-style" menu with a traditional French aperitif, a cold starter, a hot starter, fish or shellfish, meat or poultry, a selection of French cheeses, and a chocolate dessert is served to many diners worldwide in one day.
A list of restaurants from different categories will be participating in this unique global event, with several in Malaysia, including 1885 at Eastern & Oriental Hotel, Penang. "The main objective of the event is to celebrate and honor the merits of French cuisine," says hotel manager Mr Harold Rainfroy.
Chef Michel Camy offers a carefully curated seven-course contemporary menu with a range of French favorites to enjoy.
The seven-course contemporary menu priced at RM158++ per person is inclusive of mignardises along with coffee.
The menu include suggested wine pairings. Priced at RM300++ per person, the wine list includes Cattier Brut Icone NV Champagne France, 2013 Chateau de Beauregard-Ducourt, 2011 Chateau de Beauregard-Ducourt, and the Grand Marnier Maison Fondee en 1827.
Cattier Brut Icone NV Champagne France
2013 Chateau de Beauregard-Ducourt
From the menu, expect a divinely gougère d'escargot a la creme d'ail. The flavors of the golden gougere (traditional baked cheese puff) filled with snail and garlic cream come together just right with everything combined in a forkful.
Gougère d'escargot a la creme d'ail (filled with snail and garlic cream)
The chef is serving up the cold starter of seabass tartar with smoked mackerel and cucumber alongside a salad with pleasing freshness of mint dill, green apple and celery jelly.
 Tartare de loup de mer et maquereau Fumé, gelée concombre –
pomme verte et celeri, salade de menthe aneth
For the hot starter, there is the flaky warm vegetable tart with mushroom duxelle scented truffle, tomato confit, wild arugula and black olive oil. The composition and taste give a lasting pleasure and is loved by most.
 Tarte tiède de legumes, duxelle de champignons a la senteur de truffles,
tomate confites, roquette sauvage et huile d'olive noir
The entree is the dish of sea trilogy with tuna tataki, scallop and lobster. The dish with briny richness is given a beautiful contrast with tomato, red capsicum jam and fresh herbs. The natural saltiness of salmon roe complement the scallop, while the crispy and light black ink cheese tuile added interesting savory twist to the lobster.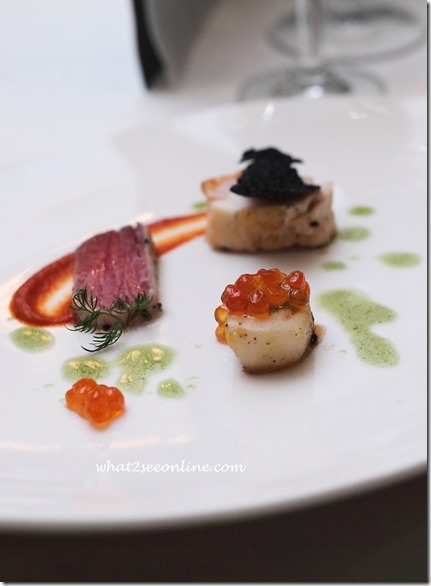 Trilogie de la mer, compotée tomate- poivron rouge,
tuile craquante de parmesan à l'encre de seiche, herbes fraîches
For mains, there is beef tournedos with composition of seasonal vegetables, potato mousseline; meat jus and diced foie gras. The latter provides just a right hint of deep taste against the tender juicy meat.
  Tournedos de boeuf, légumes de saison, mousseline de pomme de terre,
jus de viande et dés de foie
The menu also offers a cheese platter with a variety of cheeses, starting with French popular hard cheese, comte and other choices like brie, reblochon and blue cheese. The cheeses come along with fruits, nuts and walnut bread with thick crust.
 Assortiment de Fromages (Comté, Brie, Reblochon et Bleu)
servie avec un pain aux noix
As for chocolate dessert, there is the macadamia strudel chocolate cake with luxuriously smooth bittersweet chocolate cremeux. Accompanied by orange bitter mousse, and yuzu sherbet, this dessert is an elegant finish to the meal.
  Gateau au chocolat, strudel aux noix de macademia, crémeux chocolat,
mousse à l'orange amer, sorbet Yuzu
Gout de France is a unique opportunity for everyone to enjoy French cuisine. For more info, call +604 222 2000 ext 3151.
Eastern & Oriental Hotel
1885 Heritage Wing
10 Lebuh Farquhar
10200 Penang
Malaysia
* Many thanks to Eastern and Oriental Hotel (E&O), Penang for extending this invitation.