Traditional Handmade Peanut Candy and Peanut Sugar from Ang Seng Heong @ Northam Beach Cafe, Penang
BY CK Lam
If you are in the Northam Beach Cafe in Penang, do check out the the nutty goodness of peanut candy and peanut sugar from Ang Seng Heong. Although both are made with peanuts, each has its own distinctive taste and texture.
The peanut candy, also known as kacang tumbuk or kong th'ng (in Hokkien) isn't anything new. With scrumptious taste of peanuts and sugar, this crumbly snack has been around for ages and its recipe still remains a perennial favourite among customers.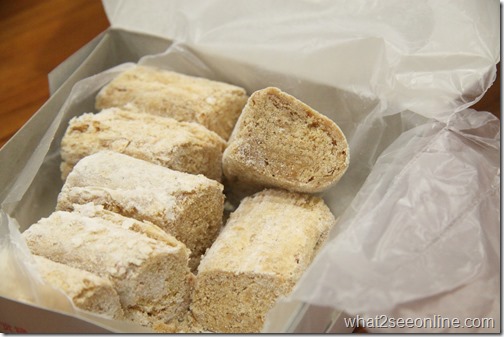 Every night the food court is abounds with aroma of roasted peanuts and banging sound coming from the stall.
K.H. Tan, the owner provides much of a 'show' when he prepares the peanut candy. Roasted peanuts are cooked in a sugar syrup. Once ready, Tan poured the mixture right on the working board and form it into a bar which he then press and pound into a flaky sheet using a huge rolling pin.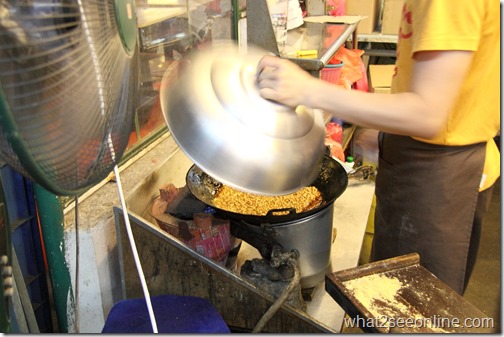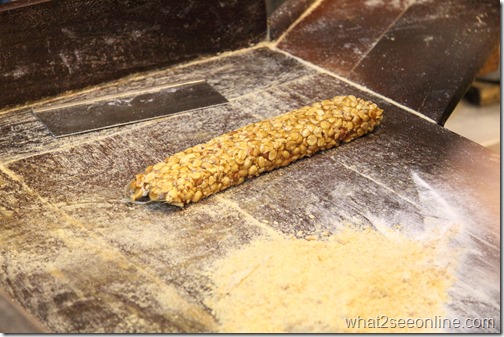 The flaky sheet is then spread out to the desire thickness and length, and then wrapped around a filling of finely pounded peanut powder. Shaped into a long roll; it is then cut into pieces using a very sharp knife.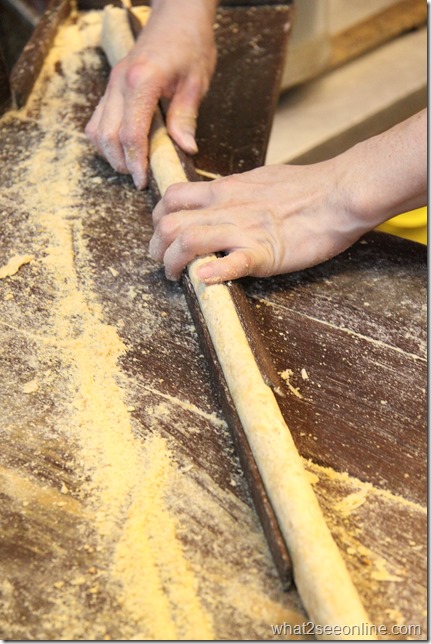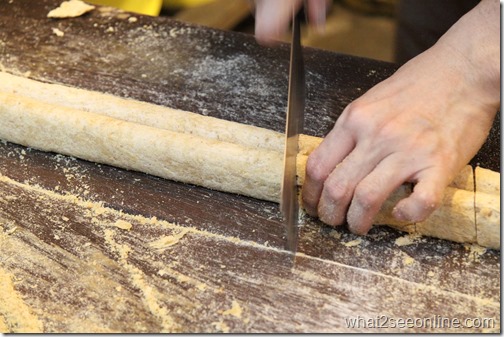 We got a fresh box of handmade peanut candy (10pcs) for RM8.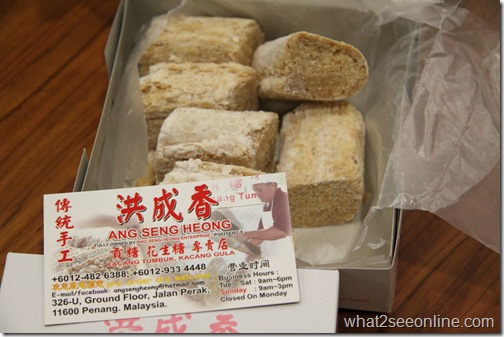 Peanut candy (kacang tumbuk)
You can eat the peanut candy as it is or have it the traditional way by wrapping it with popiah skin. Flaky on the outside with a filing of powdered peanut, this snack simply melts in the mouth. One bite and it will have you hankering for more.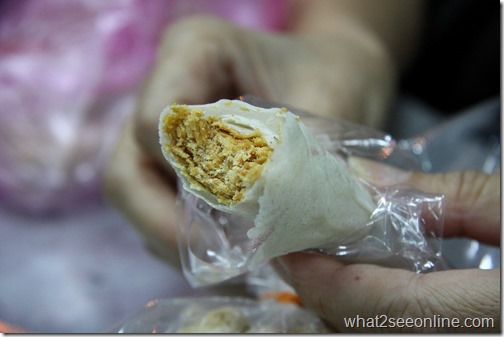 Besides the kacang tumbuk, there is also the peanut sugar (kacang gula). Unlike the peanut candy, this snack has a crunchy texture.
Made from roasted peanuts, white sesame seeds and sugar, the crunchy peanut sugar is delicious and pair well with a strong cup of  local coffee.
The business hours at this stall is from 8pm to midnight daily.
In the day time, Tan works in the other shop on Jalan Perak which opens daily except Mondays. Business hours are from 9am to 3pm on Sundays, and 9am to 6pm from Tuesday till Saturday.
Ang Seng Heong
Northam Beach Cafe
58 Jalan Sultan Ahmad Shah
10050 Georgetown
Penang
Tel: 012 482 6388