Songkran Pee Mai Festival with Flavours of Thailand @Eastin Hotel Penang
BY CK Lam
In conjunction with the Songkran Pee Mai festival or Thai new year from April 13 to 15, Eastin Hotel Penang is offering a unique month-long Thai tasting experience with a special-themed menu at Swez Brasserie.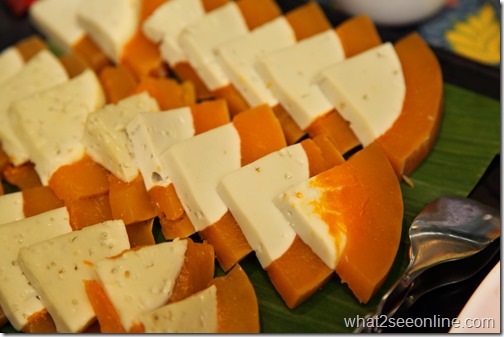 With salad playing an important role in Thai cuisine, the buffet features a variety of choices, including Nam Prik Long Rue (Thai shrimp paste and salted egg salad), Yam Talay (spicy seafood salad), Nuae Yang Nam Tok (grilled beef spicy salad with ground roasted sticky rice), Yam Hua Plee Sai Goong (banana flower spicy salad), and Lab Gai (spicy minced chicken salad with roasted rice).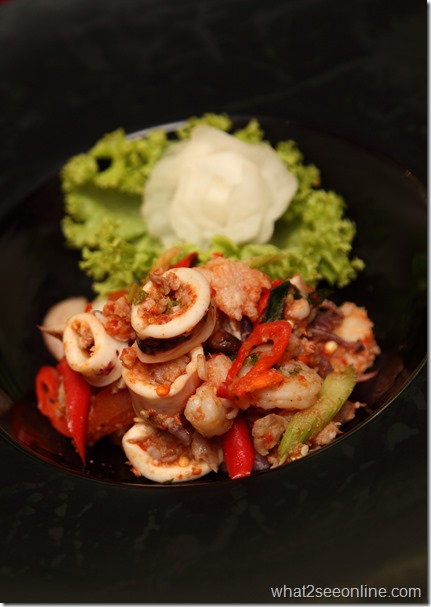 Yam Talay

Nuae Yang Nam Tok with grilled beef and ground roasted sticky rice
Lab Gai – a spicy salad of Northeastern Thailand
Nam Prik Long Rue  & Yam Hua Plee Sai Goong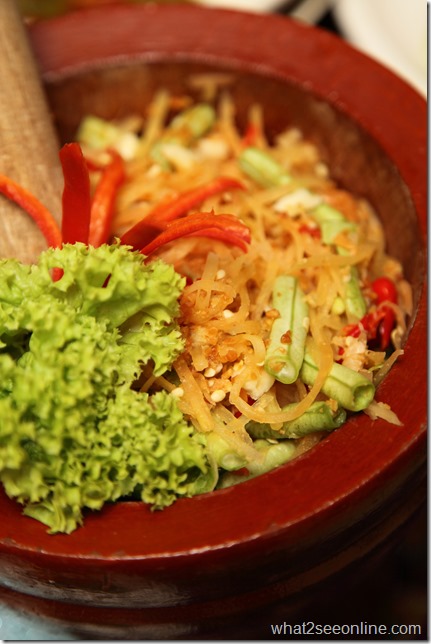 Som Tam Thai – sour and spicy papaya salad prepared by the chef on-site
Of course, no Thai cuisine would be complete without tom yam. At the Songkran Sawadee Pee Mai buffet, the tom yam goong is boiled with plenty of good-sized prawns, cauliflower, baby corn and tomatoes. The flavor and aroma of the soup is enhanced by kaffir lime leaves, crushed lemongrass, galangal and lime juice.
Tong Yam Goong and Geang Juide Mara Sai Gai (bitter gourd, mushroom and chicken)
The spread also features hot dishes like the Panaeng Nuae (beef red curry), Pla Kapong Phad Khyenchaiy (stir-fried crispy snapper with celery and oyster sauce) and Gang Keaw Whan Gai (chicken green curry with eggplants and basil).
Other dishes to tantalise your tastebuds are Phad Pak Ruam Nam Man Hoiy (mixed vegetable with oyster sauce), Phat Khi Mao Kai (minced chicken with basil), Phad Preaw Whan Talay, Tao Hoo Lod Phad Khuenchaiy (stir-fried tofu with celery & oyster sauce) and the Kao Phad Poo (fried rice with crab meat).
Out of the curry dishes, Gang Keaw Whan Gai stands out. Prepared with chunks of chicken, the dish is given aromatic flavors of cumin seeds, coriander seeds, galangal, lemongrass, basil and creamy coconut milk.
Gang Keaw Whan Gai
Panaeng Nuae & Pla Kapong  Phad Khyenchaiy
 Kao Phad Poo
To end the meal, there are assorted fruits and desserts including mango sticky rice and water chestnut with jack fruit in coconut ice syrup.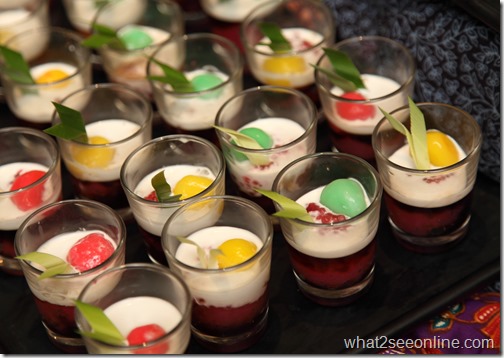 Bua Loy Sam Si
Packthong Sakaya, Tap Thim Krawp & Kao Neaw Mamuang
The Songkran Sawadee Pee Mai Festival buffet lunch is priced at RM66 nett per adult, Rm33 nett per child and special price for senior citizens. It is available from Monday to Friday only.
For details, call 04-612 1128.
Eastin Hotel Penang
1 Solok Bayan Indah, Queensbay
11900 Bayan Lepas
Penang
* Many thanks to Eastin Hotel for extending this invitation.
* This is a reproduction of my article published in The Malay Mail.