2PM Lounge at G Hotel Kelawai Penang
BY CK Lam
It might not be my first visit to 2PM Lounge at G Hotel Kelawai Penang, but it is definitely my first taste with the food in this delicately decorated lounge. Located on the hotel's lobby level, the lounge with private rooms and alfresco area offers relaxing ambience with comfortable design furniture and fixtures.
The menu comes with mix of dishes, canapés, snack and bites, sweet treats, coffee, tea, and plenty of cocktails, wines and champagne.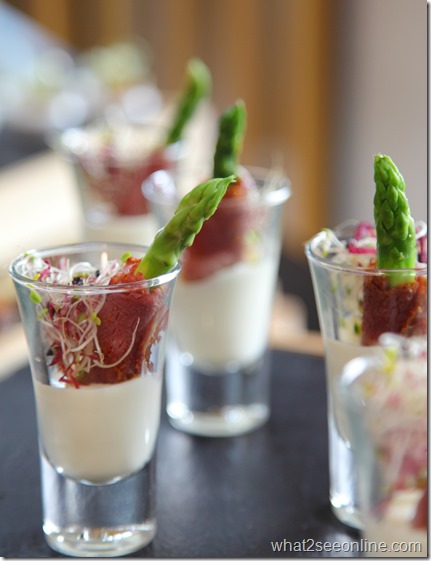 CANAPE BAR
Available daily from 12pm till 2.30pm
For RM35, the canapés come with complimentary coffee or tea

During a recent tasting review, we sampled inventive canapés along with antipasto and cobb salad from the specially designed Canapé Bar. The freshly made canapés are served in small quantities and you can see them replenished,' said chef K.B. Loh who is in charge of 2PM.
The Beef Salami Wrapped Asparagus served in a shot glass with cheese fondue makes attractive canapés for the spread. The asparagus spear dipped in the creamy fondue made with brie and Swiss cheese is a symphony of tastes and flavors, and it certainly put a smile on my face.
A versatile vegetable canapé is the Zucchini Carrot Roll, with long flat strips of slightly seared zucchini and carrot rolled up with pesto and black pepper. The roll low in carb and high in flavor fits in the mouth in one perfect mouthful.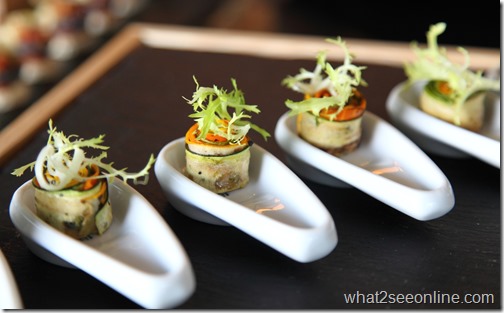 The next canapé is all about the right ingredients. The chef had the pastry cup filled with slow baked salmon prepared with fresh herbs and spices, and topped with bit of wasabi and a piece of brie cheese.
The slow baked salmon bite is addictive, with the wasabi and brie cheese giving it an appetising flavor.
Next is the 2 Way Bruschetta, with rich and tasty mixture of aubergine salsa piled on white and charcoal baguettes. This classic Italian treat is served with a topping of shimeji mushroom.
The Cobb Salad is colorful and appetizing with Grana Padano (semi-aged hard Italian cheese),  chicken ham, black olives, and hard-boiled egg combined with freshness of cherry tomatoes, carrot, cucumber and greens.
Thai style chicken salad comes with pieces of deep-fried chicken which texture is a bit dry and tough. The coleslaw baby octopus, however, is much better. The octopus is firm enough for a bite and goes with the nicely flavored coleslaw.
The potato salad with baked potatoes cut in quarters are pretty decent on its own but adding in the creamy sauce, cracked pepper and shimeji mushrooms really changes things. It makes a great nibble between bites of canapés.
Coleslaw baby octopus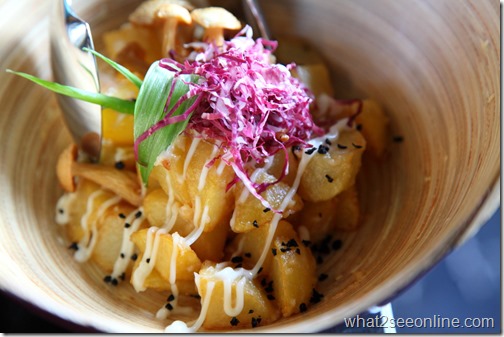 Potato salad with shimeji mushroom
The canapes come with six choices of condiments, and made in-house dressing, from French, to Caesar and Thousand Island dressing.
DISHES FROM THE MENU
The Snacks & Bites are available from 12pm till 11pm
Aside from the canapes, we had a selection of snacks and bites from the menu. There are a couple of dishes for sharing, with the Dumpling, Duck Wrapper and the Open Face Slider. The first two dishes are rather decent and my firm favorite is the rich Open Face Slider, with lightly seared beef medallion and foie gras, accompanied with arugula and melted cheese.
Warm out of the oven, the Aurora Pollo Pizza made from scratch cooking had thin crusted sides, while its center is soft and easily folded over to be eaten with the hands.
The pizza with a spread of in-house made tomato sauce has layer of mozzarella cheese, chicken, olives, artichoke and bell pepper roasted till sweet and caramelized. Topped with cracked pepper, it's a simply good pizza.
Aurora Pollo Pizza RM28
The 2PM Decker is filled with sliced ham, cheese, lettuce, tomato and whipped egg. Chef Loh kept the toasty interesting with whipped egg, and replaced the standard mayonaisse dressing, with Caesar dressing.
The sandwich with a side of crispy fries could easily be share between two people.
DISHES FROM THE MENU
MAIN COURSE is available from 12pm – 2.30pm
Diners ordering one main course can take on the varieties of canapé, antipasto and cobb salad from the Canape Bar by just adding on RM18.
2PM also provides a slew of other main courses. The foiled Baked Fish with pineapple, cherry tomatoes, black olives, and capers is a combination of healthy flavors. "With the freshness of the tilapia fish and the sweetness of the vegetable and fruit sauce, there is not even a dash of salt or pepper in the dish," said chef Loh.
Baked Fish RM25
For poultry, there is the Pan Roasted Chicken Breast. The dish sports a piece of chicken breast and healthy sautéed garden vegetables of carrot, turnip and the nutty edamame beans.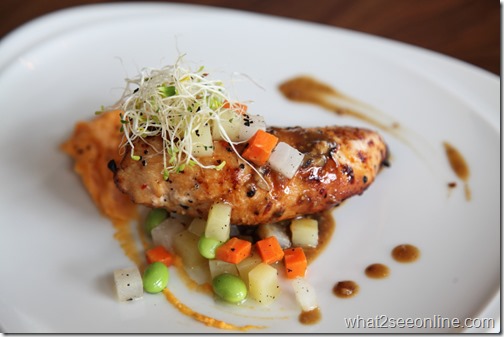 Pan Roasted Chicken Breast RM25
If you have a hearty appetite, don't miss out on the Seared Steak. The beef served with baked potatoes, carrot, cherry tomatoes, and French beans is pleasing with the piquant chimichurri sauce.
For those who prefer the steak to be cooked to pink-centred, be sure to inform the kitchen.
In the afternoon, take a break with freshly brewed coffee or tea while enjoying sweet treats. The menu has choices such as Peanut Butter Brownie, Mango Moose, New York Cheese Cake, Macarons and Lemon Merinque Tart.
Savoury specialty include mushroom quich, and at times you will get spinach or even smoked salmon quich.
Lemon merinque tart & mushroom quich
By nightfall, 2PM transforms into an evening where everyone shares tapas over signature cocktails, wine, champagne, and music. 2PM is putting on a spread of GK Cocktails, and at a reasonable good price. The list includes Lychee Smash, Chili Lada and Promegranate Mojito.
The Promegranate Mojito put together with a fresh twist, surprises with nice portion of spice rum, pomegranate syrup, lime, fresh mint and soda water.
Which one do you go for?
For those who have never tried Chili Lada, the cocktail with vodka, cranberry, passion fruit puree and lime muddled with red chili  is a fun drink to start off with.
 Choco Oco and Chili Lada
In short, 2PM has an interesting menu. The food is worth returning, especially with the quality of ingredients (which is visible on most plates) and the new addition of canapés.

The lounge is named after the address Persiaran Maktab
For information about G Hotel Kelawai, call 04- 2190000.
G Hotel Kelawai
2 Persiaran Maktab
10250 Penang
* Many thanks to G Hotel Kelawai for extending this invitation