Braised Pork Trotter at Lean Hup Bee in Butterworth, Penang
BY CK Lam
When Lean Hup Bee first opened, its signature braised pork trotter in dark soy sauce creates a neighbourhood stir. Located on Jalan Pantai in Butterworth Penang, the owner has since extended the business to a larger dining area. It continues to keep regulars and visitors from afar satisfied with its comfort pork trotter dish and other home cooking style dishes.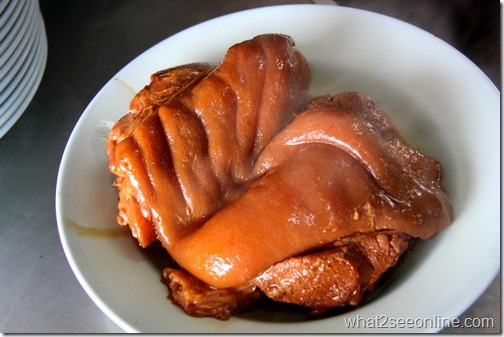 As in any economy rice stall, there are many other dishes to suit all taste buds, which include chicken curry, braised chicken leg, fried egg, curry vegetable and braised soy sauce bean curd.
We ordered the braised pork trotter, a typical stew popularly known as "Tau Yew Too Kar" in Hokkien. After a long time of simmering in black soy sauce and spices, the pork trotter is tantalizingly tender. The meat and the glistening fat is rich with a depth of meaty flavor, and not in the least bit overpowered by the spices.
With an appealing sweet and savory sauce, it is a recommended dish with steamed white rice. We even ordered a portion for takeaway so, to have the wonderful stew for dinner.
Besides the pork trotter, we went for the braised mui choy (preserved green mustard), braised bean curd, stir-fried bitter gourd and assam fish curry.
The latter has stingray cooked in a sourish spicy gravy, with plenty of lady fingers. Though the curry isn't as opulently spiced, the fresh chunks of fish were cooked perfectly.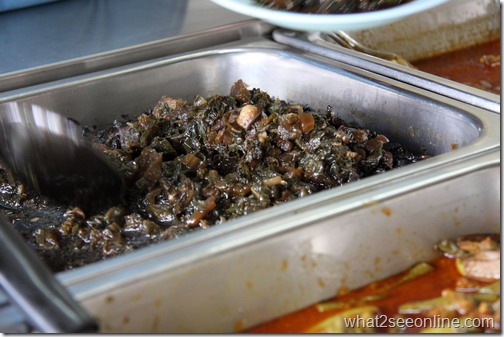 Braised mui choy (preserved green mustard)
Another favorite was the Sambal Ikan Cencaru, with rather mild sambal (chilli) stuffing. The deep-fried hardtail mackerel came served with oil and dark soy sauce.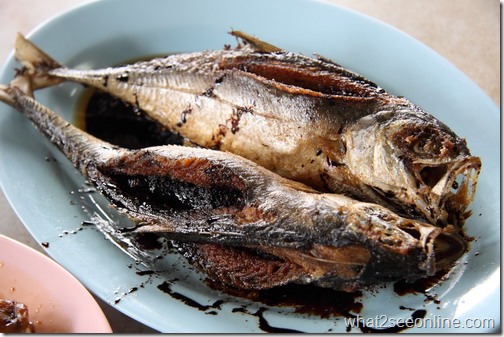 Mackerel (known as ngeh buey in Hokkien)
Some of the dishes were a bit of a hit-and-miss but the braised pork trotter is certainly one dish we will return for.
Lean Hup Bee is located in the middle of  a row of old shophouses nearby the Butterworth ferry terminal. Workers around the area would head over to the shop which opens early in the morning. When the place is packed, they are seen sharing tables.
Lean Hup Bee 联合美
28 & 30 Jalan Pantai
12000 Butterworth
Mobile Phone : 016 4770660
Business Hour: 9am till 3pm
Closed on Sunday and public holidays
GPS Coordinates: 5° 39′ 86.96″ N, 100° 36′ 58.79″ E