Double Dragon Inn Restaurant, Penang Offers Taste of Yesteryear
BY CK Lam
Located on Gottlieb Road, is Double Dragon Inn Restaurant, one of Penang's oldest Chinese restaurant. With keeping the old tradition and consistent in quality, the restaurant established in 1969, has returning visitors over the years for its hearty dishes of yesteryear.
The business is now run by the second generation. Diners have quick-and-easy dining options with its set menus and short a la carte menu emphasising on dishes cooked without monosodium glutamate (MSG). Flavors of the dishes are pleasing light, not too heavy, not too oily, and otherwise healthier.
The Four Season is the set menu start off dish with lots of stuff adorning the plate: crab claws fried to a golden brown with chilli sauce for dipping, stir-fried octopus with cashew nuts, and some steamed ingredients. You can't get much better than this, with four dishes in one plate to tantalise your taste buds.
The next dish is the Fillet Pomfrets with Crispy Bones, done in two styles. The chef excels at making this fish dish special by stir-frying the fillet with capsicum and beans in a flavorful sauce.
Fins, tail and head are battered and deep-fried till crispy with a crunchy bite. This is one of my favorite dishes and the price ranges from RM38 to RM95.
A dish not to be missed is the Scallop Wrap. It is undeniably a tasty dish made up of scallops and crab meat, stir-fried with lots of wok hei smokiness. The ingredient packed onto a lettuce leaf is simply delicious.
This dish which needs to be pre-order in advance ranks as favorite for many diners.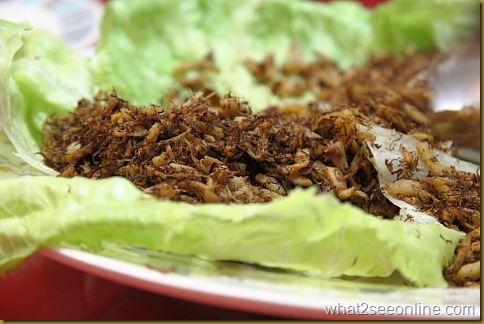 The Spicy Onions Prawns features a dish with prawns prepared in two varieties of recipes.
The butterfly prawns with a coating of breadcrumbs are deep-fried till crispy while the other remaining prawns are stir-fried with spicy sauce and onions.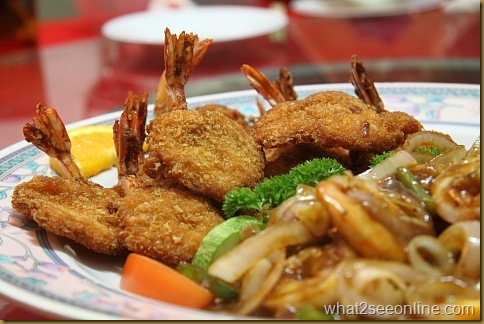 Beef also makes its appearance on the menu and diners who consume beef can go for the Beef and Kailan dish. The dish pleases with marinated beef, skilfully stir-fried till extremely tender and juicy.
This dish needs to be pre-order in advance too.
Beef and Kailan dish go great with a bowl of rice
The deep-fried Boneless Chicken is mediocre; however a twirl of sour plum sauce added interest to it.
 Boneless Chicken RM24 to RM48
Aside from the seafood and poultry dishes, the set menus also offer stir-fried noodle prepared with cabbage, choy sum and meat.
A la carte dishes come with choices of small and large plates. On another night visit, we opt for 'Kao Yoke' Hakka Steamed Bacon with 'Mooi Choy', Saute Kailan with Pee Hu (sole fish) and Watercress Soup boiled with pork ribs, dates and dried cuttlefish.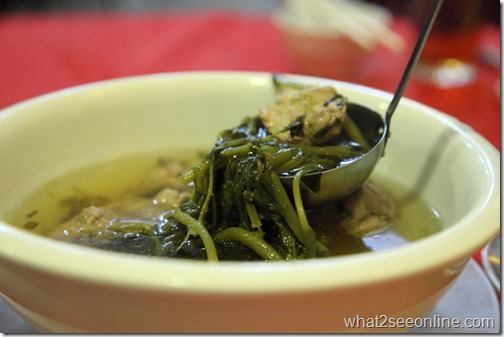 Watercress soup RM18
'Kao Yoke' Hakka Steamed Bacon with 'Mooi Choy' RM19
Saute Kailan with Pee Hu RM16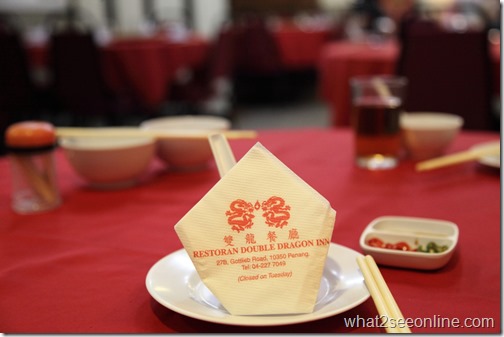 Double Dragon Inn Restaurant is located on the same row as Hotel Waterfall and next to Idealite Wellness Restaurant.
Double Dragon Inn Restaurant 雙龍飯店
27B Gottlieb Road
10350 Penang
Tel : 04 2277049
Business Hour :
6.45pm – 9.30pm daily except Tuesdays
12pm – 2.30pm  Saturdays and Sundays
Closed on Tuesday