Koay Teow Th'ng at Intersection of Beach Street and Malay Street, Penang
BY CK Lam
The intersection of Beach Street (Lebuh Pantai) and Malay Street (Lebuh Melayu) in Penang comes to live at night with the presence of two street food stalls.
The koay teow th'ng stall which has been around for over 38 years draws crowds for its comforting broth.
The piping hot bowl of koay teow th'ng at this spot is a dish of koay teow (flat rice noodle) with pieces of chicken meat, fish balls, and lard. This specialty comes in a broth boiled with chicken and pork bones. The soup is clear and light, with meat sweetness. Garnishing includes a sprinkling of spring onions and a swirl of fragrant lard and garlic oil.
The serving is generous in size, with the small bowl at RM3.50 and the large at RM4. Just like most koay teow th'ng places, the noodle soup comes with dipping light soy sauce and sliced red and green chili padi.
The koay teow th'ng is served commonly with koay teow (flat rice noodle), but the stall also offers yellow noodles and beehoon (thin rice vermicelli).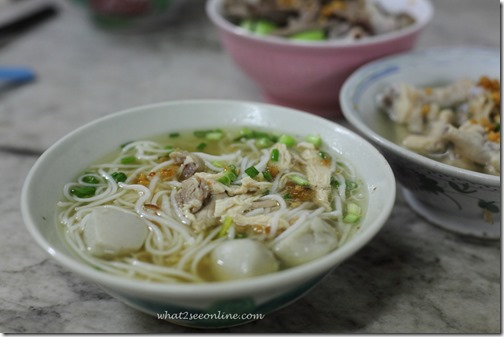 Side dishes are available to complement the bowl of koay teow th'ng. Opt for some chicken legs and chicken innards – liver, gizzard and intestines.
Chicken legs
Mixed innards
Don't forget to have some blanched vegetable, served with light soy sauce and crunchy bites of deep-fried lard and garlic.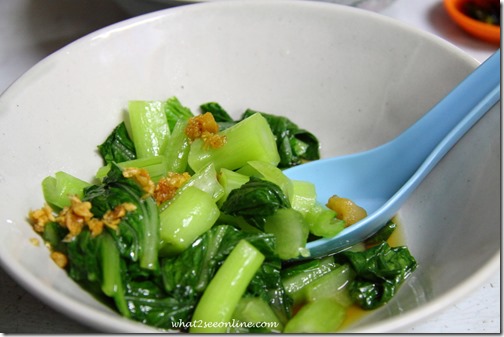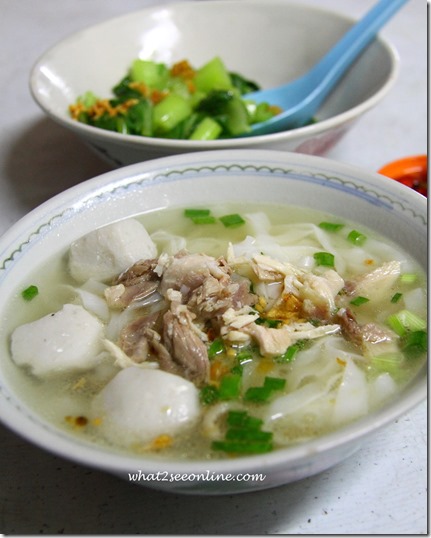 Customers are seen slurping their noodle at the couple of tables on the road side and also at the nearby coffee shop.
Koay Teow Th'ng Stall 粿条汤
Intersection of Beach Street and Malay Street
George Town
Penang
Business Hours: 7pm till 11pm
Closed on Sunday