Queensbay Mall Penang Launches Queens Hall
BY CK Lam
Queensbay Mall introduces "something new of something old" to pique the shoppers senses with the launch of Queens Hall on 21st April 2015.
Located on the third floor at the Centre Zone of Queensbay Mall, the new pork-free food court is 17,500 sq ft, and seats approximately 500 people in a cosy, welcoming atmosphere.
The launching event with a lion dance performance has the presence of state Tourism Development and Culture committee chairman Danny Law Heng Kiang, Queensbay Mall centre manager Selina Ng and invited guests.
According to Selina: the interior design and architectural concept of Queens Hall are derived from inspirations of the rich local culture without replicating but ingeniously bringing out the taste of Penang's treasured heritage.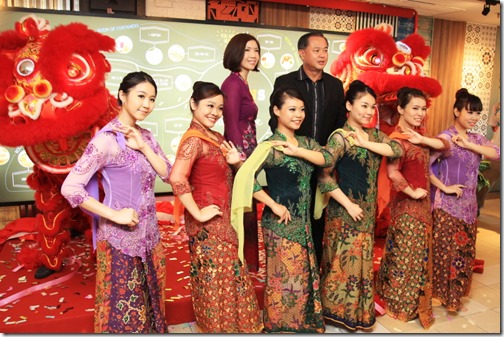 YB Danny Law & Selina Ng
Striking features of the new food court are the eight different rooms featuring the elements of George Town – Room of Bricks, Room of Signage, Room of Garden, Room of Medicine Box, Room of Containers, Room of Roof, Room of Windows and Room of Tiles.
"These features vividly remind us of the old Penang that we know so well ranging from arts to science, commerce to architecture, and from civilization to culture," said Selina.

Room of Container
Room of Garden

Room of Roof & Room of Tiles

  Room of Bricks
There is a wider hawker food options for breakfast, brunches and dinners, with operators sourced from some of Penang's best street foods.
One can find a variety of sweet and savoury delights to pick from, including Penang's signature Char Koay Teow, Hokkien Mee, Roasted Chicken & Duck Rice, Wanton Mee, Ramly burger, well-loved kaya butter toasts with half boiled eggs, traditional Ginkgo & Barley desserts, Penang Road famous Teochew Chendul, Mak Ee puffs and pies, and more!
For breakfast or a coffee break, head over to I-Kopitiam, with its menu decidedly old-fashioned. The Roti Bakar is toasty good, and you can choose between a spread of kaya and butter or peanut and butter.
The pasty menu at Puff & Pie had several offerings, which include Chicken Pot Pie, Egg Tart, Chicken Pie, Portuguese Tart and Chicken Curry Puff from Mak Ee.
Many visitors are no stranger to Mak Ee as it is popularly known for its clamshell puff pastry. Mak Ee has been churning out delectable pastry out of the oven for the past 15 years for its many outlets in town.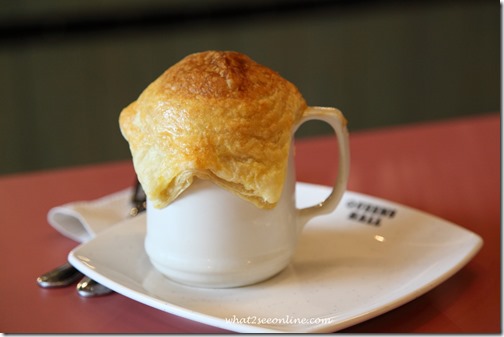 Chicken Pot Pie (RM11.90)
The warm Chicken Curry Puff, made with bits of onions, potatoes, and chicken is one of the best choice. I suggest you paired the snack with a hot cup of local kopi-o, served in traditional kopitiam cup and saucer.
 Chicken Curry Puff (RM2.50) 
Spice up your day with authentic South Indian cuisine along with Northern Indian gastronomy at Karaikudi. The stall serves up Karaikudi's chef's signature dishes which include Chicken 65, Chettinad Briyani set, Tandoori Chicken Set, Masala Dosai, and Ladies Finger Pepper Fry.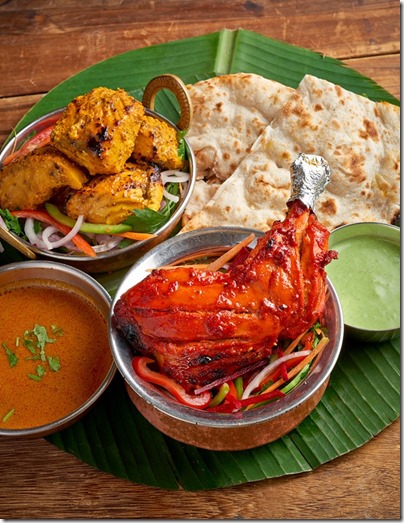 For Thai delights, head over to Sukhothai. The chefs bring an array of Thai lunches and dinners. From the array of traditional Thai cuisine, pick up a salad, Green Curry Chicken and pair them with rice for a simple and satisfying lunch meal.
There is a fair variety of Thai noodles like Tom Yum Soup Noodle and Sukhothai Beef Noodle Soup (RM12.90).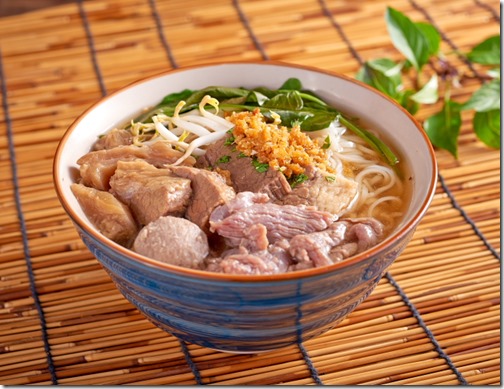 Sukhothai Beef Noodle Soup with cuts of lean beef, beef balls, and bean sprouts

Then there is the spicy chili pan mee from Uncle Kin Pan Mee stall. Favorites include Dry Chili Pan Mee and the Spicy Koay Teow Soup.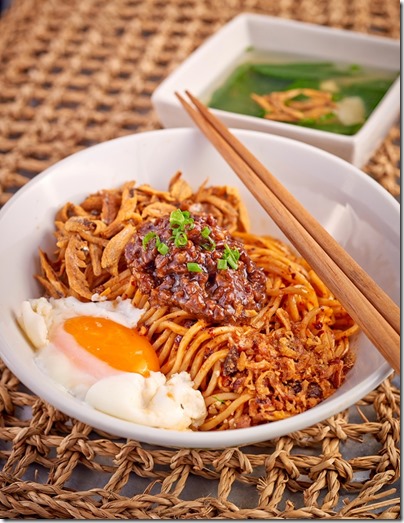 When craving for steamed, roasted and barbecued poultry hits, make a stop at Sin Nam Huat Roasted Chicken & Duck Rice stall.
This place specializes in chicken and duck has been satisfying a steady stream of loyal regulars in the town outlets for many years. The poultry dishes are served along with side dishes of braised egg and blanched vegetables with oyster sauce.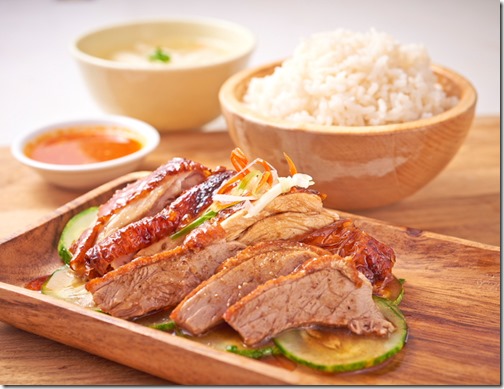 At I Love Yoo, you can grab a quick fix on the go. Having been around since 2007, their specialties are the freshly made You Tiau, Soya Bean drink and Tau Fu Fa. While you're here, check out their porridge with dried scallops or oysters and peanuts.
The food hall also features grill meat besides grilled seafood in banana leaves from Portuguese Grill. Among the must-try dishes are Grilled Squid, Clam, Prawn, Fish and Mussels.
One will also be able to find claypot and sizzling noodle and rice at the food hall. Choices include Hotplate Crispy Chicken Rice, Hotplate Mushroom Chicken Yee Mee, Claypot Chicken Special, and Claypot Yee Mee Soup.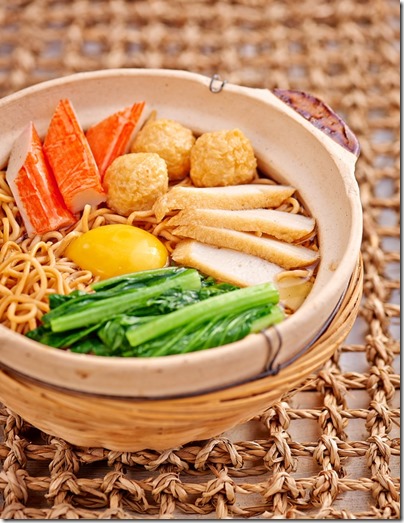 Claypot Yee Mee Soup RM7.50
Besides Penang well known Hokkien Mee and Char Koay Teow, there are also Char Koay Kak (squared rice cakes), Fried Oyster Cake and Yong Tau Foo.
At Penang Wok, you will find stir-fried noodles like Yee Fu Mee, Tai Lok Mee, and other items.
Char Koay Teow & Hokkien Mee
Western Cuisine located at the Room of Garden churns up a decent batch of dishes. Half-Roasted Chicken, Fish & Chips, Chicken Bolognese, Chicken Lasagne, Grilled Trio Platter and Chicken Maryland are a few of the many choices. Their seafood spaghetti is worthy of a mention.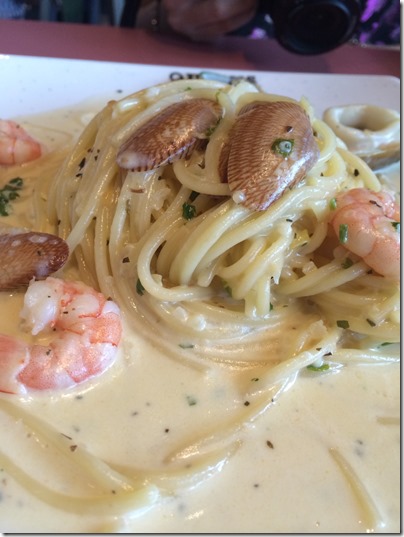 Don't forget to check out the stall selling Lor Bak – a fun starter to a meal. You will find plenty of deep-fried goodness, such as Prawn Fritters, Vietnamese Spring Roll, Taiwan Sausage, Preserved Century Egg, Baby Octopus, Chicken Lor Bak and many more. They are accompanied by chilli sauce and thick starchy "lor" sauce.
Chinese desserts are delightful ways to put a sweet ending to your meal. If you're going for traditional Chinese tong-sui, you will find them at Dessert House. Sweet selections include many childhood favorties such as Leng Chi Kang, Ginkgo & Barley Delight, and Jelly Figs Delight. Aside from tong-sui, you can also get snacks such as Sweet Potato Rolls and Pan-Fried Radish Cakes.
For something more Penang, try the Penang Road Teochew Chendul. Penangites and tourists from afar are big fans of this dessert made with chendul, ice shavings, gula Melaka syrup and santan.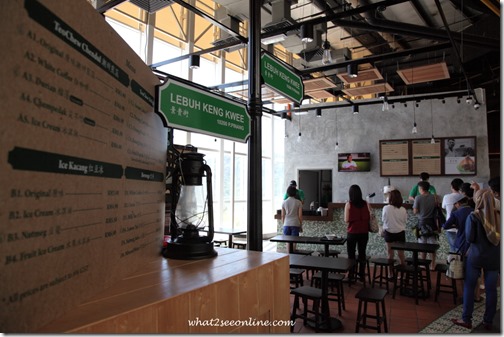 Along with all the hawker food stalls, Queens Hall also houses the Love A Loaf Bakery. Varieties of baked items in sweet and savory qualities are baked on-site daily.
On one of the walls of the food court is a large food trail map. It is absolutely worth checking it out if you are not in a hurry to order your food.
Queens Hall is open seven days a week from 10.30am till 10.30pm. There is a high chance you will be queuing up especially during peak dining hours as the food court is packed with hungry shoppers and workers from the surrounding offices and factories.

Queens Hall
3rd Floor Centre Zone
Queensbay Mall
100 Persiaran Bayan Indah
11900 Bayan Lepas
Penang
* Many thanks to Queensbay Mall for extending this invitation.
 Photos without watermark are courtesy of Queensbay Mall