'Kampung' Ramadhan Buka Puasa Buffet @Sunway Hotel Georgetown Penang
BY CK Lam
Sunway Hotel Georgetown on New Lane, Penang welcomes the celebration of the holy Ramadhan festival with the 'Kampung' Ramadhan Buka Puasa buffet theme.
The buffet held at the Sun Cafe offers a variety of freshly prepared yester-year kampong specialties to break the fast throughout the holy month.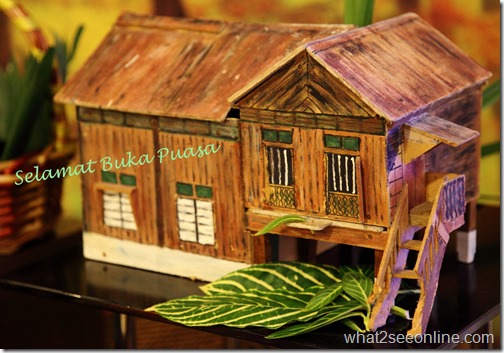 Wooden village house brings back fond memories of yesteryears
Specialties from the kampong include Kambing Panggang ala Kampung Style. According to executive sous chef K. S. Ong, the lamb marinated with coconut milk and local spices is roasted at a set temperature for exquisite flavour and tenderness. Chef Ong who has been in the industry for the past 26 years, not only plan the menu's, but also monitor the quality and taste of each dish.
From the live action stations, satiate your taste for the kambing panggang ala kampung style with mint and black pepper sauce, chicken satay, murtabak, laksa, and stir-fried char koay teow.
Warung Kambing Panggang
Warung Goreng-Goreng (deep-fried fritters) and Warung Satay
Warung Laksa
There is a wide variety of other dishes to fulfill your cravings. Fresh greens and ulam-ulam (leafy mixed herbs) are also available, along with a variety of sambals like air assam jawa, cincaluk, sambal tomato and kicap cili padi.
There is also pasembur campuran (deep-fried ingredients) with dressing of peanut sauce. Those with an eye for soup can have an option of sup tulang rusuk or chick kut teh.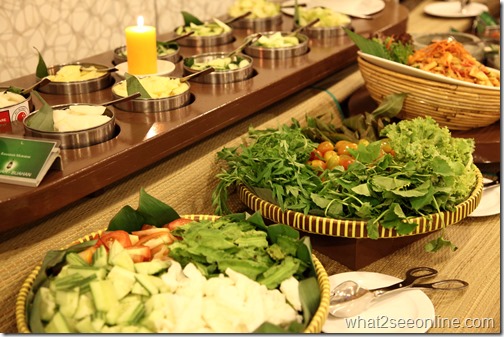 "We've many dishes with rich gravy and spicy punch to go with the nasi putih and nasi hujan panas. There are the ikan goreng sambal, kepah goreng berempah, ayam percik, daging gulai darat, sotong masak kunyit and udang tiga rasa," said chef Ong.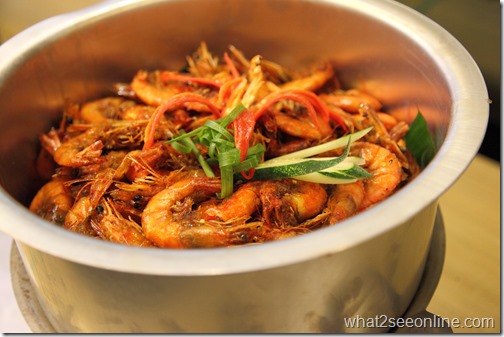 Udang Tiga Rasa
Kambing Kurma dan Ubi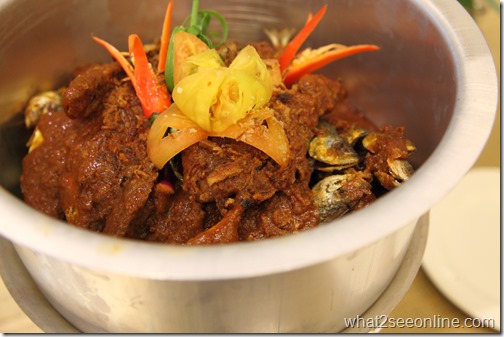 The desserts made largely from coconut milk and sugar, fit the 'kampung' style, with choices of seri muka, kuih talam, pulut inti, onde-onde, kuih lapis and pandan layer.
Do also expect warm creamy sweet broth of bubur gandum, bubur pulut hitam and bubur kacang.
Alternatively, try the fresh fruits, cold concoctions of ice kacang, cendol, ice cream, and hot beverages of teh tarik and nescafe tarik.
The Ramadhan Buka Puasa Buffet is priced at RM52nett per adult and RM32nett for children and is available from 20th June to 14th July 2015.
For further information, contact 04 – 229 9988.
Sun Cafe
Lobby Level, Sunway Hotel Georgetown
33 New Lane (Off Macalister Road)
Georgetown
10400 Penang
*Many thanks to Sunway Hotel Georgetown for extending this invitation.