Winter Warmers Coffee & Tea House @Straits Quay, Penang
BY CK Lam
Winter Warmers Coffee & Tea House with its known English style decor and Afternoon Tea, has been attracting diners to its many outlets in Penang. The great all-around place for breakfast, lunch, teatime and dinner had opened up a new outlet in Straits Quay Penang, and it's their only outlet on a quay.
This is where a group of us spend our Wednesday evening.
In Winter Warmers, you cannot miss ordering the tea. The comprehensive menu will take you on a journey to many different types of tea. You will be excited with its caffeine free herbal tea, special blended flavored tea, original black tea, green tea, lovely tea and milk tea.
Lovely tea cups for sale
They have choices like Season Of Lovely Tea, Champagne Lavender Ice Tea, Candied Ginger, Assam Milk Tea and Rose Milk Tea. The latter is comforting, and is one of Winter Warmer's signature teas. The Candied Ginger tea on the other hand is an acquired taste and did not work with me. I had one sip and put it aside.
Another popular tea is the Rosebuds Caffeine-Free Herbal Tea, a popular booster for the immune system which is free from caffeine and antioxidants.
Ice cold options include Iced Rose Fruit Cocktail, Iced Lime Mint Tea, Iced Green Cucumber Tea, and the Champagne Lavender Ice Tea.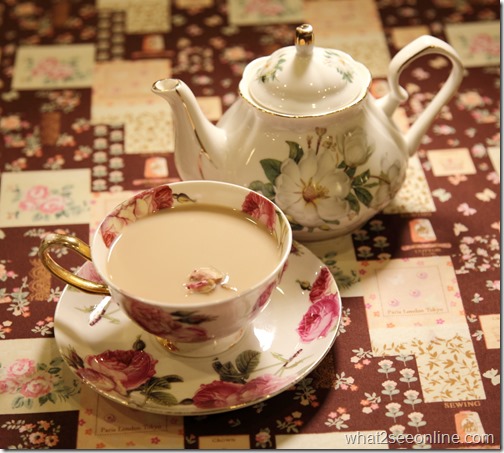 Winter Warmers practice the customs of afternoon tea, with lovely pot of tea and sweet savory nibbles. Three afternoon tea options are available from 12pm to 6pm. Choose from the Cream Tea (RM16.90), Traditional Afternoon Tea (RM42) or the Deluxcious Afternoon Tea (RM76).
The Deluxcious Afternoon Tea served on a three tier cake stand is great sharing for around four to six pax. The set comes with four pots of tea of your choice (original black tea, green tea or lovely tea), paired with classical desserts. The goodies include: four tuna sandwich, two chicken pies, one piece of cake, sweet & savory tarts (two each), two bottles strawberry mousse, four cookies, one set tuna bruschetta, four tuna crackers, and two scones complete with butter,  cream, and homemade rose jam.
Strawberry mousse and scones
One gets to enjoy the tea with Bone China tea cups
Lavendar cheese cake – light and refreshing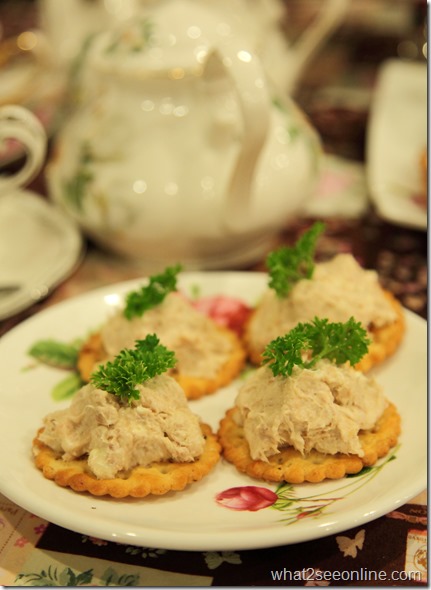 Tuna crackers
While tea is prominently on the menu, the outlet has coffee too. The specially made Champagne Lavender Iced Coffee with light caffeine punch comes with ice cream and tiny cubes of jelly.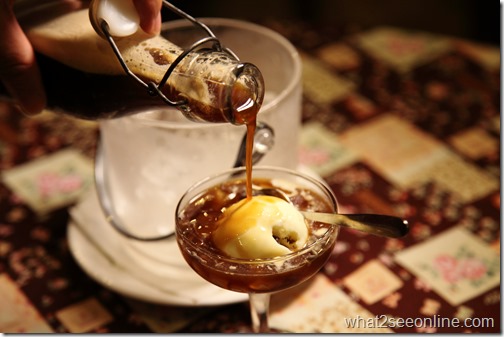 Champagne Lavender Iced Coffee with light caffeine punch

Besides the tea menu, there are the meal options for everyone, with breakfast, lunch, and dinner set menu.
The morning breakfast menu has new choices prepared with smoked salmon. There is the Quiche Smoked Salmon, Croissant Smoked Salmon, Soft Bagel Smoke Salmon besides the Quiche Ham and Vegetable.
The lunch meal is available from 11.30am to 2.30pm. From as low as RM17.90, you can have a pasta meal, a salad and a pot of tea original black tea, green tea or lovely tea (add RM2 for a change in beverage). If you like to add-on the selected slice of cake to the meal, then it comes at an additional RM4.50.
The night has set dinner choices, available from 6pm to 9pm. A set comes with a soup, main course, a pot of tea original black tea, green tea or lovely tea (add RM2 for a change in beverage) and a dessert. The prices of the main course range from RM29.90 to RM52.90.
Grill Fish RM37.90
Braised Beef Short Ribs RM52.90
There are other dishes on the menu if you do not want to go for the sets. You could try the Lemon Grass & Mint Chicken. Served with herbs garlic pasta and mixed vegetables, the chicken is a nice surprise with moist texture and taste. The meat is well marinated with lemongrass, mint, ginger and plenty of herbs.
Lemon Grass & Mint Chicken RM21.90
Also available are many inventive waffles. If you have kids in tow, the Chocolate Banana Waffle, and the Mango Tango Waffle served with sweet fruits and mango ice cream are interesting offerings.
Now you know about this new large place on the ground floor that welcomes you for a good tea time and meals. The atmosphere is inviting and the window seats facing the sea is where many diners will head for.
Winter Warmers Coffee & Tea House
Straits Quay
Jalan Seri Tanjung Pinang
10470 Tanjung Tokong
Penang
Tel: 04-8993848
*** The Buy ONE free ONE set lunch or set dinner promotion is held at Winter Warmers' Queensbay Mall outlet. The offer is on until end of June and only applicable on weekdays & non public holiday.