Halal Steambaot Delivery To The House by Bamboo Catering
BY CK Lam
Having steamboat at home has never been so easy!
Here is a way of having a hassle free steamboat dining experience right at your own home with variety of fresh food delivered by Bamboo Catering (M) Sdn. Bhd. The company has made steamboat catering convenient with a few clicks online or a call 24 hours before your event.
This is my first time trying the halal steamboat delivery service by the Penang based halal catering company.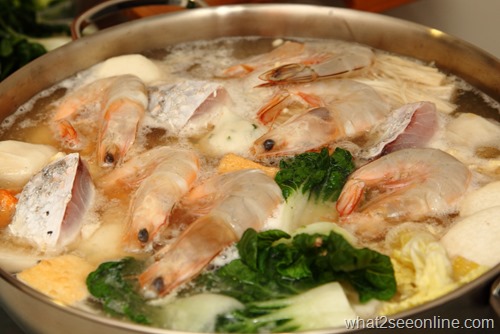 The catering company put together four packages – with the RM199 (for 5pax) and the RM299, RM399 and RM499 (for 10pax). The latter is geared towards quality ingredients such as fish balls with ebiko, beef slices or beef  balls, abalone mushrooms, among others.
Quality control has been conducted with the food hygienically sealed in plastic containers. The containers are then packed in a sealed parcel and delivered by TAQBIN's special chiller van. Hours for delivery are from 8am – 2pm; 12pm – 3pm; 3pm – 6pm; 6pm – 9pm.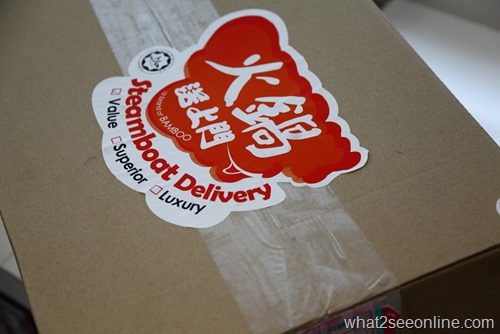 I unpacked the RM299 package and the ingredients include: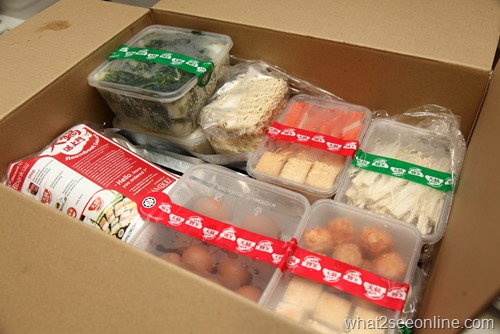 Fresh white prawn ~ 15 nos
Fresh fish fillet ~ 500gm
Fresh squid ~ 500gm
Mince chicken meat with egg ~ 400gm
Filament stick ~ 1 packet
Square seafood toufoo ~ 15 nos
Salmon ball ~ 15 nos
Cheese fish ball ~ 15 nos
Hock Chew chicken ball ~ 10 nos
Fresh inoki mushroom ~ 2 packets
Almond mushroom ~ 1 packet
Japanese beancurd ~ 4 nos
Chinese cabbage ~ 500gm
Nai Bai vegetable ~ 400gm
Siew Bak Choy ~ 400gm
Instant noodle ~ 6 pieces
Chicken egg ~ 10 nos
2 packets of chicken stock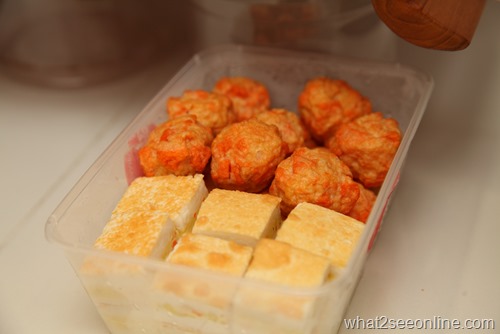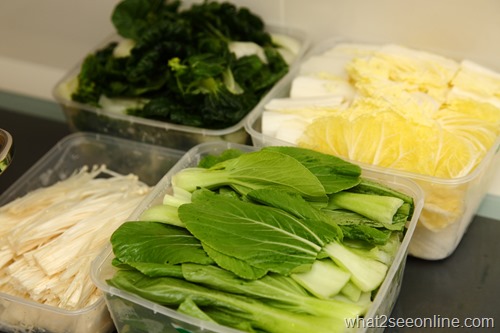 The steamboat soup is made adding water to the concentrated chicken stock (with illustrated pictures provided). Optional tomyam soup (RM20) or fish bone soup (RM30) can be requested shall you prefer to have a greater variety of soup base. On top of that, you may request to have other ingredients as well, subject to different charges per ingredient.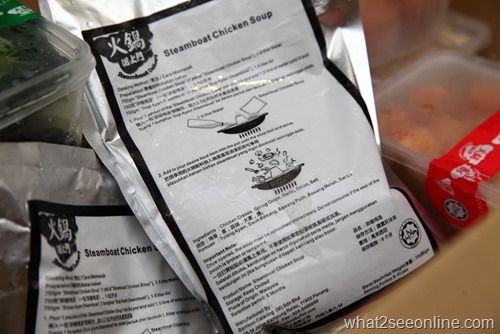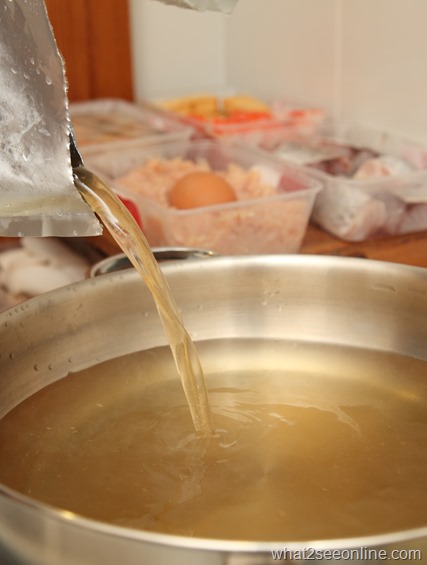 Several minutes to heat up the chicken stock
The steamboat set is complete with condiments. Four types of are provided: spicy ginger sauce, garlic oil, onion soy sauce and special chilli sauce. The spicy ginger sauce lightly teased the taste buds while the special chili sauce added oomph.
I have to say, the ingredients provided in the RM299 are pretty enjoyable, and are more than sufficient to fulfill approximately 10 to 12 average eater. The only ingredient that I don't fancy is the cheese fish ball.
So the next time you want to have a convenient steamboat meal at the comforts of your own home, or a company meal at your workplace, the steamboat package from Bamboo Catering is worth to think about.
As for now, the company is offering a 20 percent discount for Citibank card holders. Delivery service is available for Penang, Kedah, Ipoh, KL and as far as Johor.
Bamboo Catering (M) Sdn. Bhd.
808-M Jalan Kampung Relau
11900 Bayan Lepas
Penang
Tel: 04-646 9999
Fax: 04-6466699
Website: www.bamboobuffet.com
 * Thank you Bamboo Catering for providing the steamboat package.