Pasta & Pie Hawker Stall at Northam Beach Cafe, Penang
BY CK Lam
Pasta & Pie is without doubt one of the busy hawker stall serving pasta and pie in Penang. Located at Northam Beach Cafe, the stall run by Tony Cheah and his wife Elizabeth Tay has been keeping diners happy for more than 11 years with a small selection of favorites.
The stall offers pies, pasta, and soup, including desserts on its menu. The pies will bring a smile to your face, with choices ranging from Chicken Pot Pie, Mushroom Chicken Pie, Fisherman's Pie to Shepherds' Pie.
The Chicken Pot Pie came out piping hot in a large mug. Under the crisp light pastry top is a rich creamy stew made with chicken stock, flour, celery, chicken, mushroom and carrot.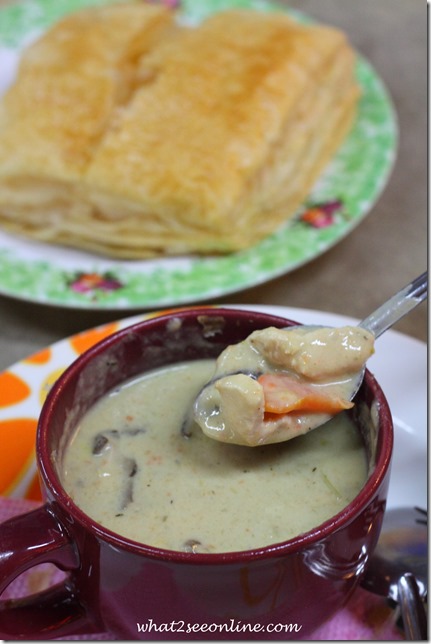 Chicken Pot Pie RM13.80
It is worth checking out the Mushroom Chicken Pie (RM9.80). Tony serves the mushroom chicken pie on a plate with mushroom carrot soup.  Topped with golden brown crust garnished with pastry stars, the pie with a bechamel base comes with a filling of chicken, shitake mushroom, carrot and herbs.
You can also enjoy the pie alongside a portion of salad, and the combination is priced at RM12.80.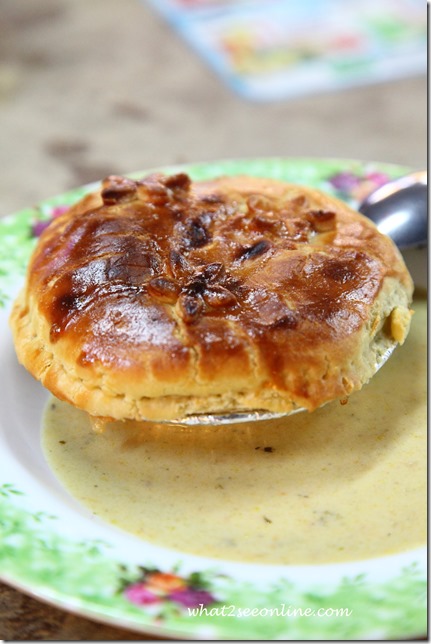 Mushroom Chicken Pie RM9.80
Another dish to accompany the meal is the Mushroom Carrot Soup. Many love the flavor and creamy texture of the soup prepared with mushroom, carrot and celery. There is a breadstick to nibble along with the soup.
Mushroom Carrot Soup RM5.80
If pasta is on your mind, then check out the Spaghetti Bolognese, Fettuccine Carbonara, Penne with Clams and the tomato-rich Linguine Napoletana.
The hearty Linguine Napoletana is prepared with beef, mushroom, and hint of garlic and bay leaves. It comes with a spoon of grated parmesan cheese, and two pieces of baguette which could easily been toasted with more crispiness. If you don't take beef, go for the chicken version.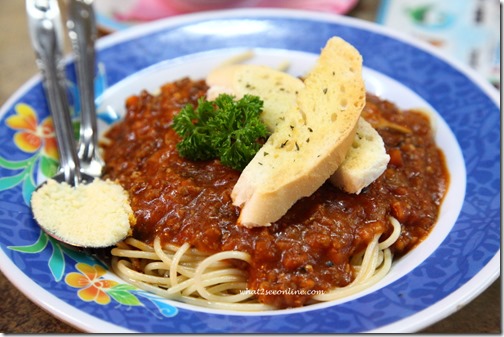 Linguine Napoletana
Don't miss the Potato and Green Salad with cucumber, tomatoes, creamy potatoes, assorted mixed greens and umbra fruit. In Penang, one can find the sour umbra in the rojak (fruit salad) but rarely in a vegetable salad.
Surprisingly, the combination of ingredients and the creamy sauce turns out very refreshing.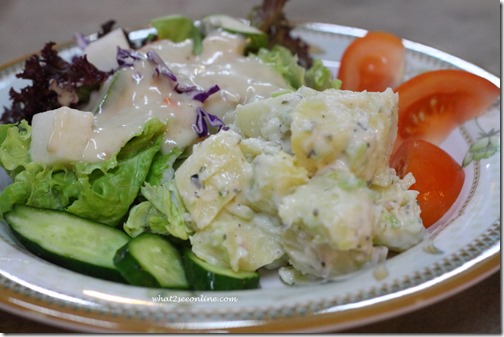 Potato and Green Salad RM6.80
If you have a sweet tooth, you can find some varieties displayed in the fridge. From Russia with love is the Napoleon Cake, a buttery and creamy creation. The moist and soft cake with several lightly browned layers and cream comes out fine even prepared without the usage of alcohol.
Napoleon Cake RM6.50
The couple also had mango lovers in mind, with the Mango Mille Crepe layered with sweet and pungent combination of water lily and black gold (ore kim) mangoes. The dessert will have you swooning in delight.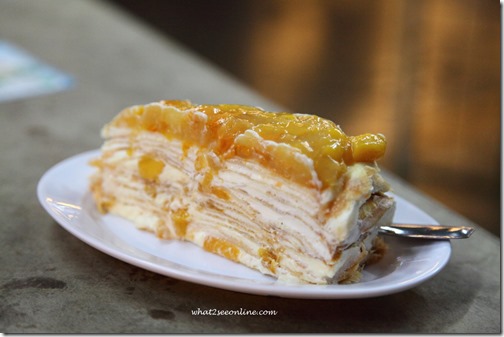 Mango Mille Crepe RM6.50
You also get other main courses such as Lasagne, Fish Baked Rice and Spaghetti Bake, as well as set menus priced from RM23.50 to RM26.50.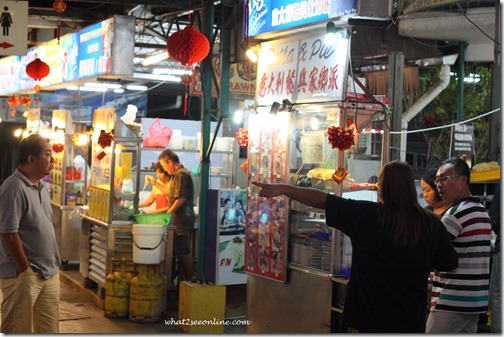 Casual dining in the food court atmosphere
Pasta & Pie
Northam Beach Cafe (诺登美食坊)
58 Jalan Sultan Ahmad Shah
10050 Georgetown
Penang