Indian Food @G. Tholasi Corner in Wa Coffee Cafe, King Street Penang
BY CK Lam
G. Tholasi Corner located in Wa Coffee Cafe in Lebuh King, Penang has been selling Southern Indian food since 2011. The stall runs by G. Thulasi together with her mother offers breakfast and lunch with a variety of home cooked style dishes to the surrounding office crowd.
'Initially, we started off our food business in Paya Terubong in 2010 but has since shifted to George Town,' says Thulasi.
Various bread such as chapati, vadai, apom and fluffy thosai are on offer for breakfast. You can opt for the chapati (flatbread), freshly made on the spot over a gas stove. Tear off pieces of the warm chapati and dip into the accompanying dhall (lentil curry) or have it along with variations of meaty curry dishes prepared with an amicable blend of heat and flavor.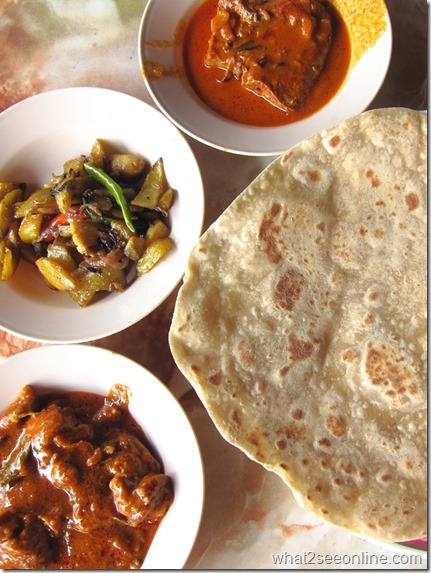 If you are there at lunch time, you can have your tastebuds treated to various dishes like fish head curry, ikan masin vegetable, chicken varuvai, deep-fried chicken, ikan bilis sambal and fish curry. Regulars also go for the deep-fried bitter gourd which is rather addictive. There is also a small selection of ulam (local herbs and greens).
Attempt to try the fish head curry which comes cooked with lady fingers. It is not too spicy but aromatic with many spices.
Likewise, there are several vegetarian dishes on Friday, such as the vegetable kurma.
The eatery opens from 7am to 3pm and closes on Saturday and Sunday.
G. Tholasi Corner @Wa! Coffee Cafe
28 Lebuh King
George Town
10200 Penang