Seafood Noodles & Porridge @Tuck Sai Cafe, Penang
BY CK Lam
Tuck Sai Cafe is housed in a corner shop located on the ground floor of Sri Pelangi apartment in Penang. This hideout away from the hustle and bustle of Dato Keramat Road is a popular breakfast and dinner spot. Expect to find dim sum, seafood noodles and mushroom chicken noodles all under one roof.
At night, Calvin Seafood porridge stall offers freshly cooked seafood noodles and porridge, served with a spoonful of cut chilli – a necessity for the dishes.
Stated on the menu are seafood ingredients: prawns, fish fillet, crab, squid, deep-fried fish fillet and deep-fried grouper fish head. There are the clear stock, and tom yam soup to go along with choices of thick or thin vermicelli, instant noodles and porridge.
Seafood beehoon with large prawns cooked with choy sum is perfect for something light. The key ingredients is fresh ginger, which adds to the complex flavours of the prawns.
The prawns are cooked just right, making the flesh delightful to savor. This dish easily satisfy one's prawny cravings.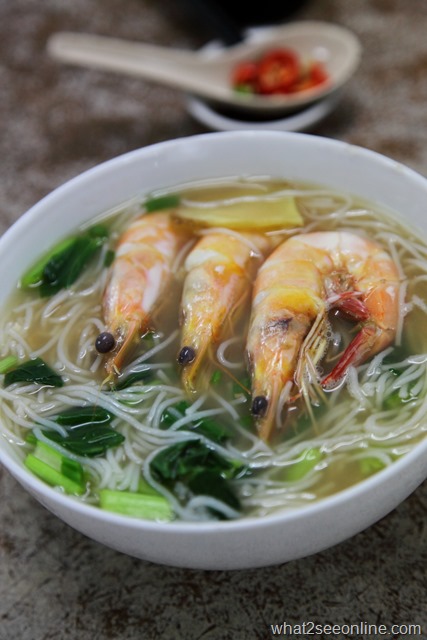 The owner wants diners to have other seafood side dishes. A plate of deep-fried mini pomfret priced at RM6 is a simple dish to share. The fish charms the palate with its freshness and crispiness. I kind of liking it with the accompanied sourish lime juice (kat chai). It makes the dish particularly flavorful.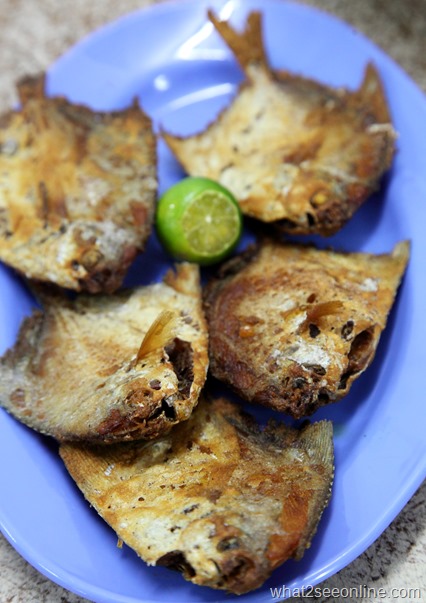 We opt for the crab porridge, layered with crab sweetness flavor and pleasant tinge of ginger. Despite its small size, the crab has fresh, sweet flesh and a bit of roe,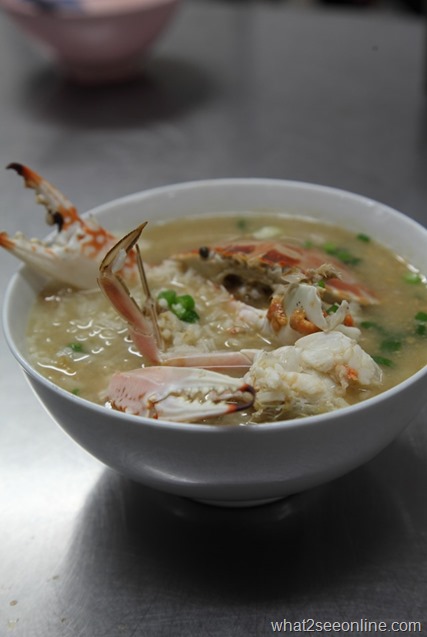 Minced pork is also another item on the menu. A bowl of beehoon prepared with minced pork coupled with deep-fried fish offers a variety of textures and flavors to the richness of the broth. Soulfully simple at RM9.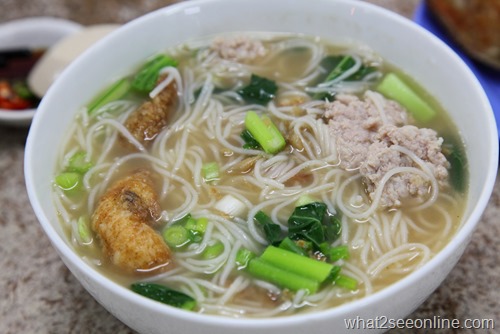 At dinner time, customers shared tables with those having the tung ku kai see hor fun (braised chicken with Chinese black mushroom) from the nearby stall. The braised Chinese mushroom really makes the dish, imparting earthy flavor and fragrance to the hor fun.

Dry braised chicken mushroom hor fun
If you are into seafood noodles and porridge, do hop over to Calvin Seafood Porridge stall in Tuck Sai Cafe. Business hours are from 5pm till 12midnight daily except Mondays. Click here for the map location.
 Calvin Seafood Porridge
12A Sri Pelangi Apartment
Jalan Bukom
10150 Georgetown
Penang