Teochew Cuisine @Goh Swee Kee, Penang
BY CK Lam
In Penang, one particular cuisine that has stood the test of time is Teochew cuisine. There are several places offering  the cuisine and one recommended place would be Goh Swee Kee.
Having been around for decades, Penangites have always taken pride in Goh Swee Kee Restaurant 吴瑞记菜館 located at Sri Bahari Road in Georgetown, Penang.
Stepping inside Goh Swee Kee, it is a familiar ambience of Chinese restaurant with minimalistic decor: tables with light colored table clothes and walls adorned with several Chinese paintings.
The restaurant offers authentic Teochew cuisine, and several dishes have always been a crowd favourite. One dish that stands out is the deep-fried prawn balls, popularly known as heh-chow in Hokkien. Prawn, meat and water chestnuts are rolled up and held together by a beancurd skin, and deep-fried till golden brown. This dish well finished with a dip of homemade chilli sauce is the way to get the meal started.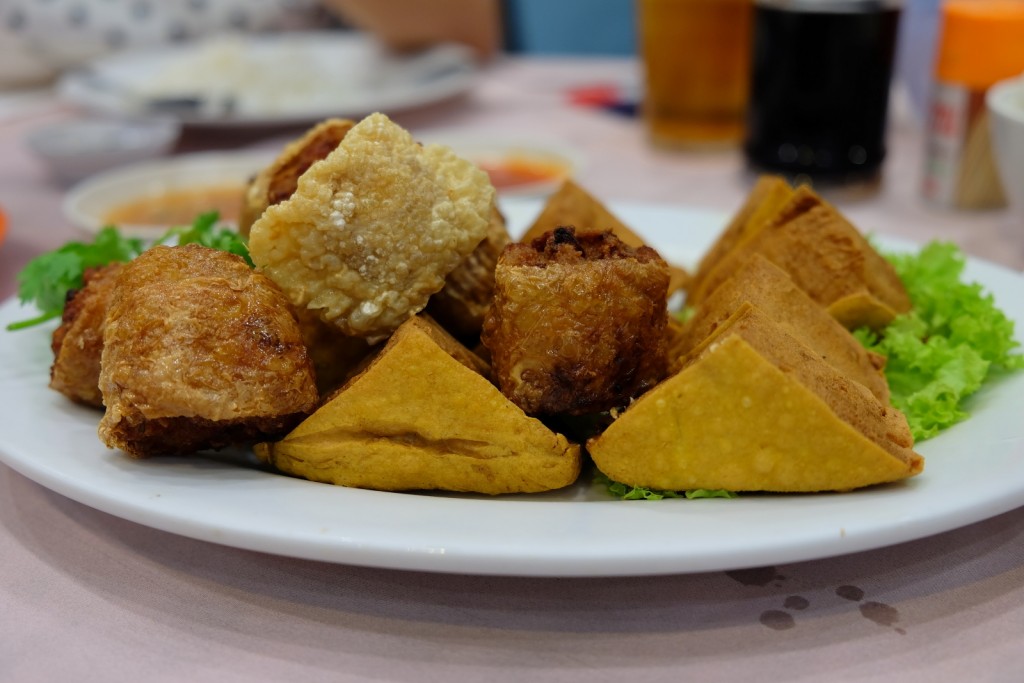 Another Teochew fare I thoroughly enjoyed would be the stir-fried oysters. Not to be confused with the Penang famous Oh Chien, the fresh oysters are cooked in a savoury gravy along with preserved brown beans, chopped spring onions and cut red chillies.
Goh Swee Kee signature dishes include the Teochew braised duck. The light black sauce is flavorful with all the taste of duck and aroma of herbs and spices. Cut into pieces and served with some lettuce, the braised duck is good with a dip in the garlicky chili sauce.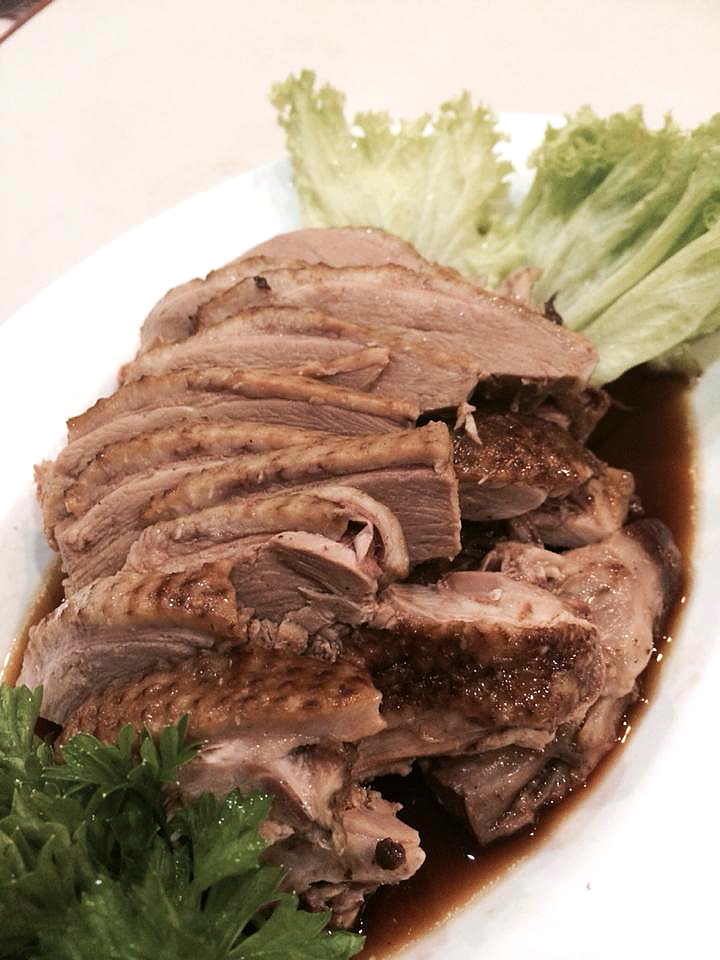 If you are a fan of braised pork, the traditional fare is available with chunks of pork prepared in a stew of soya sauce. Some could even argue that this dish is as good as the braised duck, but for me, it is my least favorite of the two braising dishes. The gravy felt a bit bland.
For those preferring a dish with spicy notes, one can order the curry spare ribs. Not so much of a Teochew style dish, this much-loved curry dish has pieces of tender pork ribs cooked in a mildly spicy curry with complex depth of spices.
Moving on to some vegetables to balance the palate, one recommended choice would be stir-fried bean curd with leeks. The bean curd with five spice powder is flavorsome and when cooked together with leeks, prawns, and preserved brown beans, they yield a delicious blend of flavors.
For leafy dishes, the spicy plate of stir-fried kangkung (water convolvulus) with sambal belacan and prawns never fails to whet the appetite with the pungent and aromatic belacan (shrimp paste).
Chinese cuisines in general are never complete without a serving of fish. One can opt for the appetizing steamed red snapper with garlic, salted vegetables, preserved brown beans and cut red chillies – affectionately known as cheong cheng style steamed red snapper. With right timing, the fish is done with silky and delicate flesh.
Another cooking style would be the Teochew style steamed red snapper. Prepared with tomatoes, sour plum, salted vegetables and ginger, this is a lighter variation from the aforementioned dish.
Cheong cheng style steamed red snapper
Teochew style steamed red snapper
To top it all off, Goh Swee Kee serves up the traditional Orh Nee, a popular Teochew dessert made from yam. The steamed yam paste is slow cooked in oil and served with sesame seeds, gingko nuts and orange zest. Being my personal favourite, I never fail to indulge in a serving of this creamy dessert with citrus flavor each time I'm at Goh Swee Kee. Perfect to go with Chinese tea.
All in all, Goh Swee Kee is well a visit for a simple dinner or a feast for the family. Prices are relatively reasonable and portions are satisfying.
The restaurant with air conditioning is open daily, operating from 11am to 2.30pm for lunch and from 7pm to 10pm for dinner. During peak hours, the restaurant is commonly full and customers are seen waiting outside for a table.
Goh Swee Kee
5 Jalan Sri Bahari
10000 George Town
Penang
Tel: 04-263 6932