Food Innovation & Dominique Portet Australian Wine Dinner
BY CK Lam
Thanks to the wonderful event of food innovation & Dominique Portet Australian Wine Dinner, I savored six wines from Yarra Valley soils. Organized by Asiaeuro, Dominique Portet's recent wine dinner in Penang was held at Tiffins in Parkroyal Hotel Penang.
We received a welcome from Asiaeuro Wines and Spirits wine ambassador William Chong, followed by introduction from Dominique Portet, owner and wine maker of Dominique Portet.
Dominique chatted about the Dominique Portet label which features an emblem that takes the form of an arabesque, symbolising the links and close bond between generations, families and continents. The French man is the ninth generation winemaker in a family of vignerons dating back to eighteenth century France, and is the first to establish a winery and label bearing his family name in Australia.
The Australian wines from Yarra Valley soils which included Dominique Portet Brut Rose, Dominique Portet Fontaine White 2013, Dominique Portet Sauvignon Blanc 2013, Dominique Portet Fontaine Shiraz Cabernet Merlot 2014, Dominique Portet Yarra Valley Cabernet Sauvignon 2012 and the Dominique Portet Heathcote Shiraz 2012  were paired with creations by Chef Tan Jee Aun.
The Dominique Portet Brut Rose, a sparkling wine with blend of Pinot Noir, Chardonnay and Pinot Meuniere was brought out to accompany the canapes. There was so much to taste – smoked salmon on alfalfa bush with olive oil, crabmeat with chili spread and wasabi, and vegetarian garbanzo beans with feta.
The sparkling wine with freshness and acidity went well with the canapes, especially the smoked salmon on alfalfa bush.
Soon after, we were sat down on tables and presented with plates of butter, dippings of olive oil & balsamic vinegar and dukkah. Dukkah, a crunchy, toasty, spicy nut mixture was one of my exciting finds when I was in Perth, Australia and it was great savoring it here along with house-baked bread.
By the time the amuse bouce was served, we moved on to the Dominique Portet Fontaine White 2013. Produced from Sauvignon Blanc grapes, the easy to drink white wine with citrus aroma paired nicely with the amuse bouce of foie gras parfait served with wine jelly and raisin compote on light toast.
The cold appetizer was a pinnacle of fresh seafood flavors, with Hokkaido Scallops Crudo prepared with sea urchin, caviar, and micro cress.
The scallops taste so sweet and good; the sea urchin and caviar were abundant; and all the flavors were lifted up by lemon infused extra virgin olive oil. The dish was paired with Dominique Portet Sauvignon Blanc 2013, a white with lovely freshness and gentle creaminess.
The second appetizer was Turducken Ravioli, filled with a bounty of poultry – smoked turkey, duck confit, and chicken tossed in garlic, chilly, basil, sundried tomato emulsion and toppings of crispy skin crumble.
I love the combination – tasty stuffing, well-crafted pasta and the sauce with depth of flavor. Besides that, the strips of crispy chicken skin crumble were a perfect counterpoint to the huge ravioli which was paired with Dominique Portet Fontaine Red 2014. With a blend of 50% Shiraz, 45% Cabernet and 5% Merlot, the well-balanced red wine with soft tannins made for a beautiful pairing with the ravioli.
Next was the carrot air with orange sorbet to refresh the palate. It taps into the interest with its combination of ultra-light texture and citrusy cold-sweet sensation.
The main course was Slow Roasted Wagyu Beef Striploin, a huge piece of meat served with red wine sauce, and a garnish of wild mushroom flan, sweet carrots, fava beans and parsley shallot on a potato and leek puree.
The dish was complemented by the Dominique Portet Yarra Valley 2012, a Cabernet Sauvignon. A wine of character, this bright red-purple with blackcurrant and redcurrant to the fore offers a long lingering finish.
At the end of the meal before the dessert, speciality cheeses accompanied by grapes soda, biscuit, onion herb bread and plum chutney were placed on each table for everyone to share.
The varietals of  blue cheese, gouda herb cheese and coulommiers were paired with the Dominique Portet Heathcote Shiraz 2012. I had little nibbles and particularly enjoyed the supple and soft, nutty flavored coulommiers.
After the cheeses, we were served with an implosion of hot and cold, sweet and chocolaty dessert: Chocolate Ball.
The Chocolate Ball is a shell of chocolate with a delicious sacher blueberry yoghurt cake topped with macadamia ice cream hidden inside. Served with sides of hazelnut caramel crunch and berries, the chocolate ball was a great round off and leaves a sweet memory.
I enjoyed the evening  to the full, conversation and laughter with wine and food lovers around a delicious dinner paired with Dominique Portet wines.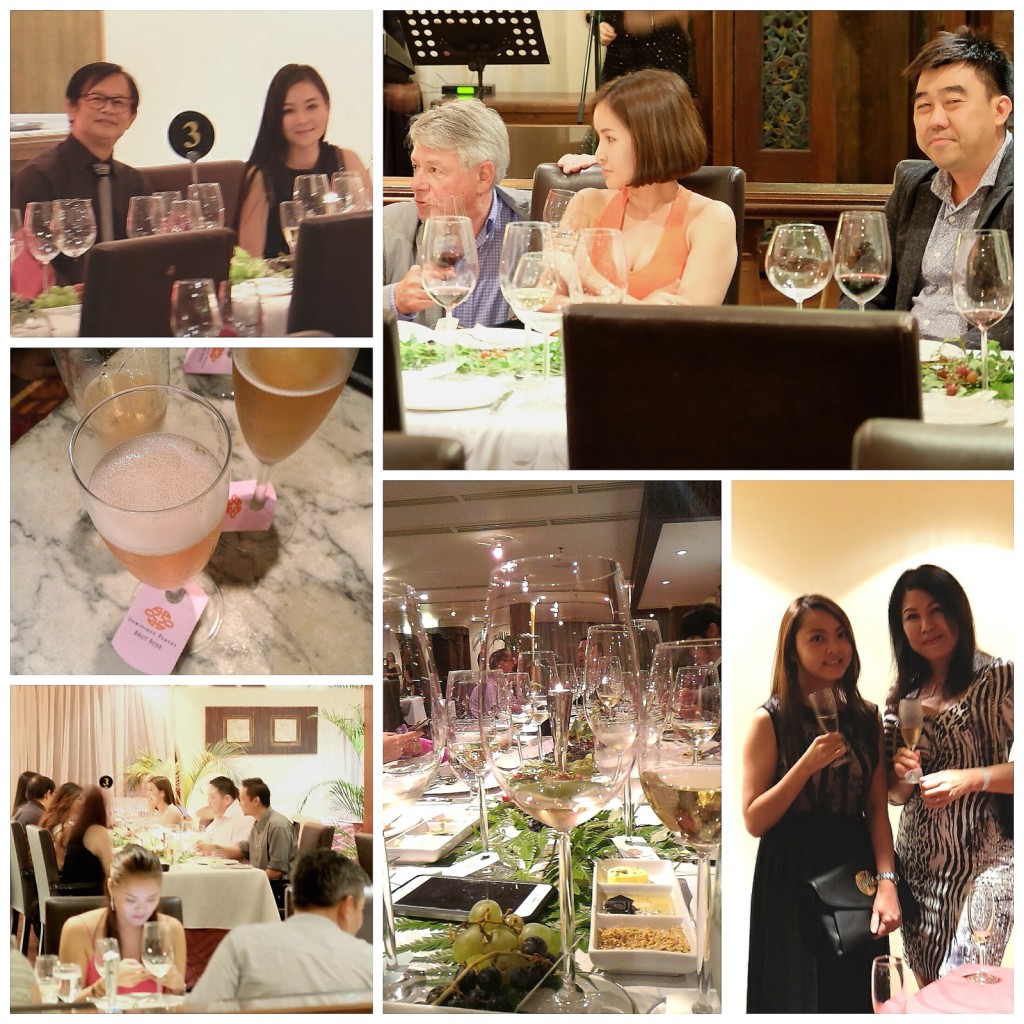 Dominique Portet wines are distributed in Malaysia by Asiaeuro and available at Vino Vino Bistro Penang.