Food Trail in Seberang Perai, Penang
BY CK Lam
Sitting on the peninsula of Malaysia, the many districts of Seberang Perai in Penang offers an astounding range of eateries, from local hawker stalls to restaurants.
From the island, a good time to start the food trip is in the morning. With a drive across the Penang Bridge, and passing through a few highways, you will noticed the beautiful bright blue Prai River Swing Bridge. From here, you are very near to the eateries.
Make a stop at Ah Khoon Loh Mee (亚坤卤面), which serves loh mee with yellow noodles in a thick starchy fragrant gravy along with braised egg and meat. Most customers will have the bowl of noodles mix with chili paste and Chinese black vinegar. You will be surprised how tasty the dish is with a few drops of the vinegar.
Do not forget to order a side dish of braised pork knuckle. The deboned tender pieces of meat with intense flavors never fails to impress.
Ah Khoon Loh Mee (亚坤卤面)
Jalan Bagan Luar
Business hours: 7am–2pm
GPS: 5.410726,100.370947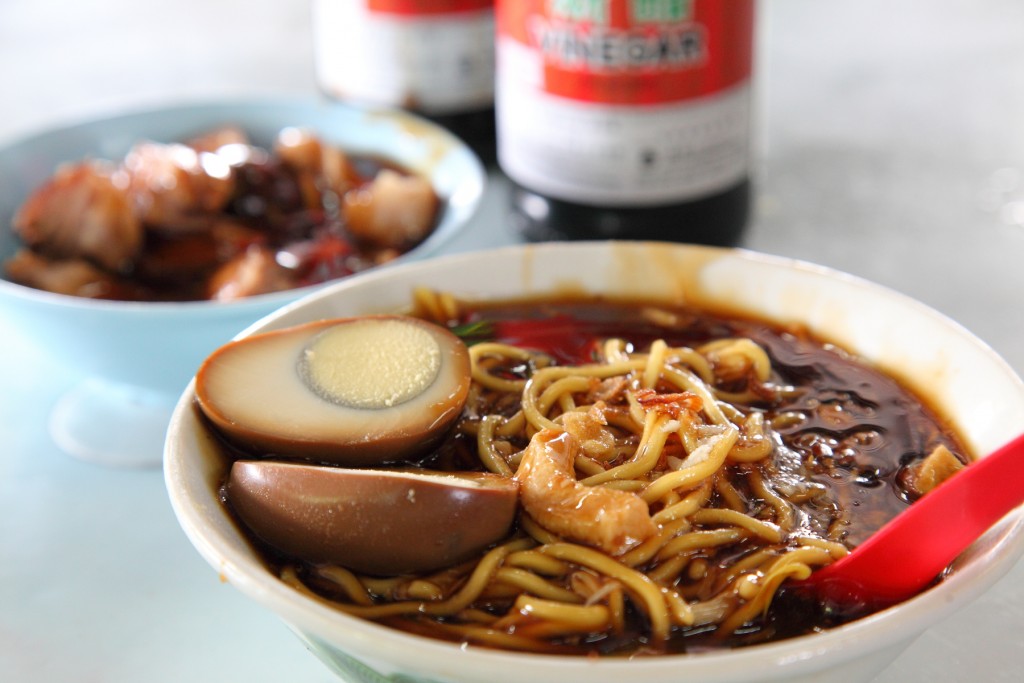 Lor mee with braised egg
Another noodle stall you're likely to find nearby is Restaurant May Foong 美芳茶餐室, an old establishment famous for its Ipoh hor fun, and prawn dumpling (wanton). One can also enjoy the hor fun with steam chicken (pak cham kai).
As the stall is located in a shop, it is more comfortable and cooling. More can be viewed at: https://www.what2seeonline.com/2008/11/penang-food-restaurant-may-foong/
Restaurant May Foong 美芳茶餐室
4274 Jalan Kampong Benggali
Butterworth
Penang
For sweet kuih-muih, stop by Mama Kuih 妈妈糕 stall located at Jalan Raja Uda Apollo Market. You'll find steamed variety of Nyonya kuih, including malaiko, bak tong koa and kuih talam.
There are other good pickings such as kiya kuih eaten with sweet palm sugar syrup, and pulut tai tai made using glutinous rice, coconut milk and juice from butterfly pea flower. More info is embedded at this post.
Mama Kuih 妈妈糕
Jalan Raja Uda Apollo Market
Business hours: 2pm every Saturday afternoon
Tel:+60 12-489 8368
Malaiko (Malay steamed cake) 马来糕
  Kiya kuih and pulut tai tai
The Apollo market and its surrounding area offer limitless street food in the afternoon. Zig zag across the space and you will come across a stall selling assortment of deep-fried specialties. Try the durian fritter, banana and popiah. The durian fritter is my favorite, tasty with crisp batter and warm durian pulp. It is perfect with a cup of local coffee.
Deep-fried snacks
Jalan Raja Uda Apollo Market
Diagonally opposite Apollo Market is Hong Keat Coffeeshop 宏桔饮食中心. The coffee shop houses many food stalls such as the popular Yam Rice stall and Sri Siam Curry Fish Head stall. The latter draws crowds for its home-styled cooking. Expect to find the stall crammed with trays and trays of rather tasty curries made with fresh herbs and spices. Spicy choices includes meat, seafood and vegetables.
From the Yam Rice stall, order some sourish salted vegetables pork soup along with the yam rice, and a side dish of braised pork knuckle in Chinese black vinegar to share.
Hong Keat Coffeeshop 宏桔饮食中心
Jalan Raja Uda
Business hours: 9am – 3pm
GPS: 5.433682,100.385467
Yam rice with salted vegetable pork soup
Fish curry from Sri Siam Curry Fish Head stall
Venture to Lean Hup Bee, which prides itself with its signature braised pork trotter in dark soy sauce. This dish known as "Tau Yew Too Kar" in Hokkien, has an appealing sweet and savory sauce. Simmered in black soy sauce and spices, the tender pork trotter has depth of meaty flavor. More info can be view at: https://www.what2seeonline.com/2015/05/braised-pork-trotter-at-lean-hup-bee-in-butterworth-penang/
Lean Hup Bee 联合美
28 & 30 Jalan Pantai
12000 Butterworth
Business Hour: 9am till 3pm
GPS: 5.4002489, 100.3663771
If you are thinking of seafood, drive over to Kantin Ah Chong. The simple restaurant is welcoming with its seafood fare, with picks such as crabs, prawns, squid and clams. On one visit, we had crabs with some greens and fried noodles. Go early to get a dining spot with sunset view.
Kantin Ah Chong 阿仲海鲜饭店
No 2 Pantai Bersih
Bagan Ajam
12300 Butterworth
Penanag
Tel:012-476 7021
Zi Wei Yuan Steam Boat is the place for you if you are craving for a steamboat meal. The restaurant serves traditional charcoal heated steamboat, with choices of Grouper Steamboat and signature Fish Head Steamboat.
Just as authentic as the charcoal fire, the soup is presented in a metal pot, with a chimney holding the charcoal. More can be view at: https://www.what2seeonline.com/2014/05/steamboat-meal-at-zi-wei-yuan/
Zi Wei Yuan Steam Boat 紫薇園魚頭火炭爐
6525, Jalan Raja Uda
12300 Butterworth
Business Hours: 6pm to 11pm
GPS: 5.4391654,100.3521721
Another curry option is Curry Noodles House on Jalan Raja Uda. Customers can drop in for an aromatic bowl of curry mee, topped with tau pok, long beans, blood cubes and cockles for dinner and supper. I have to say the curry mee will be even more delightful if served with mint leaves.
For a more substantial meal, there is a long list of add-ons: minced pork, fried beancurd sheet, sotong, prawns, chicken, wild boar meat and balitong.
Curry Noodles House 北海咖哩面之家
42 Jalan Raja Uda,
12300 Butterworth
Penang
GPS: 5.415896,100.379725
Business Hours:  7pm – 3am
Closed on Sunday
Curry mee
Add-ons
Make a stop at the 7 Village Noodle House 七廊粿條湯. The eatery's attraction is the koay teow th'ng and they have outlets at nearby locations and also on the island. The dry version koay teow thng comes with flat rice noodle tossed in dark soy sauce, and served with minced pork, springy fish balls, vegetables and a soft runny egg. Another must try is their la mien in clear broth.
7 Village Noodle House 七廊粿條湯
Lorong Ceri 6 (off Jalan Raja Uda)
Taman Ceri
12300 Butterworth
Pulau Pinang
Business Hour: 7.30am till 9.30pm

If you feel like having tom yam noodles, make a beeline at the 光华小学旁边 shop on Jalan Raja Uda. This dinner place specialises in serving noodles and ingredients in its renowned spicy tom yam soup. While many customers are big time tom yam soup fans, there are also those who prefer to have their bowl of noodles cooked in clear soup.
More details can be viewed here.
Raja Uda Tom Yam Noodles 光华小学旁边
7121G Jalan Raja Uda
12300 Butterworth
Pulau Pinang
GPS: 5.42797, 100.38333
Tel:
012-5742696
Business Hour : 6.30pm – 2am
Closed on Tuesday
Take a drive with a few of your friends and check out the food stalls in Seberang Perai area.  Trust me, you will have much to indulge shuttling from one eatery to another…the choices are endless!