Bao Zhou Po Claypot Seafood Porridge at Kampung Malabar, Penang
BY CK Lam
Bao Zhou Po Claypot Porridge in Kampung Malabar, Penang offers a great variety of porridge. Situated right beside the famous Hon Kei, this claypot porridge shop also offers some chu char dishes.
According to the owner, Summer Shang, who originates from China, there are 15 choices of ingredients to cook with the porridge besides the standard preserved cabbage and pickled radish. Other than fish, clam, crab, shrimps, and luxurious ingredients such as scallops and abalone, there are also exotic seafood like eel and frog.
If the seafood you choose is less than RM50, you need to pay RM15 for the porridge, or else it is free. The smallest portion of the porridge serves at least 2 person.
Be prepared to wait for around 35 minutes for the porridge to cooked till the grains disintegrate into a smooth silky consistency. Served in claypot, the porridge is kept hot much longer.
The dish that strikes is the pot of porridge with combo of River Prawn and Clam (Kappa). For the price of RM51, the porridge for 2 person provides 350gram of fresh water prawn and one set of clam.  The river prawns and the clams (kappa) are a delight to relish, fresh and  simply sweet.
One of the bestseller is the Sea Prawn and Crab Porridge. This dish priced at RM96 with a combination of sea prawns and crabs had a briny-sweet savory depth and every bite of the juicy crustaceans is enjoyable.
The Grouper Fish and Sea Prawn Porridge priced at RM72 comes with mild flavor and hint of ginger. Although it deliver sweetness, this version is yet to measured up with the other two porridges.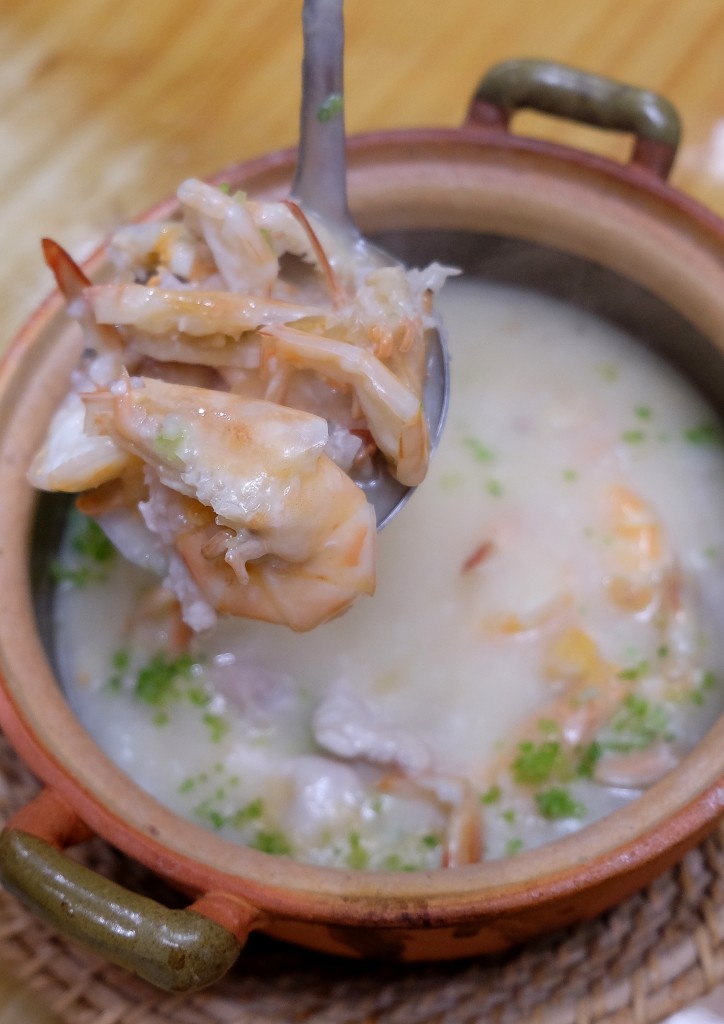 Besides seafood porridge, the Teow Chew Fried Porridge also shows up on the menu. The boiled porridge is pan-fried with mushroom, prawns, and dark soya sauce, and served topped with a sprinkling of chopped spring onions and strips of fried yam. The many ingredients and the cooking method made the thick and warming porridge full of oomph: in savouriness, charred aroma and texture.
On the snack front there is the Teow Chew Pork Lohbak, with minced meat wrapped in beancurd sheet. One can down a few pieces while waiting for the food.
Also on the menu is some local chu char dishes to go along with rice. Tantalise your taste buds with wok-fried Mongolian Pork,  ZhenJiang Chicken and  Fried Celery, Black Fungus and Chinese Yam.
Vegetable lovers would not want to miss out the Fried Celery, Black Fungus and Chinese yam. Priced at RM15, there is harmony in flavor, with ingredients complementing each other.
Bao Zhou Po Seafood Claypot Porridge
51-G Kampung Malabar
10100 George Town
Penang
Tel: 04-2626799
Business Hour:
11am -2.30pm
5.30pm – 10.30pm
Closed on Wednesday
*Thanks to Bao Zhou Po Seafood Claypot Porridge for extending the invitation