Wang Thai Restaurant Pulau Tikus, Penang
BY CK Lam
There is a clear demand for Thai food in Penang with the many existing restaurants and eateries around town. One such restaurant with bustling business is Wang Thai Restaurant, located along a row of shophouses in Pulau Tikus on Jalan Burma.
Its menu has plenty to dazzle spice-loving palate and one visit will never be enough.
When it came to starters, began with the DIY dish of Meing Kum (leaf wrap appetizer). The raw wild pepper leaf (daun kaduk) shaped into a cone is filled with pieces of raw shallots, bird's eye chilies, galangal, toasted grated coconut, kaffir lime, dried prawns, roasted peanuts, and drops of sweet salty sauce.
The mouthful combination of ingredients has an acquired tangy, peppery and slightly bitter taste. The flavor may be strong for some, but it certainly is a light refreshing favorite for many.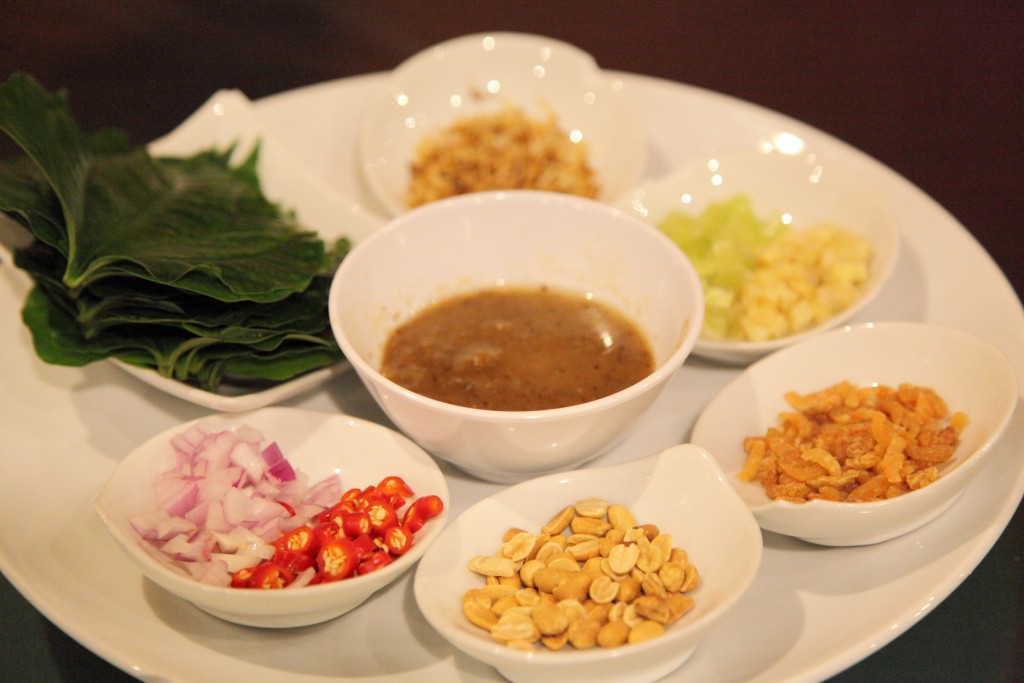 Besides starters, you also get a selection of salad. The Yum Ped is appetizing with a combination of roast duck and fresh salad complemented by spicy sourish sauce.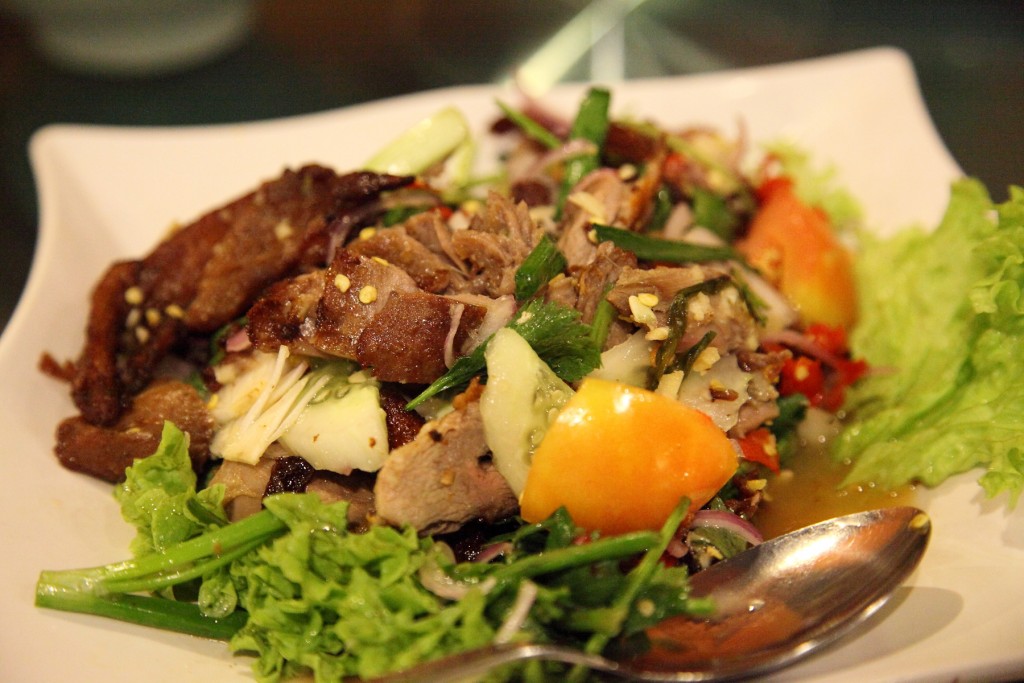 Or consider the house specialties of Hor Mok Talay (seafood otak-otak) and the Gaeng Keow Wan Gai (green curry). The seafood otak-otak has a delightful combination of fish, prawns and squids flavored with curry paste, fresh coconut milk and Thai basil leaves. The robust spicy dish served in a coconut is well-received by the table.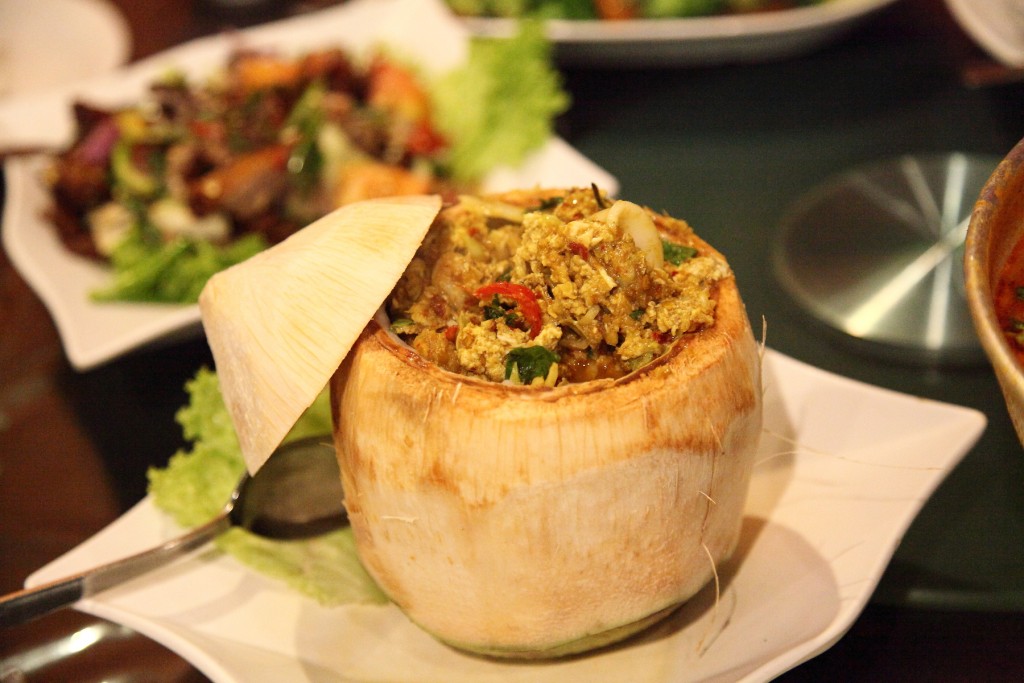 The Gaeng Keow Wan Gai is a bowl of creamy, rich green curry prepared with fresh coconut milk, chicken, Thai basil leaves and eggplant.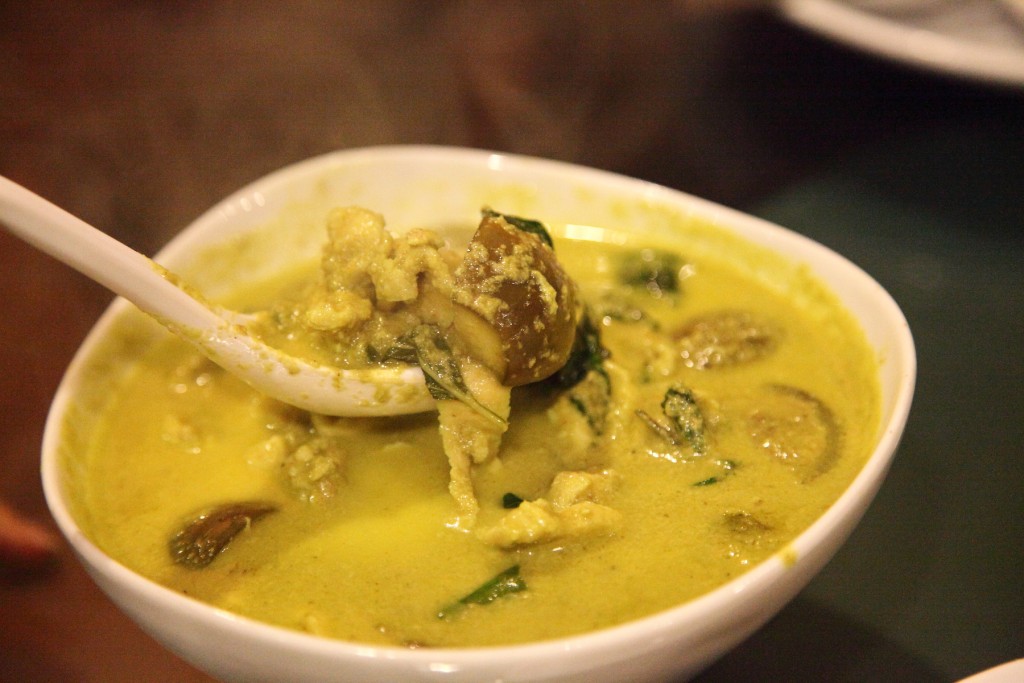 As this is a non-halal restaurant, you can expect to find a selection of meat dishes – stewed, stir-fried and deep-fried. The Kar Moo Tod (deep-fried pork leg) has crispy skin, however, certain parts of the pork leg is sightly dry and tough. A dip in the accompanying homemade sauce with bit of spiciness enhances the dish.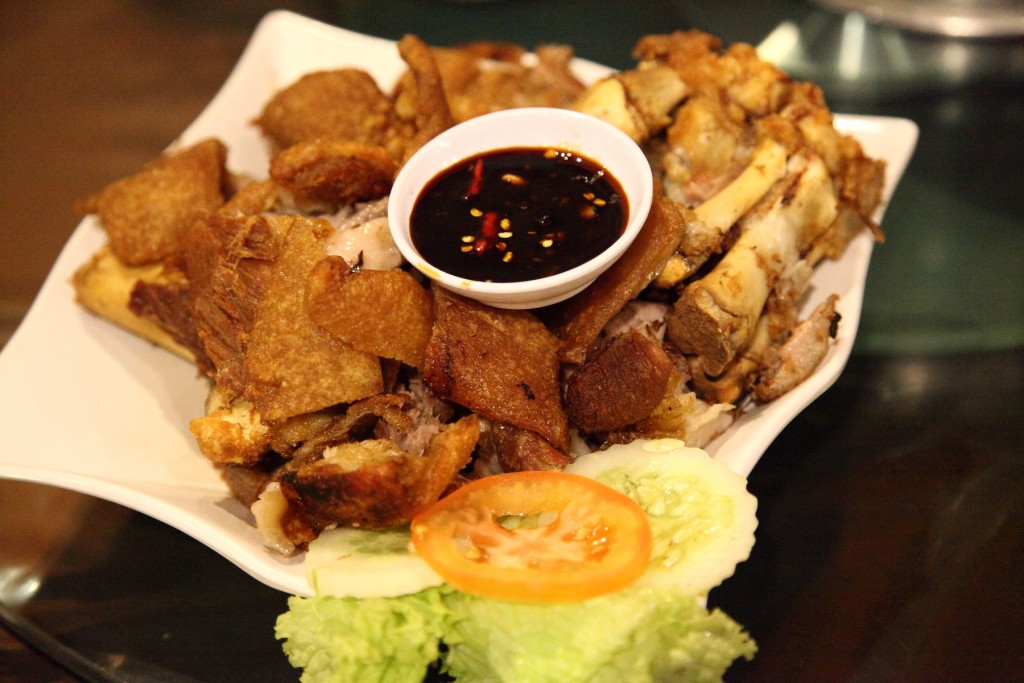 If you love tom yam,  you are in for a treat. Delight in the many choices such as the Tom Yam Ruam Mit Talay, a reddish spicy sour seafood tom yam soup served in a steam boat pot. Herbs like lemongrass, galangal and kaffir lime leaves are generously used in cooking the prawns, fish, and squids. The dish with fiery heat and sweetness of seafood calls for additional white rice.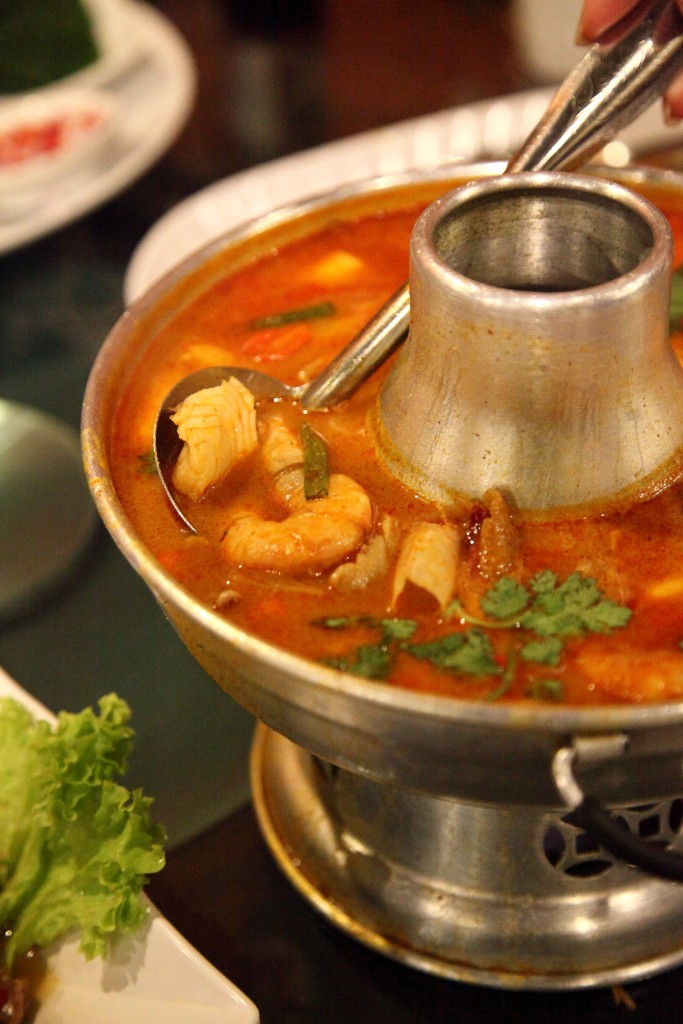 Vegetable dishes are pretty standard, like the Brocolli Pad Hed Hom, which comes with brocolli stir-fried with Chinese black mushroom and carrot.
After the meal, have a dessert. An interesting choice is the Tub Tim Krob –  with stripes of jackfruit and red rubies of water chestnut coated with tapioca flour served in fresh coconut milk. And if this is not your cup of tea, there are other sweet alternatives like Khao Neow Mamuang (sticky rice with mango) and Khao Neow Dahm (black sticky rice with coconut milk).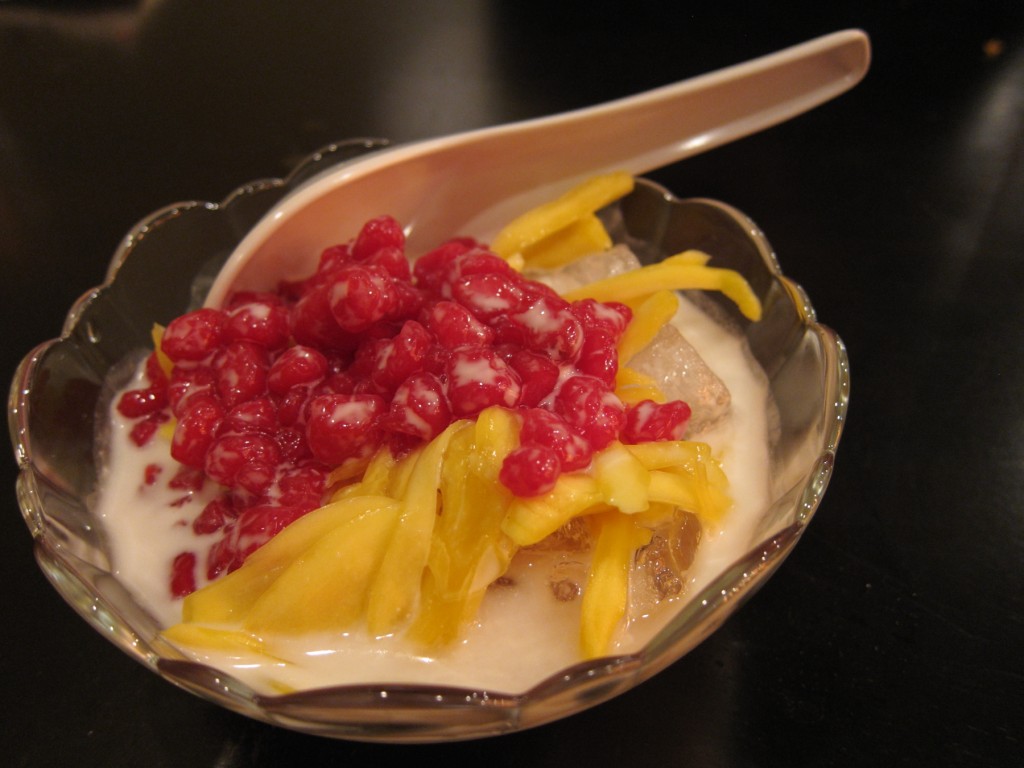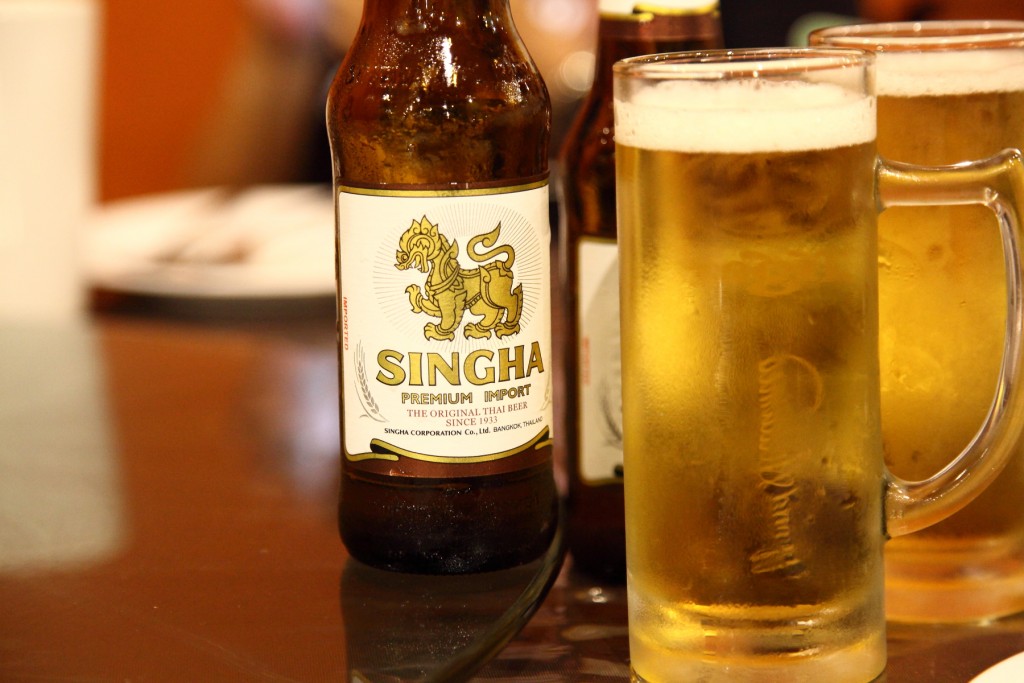 Weekends can be quite packed and it may be best to call in to reserve a table. Business hours are from 11am till 2:30pm & 6pm till 10pm daily.
Wang Thai Restaurant Pulau Tikus
294 Jalan Burma
10350 Pulau Tikus
Penang
Tel : 04 2265168