Beoy Chong Kee Restaurant 梅忠記 – Cantonese-style Cuisine
BY CK Lam

There are many dining pleasures for most diners in inner George Town, Penang and Beoy Chong Kee  梅忠記 is one of them. Located at the ground floor of People's Court, off Cintra Street, the Chinese restaurant is reminiscent of old school eateries.
Beoy Chong Kee has been in the business for 65 years and today it is being run by the third generation while still boasting loyal clientele. From its menu, we can appreciate interesting dishes which are served without unnecessary fuss on the plate. There are a number of favourites we never fail to order.
For variety, the stir-fried mixed beef (ngau chap) is a must-try. Aside from being full of flavour from plenty of ginger strips and soft runny egg, this dish draws a myriad of texture from the beef tripe and beef slices.
If you like mushroom, then you should consider the dish of stir-fried mushroom with century egg, which is a relatively uncommon dish in Chinese restaurants. The dish with a combination of three types of mushroom and century egg is prepared with a warming glaze which allows the thick dark sauce to be coated and contained within the ingredients.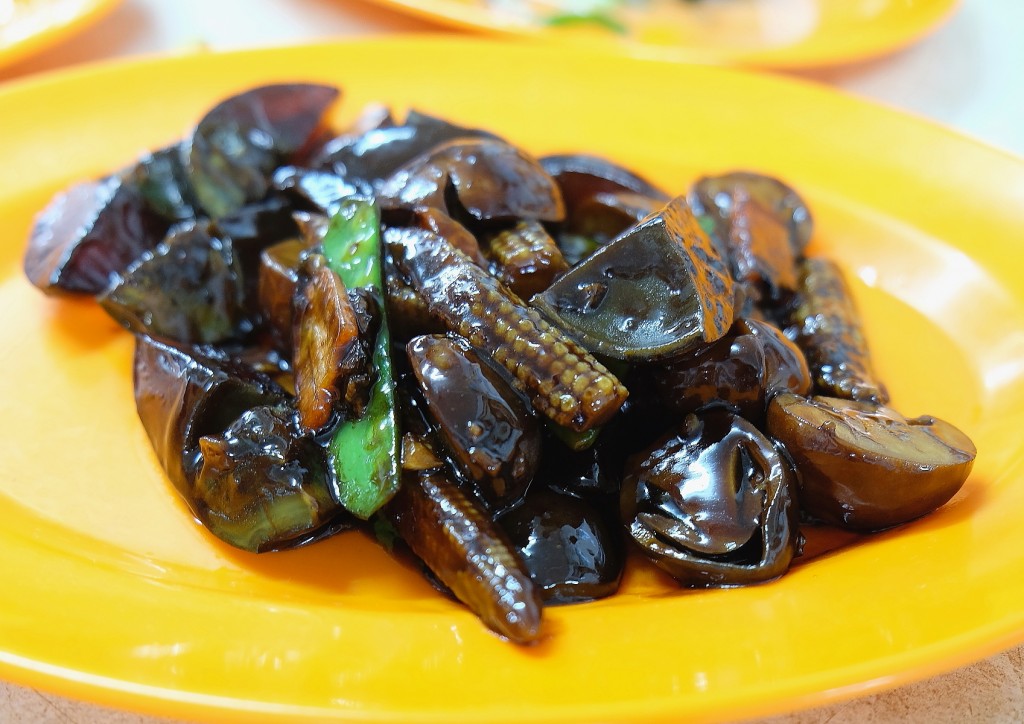 We also ordered the braised ginger duck. These are braised tender with black bean paste and its gravy with incredible depth of savoury and pungent flavour had us spooning up to go with white rice.  The accompanying greens brought an additional dimension to the dish.
The deep-fried prawn fritters that we sampled are deep-fried until golden brown and served with a chili sauce on the side. The batter is crunchy; however there is distinct essence from the batter which unfortunately overpowers the sweetness of the prawn.
Eggs are prepared in several ways in this restaurant, and one specialty is stir-fried egg with shark's fins and shredded carrot. Popularly known as kwai fah chi, the dish served with fresh lettuce leaves for wrapping makes a great starter.
Try the stir-fried dish of kailan, with a mix of prawns, carrot, pork liver and vegetable tossed in a hot wok, which lends to strong savoury flavours.
Most part the food left us happy and sated. The dishes are inexpensive, mostly priced at RM15 and below. However the dish with high-end ingredients such as the shark fin with egg is priced higher at RM26.
Judging by the streams of customers that Beoy Chong Kee attracts during dinner, I would say this old school restaurant will be here to stay for a while with its comfort fare. Waiting time can be an hour or more during rush hours as each dish is individually prepared.
The non-air-conditioned restaurant has indoor and also outdoor seating. The spacious outdoor seating area away from the heat and noise from the kitchen is a good location.
The restaurant will be closed once every two weeks (no fixed day), with business hours from 6.30pm till 9.30pm.
Beoy Chong Kee Restaurant 梅忠記
C-6, People's Court
off Cintra Street
10200 Penang
Tel: 04 2617672
* This is a reproduction of my article published in Foodsion Magazine Issue No.49