Art Sim Kitchen, Tanjung Bungah, Penang
BY CK Lam
Cafe life has arrived in Jalan Gajah, in Tanjung Bungah, Penang. Drive along the road and you will pass by a house selling interesting antique pieces. And sharing this place is Art Sim Kitchen with a garden to the front.
This hidden gem is open for breakfast and early lunch. Its reasonably small menu offers nasi lemak, kerabu bihun and snacks – all cooked up by the owner.
We enjoyed a taste of home-cooked nasi lemak complemented with fluffy blue pea flower rice, along with choices of either ayam goreng berempah, chicken rendang or curry kapitan. The chicken rendang is very rich, in a thick curry with aromatic spices and herbs. Ayam goreng berempah is a fragrant succulent delight, deep-fried till tender. All the three versions of nasi lemak are accompanied with ikan bilis, peanuts, cucumber, sambal and hard-boiled egg.
Nasi Lemak with chicken rendang RM9.90
Nasi Lemak with ayam goreng berempah RM9.90
Another house speciality is the Kerabu Bihun prepared with onions, bunga kantan, coriander, lemongrass, raw bean sprouts, roasted peanuts, taukua and homemade spicy sauce. Priced at RM6.90, it is generous in portion. With some added-on calamansi juice, I have to admit it is pretty delightful to the tastebuds.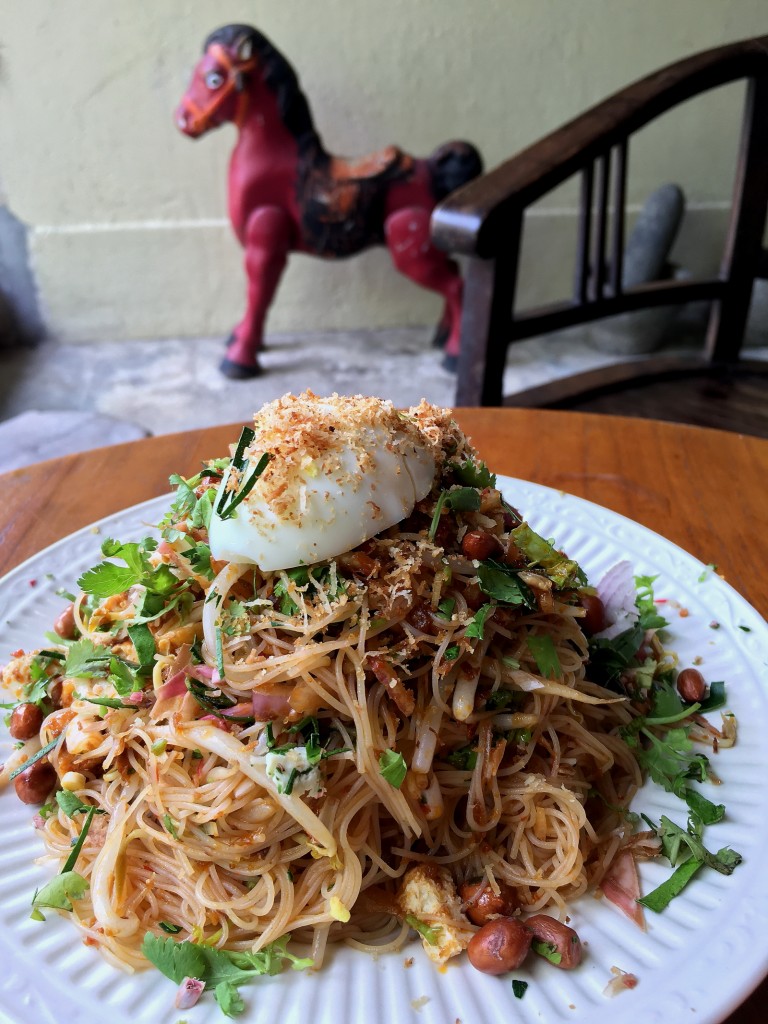 Owner preparing herbs and spices for the kerabu bihun
Besides nasi lemak and kerabu bihun, the outlet also offers snacks. There are the French toast, marble cake, half boiled egg, roti bakar and sambal toast. Try the Guang Jiang, a deep-fried Teochew style bean curd roll. The owner also shared with me several other dishes, namely the yam cake and steamed pao which are available at times.
Guang Jiang/ Teochew style beancurd roll RM4.90
Sambal toast RM4.90
There is a mix of beverages, with local coffee and cold drinks. Kick start the meal with Kopi-O, kopi, white coffee or milo – available hot or icy cold. There are also other options like the honey lemon, herbal tea and lemongrass.
Business Hours are from 7.30am till 12noon. Diners can expect a garden ambience when dining at this non-air-conditioned outlet with a handful of tables.
Art Sim Kitchen
72, Jalan Gajah
11200 Penang
Tel: 012-6696486
Closed on Mondays
***Updated on 2017 – This outlet has since closed and business resumes at: 161B Jalan Kelawei, Penang. (tel: 04-2275229).