Mushroom Menu @Macalister Mansion, Penang
Mushroom Menu @Macalister Mansion, Penang
The Dining Room at Macalister Mansion is known for presenting many different culinary offerings to its patrons. Menus of Modern European Cuisine prepared using quality produce sourced locally with a good mix of ingredients from around the globe are prepared by Head Chef Johnson Wong.
Recently, the chef has fleshed the Much Ado About Shrooms 5 Courses menu dressed up with dishes prepared with mushroom inspired recipes. Available from 20th September till 19th October 2016, the menu is priced at RM228nett. You can enjoy them with wine to pair with an additional RM100nett.
We dined-in on the chef's specialties prepared with many divine mushrooms such as black trumpet, porcini, morel, eryngii, enoki along with black and white truffles.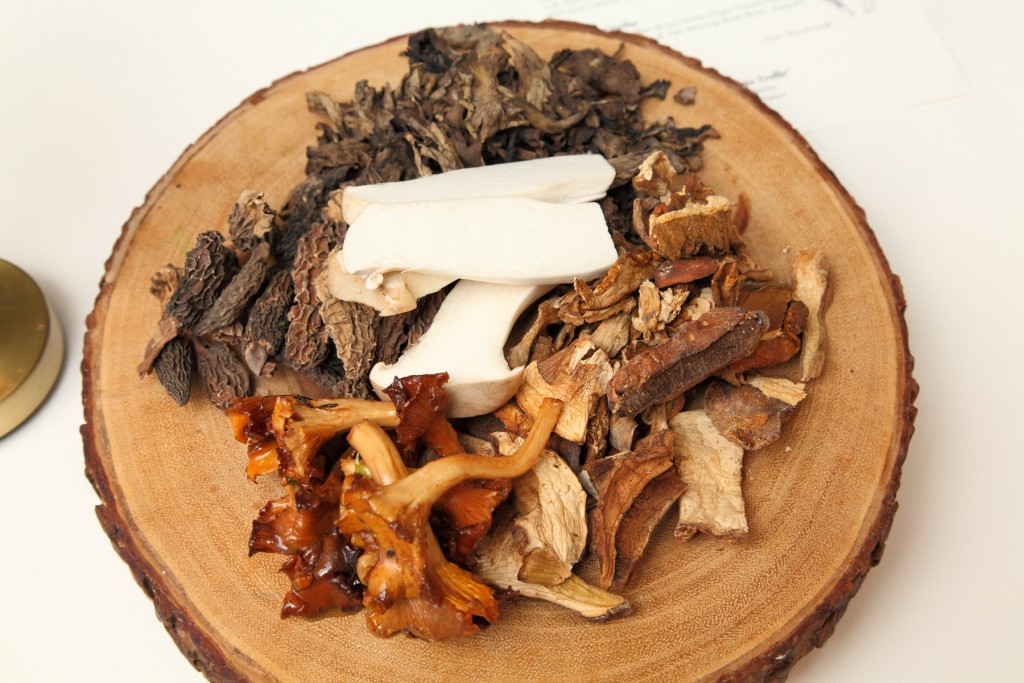 We began with some canapes: refreshing orange sorbet, steamed milk bun with mushroom ragout and barbecue sauce, tomato and chive tartlets besides smoked fish crackers.
Addictive smoked fish cracker made with filo pastry, hollandaise sauce and fish cracker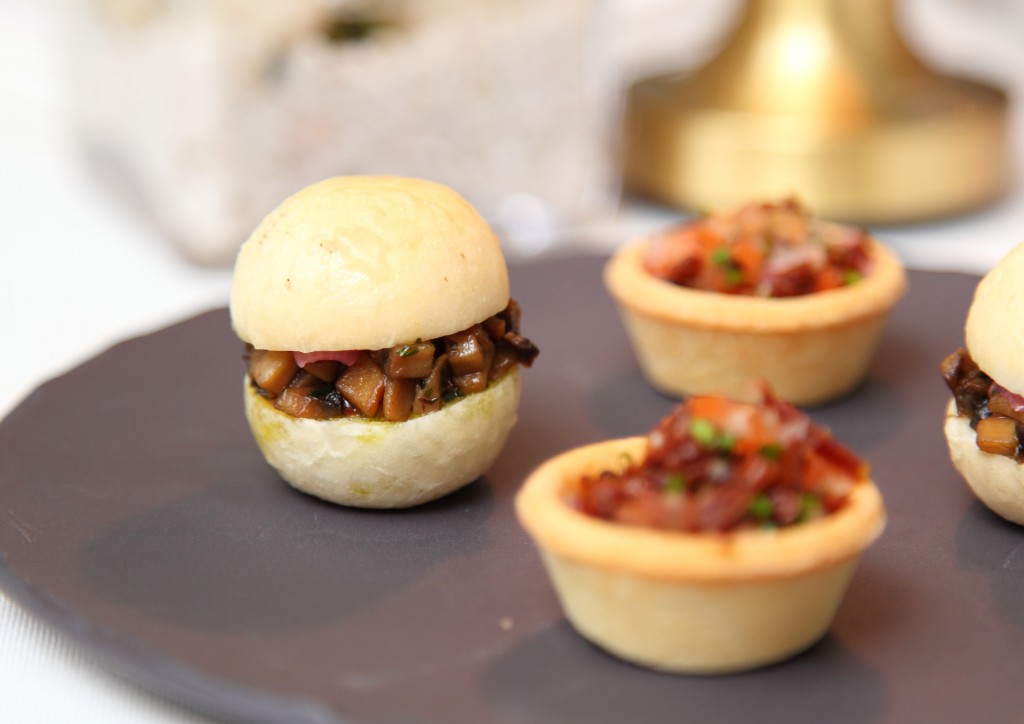 Milk bun with mushroom ragout & barbecue sauce, and tomato chive tartlets
We continued on with the amuse bouche of plump asparagus topped with black trumpet mushroom, snow crab, fresh pomelo and watercress. The combination of toppings are quite delicious, with the black trumpet mushrooms standing out with its firm texture, and earthy, nutty flavor. The dish complements well with the yuzu tinged cream sauce made with egg yolk.
Then came a box filled with coffee rolls. Those who frequent Dining Room will always look forward to this warm pillowy rolls served with smoked butter.
Freshly baked coffee rolls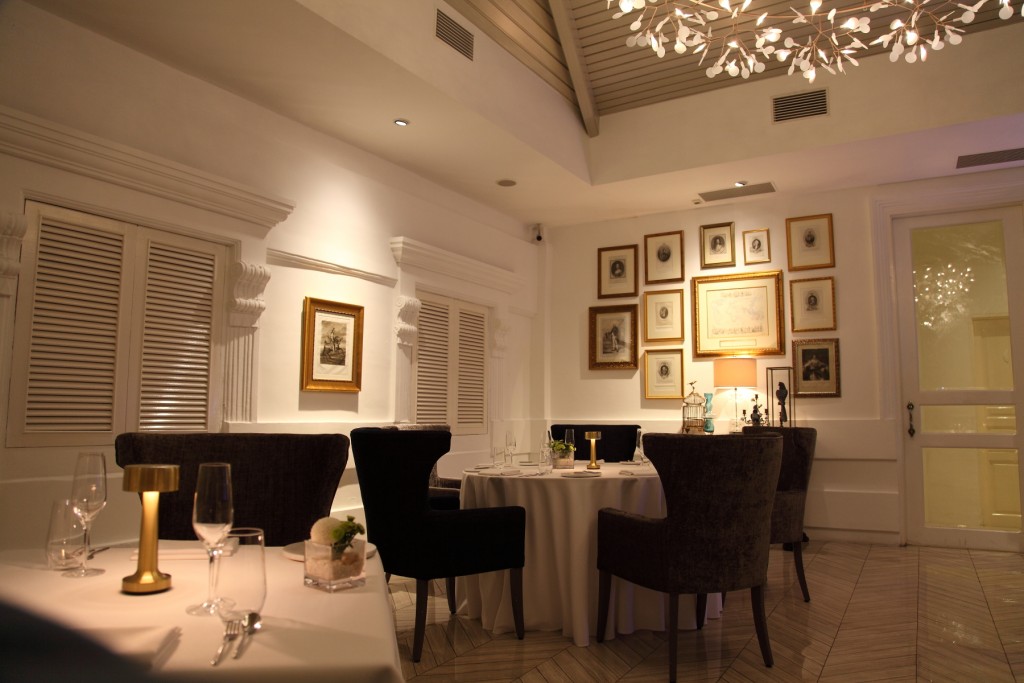 1st Course
A slow cooked egg is elevated into a comforting creation with beautifully browned sauteed porcini mushrooms, mushroom soil and toppings of edamame and leek. Beneath the flavor loaded crispy mushroom soil lay a bed of mash potatoes whose flavor helps to neutral the meaty flavor of the porcini mushrooms. The runny egg yolk becomes a sauce and worked beautifully in his dish. Paired with the dish is the 2014 Banfi Toscana Le Rime, Italy.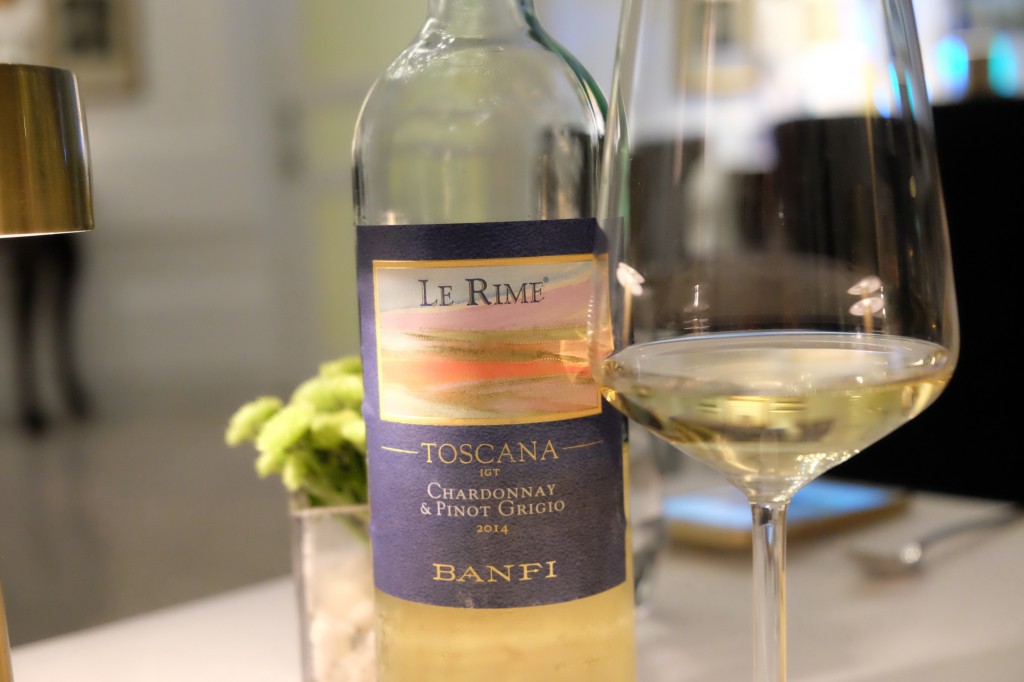 2014 Banfi Toscana Le Rime, Italy
2nd Course
The next dish has morel mushrooms presented with day-old bread, walnut and veloute made of mushroom and chicken stock. What really stands out is the morel mushrooms. With pitted honeycomb-like fruit body, and rich beefy flavor, the mushrooms made a nice pairing with the day-old bread and veloute.
What makes a great day-old bread? "The day-old bread is soaked in mushroom stock before ending up in the oven," says Chef Wong. The hard textured bread becomes chewy when dipped in the veloute. The dish with visual and textural flair is paired with the lively 2011 Monopole Rioja, Spain, made from the white grape variety – Viura.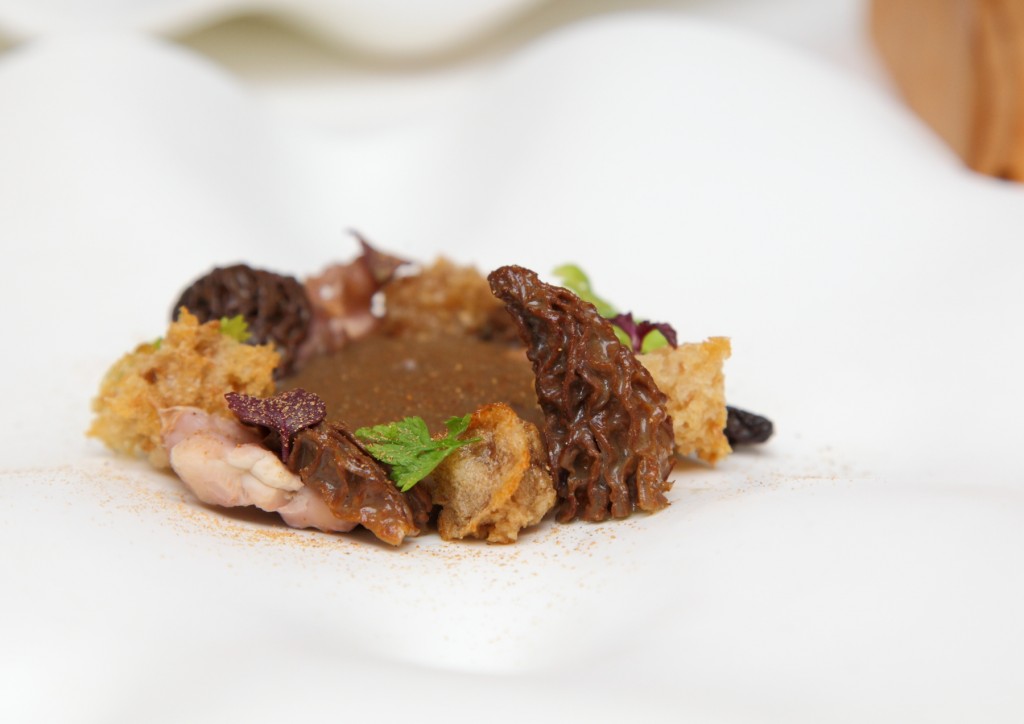 Morel – day old bread, veloute, walnut
2011 Monopole Rioja, Spain
Chef Wong prepared the palate cleanser with lemon granite (shaved ice), white fungus, jelly and strips of nutmeg. This cooling dish with uplifting aroma of nutmeg helped cleanse the palate between the courses.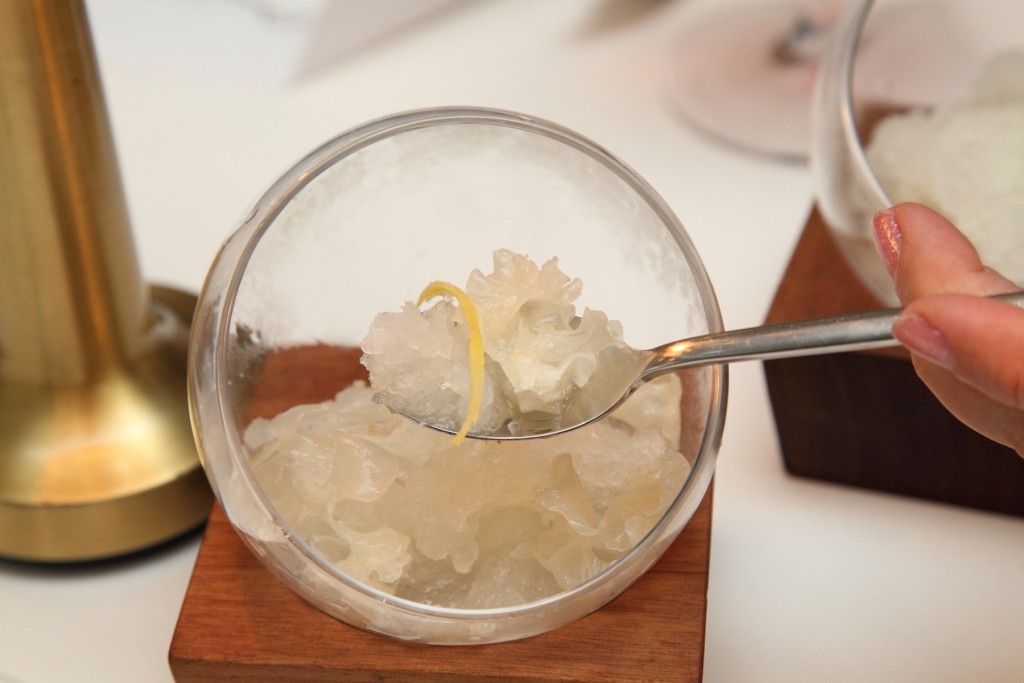 Palate cleanser
3rd Course
The succulent piece of cod fish prepared with thyme leaves, scallop chips and grilled eryngii proved to be one satisfying dish in its simplicity. The thick pieces of eryngii remained soft inside and firm on the outside.
"I slow cooked the fish with thyme leaves and olive oil, while I had the gentle red sauce made with pinot noir and chicken stock," Chef Wong mentions. The burnt thyme leaves adds an interesting play of taste to the fish while the sauce provides a moderating sweetness and acidity to balance the dish paired with 2013 Esser Vineyards Cabaret Sauvignon, USA .
Eryngii – cod, red wine sauce, thyme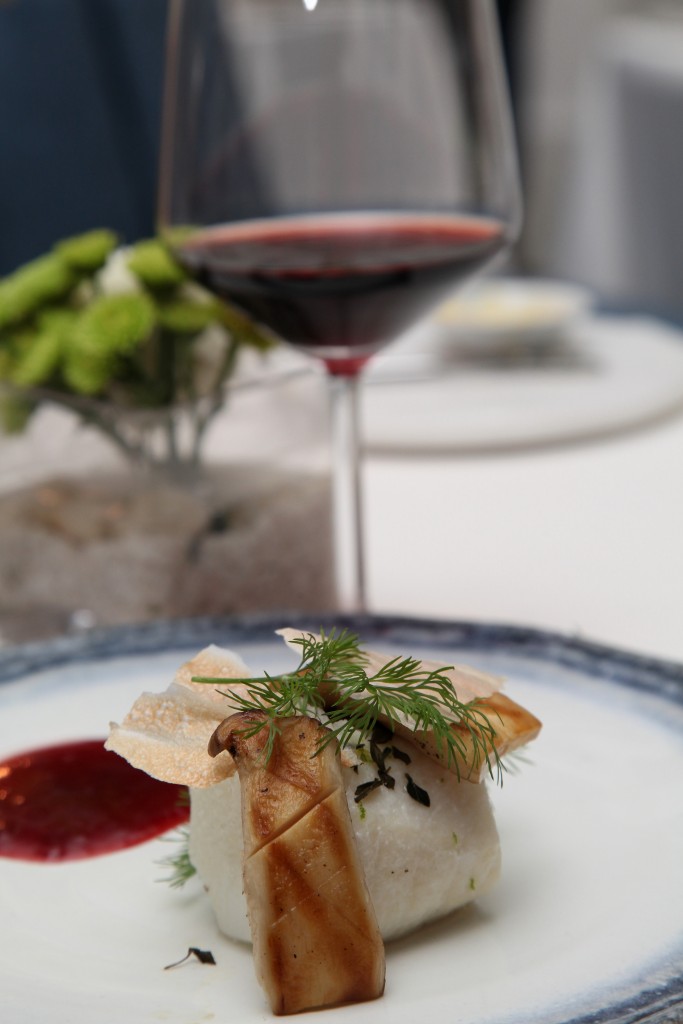 2013 Esser Vineyards Cabaret Sauvignon, USA
4th Course
For the meat course, there is the chargrilled rib-eye paired with 2011 Evans & Tate Metricup Road Shiraz. The 80gram piece of wagyu is prepared medium, with delightful toothsome grains. Toppings include tomato pesto sauce (with fragrance of basil and nutty pine nuts), earthy girolles mushrooms and garlic chips.
The meat is moderated by a sauce made of enoki, butter and chives which we find a bit heavy handed: perhaps less buttery or complemented with mushroom jus instead.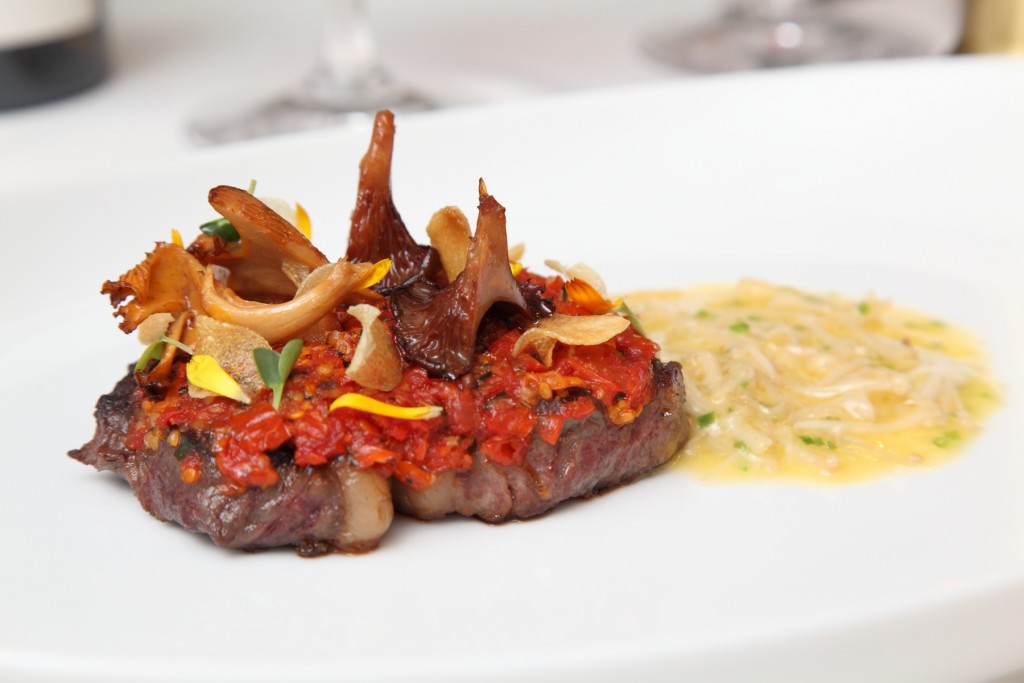 Girolles – chargrilled rib eye, garlic chips, tomato pesto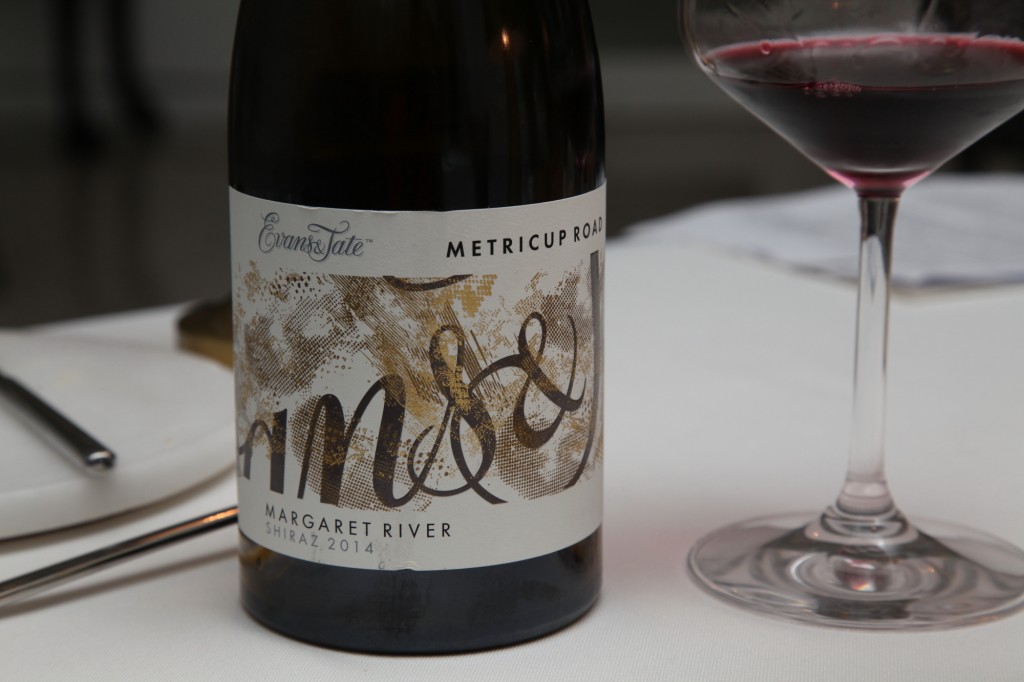 2011 Evans & Tate Metricup Road Shiraz, Australia
5th Course
Dessert is the Black & White Truffle, with aroma of the fungus. The dish had a sweet mixture of dark and rich chocolate mousse, and truffle ice cream, balanced by mint and berries. The dessert is paired with a glass of Trimbach Muscalm Reserve, France.
Black and white truffle
The chef made our visit a noteworthy experience and we left with our palate thoroughly satisfied.
For those with the love of mushrooms, bring your appetite to The Dining Room to sample these unique dishes. This upscale venue is open for dinner only.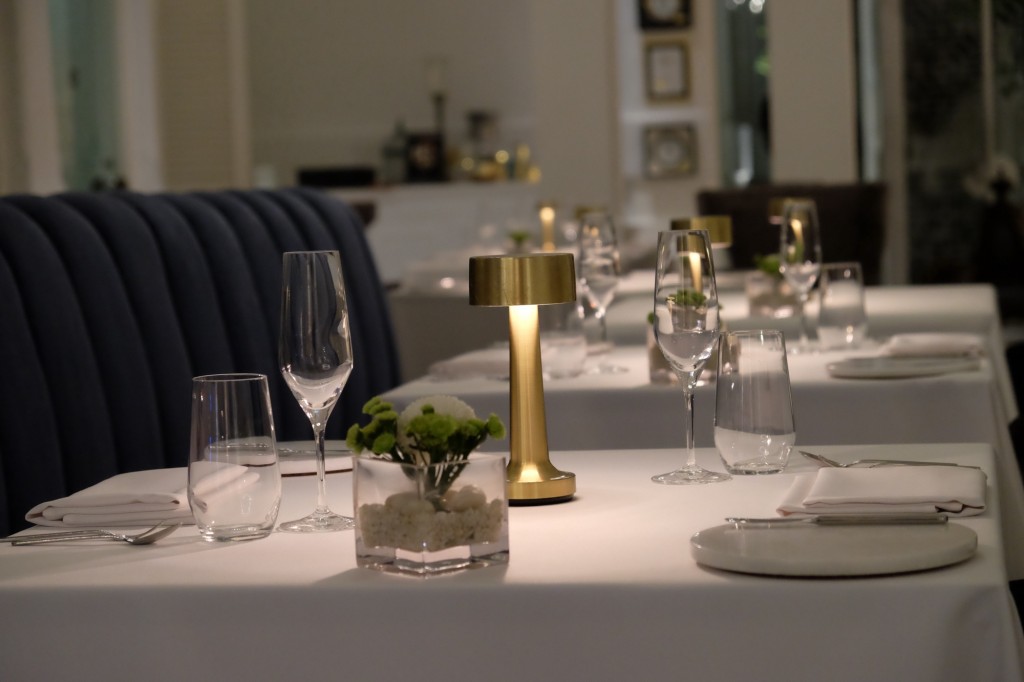 Macalister Mansion
228 Macalister Road
10400 Penang
Malaysia
Tel: 04-228 3888
Business Hours:
Dining Room: 7pm – 11pm (10.30pm last orders)
Closed on Monday
* Many thanks to Macalister Mansion for laying on this invitation.