Bangkok Food & Stay: Benjarong, Dusit Thani
BY CK LAM
I visited many places in Bangkok the first time around at the invitation of the Royal Thai Consulate-General, and after a lapse of a few years, I came and spent a few days in the city  on the Familiarization trip – "A Taste of Luxury Bangkok". I am privileged to have travelled on this trip representing the prestigious ESSENZE Magazine.
The team and myself were put up at the 5-star Dusit Thani Bangkok, one of the city's best establishments which I coincidentally stayed on my maiden trip as well. Its location is under the radar of most points of interest: adjacent to both BTS Sky Train and underground Metropolitan Rapid Transit, Lumpini Park, and close to shopping and entertainment districts such as Silom, Sathorn and Rajprasong.
We were introduced to Director of Marketing Communications Sommai Yocapajorn who brought us around the hotel which recently celebrated its 46th anniversary. The interior of the hotel is beautifully designed, combining modern luxury and comfort with classical Thai accents.
 The 517 rooms and suites retreat is spacious and comfortable. Our four night stay at the 'Dusit Room' offer 60 square metres space and luxury with a separate bedroom, living area, large bathroom and private balcony.

Serene Dusit Room await at Dusit Thani
Outdoor swimming pool with sun deck
For dinner, we were booked into the Dusit Thani's Benjarong restaurant which I've visited before it was renovated. Located on the lower lobby, Benjarong faces a garden of earthenware jars, plants, trees, and a unique waterfall.
A post of my previous visit to Benjarong can be seen here.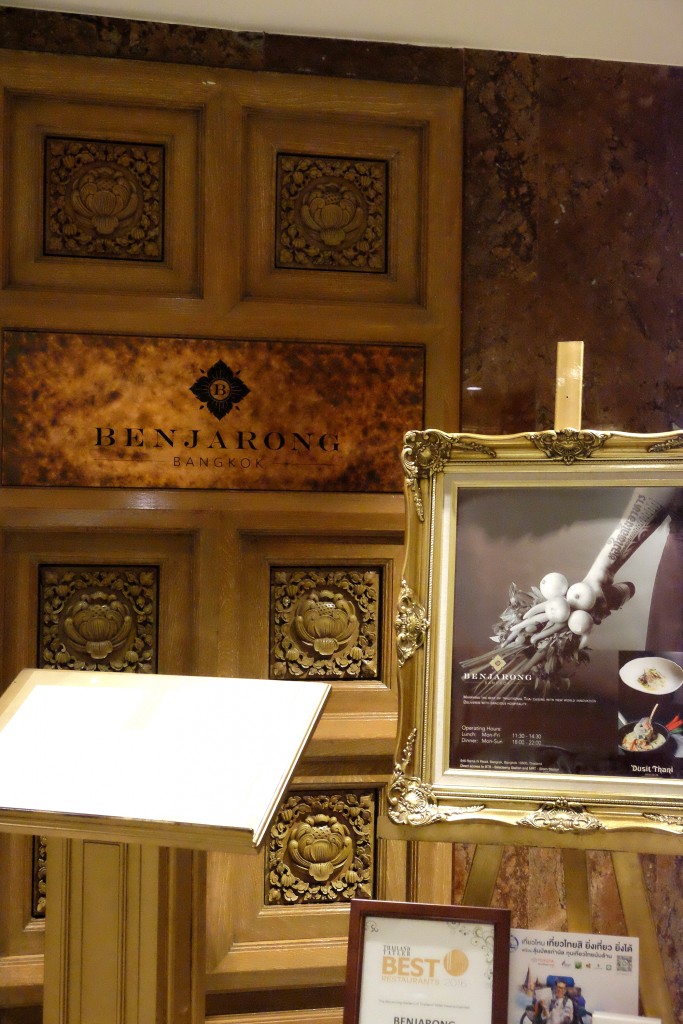 Entrance to Benjarong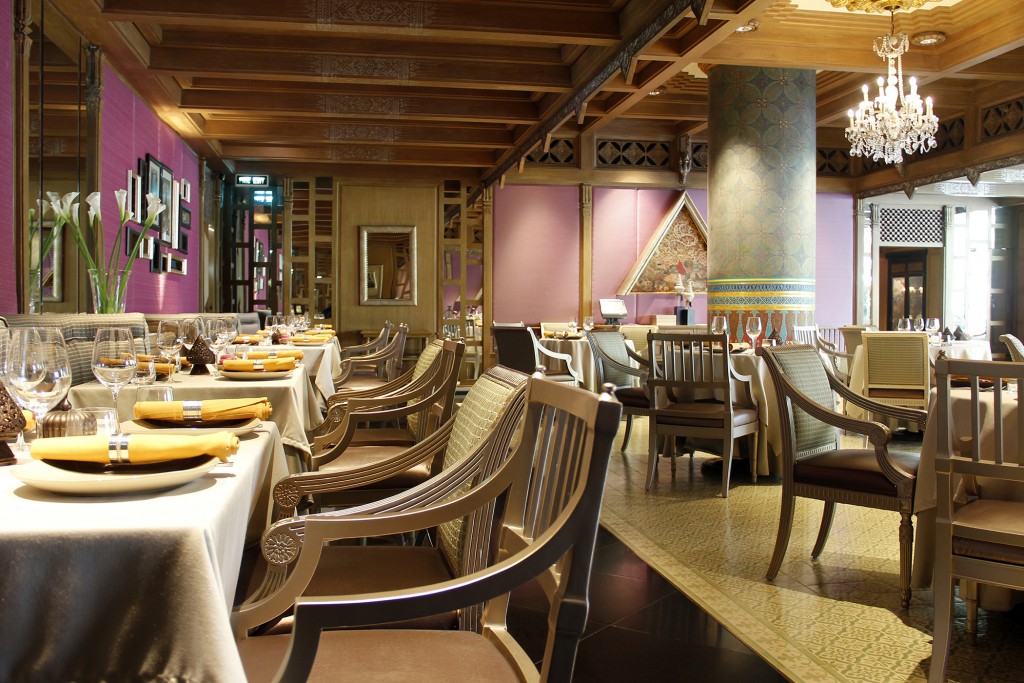 Joining us for the dinner was General Manager Sukanya Janchoo and Director of Marketing Communications Sommai Yocapajorn.
Heading the kitchen is Executive Chef Philippe Keller who has 11 years of experience in the hotel. The chef and his team welcome diners with menus laid out with modern contemporary Thai cuisines that are distinctly Thai at heart. The all-stars of Thai cuisine such as Pad Thai and Tom Yum are served here.
Executive Chef Philippe Keller and myself
Dining options include: an A La Carte menu, Set Lunch, Epicurean Tasting Menu and an Indulgence Signature Tasting Menu. The a la carte menu was extended to us. Dusit version of the dishes has a flavorsome difference.
A selection of appetizers in tapas-style was presented: Pla Muek tod Kamin Sod (deep-fried squid with fresh turmeric, lime and coriander), Mun Tod Rad Nam Jim (crispy cassava chips with smoked chili sauce and creme fraiche) and Po-Pia Goong (prawn spring roll with sriracha mayo).
Highlights include the Thai classic – sour and spicy Tom Yum Soup. The chef deconstructed the dish and had the ingredients and garnishing composed in a bowl with a table side pour of the soup.  Prepared with river prawns, fair amount of spice, sourness and fragrance of lemongrass, galangal and lime juice, the soup is suitable for my dining companions and I.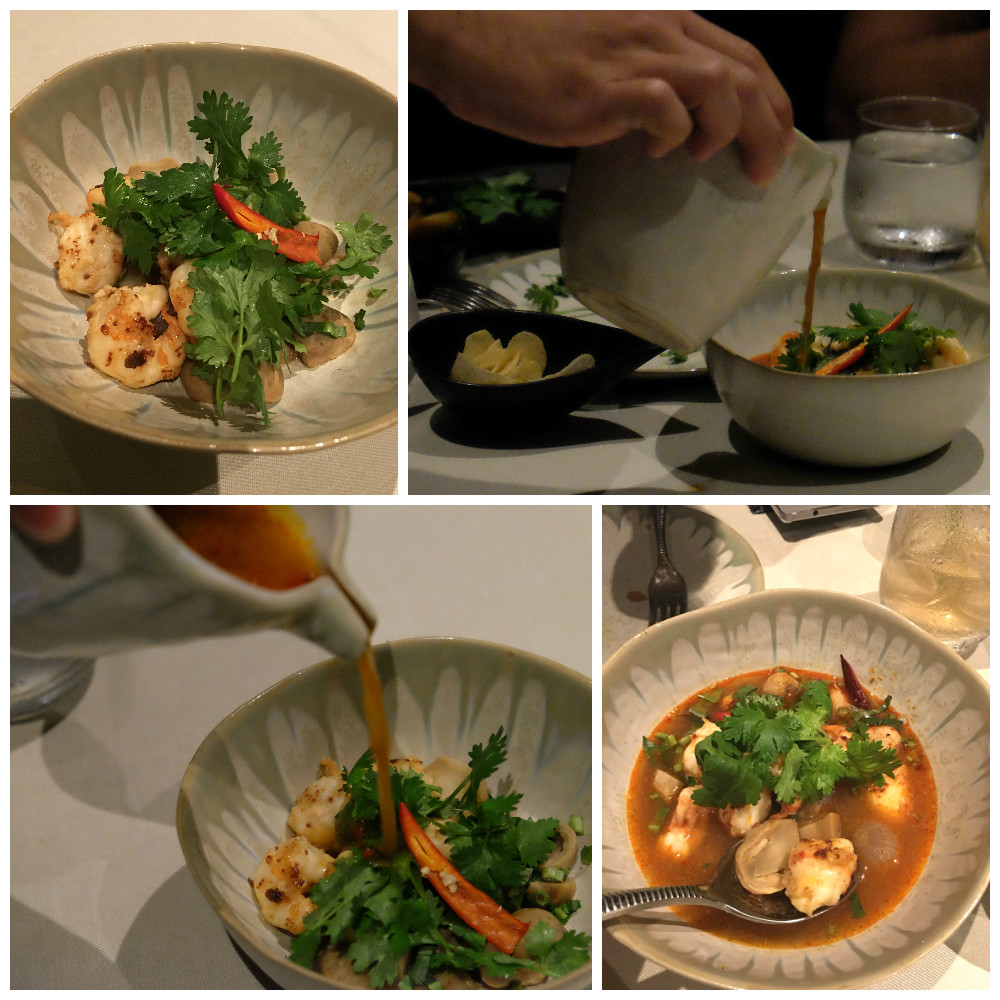 The Dusit version of the Pad Thai is a dish of lightly charred rice noodles accompanied by crushed peanuts, lime wedges, fresh chives and beansprouts. Prepared with prawns, egg and natural ingredients such as tamarind juice, palm sugar, fish sauce and chilli sauce, the dish charmed the palates with piquant spices and sweet-tart seasonings.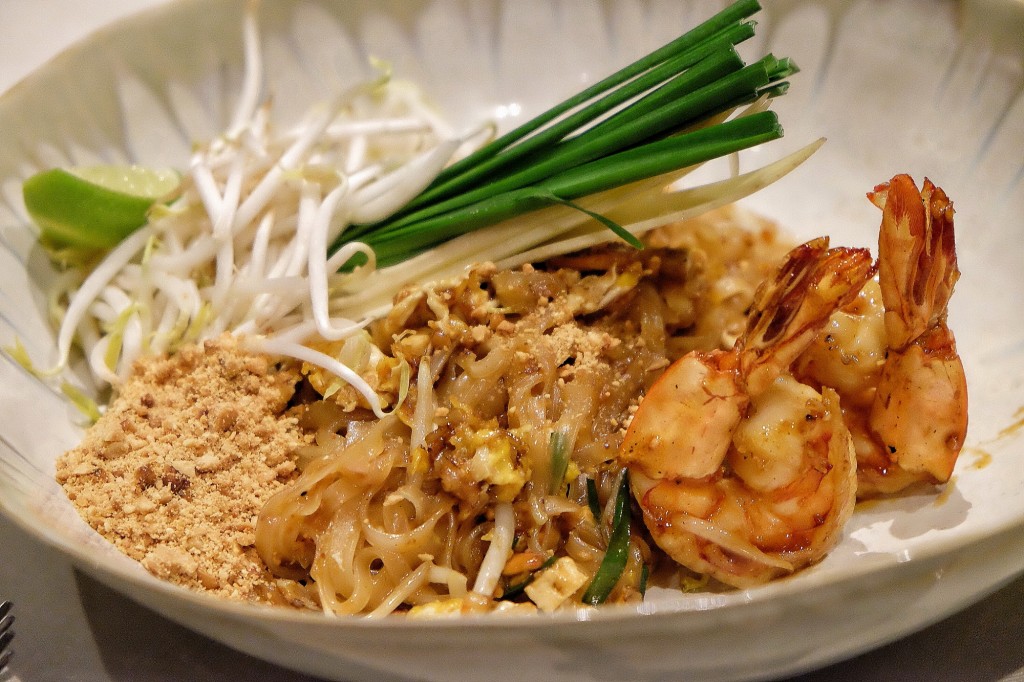 Meaty dishes with big flavors include Kand Massaman Ka Gae (lamb shank braised in aromatic massaman curry) and See Krong Moo Krob Wan, a dish of crispy sweet pork ribs with salted sriracha cabbage. The pork rib was a tad sweet on its own but nicely balanced when complemented with the salty cabbage marinated with lemongrass, garlic and soy sauce.
But one must save room for the Kang Kiew Wan See Krong Neau Toon – 72- hour cooked beef ribs in creamy aromatic curry of green herbs and spices. "This is sous vide beef ribs, slow cooked in vacuum- packed, very soft and tender," says chef Phillipe. The dish was indeed yummy, totally satisfying eaten with some white rice.
Also not to missed out the Fried Crispy Black Grouper, served with green mango salad and bread crumble made with kaffir lime leaves.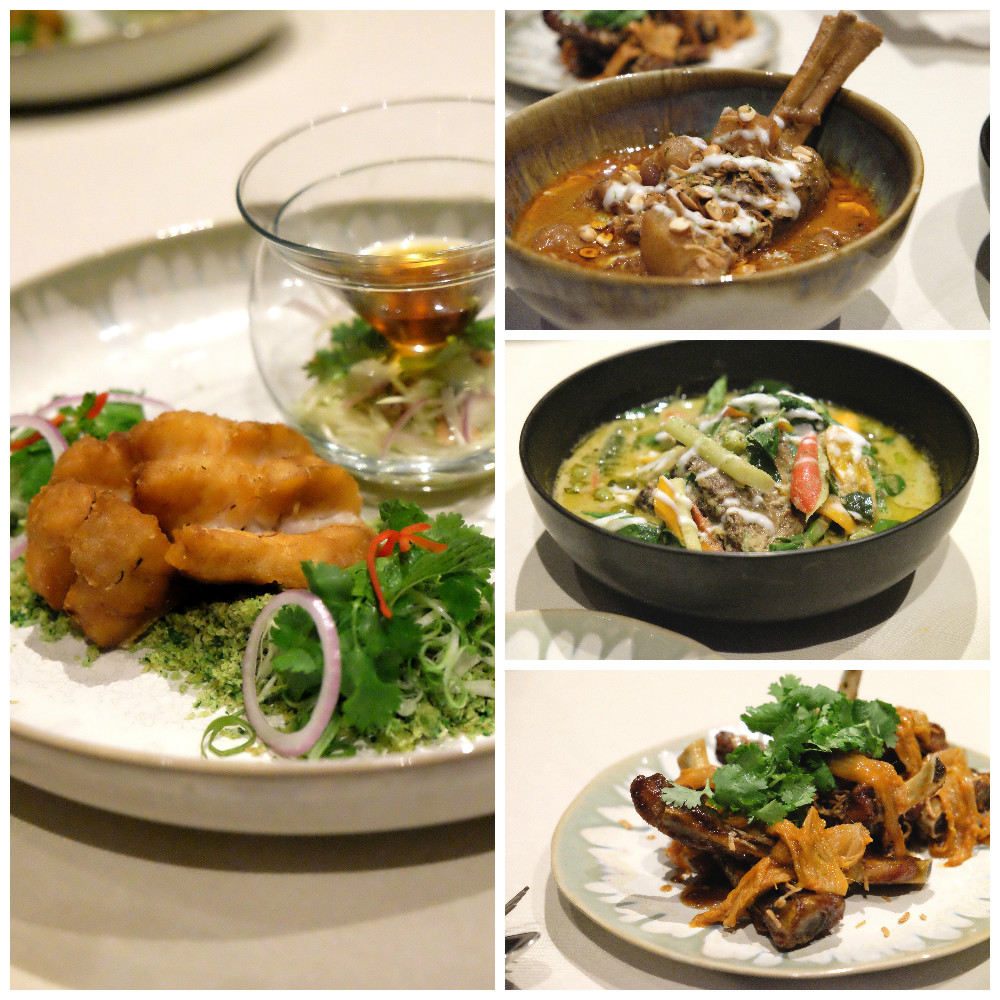 Things got really, really interesting, with the serving of desserts. The Benjarong's dessert menu has an exciting selection, including the Mango Sticky Rice, Pancake Banana with Peanuts, Chocolate and Sea Salt, Red Rubies and Jackfruit with Coconut Ice-cream, Basil Ice-cream with Fresh Pineapple and Salty Meringue, and Yoghurt Sorbet & Burnt Mango with Coffee Brownie.
Everyone was impressed with the revamped fun nitrogen mango sticky rice. It was creative and the accompaniment mango sorbet kept the palate refreshed.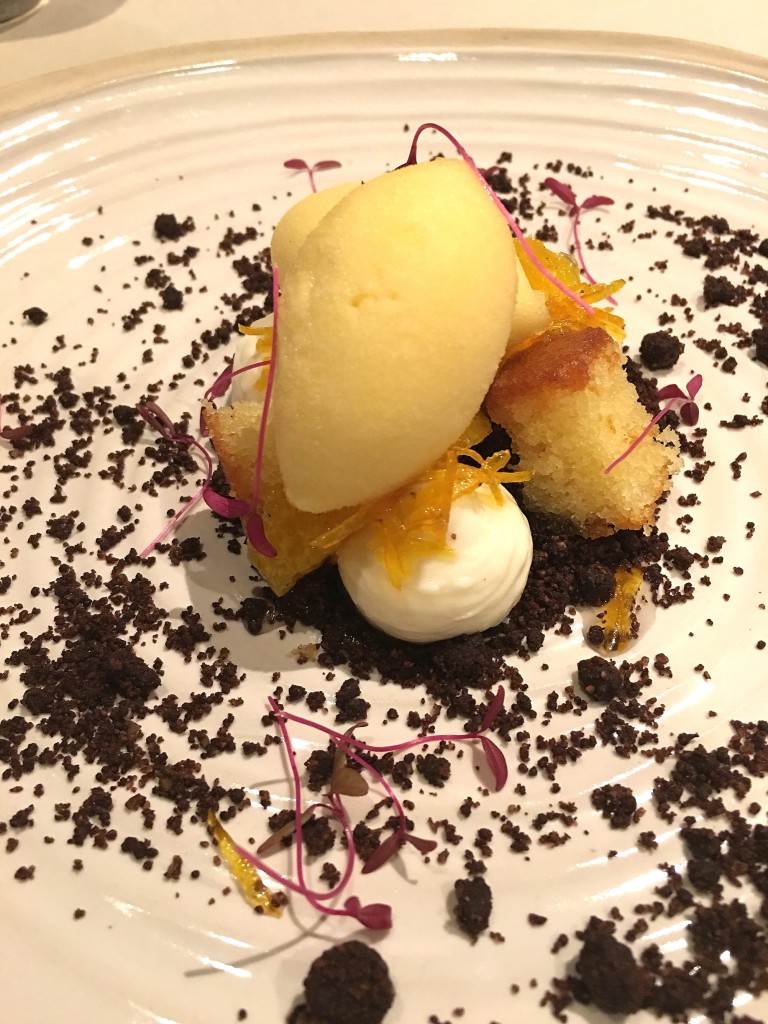 Basil Ice-cream with Fresh Pineapple and Salty Meringue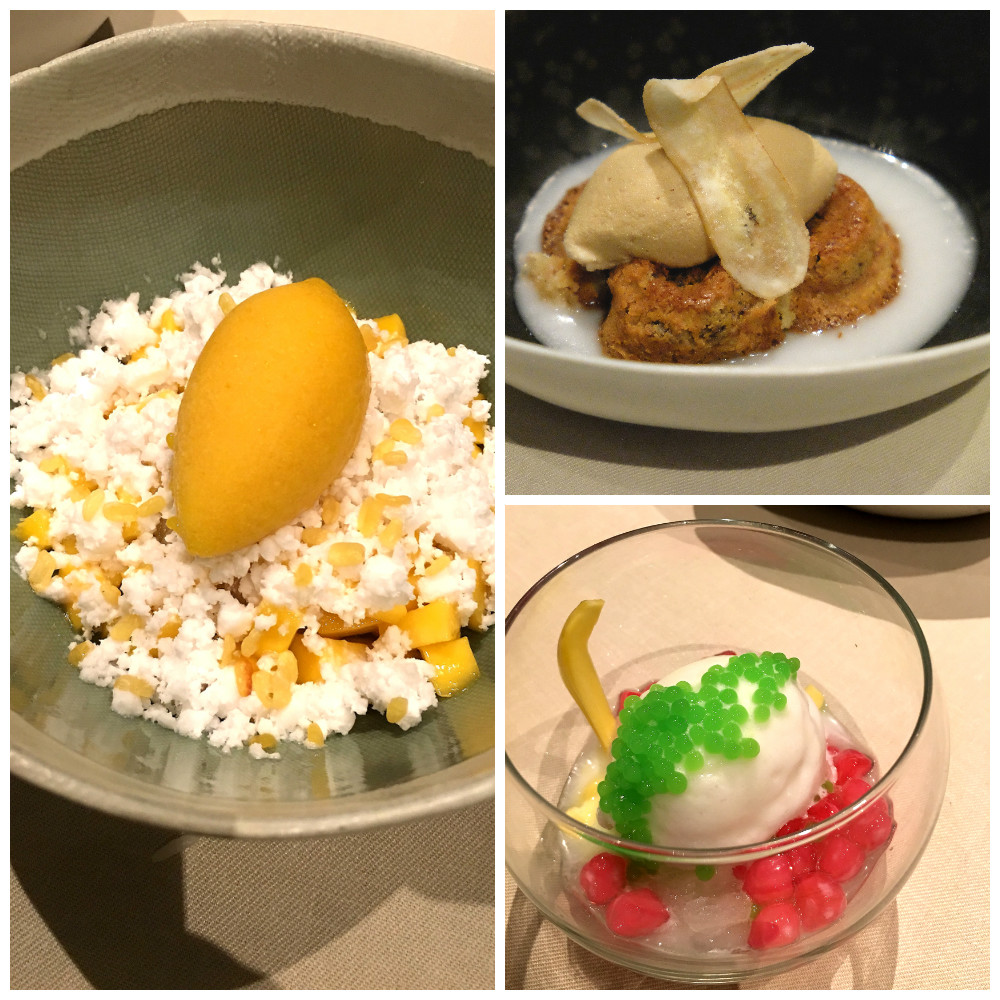 It was an experience for all of us at Dusit Thani Bangkok, and definitely enlivens with its standards of hospitality and fine food prepared in innovative ways with textural dimension.  More info can be viewed at their website.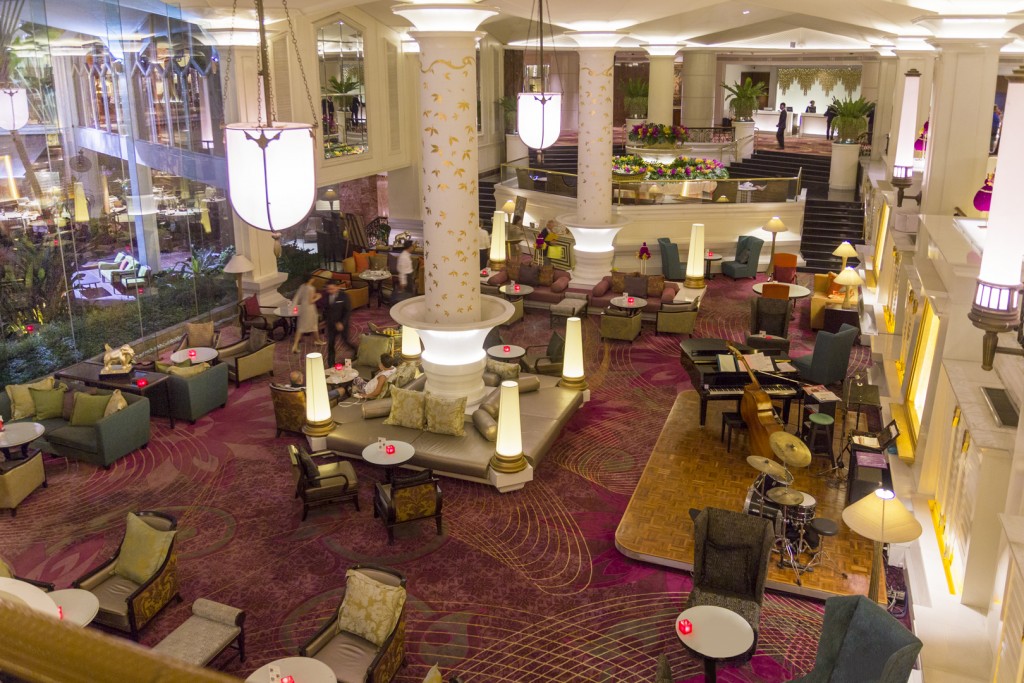 Lobby Lounge
Benjarong Restaurant
Dusit Thani Bangkok
946 Rama IV Road
Bangkok 10500
Thailand
Tel: +66 (0) 2200 9000
Business Hours:
Lunch:   11.30am  – 2.30pm  (Monday to Friday)
Dinner:  6pm – 10pm (Monday to Sunday)
* Many thanks to Dusit Thani Bangkok for hosting us and Tourism Thailand for sponsoring the trip.