Dcova Cafe, Penang – New Delights on Menu
BY CK Lam
Open daily except Tuesdays, DCOVA Cafe at Logan Heritage, Bishop Street, is one of the popular cafe destinations in Georgetown, Penang. The outlet keeps its business moving with a menu of pasta dishes providing accompaniment to coffee and desserts.
The cafe sprinkled with history of its building recently introduced some tempting range of pasta dishes cooked al dente for a review dinner.
If you like to try something with seafood, the Spaghetti Alle Vongole (RM27.90) made of clams, garlic, olive oil and chili padi draws you in with deeply flavored seafood broth with hint of spiciness. It is a bowl of seafood carb goodness and I would gladly have the dish for myself.
The kitchen has come up with the the Sakura Ebi Pasta, a dish far more interesting than you'd expect. It is a slightly lighter dish but packed in flavor. Made with fragrance and crispiness of freshly fried imported sakura ebi and saltiness hint from bacon, the dish is freshen up with plenty of chopped chives.
Basil lovers are not forgotten. They will have to look for the Pesta Pesto (RM25.90), a dish brought together with a blend of pesto sauce made with fresh basil leaves, garlic and olive oil. Pieces of back bacon added texture and subtle saltiness.  The pesto is nicely done, with a lightly chunky texture but I felt the flavor could have been better with stronger notes of basil and nuts.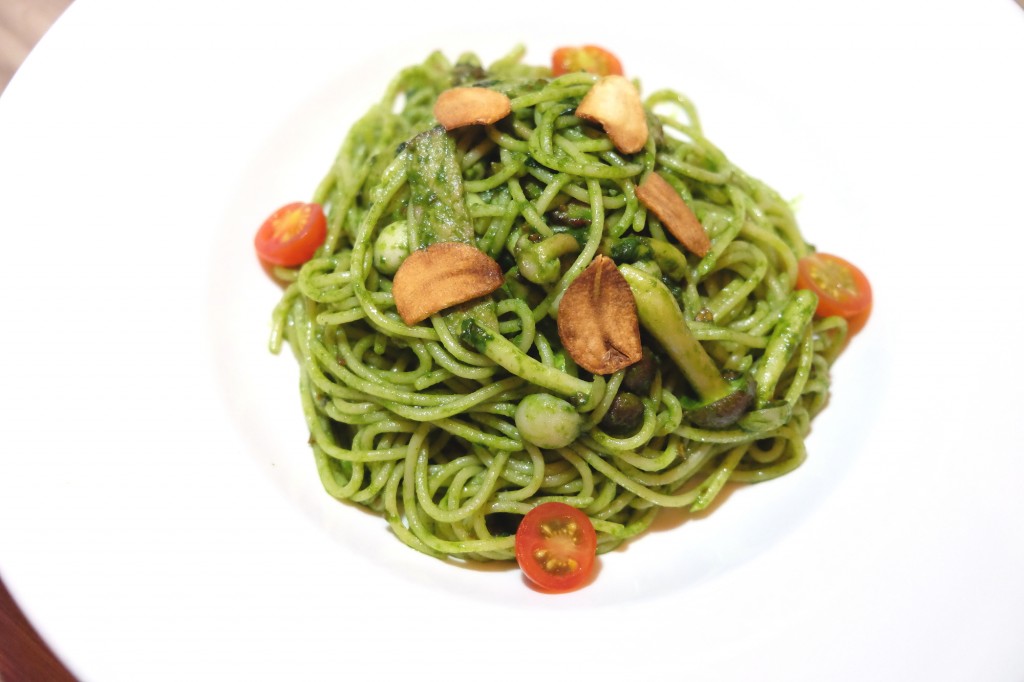 Don't miss out on the Italian-Japanese fusion Teriyaki Tori (RM26.90). This pasta dish has juicy chunks of marinated chicken thigh sauteed in imported Teriyaki sauce, grilled leeks, seaweed and sesame seeds.  A must-try for all teriyaki sauce lovers.

Next on the table is the Tomato Spaghetti. Simple enough, but the difference lies in its taste. What you won't taste is canned tomato paste but instead light tanginess of tomato sauce made with fresh tomatoes. Prepared with seafood and cheeses, it should be a favorite amongst diners looking for a pasta dish enhanced with fresh tomatoes.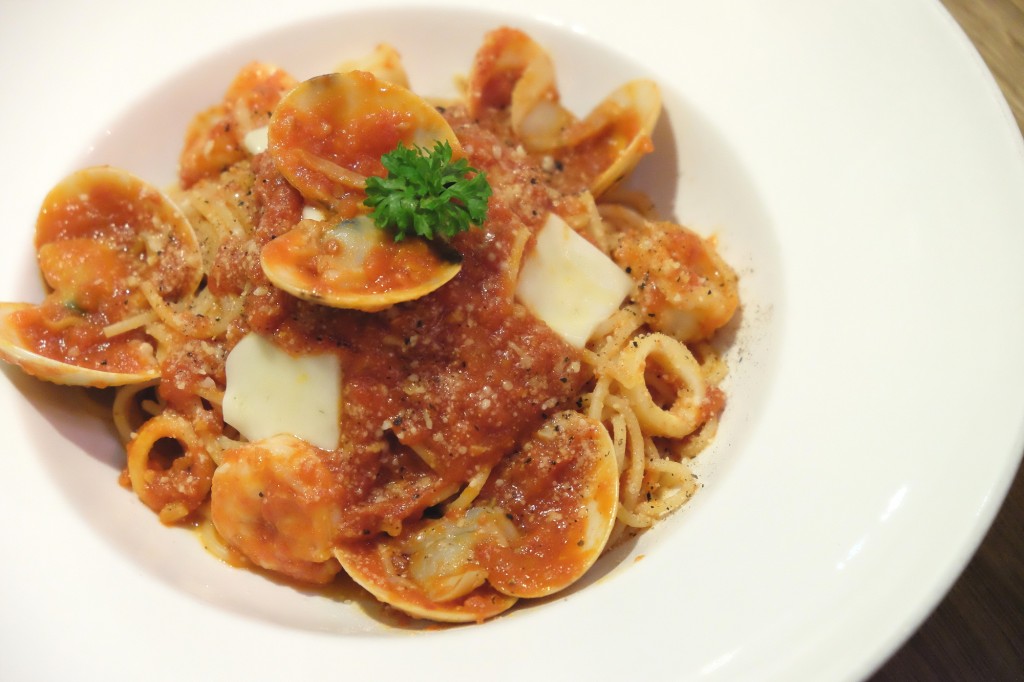 There is also the old favorite Pasta Al Nero di Seppia, priced at RM27.90. The black beauty with al dente pasta tossed in olive oil and briny squid ink comes topped with ebiko, a favorite pasta topper.
The cafe serves an array of beverages to accompany the comfort pasta dishes. Cool drinks include Apple Lime Soda, Triple Berries Soda and Blue Rhapsody. The latter prepared with yoghurt, fresh milk, vanilla ice cream, orange peel, lemonade and fresh lemon juice surprises with slurpee texture and sweet tangy flavors.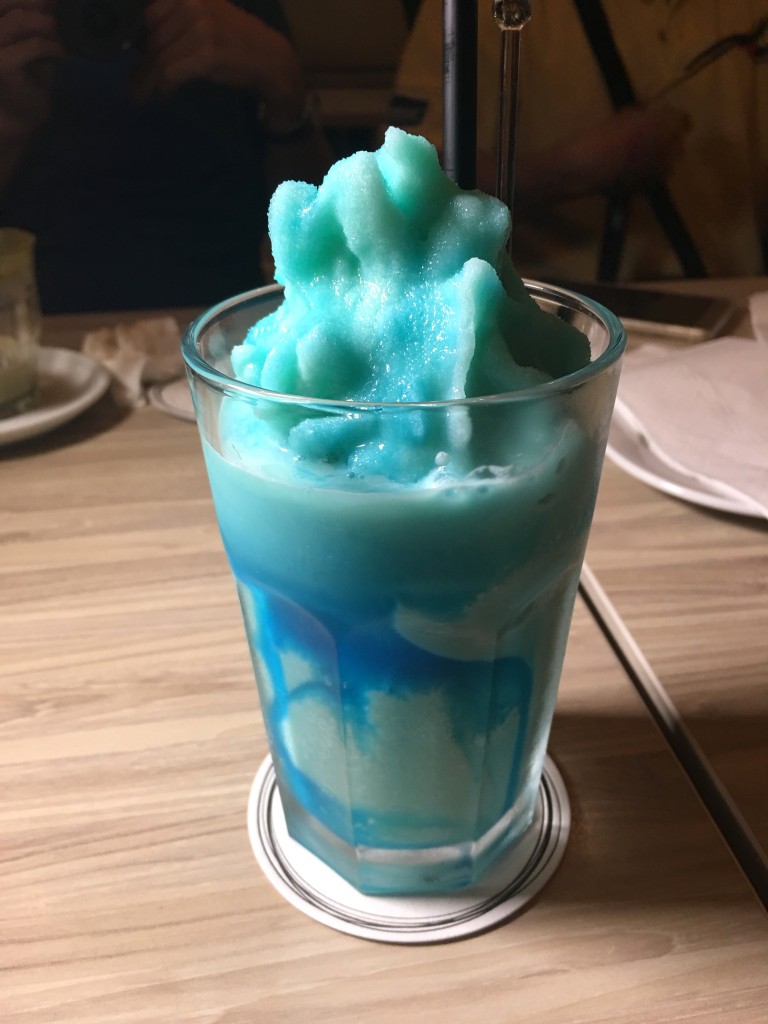 Blue Rhapsody
Triple Berries Soda
There's nothing like a cup of hot drink to warm the soul. Hot options are a plenty and the Cafe Latte, Matcha Latte and Long Black are some of the choices.
Desserts are not to be missed at Dcova Cafe as the sweet treats are sourced from acclaimed bakery and patisserie around Penang. One of them is Passionis, a patisserie renowned for its fine luscious desserts.
To welcome Christmas, DCOVA is now having a promotion for their diners. With a minimum spending of RM150 and above, the cafe is giving away a loaf of fruit cake.
Dcova Cafe
No. 4 Lebuh Bishop
Logan Heritage Building
Georgetown
10200 Penang
Tel: 04- 2613121
Business Hour:
10am until 10pm (Monday, Wednesday, Thursday & Sunday)
10am until 11pm (Friday and Saturday)
Closed on Tuesday
* Many thanks to Dcova Cafe for extending this invitation.