Nyonya Kuih around Penang
BY CK Lam
Penang is a great city known for its plethora of hawker food and Nyonya kuih is one main culinary draw which interest me. The kuih which is the perfect tea-time and after-meal treat has since found its way into the menus of restaurants and cafes.
Nyonya kuih come in various shapes, colours, flavours and textures. One would normally expect to find steamed items but there are deep-fried and baked versions too. Some may be new to you and some you may have already heard of: Kuih Talam, Kuih Lapis, Pulut Tai Tai, Kuih Dadar, Kuih Koci, Onde-Onde, Kuih Kosui, Abok Abok, Sago Gula Melaka, Poh Piah Chee and Curry Puff.
Nyonya kuih stall in Cecil Street Market
40 – 48 Lebuh Cecil
10300 George Town
Penang
Business Hours: Lunch time till finish
Worth checking out: steamed red bean kuih, and the savory sweet radish cake "Chai tow kuih" (in Hokkien dialect) topped with crushed peanuts.
It is worth going to the Nyonya kuih stall in Cecil Street Market. The stall has rows of trays filled to the brim with variety of kuihs for the afternoon market crowd. Customers crowd the stall to pick up their favorite sweet and savory kuihs. Some choose to take home the kuih while others head for a table and enjoy the kuih with hot cup of local coffee or icy drink from the neigbouring stall.
For those craving for something spicy, go for the deep-fried Curry Chicken Puff, with savory filling of slightly spicy potato and chicken. Kuih Dadar is a concoction that is bound to have you hankering for more. The rolled-up pandan crepe stuffed with grated coconut cooked in palm sugar gravy is sinfully rich and satisfying. The same sweetened grated coconut filling in palm sugar gravy is also found in Kuih Koci, a triangular shaped kuih wrapped in banana leaves.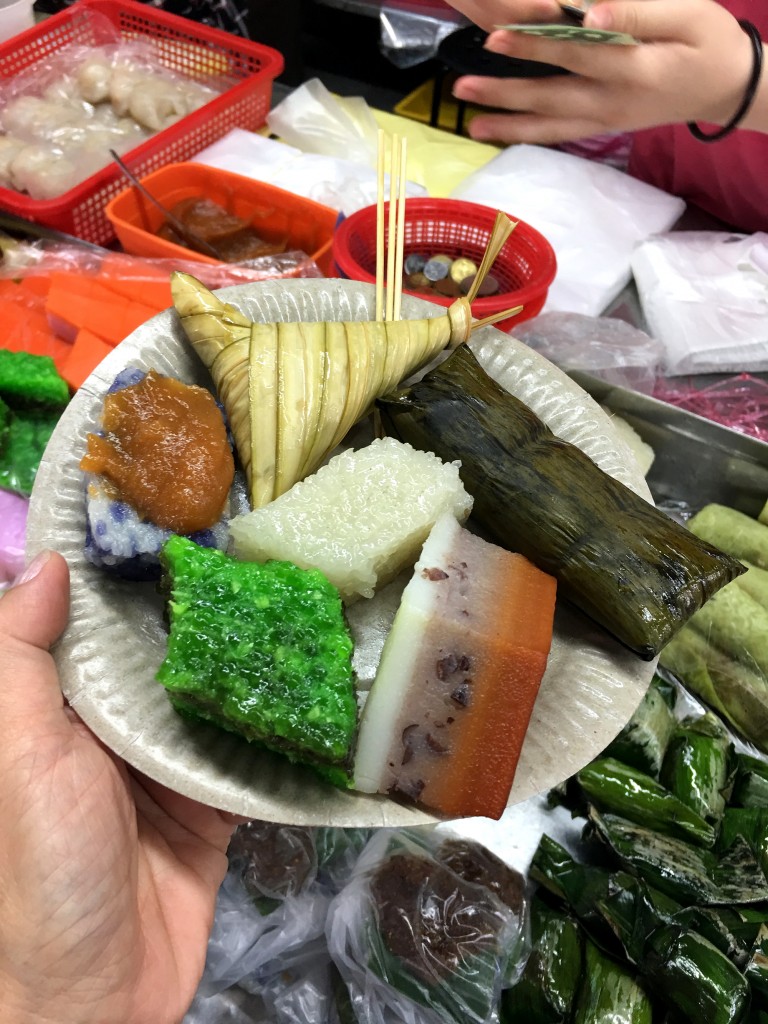 Moh Teng Pheow Nyonya Kuih & Canteen
Jalan Masjid (off Chulia Street)
Penang
Tel: 04 2615832
Business Hours:  10.30am – 5pm
Closed on Monday
Must try: Pulut Tai Tai and signature chicken curry puff
Located in Jalan Mesjid, Off Chulia Street, it is one of Penang's oldest (80 years) and most established Nyonya kuih makers. At the outlet, visitors can observe the making of the kuihs. Besides catering for directly walk-in crowd, the outlet also offers personalized orders for function.
The owner, Mr Mook Hian Beng who runs the outlet with his family has since added on a little cosy corner 'canteen', offering sit down environment for patrons to enjoy the food. The quaint place is well-received by locals and expatriates alike, and the crowds are especially big on weekends and public holidays. Some home cooked specialities such as Assam Laksa, Nasi Lemak, Nasi Ulam, Kuih Pie Tee, Jiu Hoo Char and Nasi Kunyit are added to the kuih menu.
Pulut Tai Tai is an appealing kuih with white glutinous rice steamed with coconut milk and partly colored blue with the juice from the bunga telang. The slightly chewy kuih is delicious with a thick spread of kaya (coconut jam cooked with pandan leaves).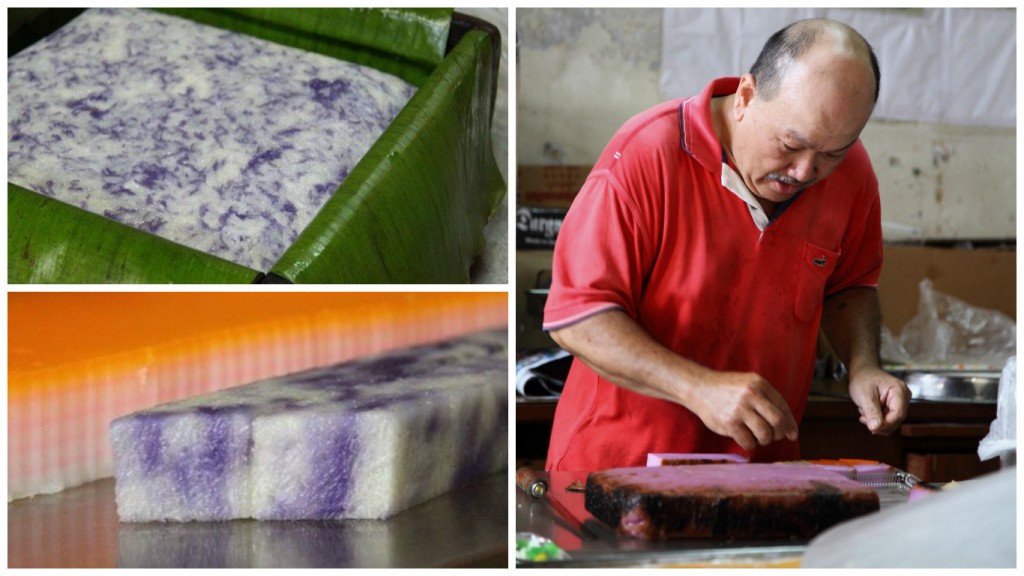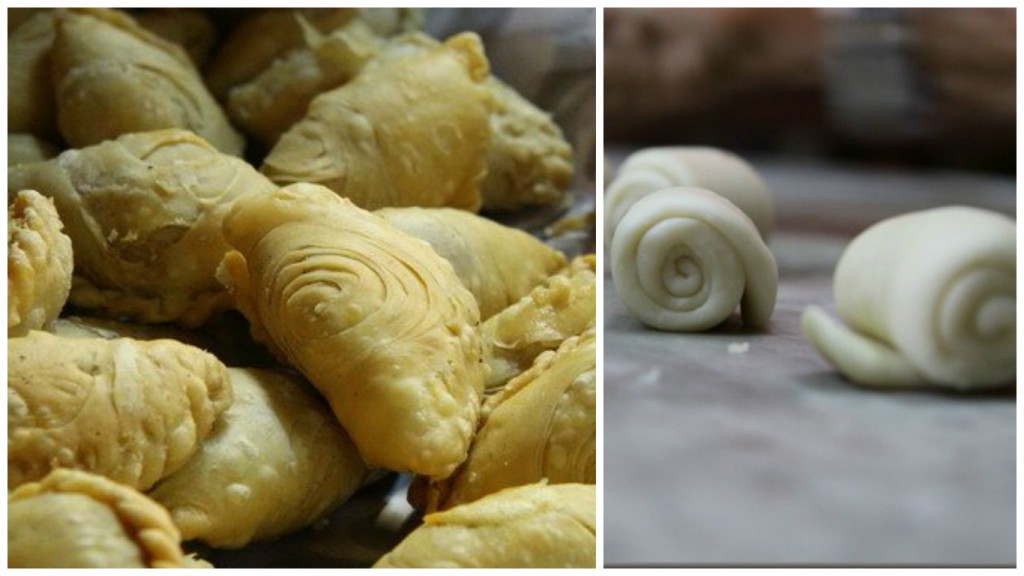 Richard Rivalee
12 Bangkok Lane
George Town
Pulau Tikus
Penang
Business Hours:
12pm – 3pm (Monday/Wednesday/Thursday)
12pm – 3pm & 6.30pm – 10pm (Friday-Sunday)
Not to be missed: Sago Gula Melaka
Richard Rivalee Cafe is occupying an old heritage house along Bangkok Lane in Pulau Tikus, Penang. Helmed by well-known designer & chef Richard Rivalee, the cafe offers sweet Nyonya kuih to complement with savory Nyonya cuisines. Diners are satiated with some sweet favorites: Sago Gula Melaka and Kuih Talam. I personally adore the sago gula Melaka, coated with freshly grated coconut and drizzled with fragrant palm sugar syrup with subdued level of sweetness.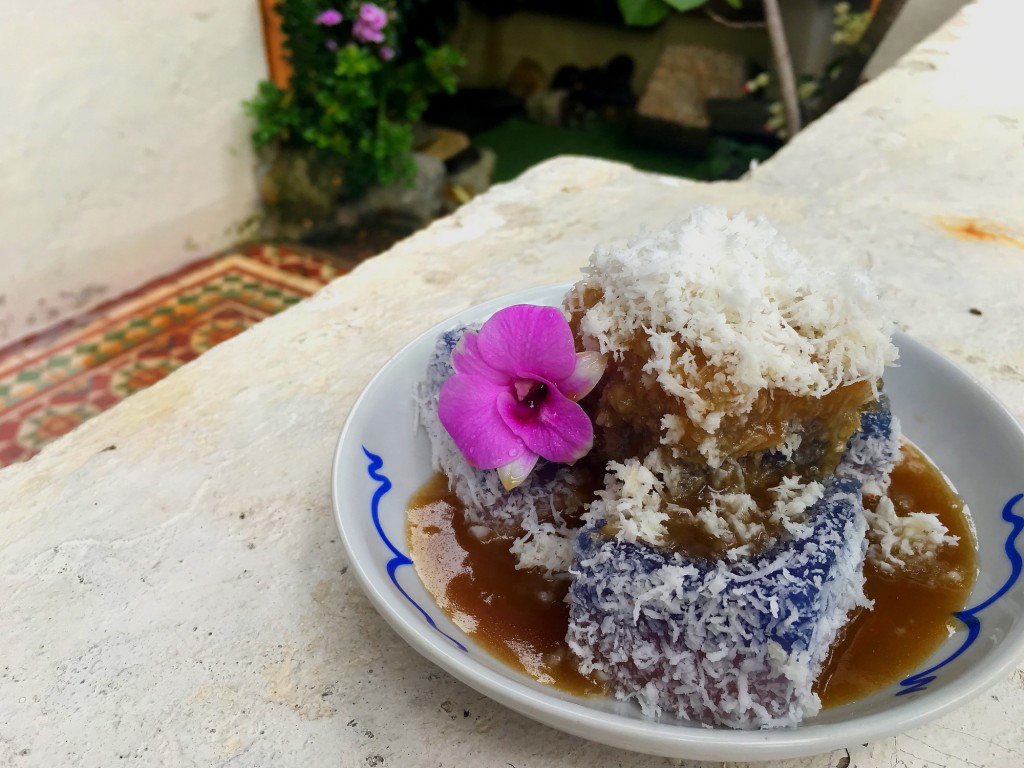 As for the Kuih Talam, it is like a party in the mouth, with sweet and slightly salty flavors complimenting each other beautifully. The layers of green and white is made from simple recipe of few ingredients – green pea flour, fresh pandan juice, rice flour, fresh santan (coconut milk), salt and sugar. The combination of the sweet green layer and the slightly salty white coconut layer will please just about anyone.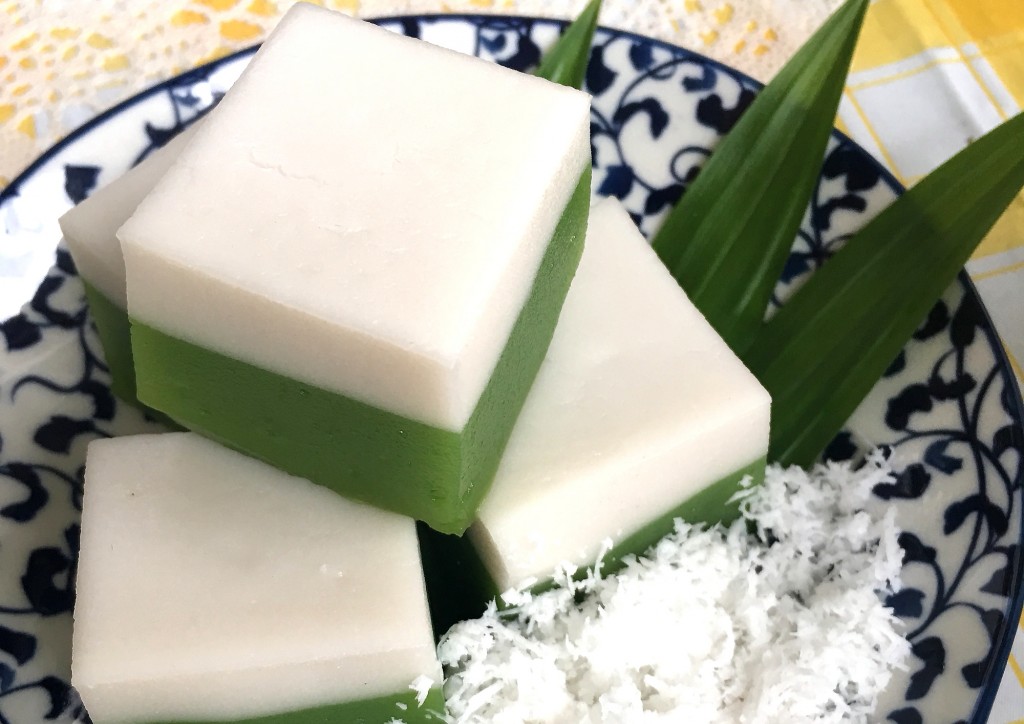 * This is a reproduction of my article published in Foodsion Magazine Issue No.52