Prosperous Chinese New Year Course Dinner @Ixora Hotel, Penang
BY CK Lam
The Chinese New Year is just around the corner, and with that many dining places in Penang are packed with menus dedicated to the festival. For those planning on celebrating the festival dinner with a banquet dining experience in Butterworth, Penang, bring yourself to share the joy at Ixora Hotel.
Ixora Hotel welcomes the Year of the Rooster with the Prosperous Chinese New Year Course Set 2017, running from 2nd January 2017 to 11th February 2017. The six course meal is priced at RM718nett while the eight course meal inclusive of a bottle of house wine is at RM918nett. Both packages come with free flow of Chinese tea flavored with pandan leaves.
The preparation of the food by Sous Chef Kenzo Foo and Junior Sous Chef J. L. Khong is overseen by Executive Chef Aikaun Beh.
In celebration of the festival, Ixora Hotel also highlights the Prosperous Chinese New Year Salmon Yee Sang Galore, which will be served from 20th January 2017 until 3rd February 2017.
The colorful Teochew-style Yee Sang (also known as Prosperity Toss) is considered a symbol of abundance, prosperity and vigor. The chefs came up with a gorgeous presentation of the dish, with raw salmon, julienne vegetables and variety of sauces and condiments. It is exciting to try the combination of tangy, lightly sweet flavors of this dish.
The medium sized portion is RM88nett while the pricing for the large serving is at RM108nett.
The CNY RM918nett menu features eight course meal. For a start, diners may choose to have the Prosperous Chinese New Year Salmon Yee Sang Galore or the Chef's Special Combination. The latter is basically a combination of four items, each with its own distinct texture and taste.
Deep-fried Cheesy Dragon Balls and Fish Finger (snapper fish) are light and crisp addictive items, while the Lucky & Jelly Fish with XO Sauce is paired with thickly sliced roast duck meat. The chefs balanced the dish with Fantasy Ocean, a stir-fried dish of celery, carrot and sea asparagus.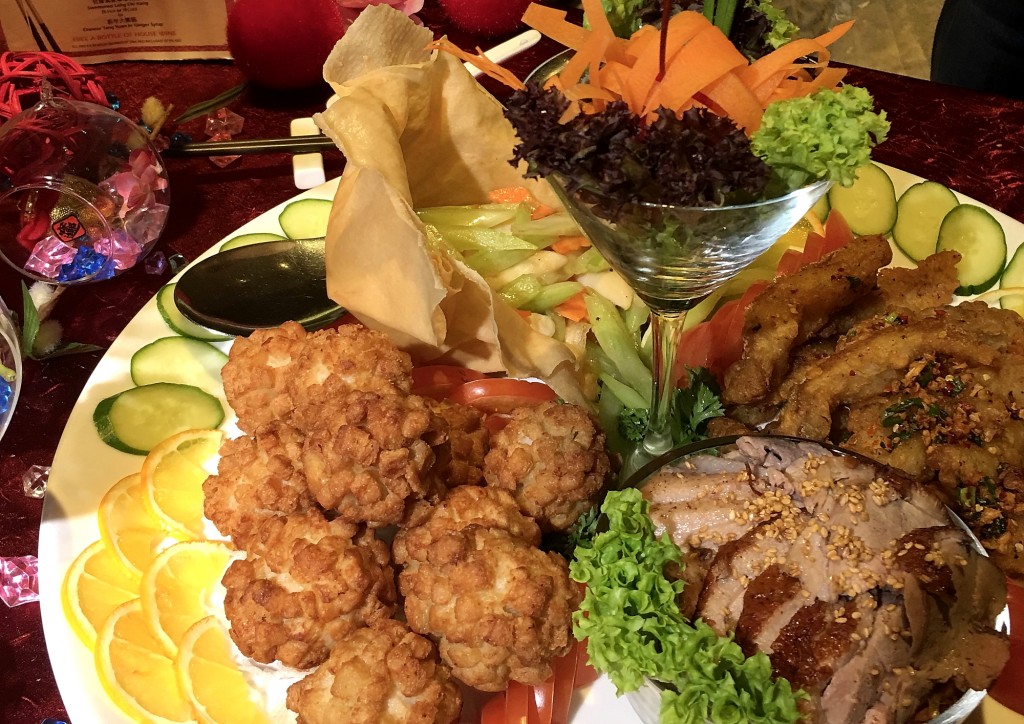 Chef's Special Combination
The Honey Roasted Chicken has tender chicken pieces in a rather sweet black sauce while the Fragrant Chilli Prawns are coated with mildly spicy doubanjiang 豆瓣酱. The flavors of the fresh prawns and the rich sauce form an exceptional seafood dish.
Honey Roasted Chicken and Fragrant Chilli Prawns
The homeyness of the steam fish is welcoming. The Atlantic Dragon Tiger Garoupa is cooked just right with aromatic soy sauce, black mushroom and sweetness of red dates.
Steamed Atlantic Dragon Tiger Garoupa
Braised Dried Oyster, Fatt Choy, Dried Mushroom with Garden Green
The meal is rounded off with Chinese Tang Yuen. Made from glutinous rice flour, the round balls are filled with sweetened black sesame paste and served with in sugar syrup made with added ginger and wolfberries.

Chinese Tang Yuen
The CNY RM718nett menu for smaller appetites begins with Prosperity Seafood Treasure Soup followed by Deep-fried Boneless Chicken with Gravy and a vegetable dish of Garden Green Vegetable with Dried Scallop in Fatt Choy Sauce.
Seafood dishes include Steamed Red Snapper with Gravy and the Wok-Fried Prawn with Chef's Special Seasoning. There will be an Authentic Fried Rice to end the meal.
In addition to the Chinese New Year menu, Ixora Hotel is also kicking off the February romantic five course Valentine Dinner. According to Chef Beh, diners will have a romantic time trying the creations from the 'Love Worth Celebration' menu.
For reservation, do contact 04-3828888.
Ixora Hotel
Jalan Baru
Bandar Perai Jaya
13600 Perai
Seberang Jaya
Penang
* Many thanks to Ixora Hotel for extending this invitation.