Coffee Addict & Le Petit Four Patisserie @Hutton Lane, Penang
*Coffee Addict has since shifted to Campbell Street, George Town, in March 2019
Do you know where you will be heading to on your next caffeine fixed outing in Penang?
Well, coffee fanatics now have Coffee Addict to check in. This cafe is headed by Justin Chua, the barista formerly at Coffee Junkie on Chulia Street and Daily Dose on Stewart Lane.
The air-conditioned cafe occupies the rear section of a shophouse on Hutton Lane and the entrance is via its back door. The few giant artworks on the walls and simple yet stylish furniture makes it a cool inviting cafe space.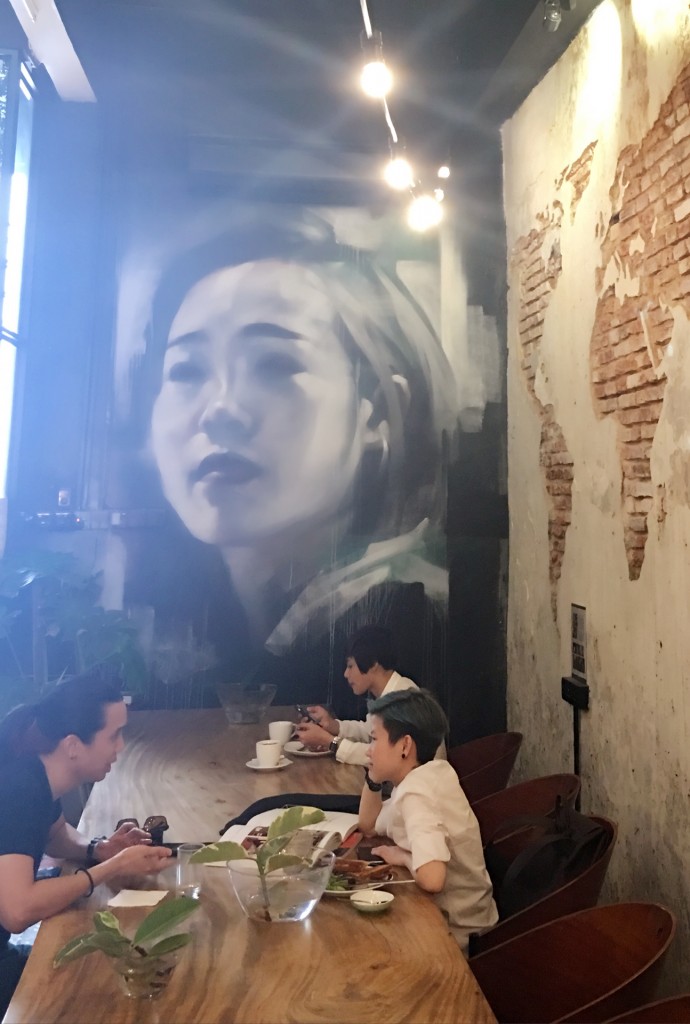 The space feels much brighter and enlarge with its air-well. In the middle of the cafe sits a counter with several stools, and its menu written on blackboards.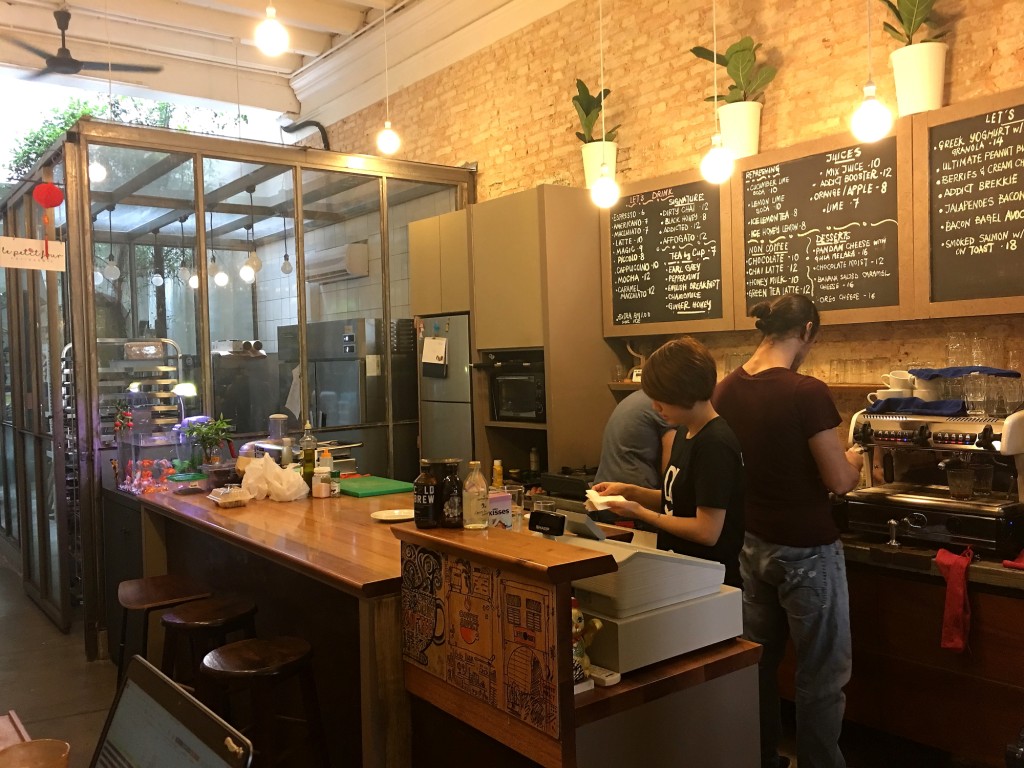 Justin serves up good coffee and a cup will be the way to start off the day. Be sure to check out their assortment of signature drinks, blending espresso with other ingredients. Choices include Dirty Chai, Black Honey, Affogato, Addicted, and Cafe Bon Bon. The latter is a sophisticated espresso drink with rich espresso served layered over sweetened condensed milk.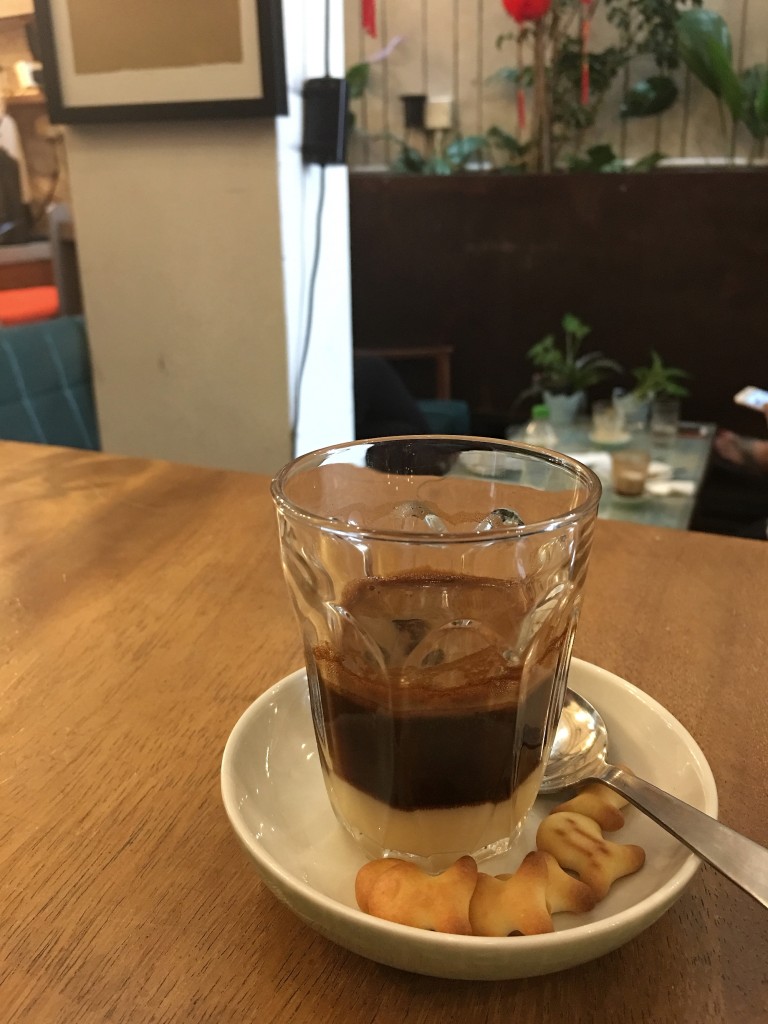 Cafe Bon Bon RM10
The selection of non-coffee drinks include Chocolate, Chai Latte, Honey Milk and Green Tea Latte. Visitors may also enjoy a variety of tea available by the cup, ranging from Earl Grey, English Breakfast, Peppermint, Ginger Honey and Chamomile.
For something cold, there is the juices and refreshing drinks.
My beautifully poured latte prepared using a combination of beans
In addition to the great coffee, Coffee Addict is filled with delicious aroma of freshly baked goodies as it shares the place with Le Petit Four Patisserie. One can easily be drawn to the desserts offered by owner H.S. Ooi who handcrafts the treats at the glass enclosed kitchen (trained at Le Cordon Bleu Paris).
The patisserie is known for its variety of pastries and we had a handful of tasty bites. For the matcaholics amongst us, the Matcha Chiffon Cake with matcha chantilly is a favorite. The fluffy and light individual size green cake with subtle matcha flavor is made with matcha powder imported from Japan. Its hollow center is filled with light and airy chantilly cream, with an additional thick roll of cream slathered on top of the cake.
The flavor of the green tea and the cream is well balanced and the extra sprinkle of tea powder over the cake is definitely appreciated.
Ooi preparing the Matcha Chiffon Cake
The Opera Cake with shiny chocolate glaze topping and layers of thin dark chocolate ganache (made of Valrhona chocolate), sponge cake and cream offers delectable aromas of chocolate and coffee.

Matcha Chiffon Cake (RM12), Latte & Opera Cake (RM13)
Perfect for sharing is the Macarons Mogador. With a filling of passion fruit ganache made from quality couverture milk chocolate and fruity burst of tangy passion fruit, they are tasty but not heavy.
In the case of mousse, there is the Cream Cheese Mousse and Tropical Mousse which will sure to delight many.
Macarons Mogador
The patisserie is also known for its version of French butter croissants. Made fresh with limited portions available only on Mondays, the buttery, crusty yet soft creation is priced at RM5 each. You can enjoy them with a cup of coffee or take away some for sharing with family and friends.
Take-away croissant for teatime
Finding the cafe can be a bit tricky. Just walk down Nagore Road towards the junction of Hutton Lane. As you are about to reach the junction, start looking for the side lane on your right. Walk into the lane and the cafe is on your left.
Coffee Addict & Le Petit Four Patisserie
209 Hutton Lane
10050 Georgetown
Penang
Tel: 016 – 302 0283
Business Hours:
9am – 8pm (Sunday – Thursday)
9am – 10pm (Friday – Saturday)
Closed on Tuesday