Private Kitchen in Penang – Hakka Cuisine @Chia Fong Chieng (家风情)
BY CK Lam
For many lovers of Private Kitchen unique dining experience, Chia Fong Chieng is simply a must visit dining place in Penang where homemade Hakka cuisine is served.
Located on Servis Road, Chia Fong Chieng  (家风情) is a non-halal restaurant run by Mr. Choy and his daughter An An (who manages the kitchen). The outlet does not accept walk-ins and is strictly for reservations, with a day notice in advance.
With an eclectic ambience filled with personal collection of furnishings and plants, the dining room with casual setting seats many. The tables are laid with flower table cloth and Chinese motif tableware.
The menu is crafted using availability of fresh ingredients from the market and hence each dining experience is different.
We savored several delectable dishes, starting off with the cold Drunken Chicken (醉鸡). True to its name, the tender slices of chicken are marinated with fragrant aroma of "shoa xing wine"(绍兴).
A definite must-have in Hakka cuisine is the classic Hakka Abacus Beads (算盘子). The abacus beads, which resemble disks on the Chinese abacus are more laborious to prepare. Made from scratch with flour and mashed yam, the springy chewy beads are first boiled then stir-fried with black fungus, dried shrimps, garlic and minced meat.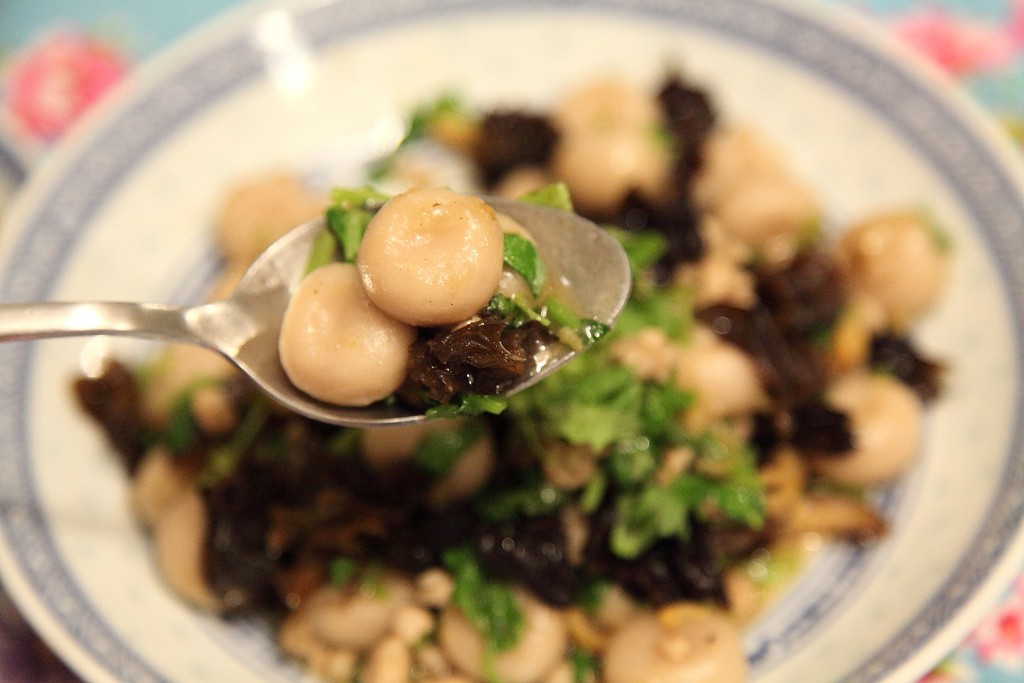 The special Wine Chicken Soup made its appearance on the table. The soup with large pieces of chicken is warm and nourishing with wine, ginger and chicken flavors. We sipped it throughout the meal along with the dishes.
Next came the Pan-Fried Whole Pomfret. The fish is pan-fried, then drizzled with black soy sauce, and finished up with freshness of spring onions, note of ginger and chili slices.
We were then served with the Braised Pork with Yam. The combination of five spice powder, fermented beancurd, black sauce and slow cooking time provided the dish with robust flavor and tender meat. The textural contrast between the meat with a bit fat and the soft yam is also pleasing.
The next dish of quick stir-fry vegetable features simple flavours and presentation. Apart from the standard items of crunchy red capsicum and baby corn, this rendition also incorporated ingredients like snap peas, as well as mushroom.
Dessert is a surprise with sweet and tangy pickled fruits. It is interesting seeing the owner going for the simple yet delicious way to preserve the fruits which are perfect after a heavy meal.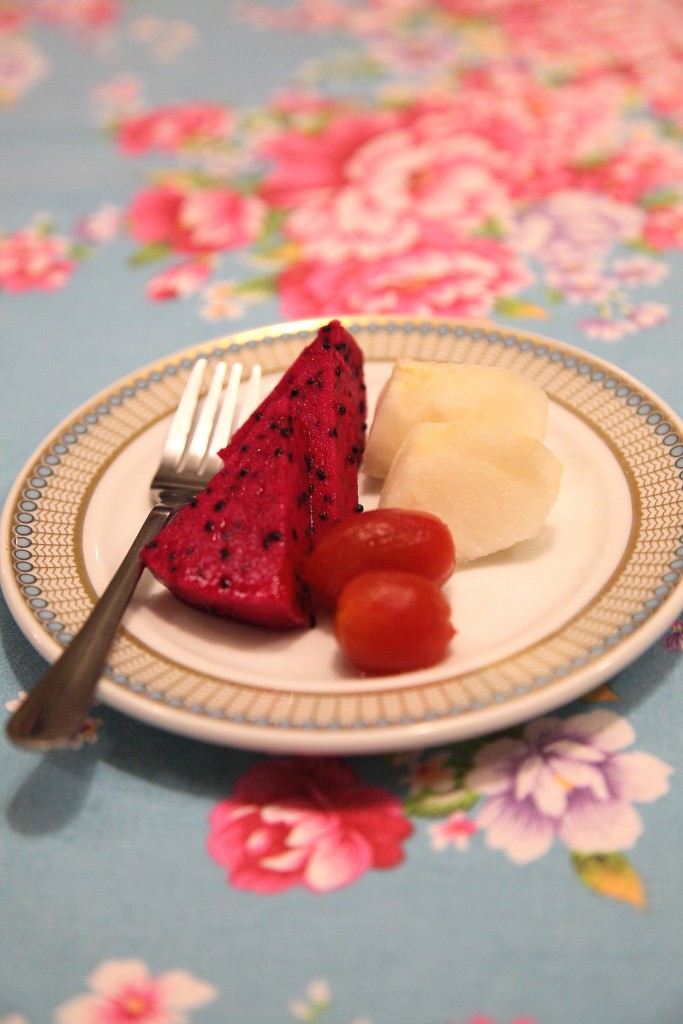 The menu worked well for the seven of us and the taste definitely pushed us to explore the cuisine more.

Chia Fong Chieng Hakka Cuisine
34 Jalan Servis
10500 Penang
Tel:  016 6803300 (An An) &  012 5711557 (Choy)
Business Hours: Only available for bookings