Aji Noren Japanese Restaurant 味暖簾 @Prima Tanjung, Penang
BY CK Lam
Japanese eateries is sprouting fast lately in Prima Tanjung, Penang amidst several oldies. A favorite oldies is Aji Noren, a husband-wife-run restaurant offering a blend of authentic Japanese dishes as well as stir-fried home-style food.
Established way back in 2003, the restaurant hidden behind the main road of Jalan Fettes has Eric T.A. Koh tending to the kichen while wife Alicia oversees the front of the house.  Almost 14 years already, and today this humble gem has established a regular local customer base among the Japanese community.

The interior of the restaurant with a traditional Japanese house design and deco exudes a casual, relaxed atmosphere with varieties of seating spaces. Sit back and relax at the authentic Japanese style Zashiki or standard dining table in the indoor air-conditioned area.
For some, nothing beats sitting in the wide outdoor alfresco area to enjoy a leisurely drink before the meal.
The menu is extensive with something for everyone: sushi, sashimi, bento boxes, light salads, tempura and noodles besides the many  kinds of traditional side dishes.
Here are some of the dishes that we had over the many visits. There are a couple of staples, including the grilled fish.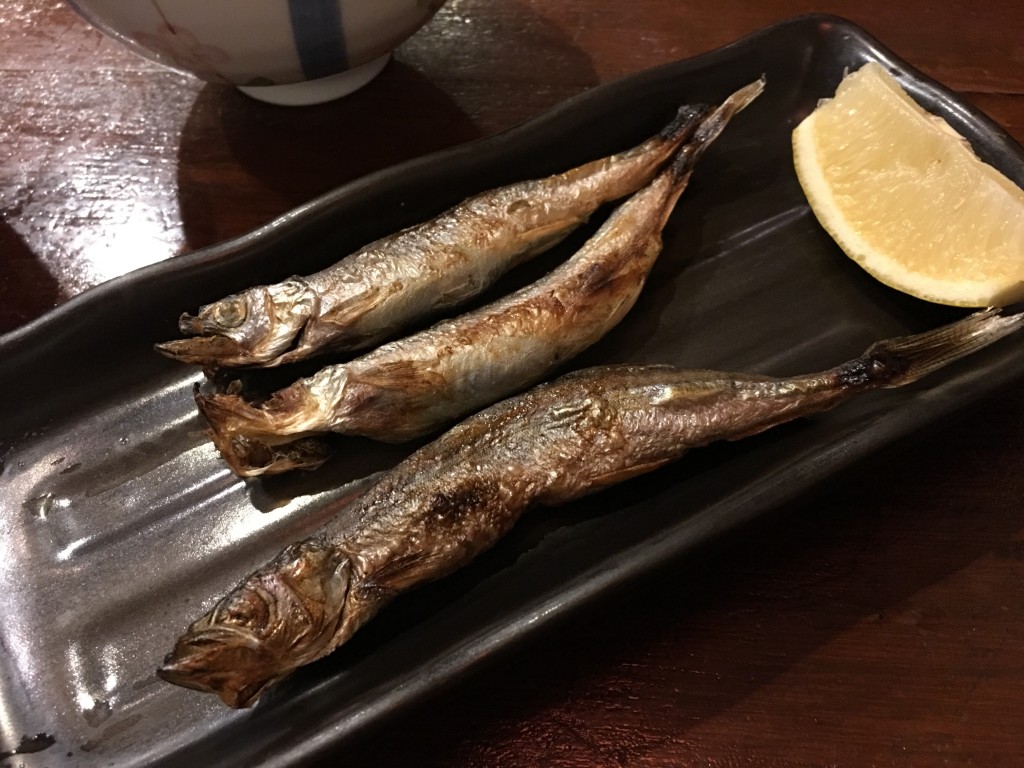 Shishamo
Saba Shioyaki – salt grilled mackerel
Sake Kabuto Yaki – salt grilled salmon head
The outlet offers two versions of onigiri (meat wrapped rice roll) – beef and pork.  My favorite is the Nikumaki Onigiri, with two savory rolls of rice covered with a thin slices of beef marinated with shoyu. Served alongside pickled ginger, the Japanese rice rolls turned out to be very tasty absorbing the flavors of the beef and seasoning
Nikumaki Onigiri RM18
Under the noodle section, the choices are comforting with cold and warm servings of ramen and udon.
A cooling dish to filled up the tummy is Hiyashi Chuka, a cold ramen salad. The dish is put together with a good mix of chilled ramen noodles, crunchy refreshing cucumber, iceberg lettuce, tomato, leeks, cha shu and dressing. Nori seaweed strips and a soft egg gave a perfect balance of taste to the dish.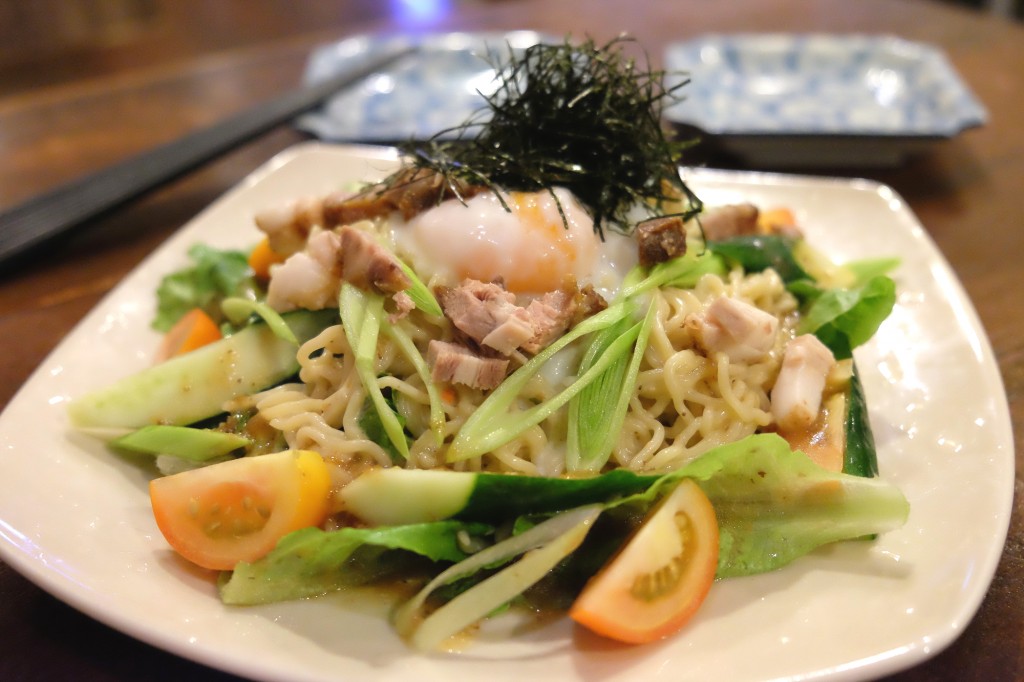 Hiyashi Chuka RM20
Kare Udon is a warm noodle choice. The dish is served laden with tender pieces of chicken cooked with curry powder, onions, carrot and potatoes. The thickened broth with a sweet note and less spiciness is by no means mind-blowing, but is suitable for both the young and old.

Kare Udon RM19.80
There are two different egg dishes – Okonomiyaki and Tonpeiyaki.
Okonomiyaki is a simple Japanese pancake with egg, shredded cabbage, scallions and flour as its ingredients. Toppings include thick sweet savory sauce, Japanese mayo, fragrant seaweed and bonito flakes.
The Tonpeiyaki had noodles, shredded cabbage and slices of pork covered by an omelette and served drizzled with sweet savory sauce, Japanese mayo and bonito flakes.
Prepared with quite similar ingredients but difference in cooking method, the Tonpeiyaki offers more interesting flavors and textures.
Okonomiyaki RM20
 Tonpeiyaki RM18.80
Besides the usual sushi and tempura, I suggest that you try the many kinds of Japanese stir-fried home-style dishes. Together with white rice, the dishes will delight many.
Liver is stir-fried with fresh spring onions and light soy sauce, giving the dish a round gentle flavor. On the other hand, the spicy Pirikara Chickin brings just enough heat to accent the taste buds, but not overwhelming.
Equally tasty is the Hoikoro, a dish where fresh capsicum, cabbage, carrot and slices of pork are prepared with seasoning and flavorful sauce.
  Rebanira Itame
Spicy Pirikara Chickin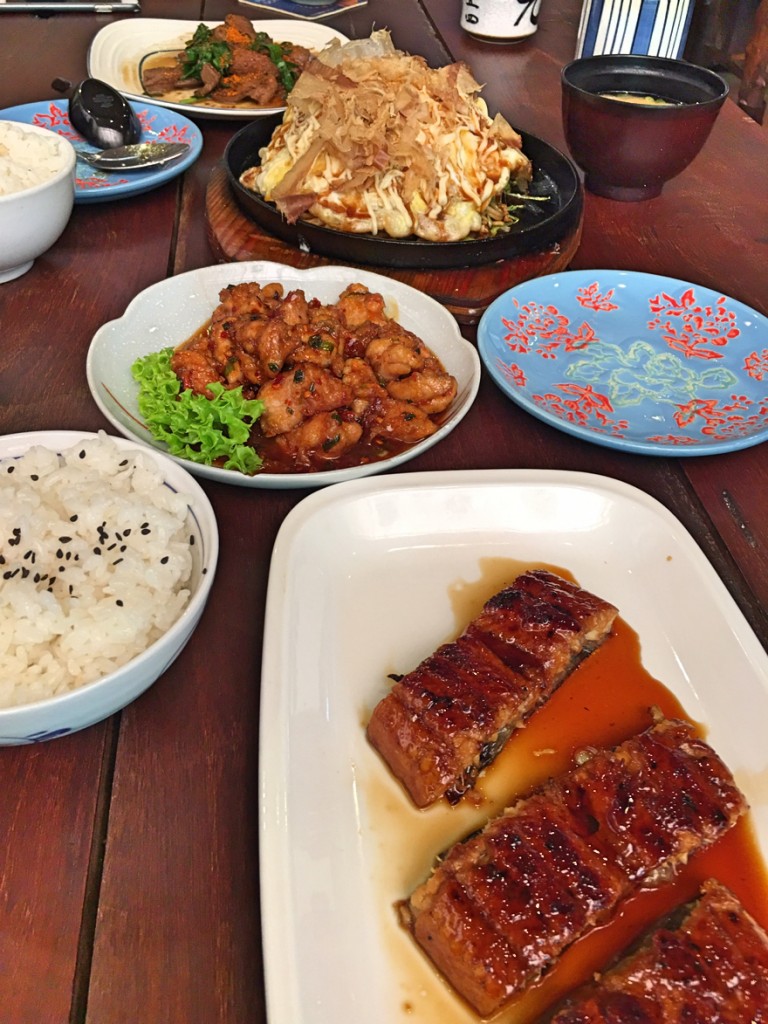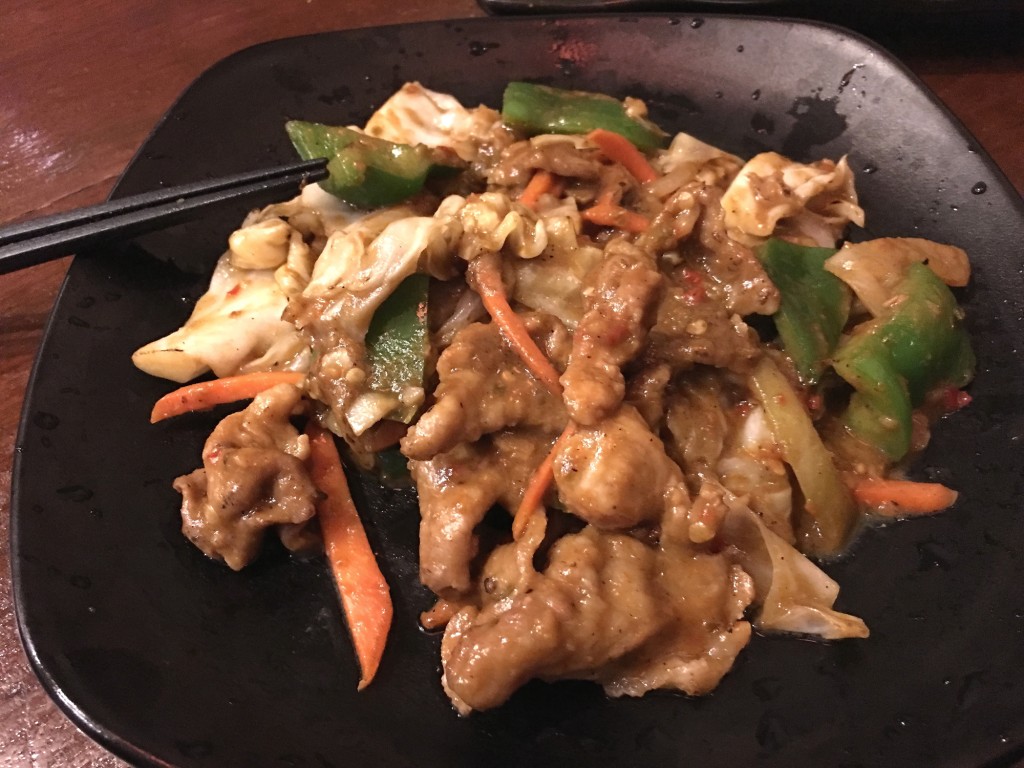 Hoikoro RM16
Set meals are also available besides the many ala carte dishes. As for beverages, the outlet is stocked with beer, along with the sake, shochu and juices.
Do go and experience the hospitality offered by this hard-working couple at their ground floor restaurant in Prima Tanjung, right opposite Island Plaza. You can't miss the signage of the restaurant.
Aji Noren Japanese Restaurant 味暖簾
98-G-35 Prima Tanjung
Jalan Fettes
11200 Tanjung Tokong
Penang
Tel: 04-8994720
Business Hour:  12pm – 2pm & 6pm – 10pm
Closed on Mondays