Black Kettle Penang Redefines with New Look and Menu Inspired by Chef James Won
BY CK Lam
Opened in August 2015 by restaurateur Nigel Chan, Black Kettle located at the junction of Beach Street and Chulia Street has experienced significant and rapid organic growth.
Angela Carson (right) and Nigel Chan
The cafe under the Penang-based Woods Hospitality Group, is expanding its operations with Chef James Won (of KL's Enfin by James Won) joining as Director of Cuisine & Innovation. In the first exciting collaboration, Won is re-enhancing Black Kettle – redefining the café as a culinary and entertainment place.
In his speech, Won said: "The group focus on bringing dining concept to Penang, predominantly in Beach Street. Our number one aspiration is to turn Beach Street and its surrounding area as our F&B heritage site – a venue for great food and great coffee."
K. E. Chua (left) and Chef James Won
In addition to updating the brand image inside and painting the iconic Beach Street building with a new bright yellow, Black Kettle is now very focused on its service, coffee program, food and entertainment.
The fresh menu created personally by Chef James Won is about higher quality ingredients, mostly made from scratch and yet still more affordable than before. The best part is the dishes on the menu starts at RM12, with many of the mains at RM19.
On a daily basis, the kitchen at Black Kettle is helmed by European chef Fabrizio Littera, and it heavily revolves around French European cuisine. Subsequently, the principal of cooking is all French techniques. During the re-launch event, chef Fabrizio Littera charms us with his take on the new dishes, with several infused with local produce.
Chef Fabrizio Littera
There is a little something for everyone on the menu and besides there is also add-on options including sauteed mushroom, beef bacon, smoked salmon, chicken and mushroom pate.
SOUP
A meal here can start with a soup, and the chef whipped up two choices – the filling French Onion Soup and Soup Du Jour (soup of the day).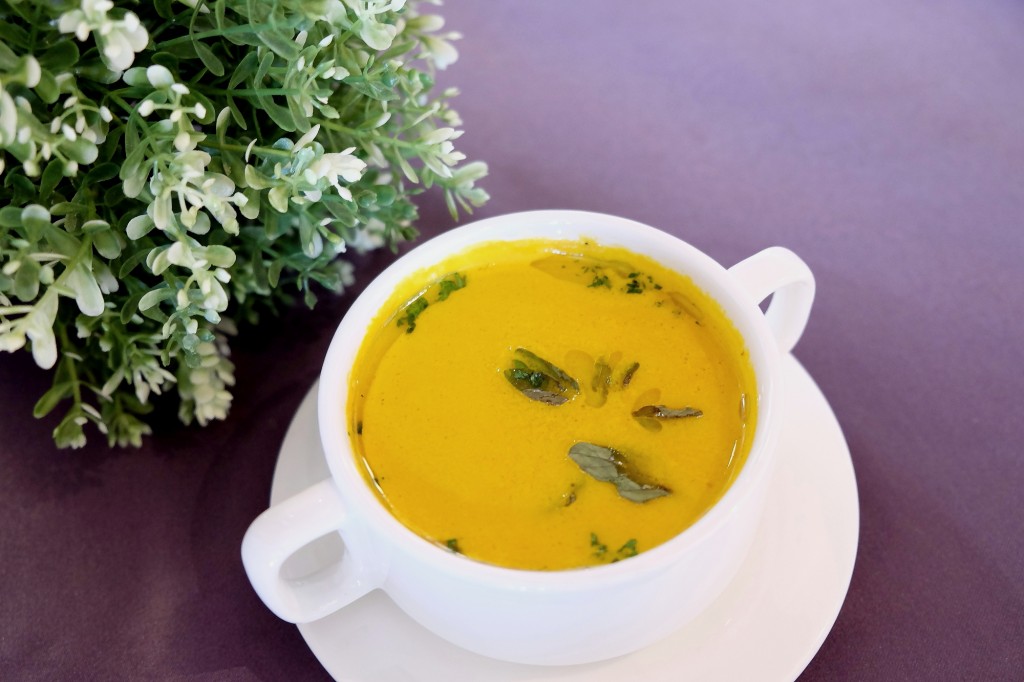 Soup Du Jour RM14 – carrot ginger soup
SALAD
The menu features options such as Caesar Salad besides lighter vegetarian choices of Grilled Vegetables and Garden Salad which are suitable for health-oriented diners.

The Caesar Salad is simple yet appealing in taste. The romaine lettuce is nicely enhanced with Parmesan cheese, egg, salted fish, garlic and crouton crumb prepared with beef bacon.
Caeser Salad RM22
Garden Salad RM12
Black Kettle's version of Grilled Vegetables is a great way to sample a myriad of veggie options. It yields a mouthful of taste with combination of sweet potatoes, potatoes, eggplants, capsicum, tomato, balsamic reduction, olive oil, parsley and refreshing lemon.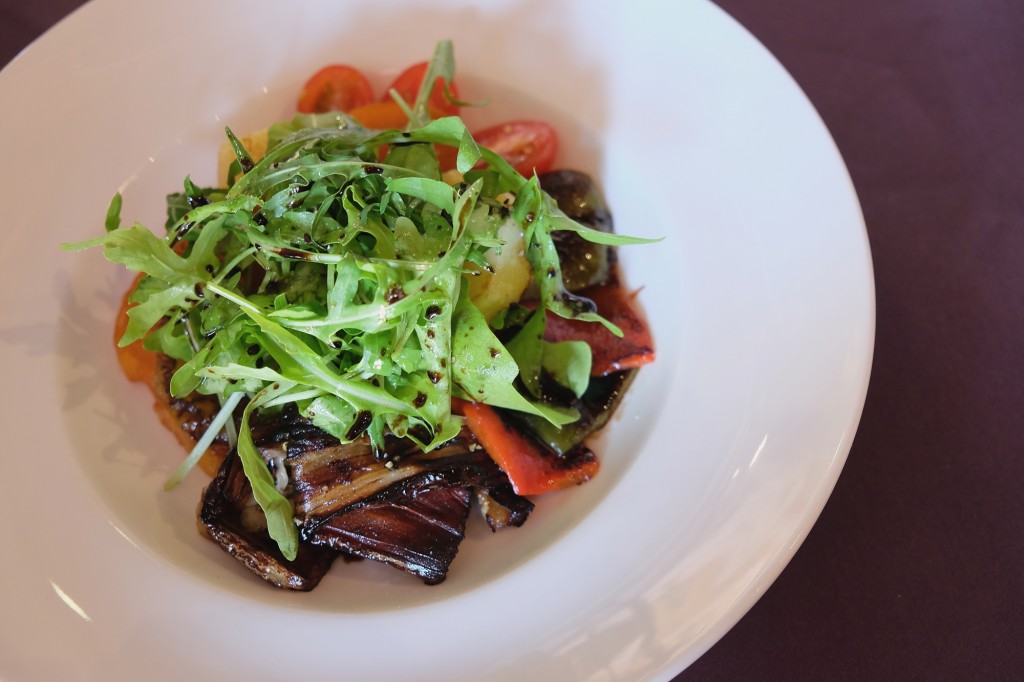 Grilled Vegetables RM22
ENTREE
For entrees, expect to find choices such as Grilled Mackerel, Clam Pot and Bread & Dip.
The Grilled Mackerel prepared with honey and lavender is enjoyable with the accompanying  wild rocket and cherry tomato, and refreshing lemon juice. Won revealed that the topping is made from chopped pickled shallots, providing extra touch of tangy-ness to balance out the dish.
Grilled Mackerel RM12
For RM18, you can be served with the Clam Pot  (300g), with clams cooked in white wine, ginger, parsley and cherry tomato. For sharing, opt for the large portion, available at 600g.
I am contented with the clams which are not overly tough. I wished the dish came with some crusty bread to scooped up the fragrant sauce, though!
Clam Pot RM18 (300g)
Bread & Dip of mushroom pate & homemade hummus RM12
MAINS
Pasta is cooked al dente in Black Kettle and there are three pasta dishes – Cream of Mushroom Pasta, "Heh Bee" Pasta and Pasta ala Pomodoro. The latter is the only vegetarian choice, prepared with spaghetti, tomato sauce, cherry tomato, red wine vinegar and parsley.
Pasta ala Pomodoro RM19
For the Cream of Mushroom Pasta RM19, the chef created a fragrant sauce with cream, white wine, shiitake mushroom, button mushroom and oyster mushroom to coat the linguine.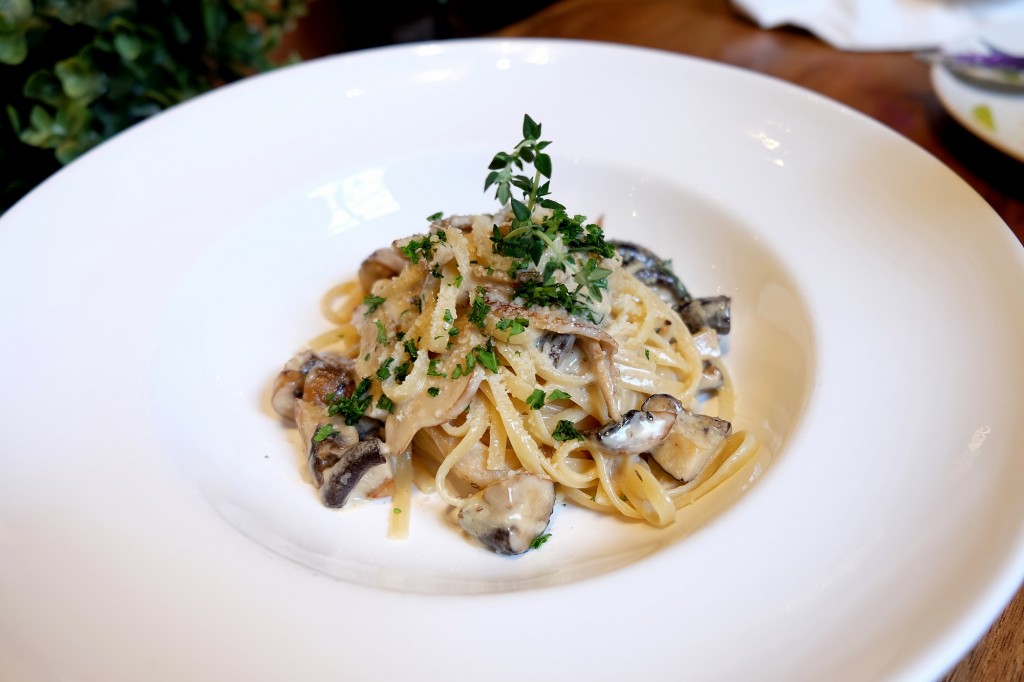 Cream of Mushroom Pasta RM19
The menu also signals local produce with the serving of the  "Heh Bee" Pasta RM19. Emboldened with aromatic and pungent notes of heh bee (local dried shrimps), zest of lemon, white wine and hint of heat from chili padi and red chili, the dish is particularly addictive.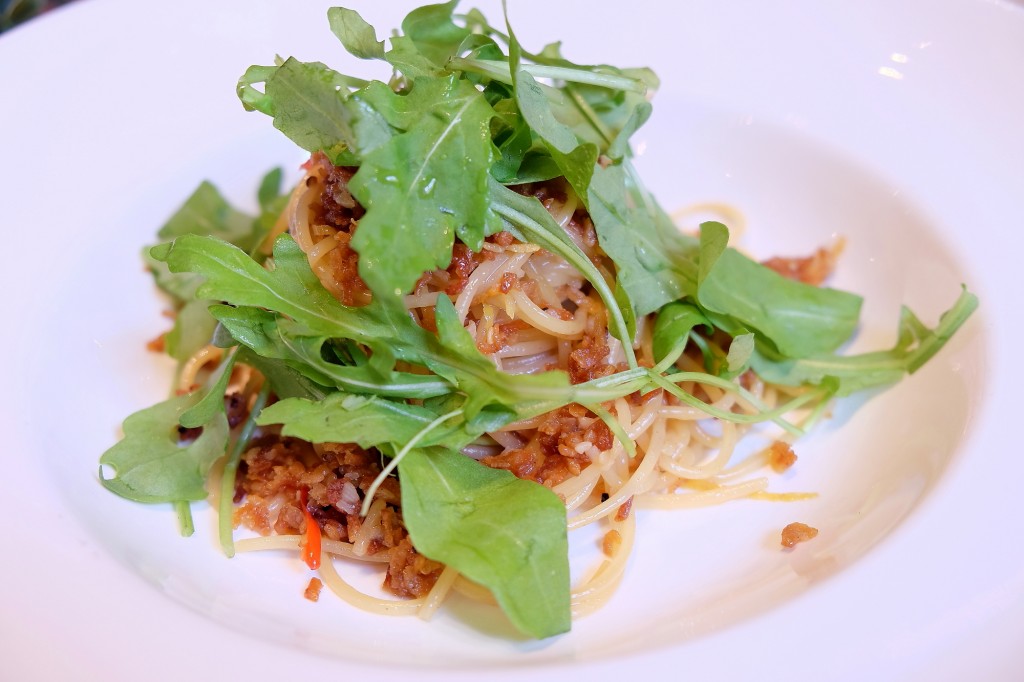 Heh Bee" Pasta RM19
The Baked Rice (spicy/non spicy) is hearty comfort dish, prepared with rice, chicken breast, mozzarella cheese, parmesan cheese, cream of mushroom and spicy bechamel/bechamel sauce (one of the mother sauces of French cuisine).
The complexity and taste of both the spicy and non-spicy versions are scented with spices, providing the dishes their distinct tasty flavors. Although both are pleasing plates, it is the spicy version that wins me over with its 'spicy' oomph.
         Baked Rice (spicy) RM19
Baked Pasta has a recipe made with goodness of pasta, corn, cauliflower, onion, green pepper, carrot, celery, prawn and marinara sauce in a baked dish. The velvety texture marinara sauce comes with depth of flavor as the recipe contained shellfish – making it quite special.
Baked Pasta RM19
BK Chicken Chop (RM19): deep-fried chicken with pomodoro sauce
The Fish & Chips is made from dory fish dipped in homemade batter and deep-fried till golden brown. The chef lifted the dory fish level with a deep flavor batter coating and the way he cooks it, crisp on the surface and moist on the inside. The fish goes well with the accompanying zest of lemon, tartar sauce, slaw and decent chips. I enjoyed this dish a lot more than I thought I would.

Fish & Chips RM19
The Pouisson En Papillote ticks all – tilapia fish, carrot, celery, onion, lemon, shiitake mushroom cooked with herbs and white wine. It is an inspired combination with gentle spiciness, sweetness of fish, earthiness of mushroom, and is delicious to go with the baked potato.
Pouisson En Papillote RM25
If you prefer something other than chicken and fish, then have the Lamb Shank. The shank is cooked with a combination of carrot, celery, shallots and button mushroom in pomodoro sauce. Accompanying the wholesome dish are pieces of baked potato.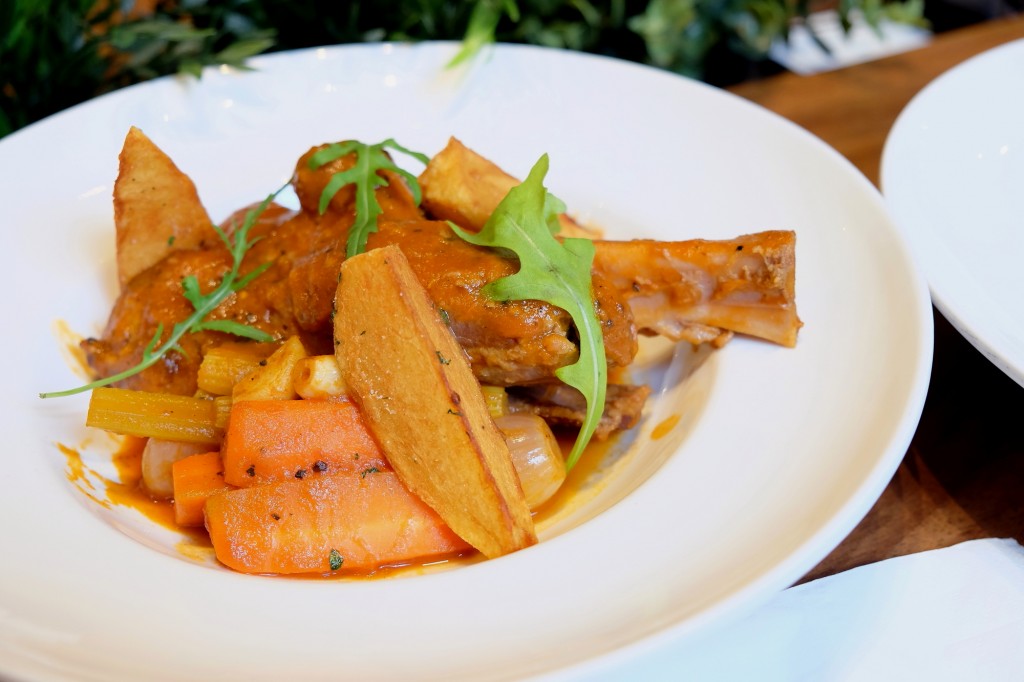 Lamb Shank RM28
For coffee, we had a tasting of a special blend created by family owned and operated DEGAYO. Made from hand picked single origin premium grade arabica coffee beans with a distinctive medium to full body, the beverage is an interesting twist to my regular cuppa.
It offers nutty character, orangey chocolate and earthy aroma, plus a touch of vanilla note on the palate.  Best taken without sugar and creamer.
Brewing with Kinto Slow Coffee Style Carafe series
Besides that exquisite selections from the barista, do expect plenty of choice on the drinks menu, with offerings of tea by Harney & Sons, wine, beer, frappes, milkshake and freshly squeezed juices.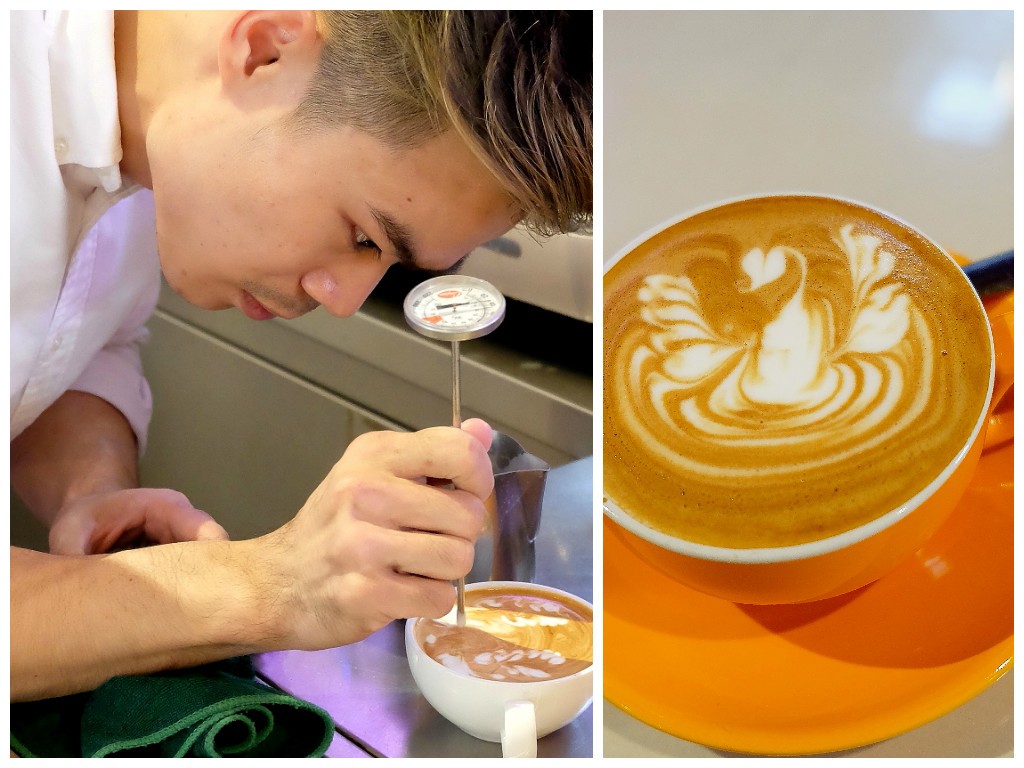 Besides heightening the food, focus is also made on the bakery.
The bakery is taking its bread seriously – producing artisan bread, cakes and pastries, On the boulangerie side, expect to find a displayed of what their do best – hard loaves, soft loaves, butter loaves and baguette. The loaves are made using natural levains from Won's KL fine dining outlet.
Hard time deciding what to choose with the many choices
According to Won, the menu is only for a short period of time and they will focus on introducing new brunch, teatime, dinner and supper menu.
More exciting happenings will be launch by Black Kettle and future Woods Hospitality Group brands. Black Kettle is their first collaborative effort of 2017, with a boulangerie and pastry shop and a new restaurant opening later in September 2017. Additional dining destinations and brands launching in 2018 and beyond will be announced later this year.
Black Kettle
105 Lebuh Pantai
10300 Georgetown
Penang
Tel: 04 – 251 9270
Business Hours:
Tuesday till Thursday: 11.30am – 11.30pm
Friday: 11.30am till 12.30am
Saturday: 10am till 12.30am
Sunday: 10am till 11.30pm
Public Holiday: 10am till 12.30am
Closed on Mondays
* Many thanks to Black Kettle & Angela Carson for extending this invitation.