Malaysian Teatime Snacks @Idris Karipap, Jalan Tanjung Tokong, Penang
BY CK Lam
A roadside hawker stall on Jalan Tanjung Tokong in Penang, Warung Idris Karipap Ayam & Daging is the place for affordable combination of Malaysian sweet and savory kuih-muih (dessert).
There is a fairly wide spread of treats which are great for any time of the day. You are able to find kuih dadar, kuih ubi kayu, cucur badak, pulut udang/pulut panggang, masala vadai, kuih talam gula melaka, bubur kacang hijau, mee hoon goreng as well as balls of onde-onde with filling of palm sugar.
The grilled pulut udang/pulut panggang made of glutinous rice with coconut milk has a lovely flavor from the banana leave and spicy filling of grated coconut and dried shrimps.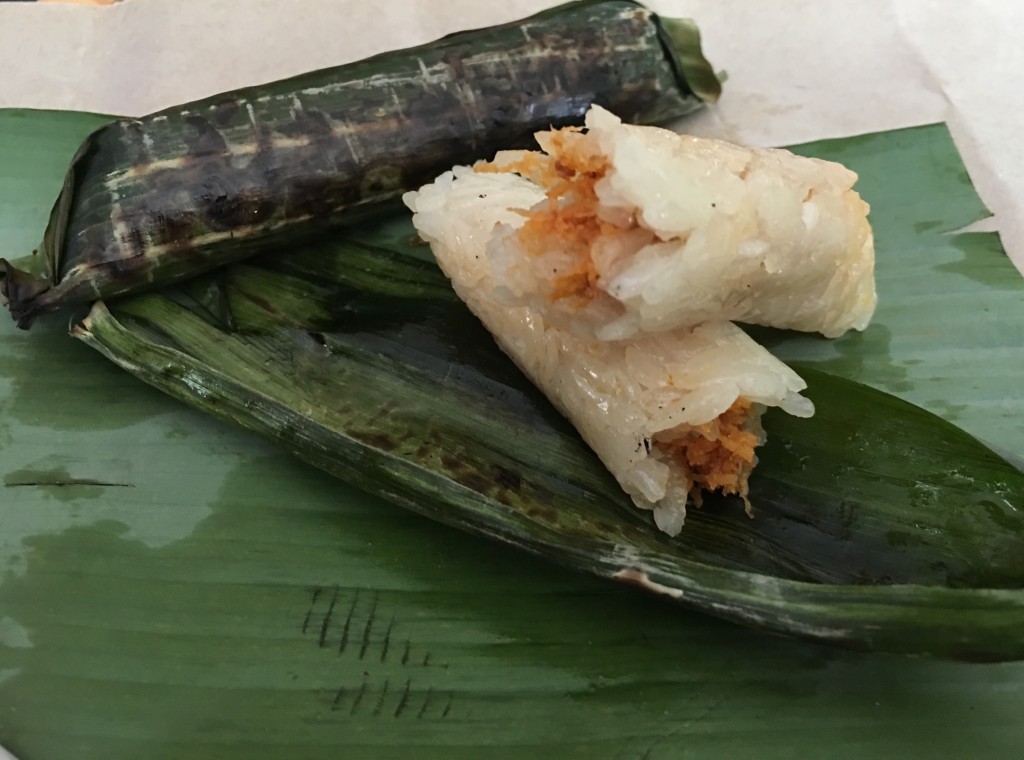 Pulut udang/pulut panggang  (spicy glutinous rice roll)
There are several sweet treats steamed wrapped in banana leaves. One that is bound to have you hankering for more is the  kuih koci, a squarish shaped kuih made from glutinous rice flour filled with grated coconut cooked in palm sugar.
Another choice is the pulut inti, with glutinous rice steamed with coconut milk, topped with the same palm sugar sweetened grated coconut. Both are sinfully rich and satisfying.
Kuih koci
Pulut inti
Additionally, the stall also offers the deep-fried kuih keria (sweet potato doughnut) – made with smashed sweet potatoes and flour, with sugar coating.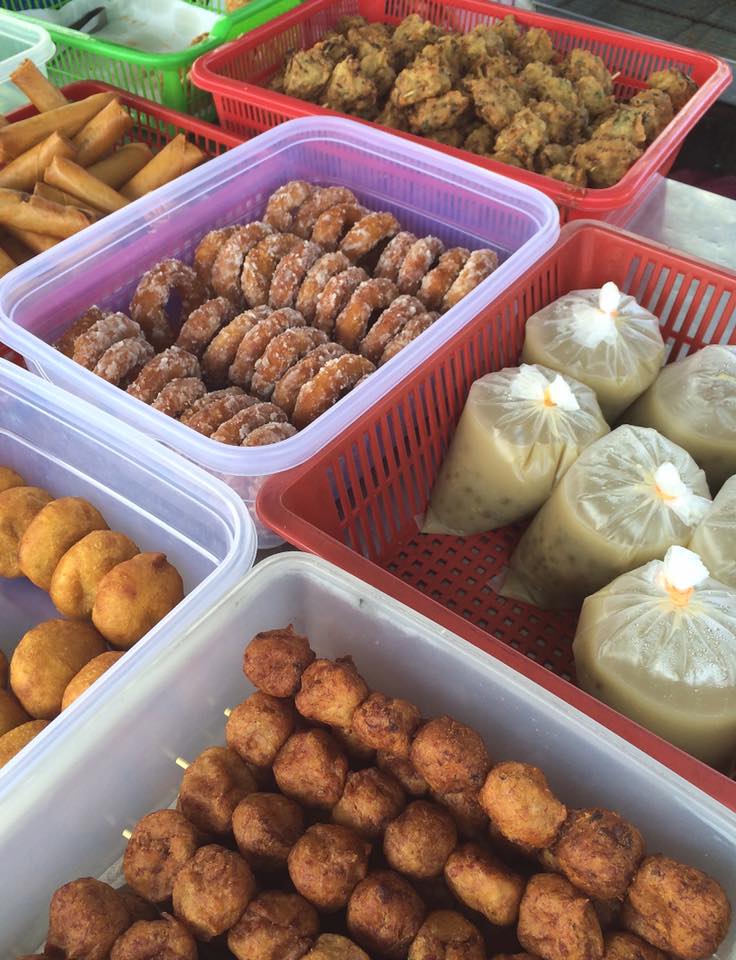 One of the stall's highlights is their fried-on-the-spot crispy and hot karipap (curry puff) with savory filling of either chicken or beef. They do not make spiral dough, and instead stick to the old-fashion curry puff dough recipe.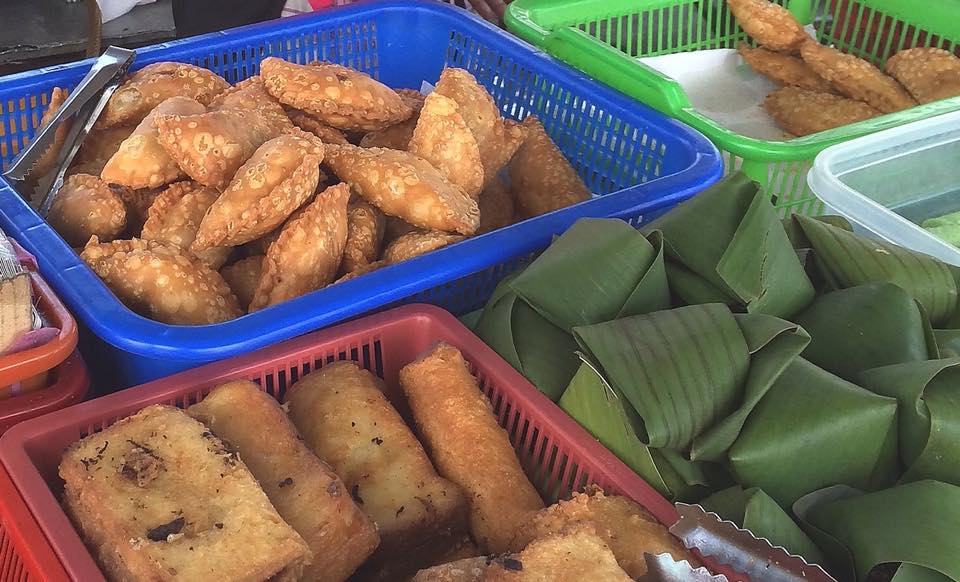 Karipap deep-fried on the spot
Besides the kuih muih, one can indulge in numerous rice choices such as nasi lemak, nasi ayam, nasi daging and nasi tomato. So far, I have relished the nasi tomato and spicy nasi lemak. Wrapped shaped into pyramid, the nasi lemak has rice boiled in coconut milk topped with fried ikan bilis (anchovies), chili gravy and wedge of hard-boiled egg.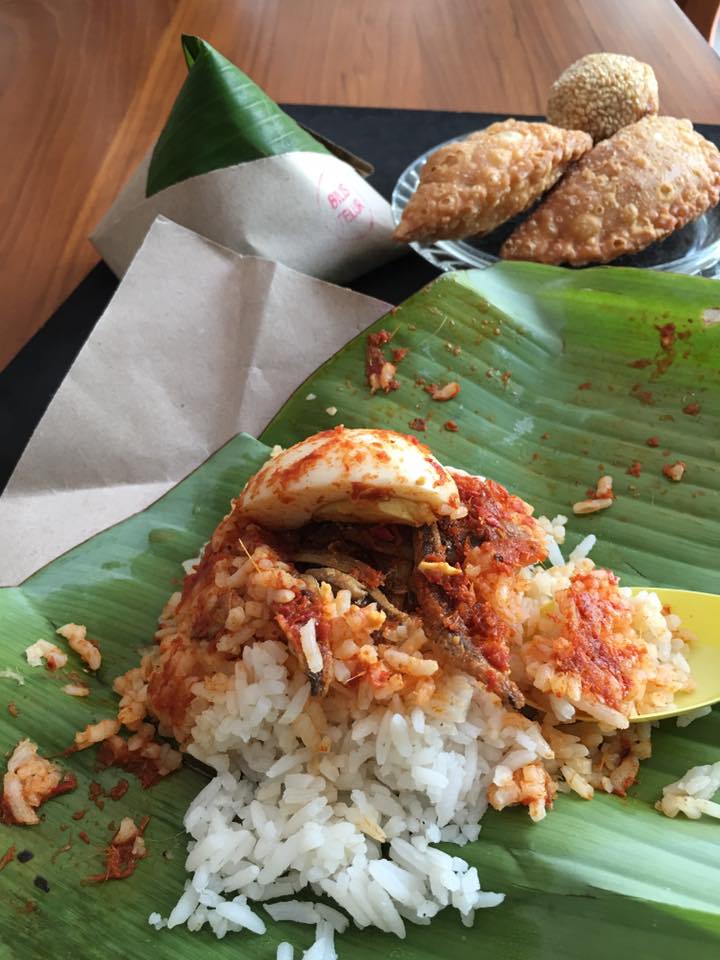 Nasi lemak with ikan bilis
Warung Idris Karipap Ayam & Daging is a must visit if you want a wide spread of kuih muih in Tanjung Tokong area. So far, I find the sweet choices satisfying at a basic level but the savory ones (especially the nasi tomato, nasi lemak and karipap) are definitely worth noting.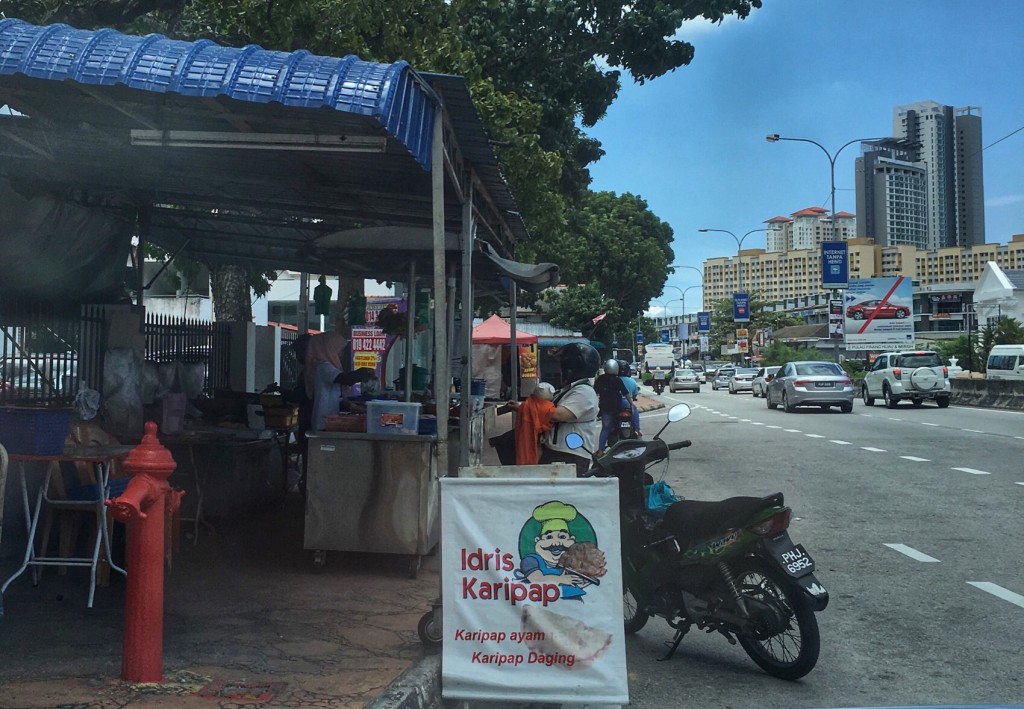 If you are heading from town towards Batu Feringgi, the stall is located a short distance after the Island Plaza's traffic light.
Warung Idris Karipap Ayam & Daging
Jalan Tanjung Tokong
10470 Penang
Tel: 016-452 5933
Business Hours: 12noon – 5pm
Closed on Sunday