Alamak Mamak Stall on Gottlieb Road, Penang
BY CK Lam
For all those who stay up late at night and looking for a quick simple meal, do head over to Alamak, a new mamak stall on Gottlieb Road, Penang. Located at Taman Emas kopitiam (opposite Peng Hwa Girls School), the pork-free outlet is open for dinner and supper with its business hours from 7.30pm till 2.30am.
In its small menu, expect to find taste of Malaysian favorites with treats of nasi lemak and maggie mee goreng along with beverages of teh-o, sirap, lemongrass and coconut shake.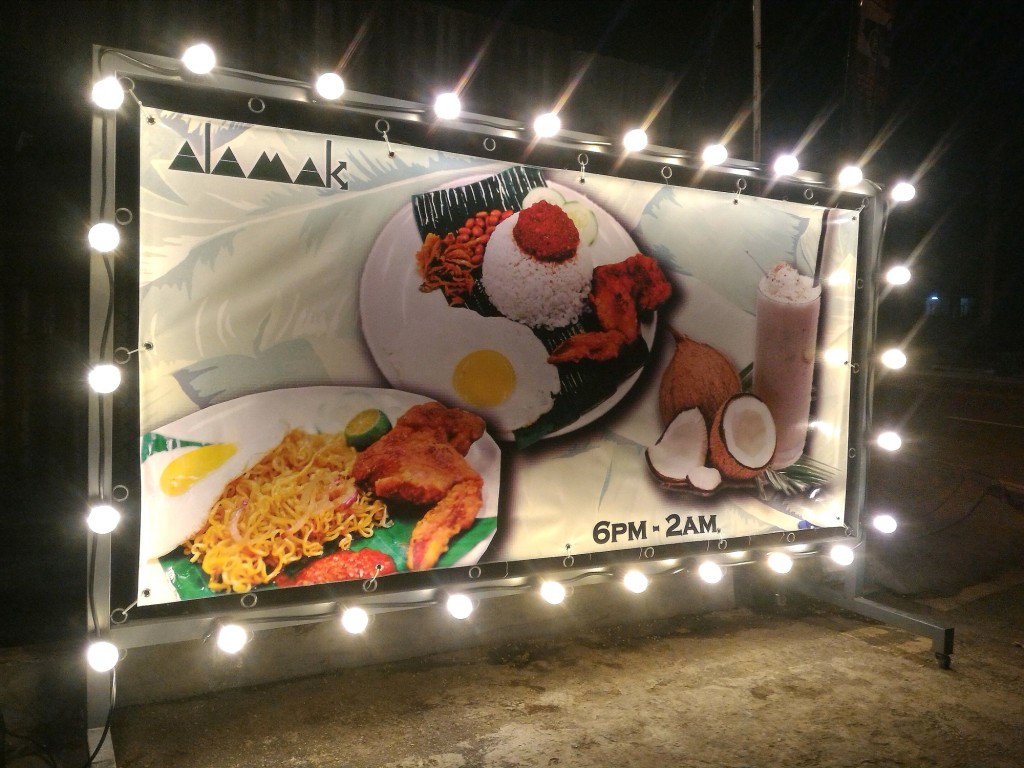 Business hours are updated from 7.30pm till 2.30am
Nasi lemak ayam is the dish most of us are familiar with. Priced at RM7.50, the dish comes with deep-fried chicken drumstick and a sunny side up. Lightly coated and nicely crisp, the chicken meat is cooked just right and remained juicy.
Nasi lemak ayam RM7.50
For something a little more adventurous than nasi lemak, why not try nasi lemak goreng? This dish with the nasi lemak fried in the kuali is slightly fragrant than the norm.
Nasi lemak goreng and ayam RM8.50
If you like noodles, the Mee Maggi Goreng is probably the dish for you. Stir-fried with a slightly spicy sambal sauce, the mee (Mi Sedap brand) complete with fried chicken drumstick and a sunny side up, pleases both the young and old.
Maggie Mee goreng ayam drumstick RM7.50
Besides the savory items, the menu also comes with a light snack – Roti Rainbow. Priced at RM4, it is a serving of colorful bread with a sweet spread of kaya.
Roti Rainbow RM4
Beverage-wise, do knock back on a cup of refreshing Coconut Shake! This creamy drink is highly recommended at Alamak but if you're looking for alternatives, the home-made lemongrass drink is a great choice as well.
Coconut shake RM4 (not to be missed)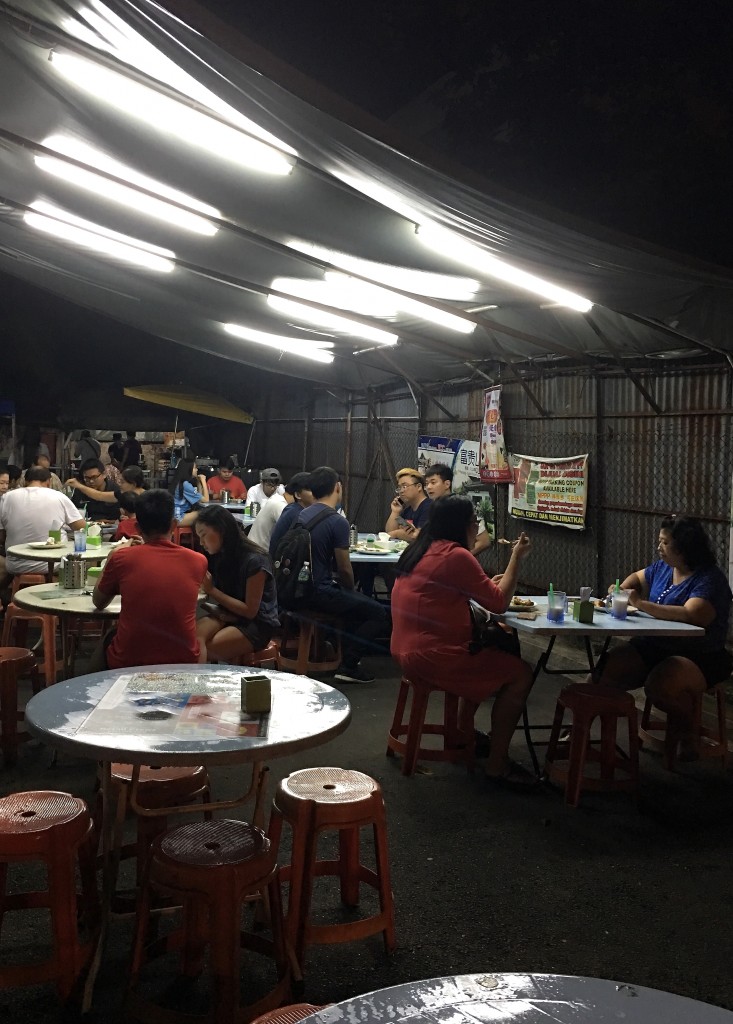 For those who are after something a little more, there are several add-ons such as fried chicken (RM4.50) and sunny side up egg (RM1).
We returned to this mamak stall a few days later for the same decent tasty dishes, and of course we couldn't resist ordering the coconut shake.
Alamak Mamak Stall
(Opposite Penang Chinese Girl's School)
10350 Jalan Gottlieb
Penang
Tel: 018 – 3858018
Business Hours: 7.30pm – 2.30am
Closed on Wednesday