Seafood Buffet Dinner @Spice Market Cafe, Shangri-La's Rasa Sayang Resort & Spa, Penang
BY CK Lam
For the weekend, head up to the renowned Spice Market Cafe in Shangri-La's Rasa Sayang Resort & Spa, Penang, to experience a realm of seafood enticement at their Seafood Buffet Dinner. Happening every Friday and Saturday, the seafood buffet dinner is a great way to discover its new menu.
Cheeses with wide array of fresh bread
The resort supports the sustainability of the sea and needless to say, the buffet spread is prepared with freshly delivered quality seafood. For starters, there is the spread of seafood on a bed of ice. The options include yabbies, slipper lobster, Japanese scallop, green lip mussels, snow crab leg and tiger prawns.
The salads alone are a parade of textures and flavors: penne pasta salad, roasted beetroot and rocket salad, white bean, tuna and spring onion salad, shrimps with baby octopus salad, multi colored coleslaw and jelly fish.
The cold cut selection include the smoked mackerel, beef pastrami, chicken terrine and smoked duck.
Cold Cut – smoked mackerel, beef pastrami, chicken terrine and smoked duck
The Japanese section has a host of sushi and sashimi to offer. Some of the popular ones are maki and nigiri sushi, unagi roll, wasabi ebiko roll, tuna sushi roll, salmon sushi roll and tempura sushi roll.
If your craving is for sashimi, do try their offerings of ebi, sliced abalone, taco, shime saba, unagi, red tuna, salmon, white tuna, scallop and hokkigai.
A huge selection of Asian and Western hot dishes awaits at one side of the restaurant.
Thermidor, oyster with tomato cheese, baked lobster with curry mayo or cheese sauce are just some of the many Western-style dishes to delight you. On the meaty side is the braised beef cheek with bbq sauce. Delectably seasoned and slow cooked, the tender meat has a rich, deep flavor.
Braised beef cheek with bbq sauce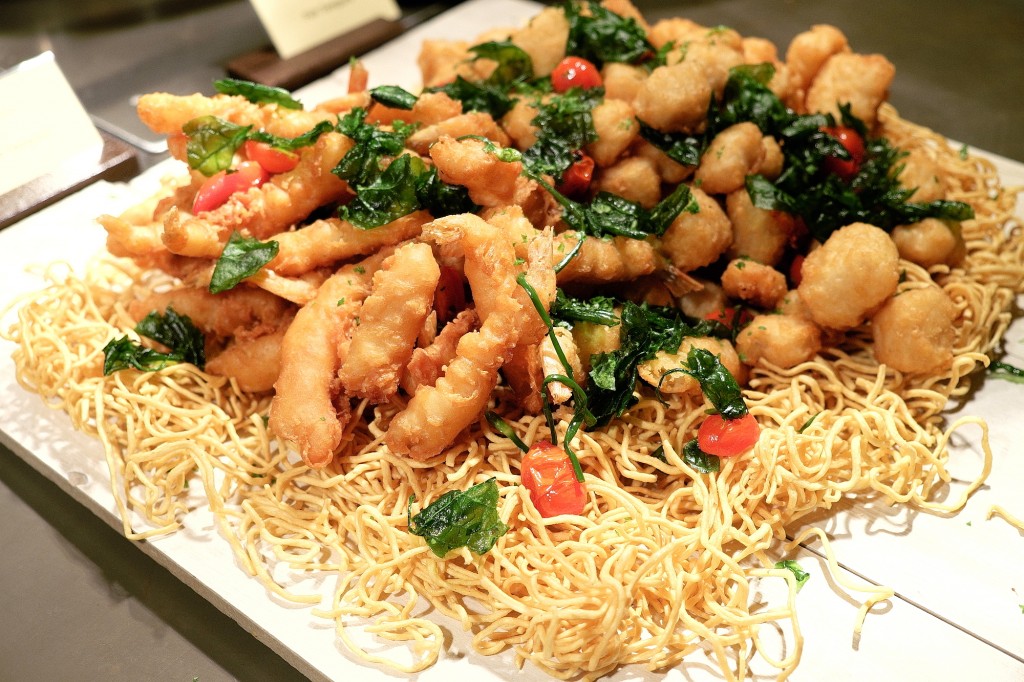 Fish tempura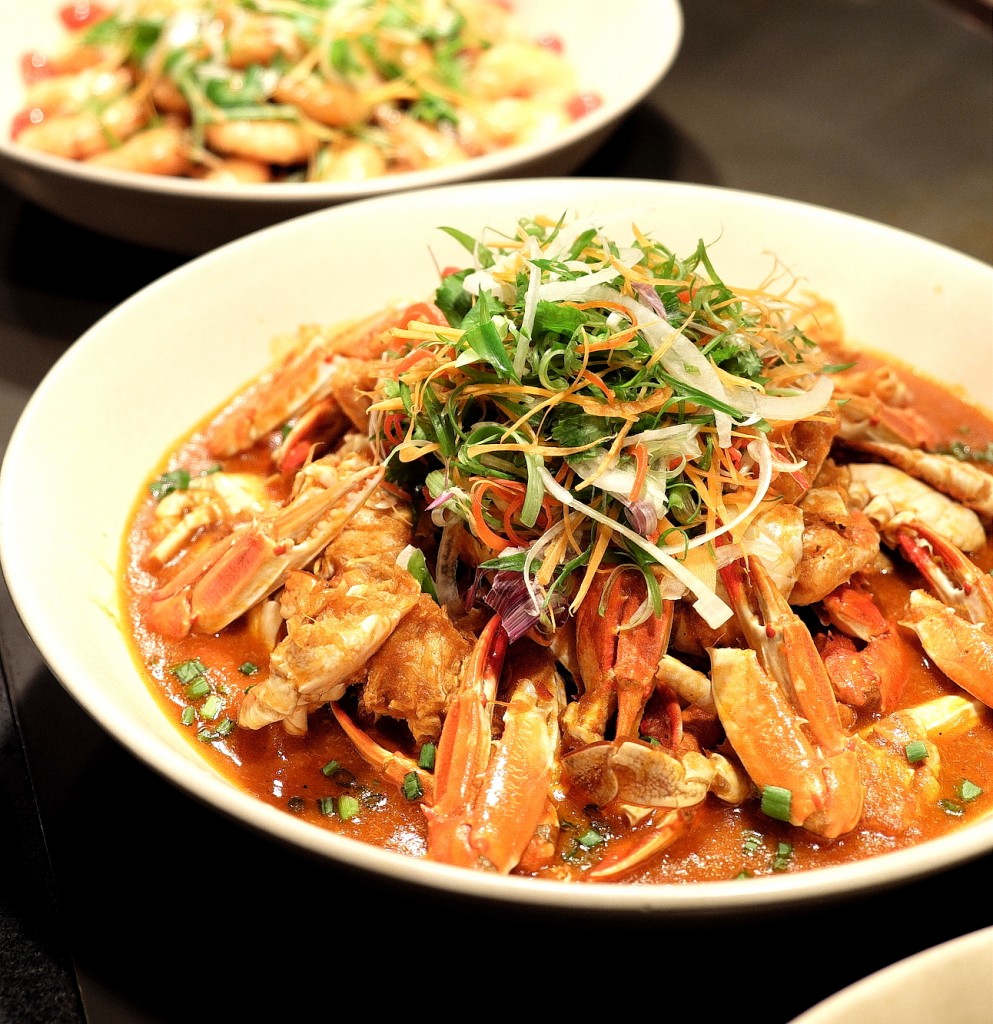 Hot Dishes Asian Style – crab with sweet chilli paste
Tandoori dishes with flavorsome marination and chargrilled aroma
Next to it is the carvery where you may sample quality roasts and grills. The rib eye is of the the chef's choice of roast carvings, and the full-flavored meat wows the taste buds with jacket potato and corn.
Another indulgence is the baked salmon with breading tastes of herbs. Served with lemon cream sauce, the fish is worth reeling in.
Chef's choice of roast carving – rib eye with condiments
Carved catch of the day – herb crust baked salmon with lemon cream sauce
Another exciting part of the buffet is the live cooking stations. It is a feast to the eyes, showcasing fresh greens and seafood. Besides baked, grilled and sauteed cooking method, what is even more surprising is that the steamed method is also available for you to choose from.
Oyster lovers could opt for a steaming hot plate of oyster goodness served with garlic and chili. It is a tasty surprise for many diners.
Steamed oysters
There is also the wonderfully fresh giant pearl grouper prepared in several cooking styles – Asian and Western. There is no denying its popularity, with many waiting in queue.
A serving of fillet pieces in pungent soy sauce and topped with fresh ginger, spring onions and chilli makes for a fine choice.
Fresh catch of the day – giant pearl grouper
There is also the noodle bowls that can be made with a choice of seafood and yong tau foo (vegetables and tofu stuffed with fish paste).
Noodle bowls with plenty of ingredients
Besides the savory dishes, the spread also include a happy mix of cakes and pastry. The Hokkaido cheese tart with creamy cheese filling comes with chocolate, passion fruit and original flavors.
Other highlights are the tiramisu, cherry breton pie, red velvet, bundt cake, chocolate brownies besides the warm bread & butter pudding. The crepes also made an appearance at the live station, prepared with your choice of condiments.
It is a pleasant way to spend the evening at the seafood buffet dinner, served every Friday and Saturday from 6.30pm to 10.30pm. Priced at RM198nett per adult and RM99nett per child, the buffet includes free-flowing of spiced beverage.
Shangri-La's Rasa Sayang Resort & Spa
Batu Feringgi Beach
11100 Penang
Tel: 04 8888788
*Many thanks to Shangri-La's Rasa Sayang Resort and Spa for extending this invitation.