Maple Palace Chinese Restaurant, Penang
Maple Palace Chinese Restaurant, Penang
Established in 2009, Maple Palace Chinese Restaurant 美寶閣 has been a proven favorite of diners in Penang. Housed in a sprawling heritage mansion on Northam Road (Jalan Sultan Ahmad Shah), the restaurant offers huge dining area and private rooms with cozy and warm ambiance for diners to retreat to.
With an impressive menu of Cantonese cuisine, the restaurant offers options for large and small events, to wedding receptions and also specially-curated set with off-menu dishes based on diner's preferences.
The Proprietor and head-chef of Maple Palace, Tan Loy Sin joined by his partner Vivien Teoh, recently hosted several of us for dinner. The event brought back memories to that last lunch visit that they hosted.
For appetizer, he prepared for us a heaping cold dish of Thai paku pakis. The simple wild fern with frond curls was prepared with a Ubah sauce of slightly sourish lime juice along with chili padi, shallots and dried shrimps. It was a perfect starter, spicy and refreshing at the same time.
For the Maple Palace Four Hot & Cold Combination Platter, we were surprised with the composition of four decently sized items. The dish was served up complete with chicken wing stuffed with ebiko, scallop with truffle oil, puffer fish, and a prawn ball with filling of salted egg and seaweed. Among the savory and crunchy taste, my personal favorite was the puffer fish with sprinkling of Japanese spice mixture.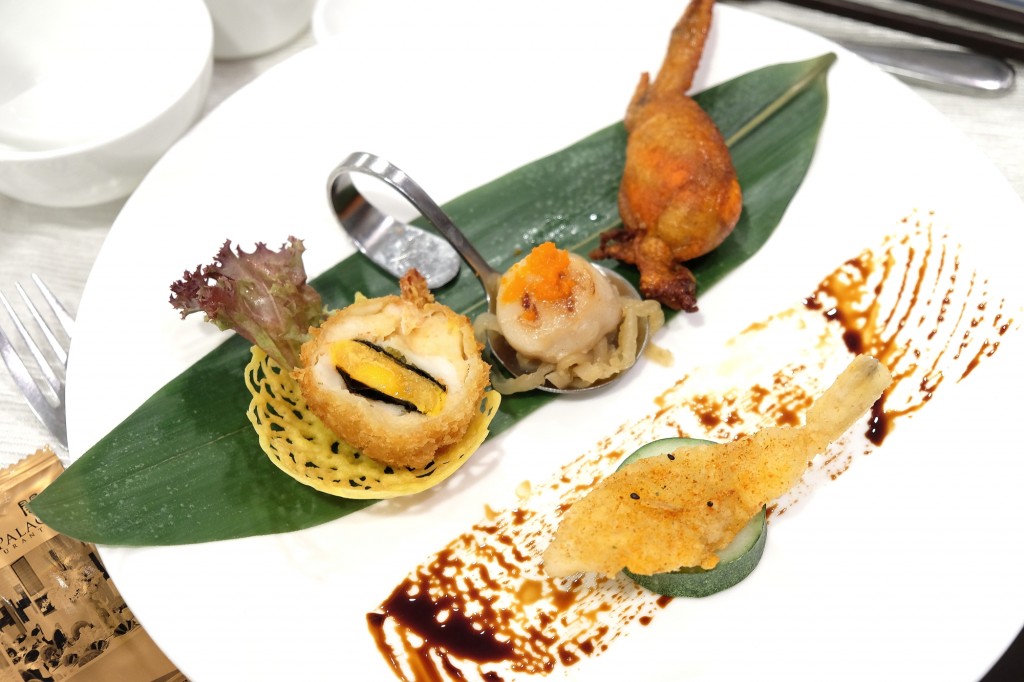 The meal was complimented with soup, and we had the milkier and creamier Double-boiled Fish Head Abalone Soup and a Yellow Cucumber Seafood Abalone Soup to follow. The latter presented in a wrinkly yellow-brown skinned gourd with soup enriched with diced prawns, abalone, scallops and dried fish maw was quite pleasant.
Frequent patrons of Maple Palace Restaurant will notice its menu with Oriental dishes alongside Western dishes. An exciting Western fare is the BBQ Roasted Spanish Iberico Pork Rib which is specially prized for its flavor and texture. Maple Palace's version of the dish comes with all things delicious: baby potatoes, and salad which exuded fragrance of truffle oil.
The handsomely browned rack of Spanish Iberico pork rib coated in finger licking barbecue juice was equally tender (though not completely fall-off-the-bone) and tasty with smoky tones. We had hands-on fun savoring every bit of the meat.
There are several dishes to tempt fish lovers and we savored the Estuary Tiger Grouper, dressed with pomelo sauce. The subtly sourish sweet sauce with hit of shallots and hint of chili heat enhances the flavor of the deep-fried fish.
The restaurant does wonders with its specialty Aromatic Duck prepared with Seven-Head South African Abalone. The whole duck (tender with a bite) was surrounded with brown sauce and columns of white radish topped with abalone. The flavorful brown sauce prepared with old chicken stock, and abalone sauce among others accented the flavor of the duck.
Loy shared the cooking process of the dish which requires laborious preparation. 'We have the duck poached and bathed with gradual pouring of hot oil over it till it turns golden brown,' said Loy. This was a crowd pleaser, which everyone will recommend.
The Braised Sea Cucumber with broccoli stuffed with prawn paste, and Chinese black mushroom is a classic recipe with contrasting texture and flavor. A velvety savory sauce combined the ingredients well.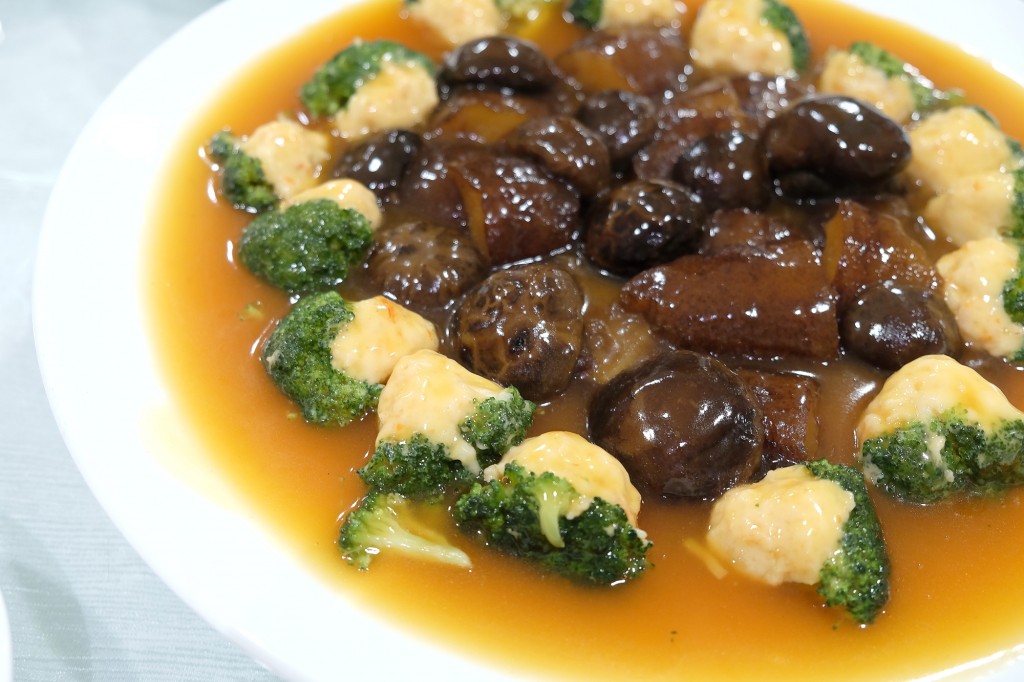 From the many noodle dishes on the menu, we were served with the Braised Ee Fu Noodles with Goose Web prepared with a comforting savory oomph.
We got our chopsticks into the noodles and were pleasantly surprised with its springiness and bite. According to Loy, the ee-fu noodles imported from Hong Kong are made with premium ingredients.
The restaurant has a great variety of Chinese sweet desserts. The special Maple Palace Signature Dessert is a choice for those on the lookout for varieties and flavors.
The dish brought together four tiny glasses of sweet soup with an added piece of theater (with melting dry ice streaming across). They have included black glutinous rice porridge, chilled mango sago , lingzhi dessert with wolfberries, and a chilled healthy green concoction of honey, pineapple and choy sum juice. The latter was nothing like I would have expected and have to admit it was one interesting and refreshing vegetable cum fruit juice.
Maple Palace Chinese Restaurant has become one of the many exciting discoveries and with its many interesting dishes, the restaurant is worth revisiting time and again. Bookings for dinner is recommended.
Maple Palace Restaurant
47 Jalan Sultan Ahmad Shah
10050 Penang
Tel : 04 – 2279690
Business Hour:
Lunch: 12noon – 2.30pm
Dinner: 6pm – 10pm