Uncovering Taste of Luxury in Bangkok
Taste of  Luxury in Bangkok
Bangkok has a global reputation for world-class restaurants, hotels, luxurious spas and modern shopping malls besides the many points of interest. We explored some at leisure during our trip to the capital of Thailand.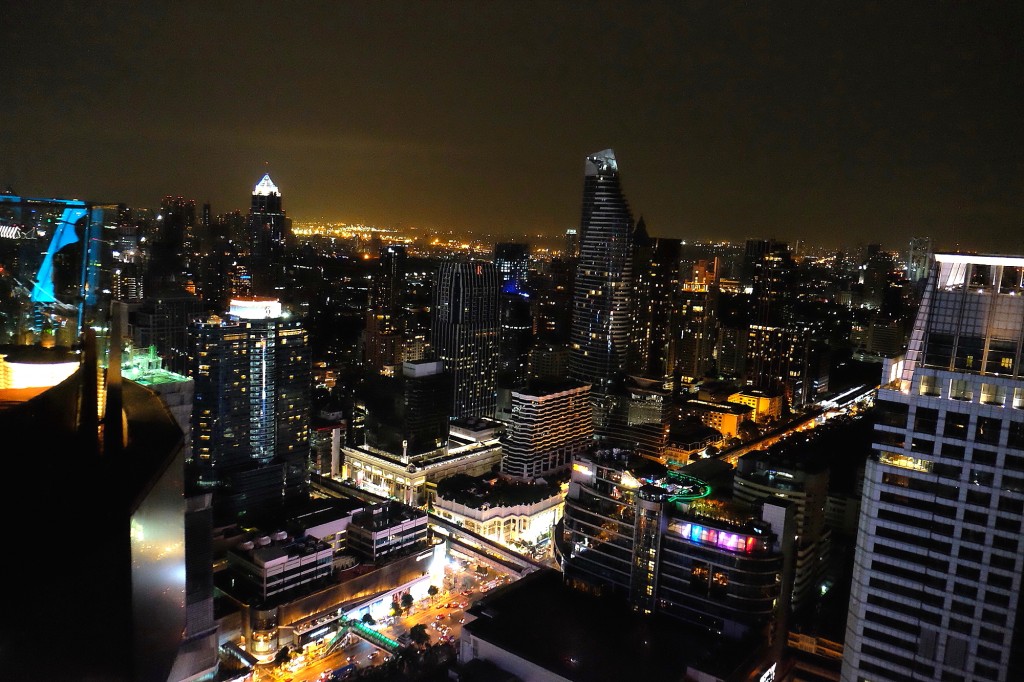 LUXURIOUS STAY
Bangkok is home to many luxurious hotels and a stay at the 5-star Dusit Thani Bangkok on Silom Road was a perfect experience. This luxurious city-center property has travellers living up in style at its Dusit Room and Thai Heritage Suites which combined modern luxury and comfort with classical Thai accents.
Residents of the hotel are treated to relaxing greenery at the historic Lumpini Park, an oasis of serenity and greenery located opposite the hotel. On top of that, the hotel is located within steps away from the BTS Skytrain Station and MRT Subway Station – which conveniently connect you to your destination, shopping hubs and entertaining centers.
For those interested in designer items, head to the many retail shrines like EmQuartier, Siam Paragon and Central World Plaza. The EmQuartier is the latest opening to indulge in retail therapy. Leaning towards the more luxury side of Bangkok's booming mall scene, the mall offers a list of designer brands like Chanel, Fendi, Jimmy Choo, Valentino, Dolce & Gabbana, Louis Vuitton, Gucci, Dior, and Prada.
CULINARY DELIGHTS
Bangkok has charmed the palates of many foodies with its many distinct food and beverages outlets. If you prefer Thai flavors, the Benjarong housed on the lower lobby of Dusit Thani Hotel offers interesting modern contemporary Thai cuisines that are distinctly Thai at heart.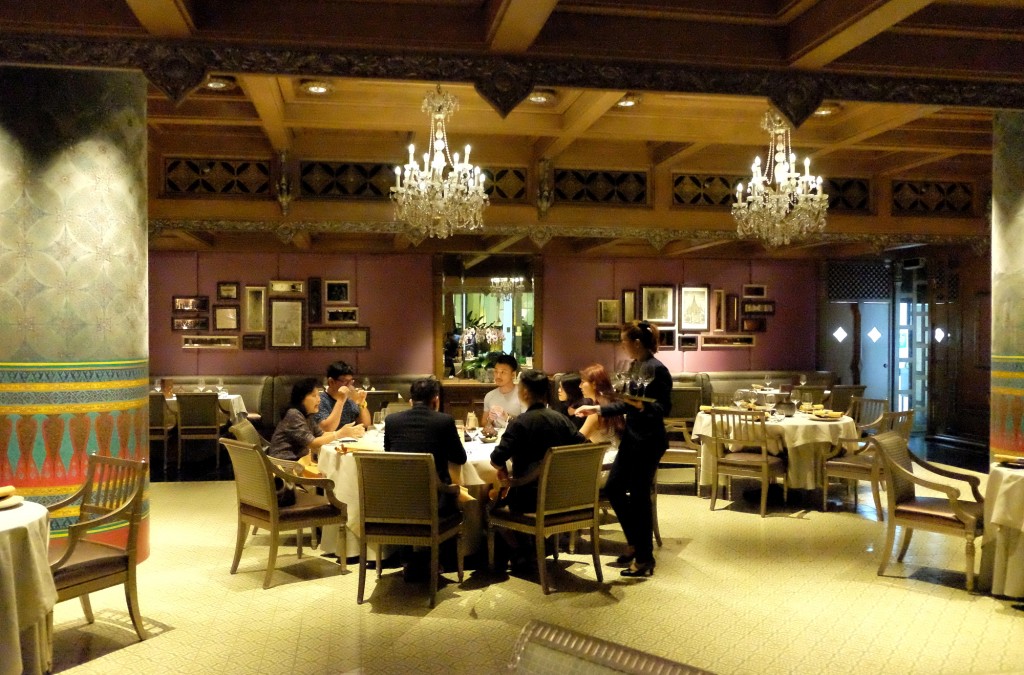 The all-stars of Thai cuisine such as Kaeng Kiew Wan See Krong Neau Toon (sous-vide beef ribs in green curry), Pad Thai and Tom Yum are served here.
The chef deconstructed the sour and spicy Tom Yum dish and had the ingredients and garnishing composed in a bowl with a table side pour of the soup. Among the highlights of the dessert include basil ice-cream with fresh pineapple and salty meringue, red rubies and jackfruit with coconut ice-cream, and the mango sticky rice. The revamped nitrogen mango sticky rice is refreshing combined with the accompanying mango sorbet.
   Chef Philippe whips up delicious Thai dishes at Benjarong Dusit Thani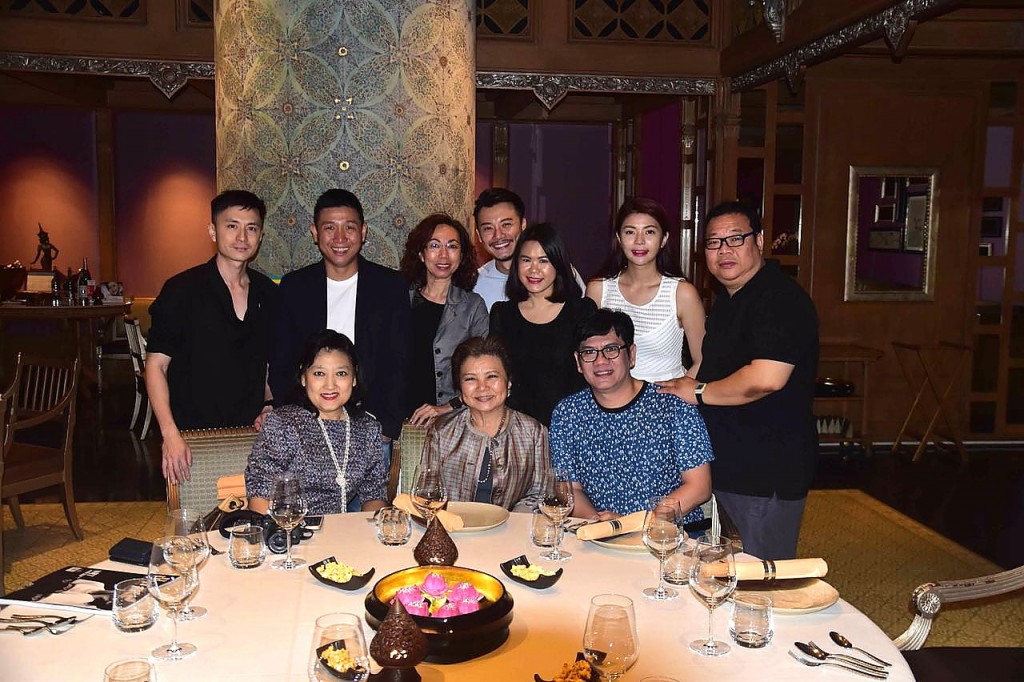 Definitely worth checking out is Red Sky, Bangkok's most iconic sunset look-out spot. Located at the 55 floor of the 5-star Centara Grand Hotel, the fast lifts will zip you up to the rooftop restaurant and bar which offers 360-degree amazing city views.
Wrap up the day with sunset cocktails and specialties from the menu which features fresh locally-sourced seafood and prime imported steaks. The Prime A3 Japanese Wagyu, and chef's signature dish Red Sky Surf & Turf Tower are not to be missed. After the meal, sit back and relax with a glass of Royal Coffee. This signature speciality coffee on Red Sky's menu has its flavour enhanced with cognac, brown sugar and whipped cream.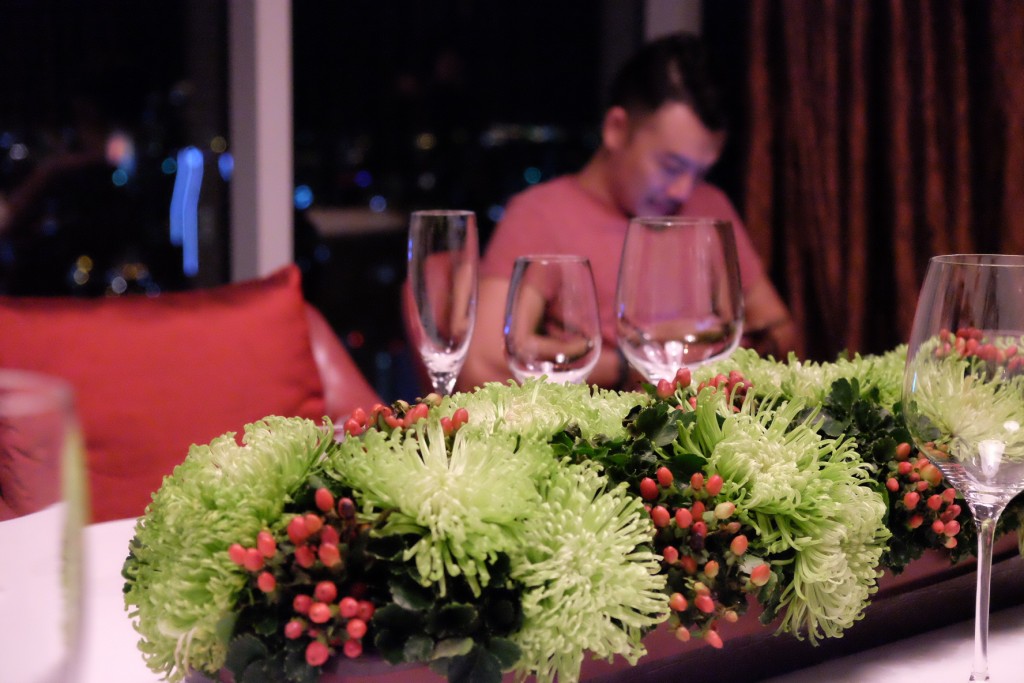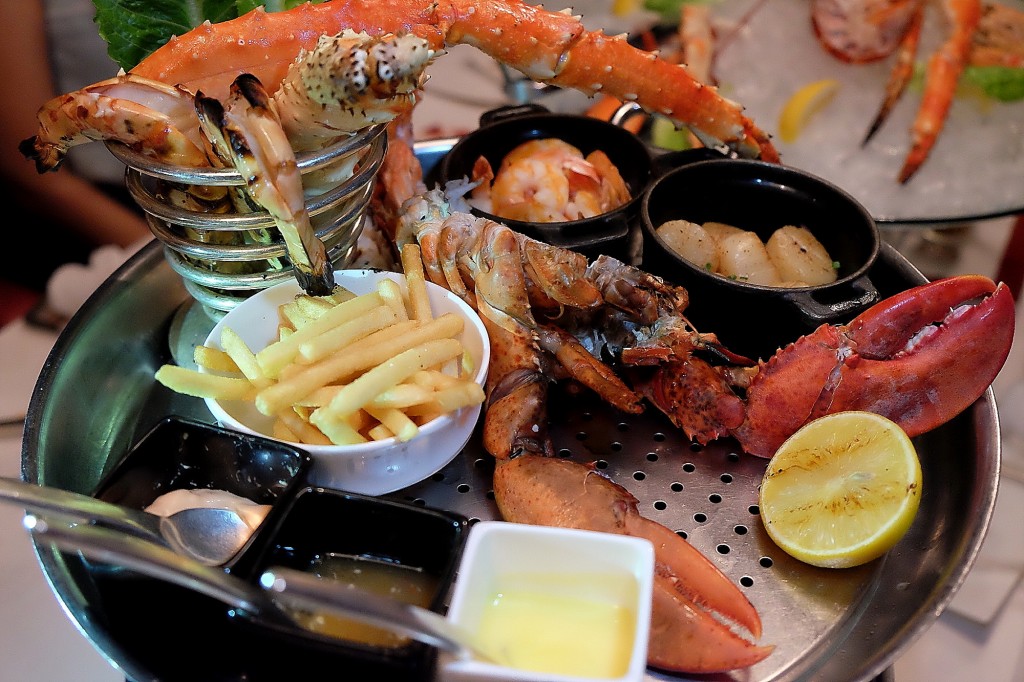 An assortment of seafood and prime imported steaks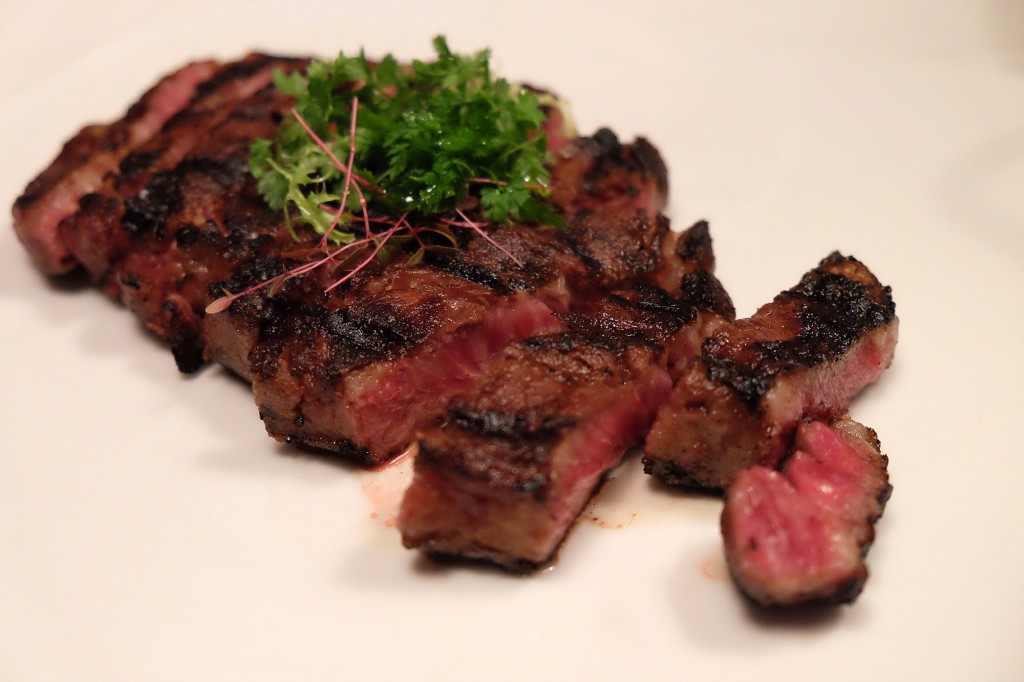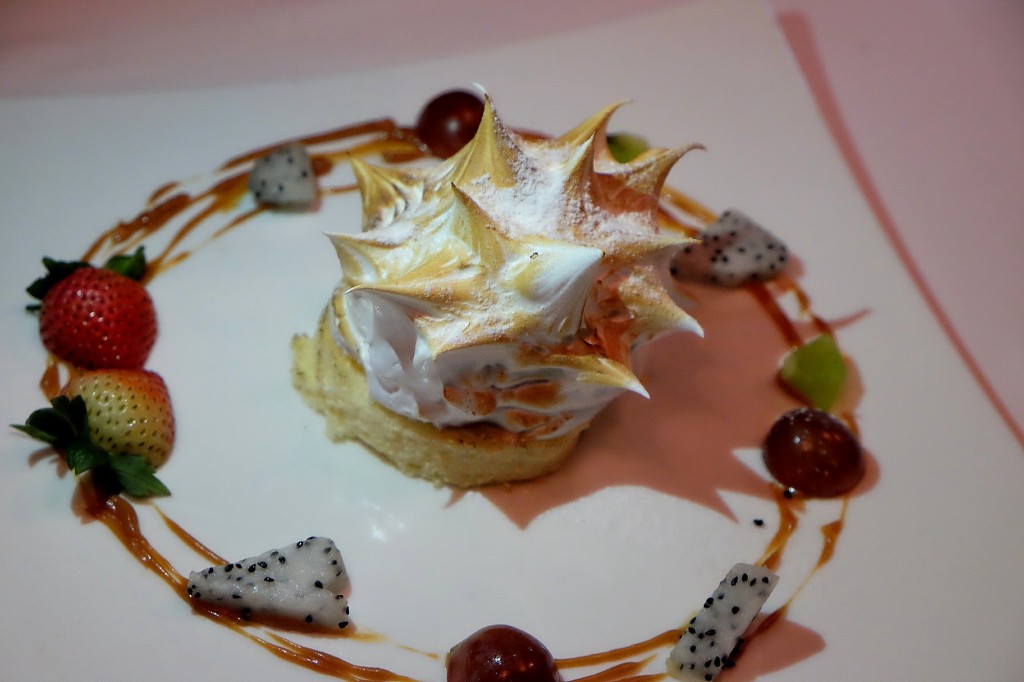 Baked Alaska – vanilla and raspberry ice cream under a baked meringue
If you are in the mood for a fine meal of wagyu beef and foie gras without all the pomp and circumstance of a fine-dining outlet, head over to the sumptuous buffet dinner at Espresso. The bistro in Intercontinental Hotel serves fairly international fare. You can expect free flow of the luxurious ingredients from the cooking station alongside array of seafood and assortment of sashimi and sushi.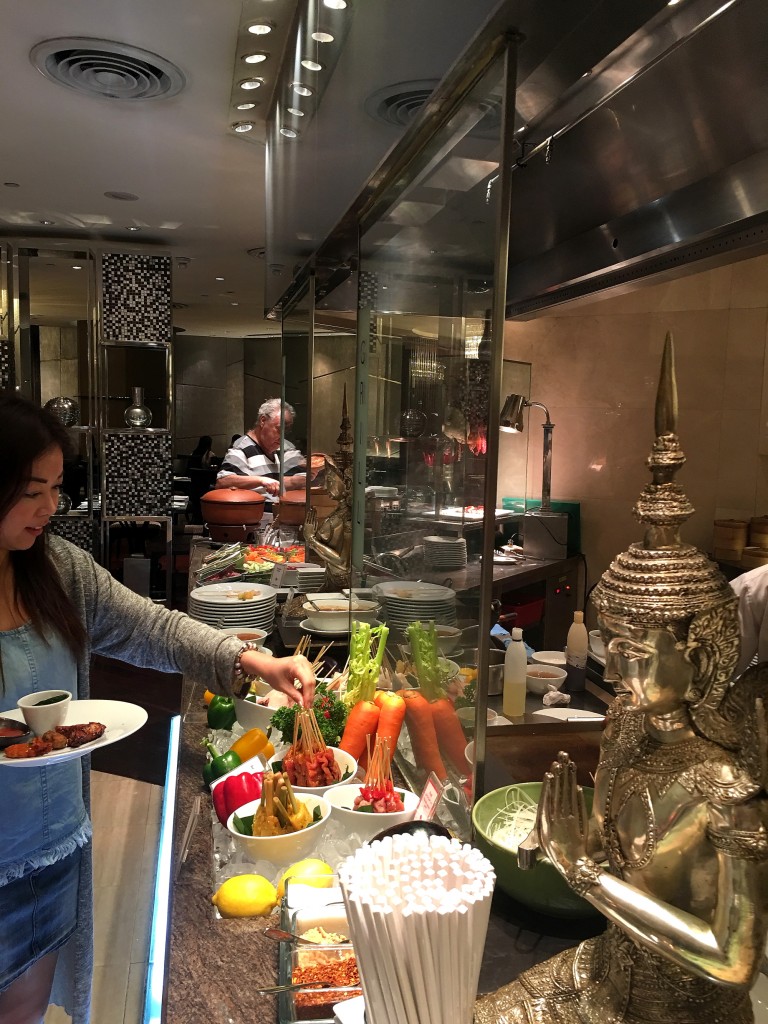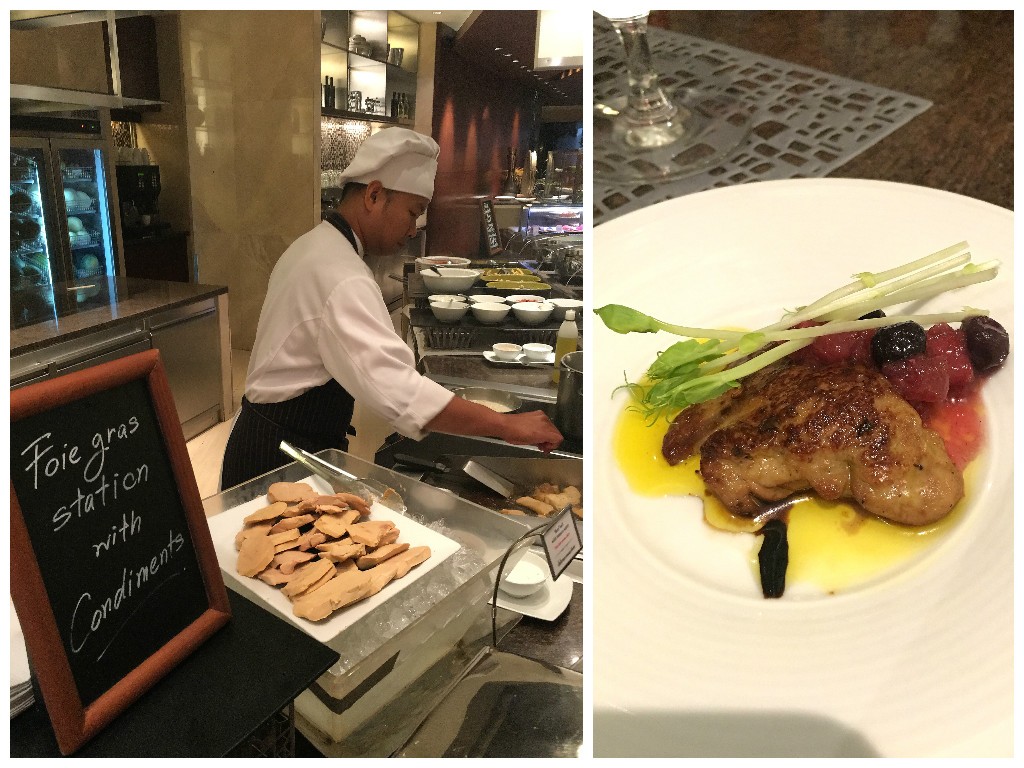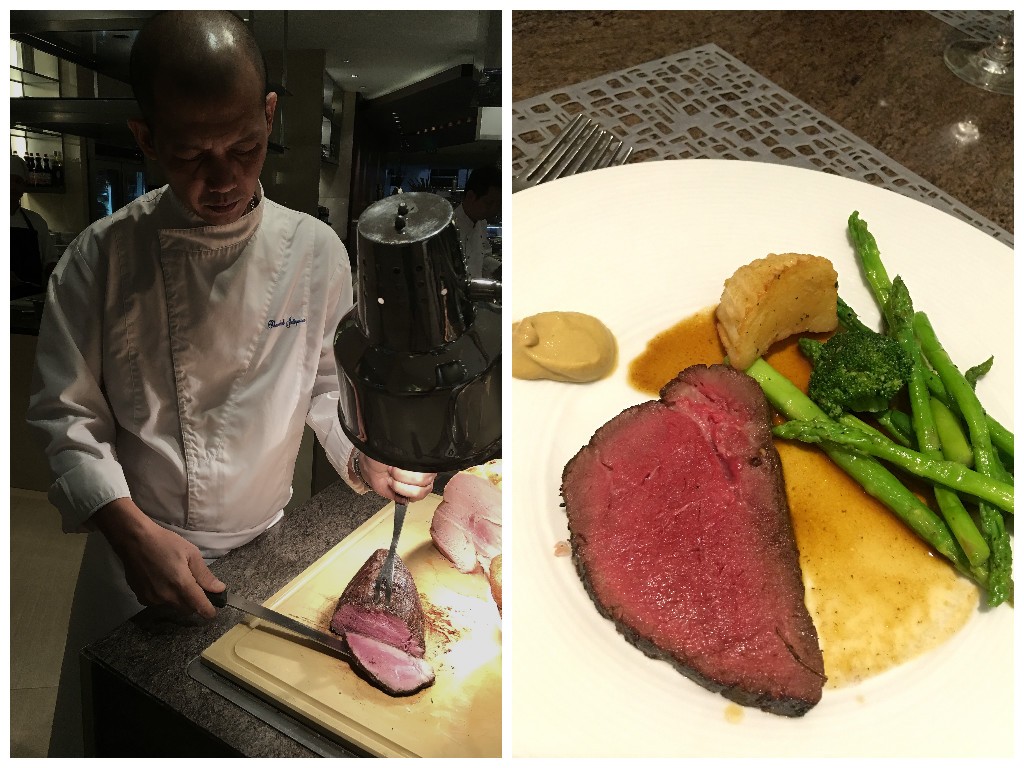 A section of Espresso at Intercontinental Hotel
When night falls, dressed fashionably and venture out to the world's first VOGUE Lounge. Located on the six floor rooftop of Mahanakhon Cube, the chill-out space with indoor area and vast al fresco terrace welcomed its first visitors in 2014. Its interior boasts a classic tricolour scheme of black, white and gold, with walls adorned with the brand's expressive fashion & lifestyle magazine covers. On the other hand, the al fresco terrace is a perfect spot to chill amidst the nearby towering Mahanakhon Tower.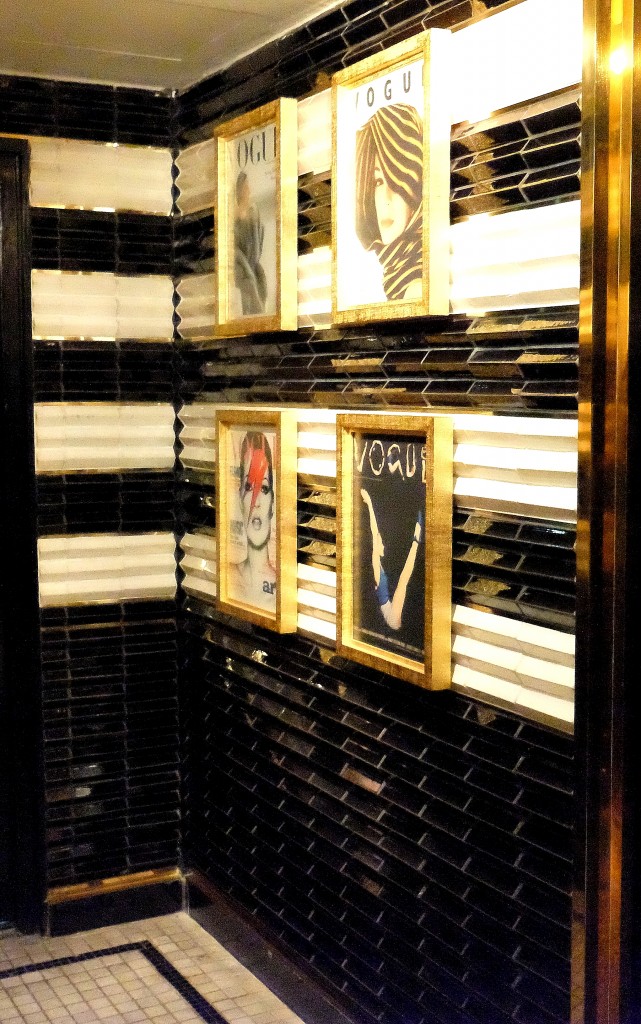 Wall adorned with the brand's expressive fashion & lifestyle magazine covers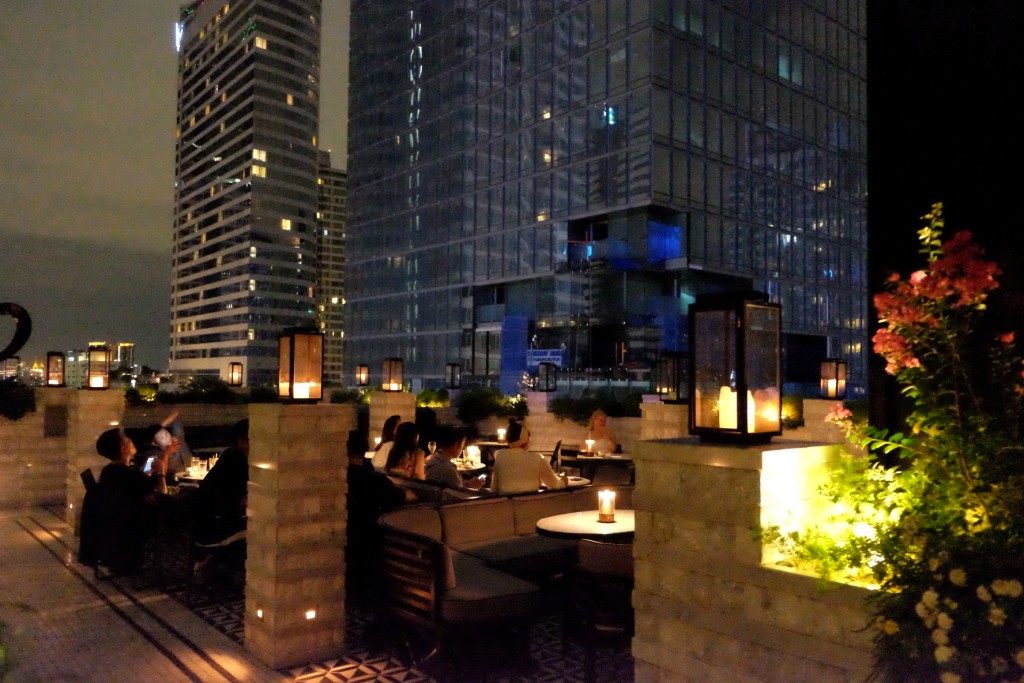 Al fresco terrace right beside the Mahanakhon Tower
For food and drinks, savor classic cocktails, fine wines and fashion bites created by Michelin award winning chef Vincent Thierry. I am drawn to the mini salmon cones with soft delicate salmon tartar accented by fresh salmon roe, almonds and zesty horseradish sauce.
Menu with offerings of cocktails and wine, and a procession of small bites
Comte cheese smoked bacon beef burger 650THB
Beef skewers – rich Australian tenderloin with homemade BBQ sauce 1,250THB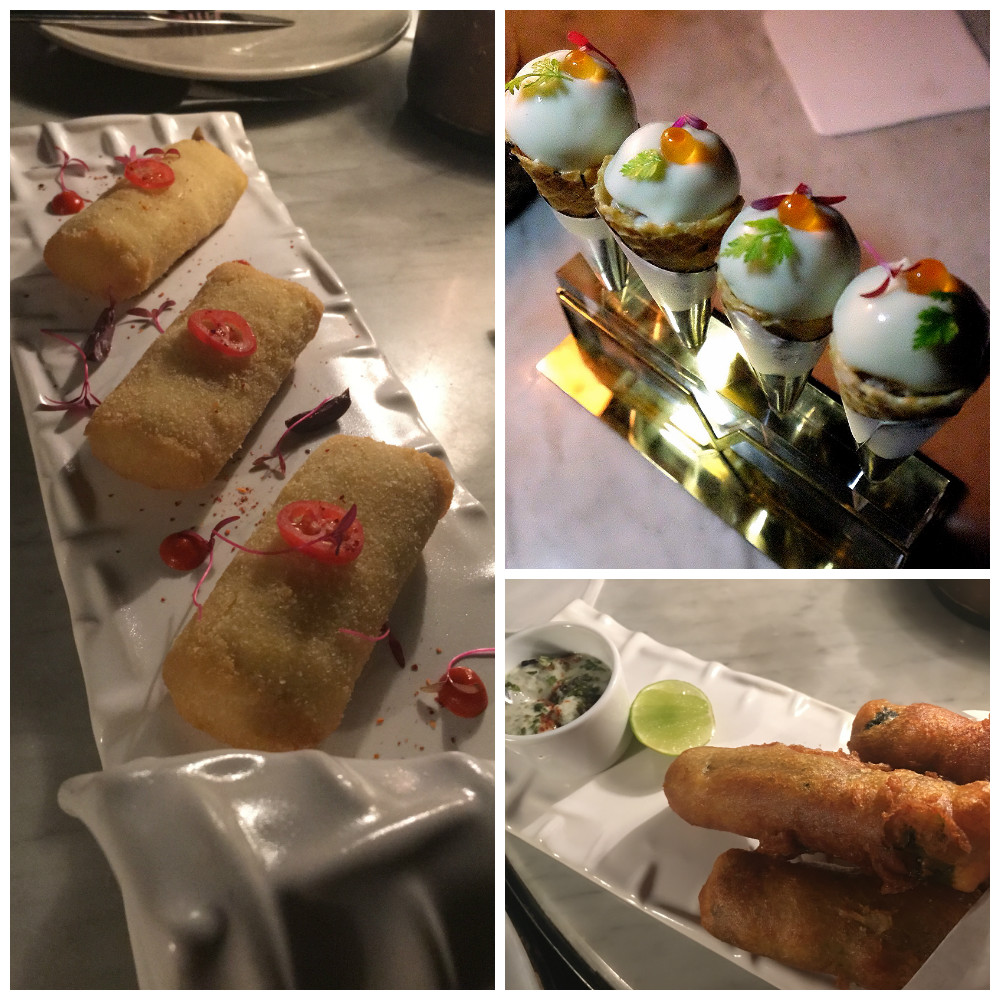 Goat's cheese cannelloni, salmon cones and crispy salmon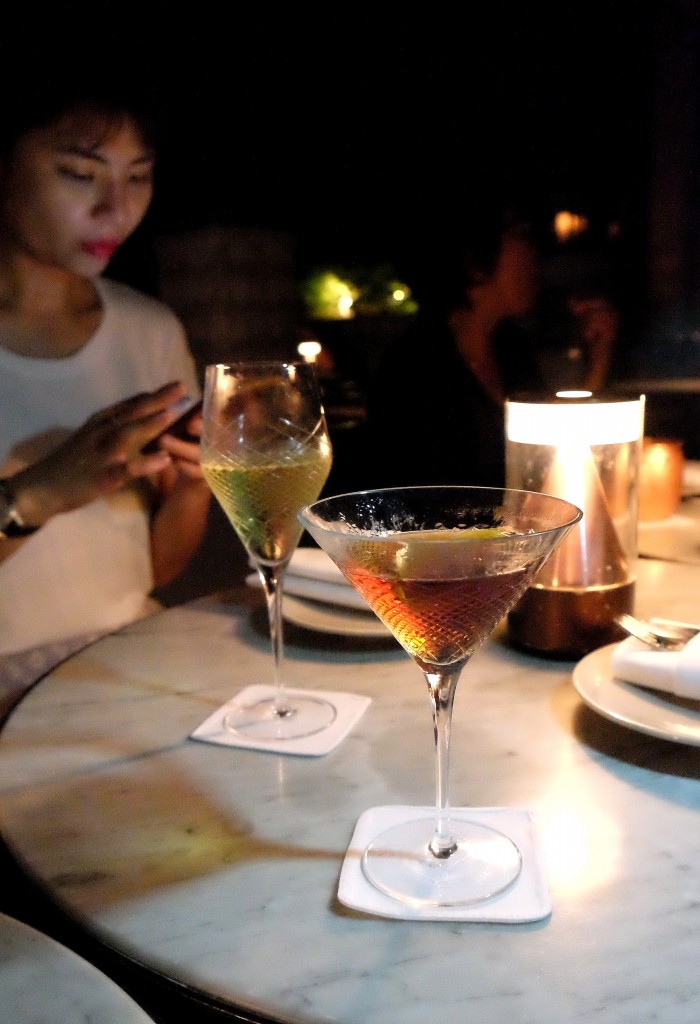 SPA & WELLNESS
No trip to Bangkok is complete without spoiling yourself with spa treatments. In the kingdom of beauty, health and pampering, one can visit the many spas and health centers that care for your body, mind and soul.
Let Diwana Nurture Spa, and RarinJinda Wellness Spa Resort be part of your pampering journey. At both outlets are spa a la carte menus where one can pamper with custom-designed treatments. After the treatment, you will find yourself sipping tea and enjoying fresh fruits.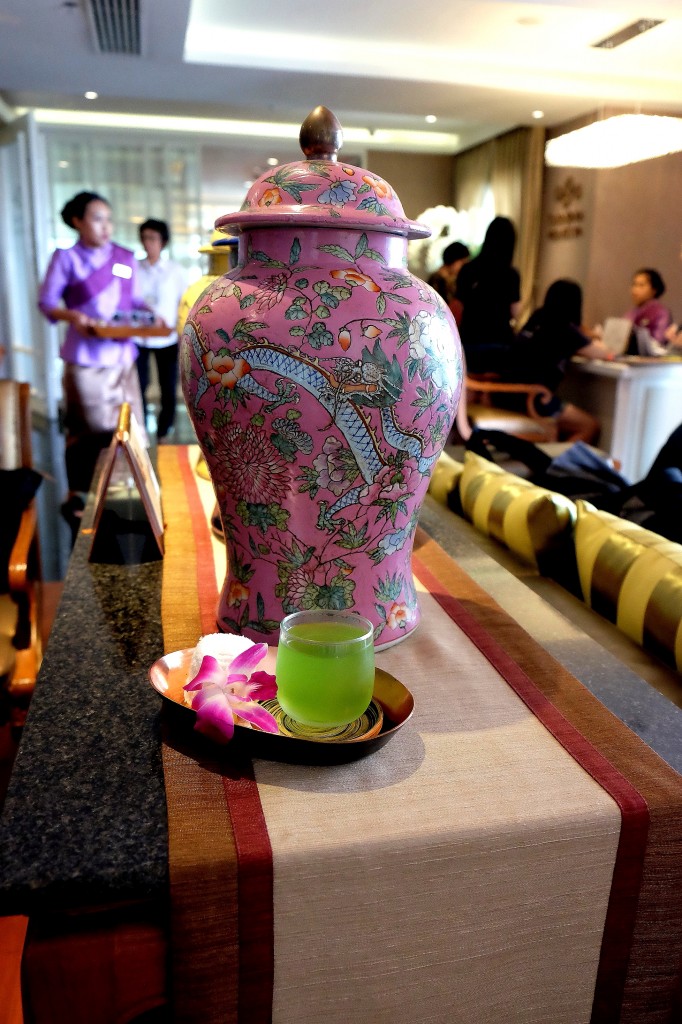 A pampering journey at RarinJinda Wellness Spa Resort
Unforgettable massage experiences await at Diwana Nurture Spa
Health service and medical care centres are aplenty in Bangkok. The Vitallife Wellness Center, which is part of the Bumrungrad International Hospital, is one such place that can accommodate your health needs. Packages for health screening are offered to suit your needs. Here is also where you can get tailored vitamins and supplements to assist in revitalizing aging and also PRP platelet rich plasma treatment.
CULINARY CLASSES
There are so many top culinary classes in Bangkok whereby visitors can pick up some cooking skills. Enrol yourself in one of the cooking classes and learn how to dish out some Thai delicacies. With a visit to Naj Cooking School on Thanon Convent, just off of Silom Road, one can prepare the tom yum goong, pomelo salad and phad thai with surprising ease under the guidance of Chef Ohmmy Ayasanond.  At the end of the class, it is a feast of cooked dishes spread on the table in its lavishly decorated restaurant.
We enjoyed the phad thai; a dish of lightly charred flat rice noodles, with shrimps, chopped sweet turnip, garlic, tofu, and egg, accompanied by Chinese chives, bean sprout, crushed peanuts and lime wedges. Its sweet-tart flavors are accomplished using tamarind juice, fish sauce and palm sugar.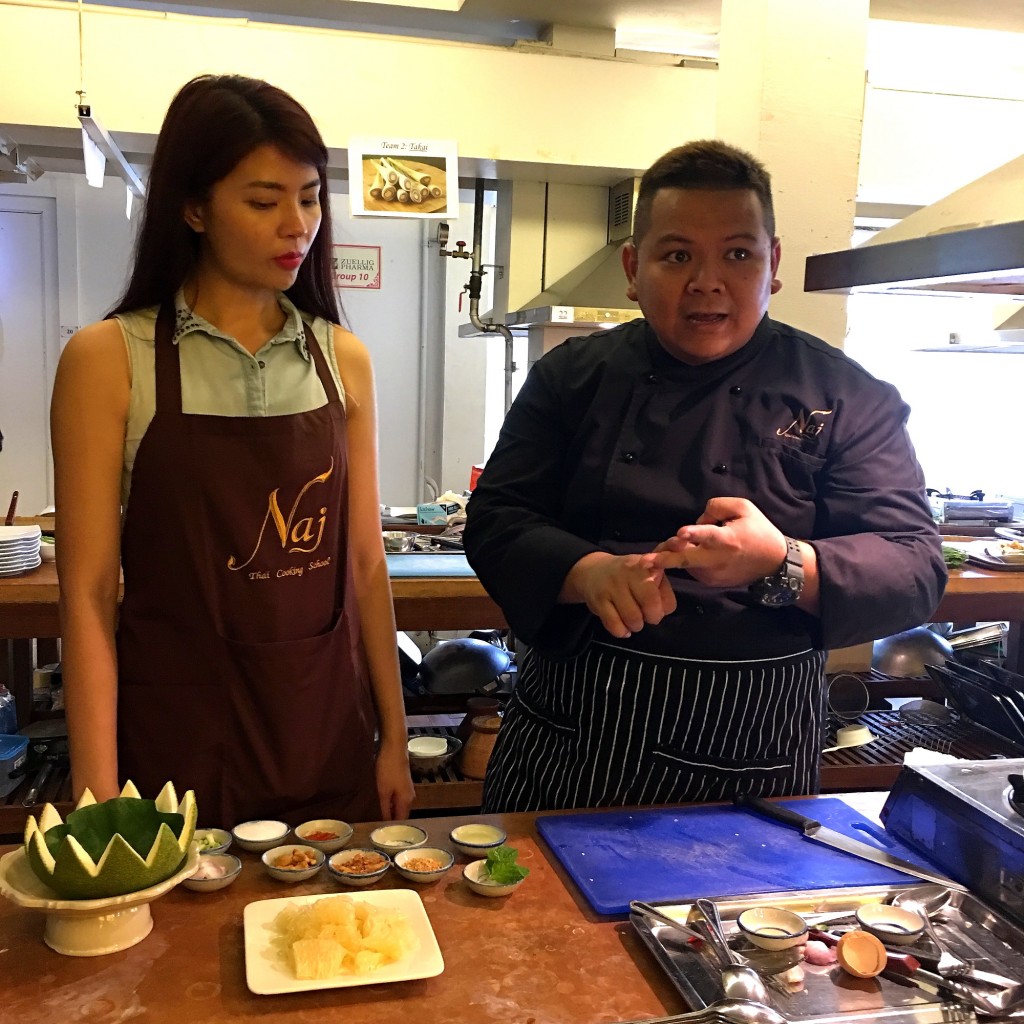 Take up a cooking lesson at Naj Cooking School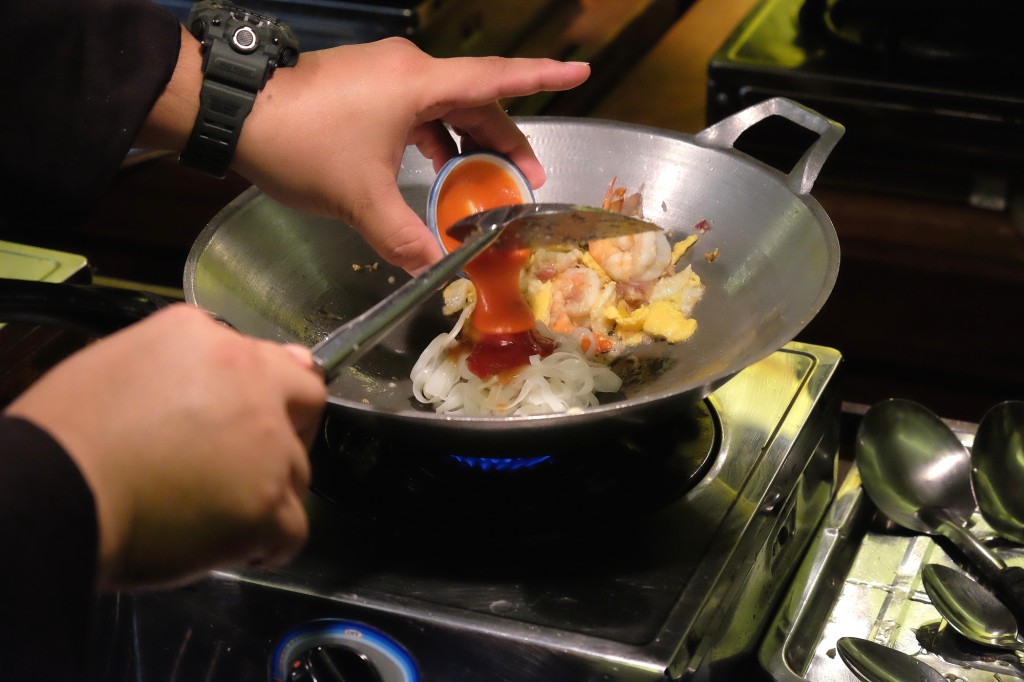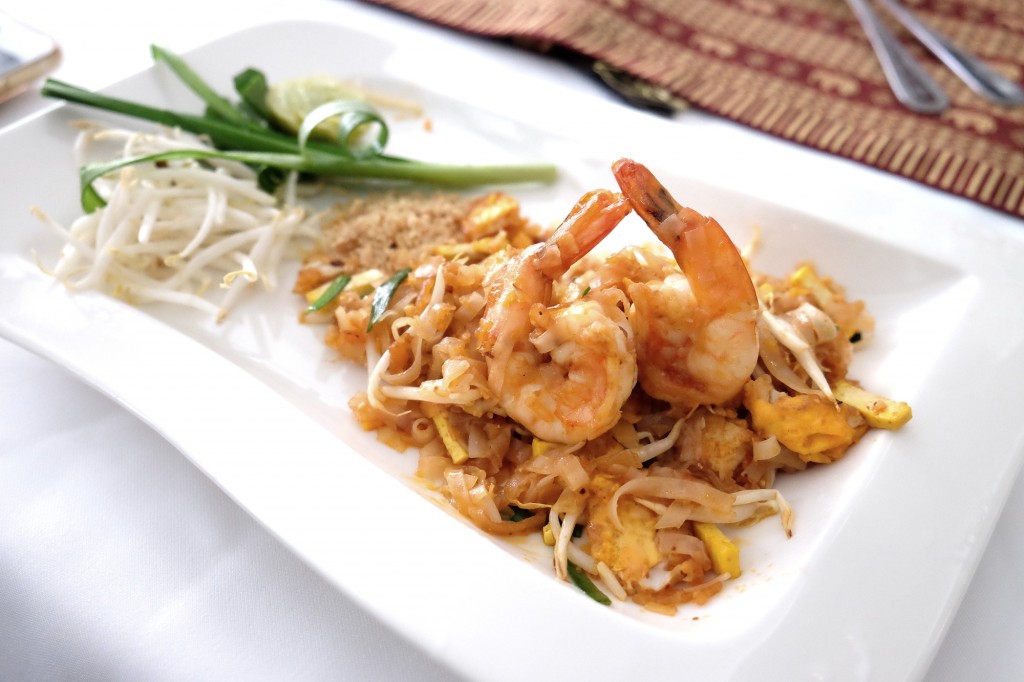 A must-try dish in Bangkok – phad thai
All in all, my Bangkok experience basking in luxury gives me much lasting pleasure. Even before I reached my home destination, the facilities inside the Suvarnabhumi Airport departure lounge are enough to keep me comfortable and satisfied.
* This is a reproduction of a part of my article published in Essenze Magazine Vol.46 – 17