Dim Sum @ Golden Phoenix, Hotel Equatorial Penang
Dim Sum @ Golden Phoenix, Hotel Equatorial Penang
The best way to spend the weekend after a busy working week is a 'yum cha' get-together with family and friends. Location of choice is Golden Phoenix 金凤楼 at the comfortable location of Hotel Equatorial Penang.
Golden Phoenix decorated in rich oriental celebrate the abundance of new pork-free items by dim sum chef Vincent Tan, a chef with over 10 years of skills and expertise. Along with his team, they created a total of 34 varieties – some steamed, some deep-fried and baked using fresh seafood, meats and vegetables.
You won't find any serving carts at Golden Phoenix. The items are listed on the menu and the food are served piping hot right from the kitchen to the table.
There are a variety of freshly steamed dumplings and it includes har kow (crystal dumpling with prawn) and siew mai (chicken meat wrapped in wanton skin). For a luxurious and premium touch, the 鮑魚仔燒賣 Bao Yu Zai Siew Mai (mini abalone siew mai) prepared with chicken and prawns made its special appearance on the menu.
Currently there is a free mini abalone siew mai promo (3 pieces), valid for dine-in-lunch for the whole month of July 2017. If you wish to grab hold of the plump morsels which offer a touch of decadence, just:
1. LIKE EQ dim sum post at https://www.facebook.com/hotelequatorialpenang/
2. SHARE the post on their FB page
3. Then FLASH the post to Golden Phoenix supervisor to claim the mini abalone siew mai
鮑魚仔燒賣 Bao Yu Zai Siew Mai (mini abalone siew mai)
One can also indulge in its 腊味韭菜餃 Lap Mei Gao Choy Gao, served in a square wooden steamer. The steamed dumpling with lightly seasoned ground chicken meat is packed with green chives and just enough richness of rose wine flavored Chinese chicken sausage to bring out its flavor.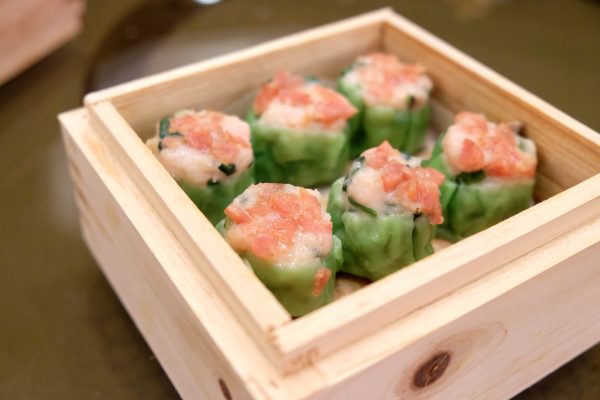 腊味韭菜餃 Lap Mei Gao Choy Gao RM13 (chive dumpling with chicken sausage)
Another speciality is the 鮑汁鮮竹卷 Sin Jook Guen – deep-fried beancurd roll with filling of  minced chicken, mushrooms and bamboo shoot. The crispy roll offers soft biting sensation, especially when dipped in the abalone sauce.
鮑汁鮮竹卷 Sin Jook Guen RM12 (deep-fried bean curd roll with abalone sauce)
Do not missed out on the 紅油鮮蝦水餃 Hong Yao Shui Gao. The fat parcels of meat prepared by Chef Vincent and Chef Denis Wong arrived at the table topped with a concocted
Chef Vincent Tan (left) and Chef Denis Wong
紅油鮮蝦水餃 Hong Yao Shui Gao RM16
The Lor Mai Fan (steamed glutinous rice) nicely bundled up with an egg crepe surprises and delights in a different way. The glutinous rice is slightly chewy and there are nice crunch from the sprinkling of deep-fried shallots, spring onions and sakura ebi on top. This is one of those comfort foods.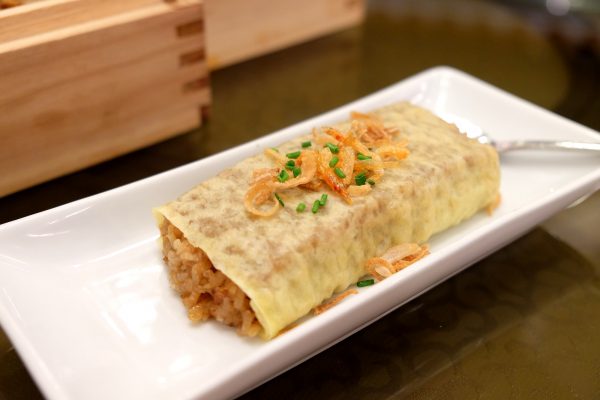 Lor Mai Fan RM15  (steamed glutinous rice)
For those who never had 煎狗不理包 Gao Bat Lei Bao, this would be a choice to try. The fluffy pan-fried chicken bun covered with black and white sesame seeds is tasty having absorbed the flavors of the chicken filling.
煎狗不理包 Gao Bat Lei Bao RM12 (pan-fried chicken bun)
Golden Phoenix also has a number of deep-fried dishes to offer in addition to the steamed items. The deep-fried scallop and kataifi prawn, and the deep-fried turnip cake with Chinese chicken sausage are featured in long plates along with dipping sauce. The steamed turnip cake made from grated radish, rice flour and Chinese chicken sausage, is pan-fried. Each rectangular piece has a soft creamy interior and is slightly crisp on the edges.
The standout is the deep-fried scallop and kataifi prawn where diners can appreciate the combination of seafood with crunchy strings of kataifi.
帶子龍鬚卷 Long Shou Guen RM24 (deep-fried scallop and kataifi prawn) &
蘿蔔糕 Lo Pak Gou RM12 (deep-fried turnip cake with Chinese chicken sausage)
For an all-time favorite, tuck into some deep-fried juicy prawn dumpling. Sealed with a row of tiny pleats, the dumpling is best eaten with the mayonnaise dip.
沙律蝦角 Sa Lut Har Gok RM16 (deep-fried prawn with mayonnaise)
These little works of art are best pair with Chinese tea, the traditional accompaniment to a dim sum meal. Golden Phoenix offers many types of tea with common favorites such as oolong, chrysanthemum, ti kuan yin, jasmine and pu er.
To round off the meal, go for choices of honeydew with sago, daan tart, deep-fried Chinese pancake, and chilled mango pudding with strawberry and blueberry. The flaky daan tart is a healthier version where olive oil and soya bean milk replaces the butter and milk. The dish priced at RM12 comes with three tarts.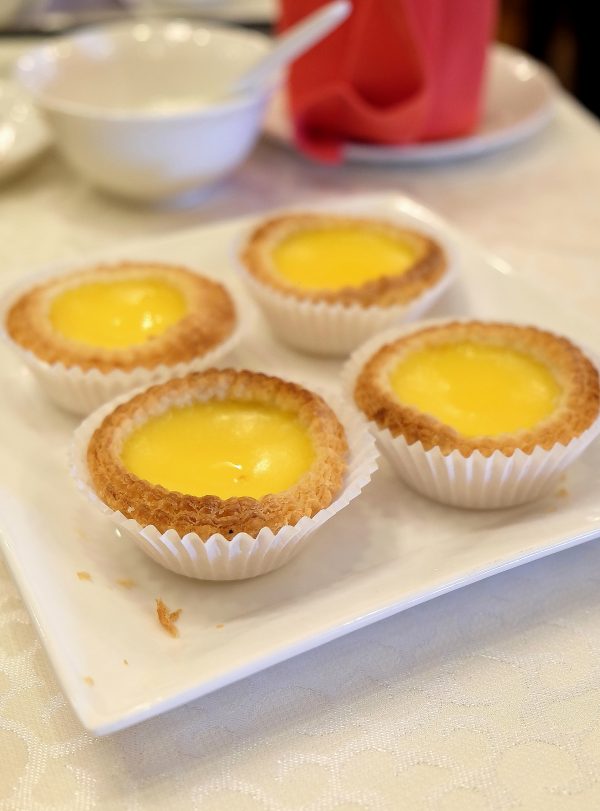 Daan Tart RM12 (egg tart)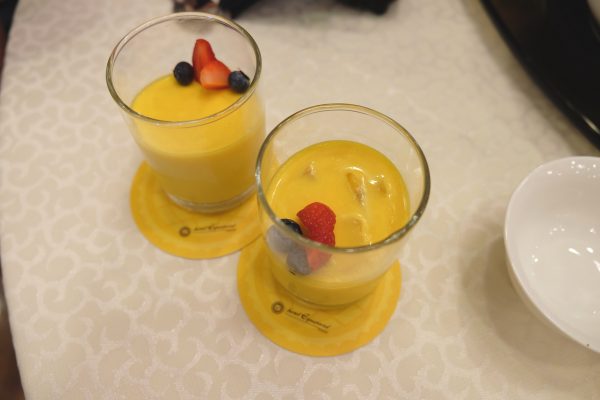 芒果布丁 Mong Go Bou Din RM11 each (chilled mango pudding)
The specialty dim sum menu is available on Mondays till Fridays from 11.30am to 2.30pm, and from 8am to 2.30pm on Saturdays, Sundays and public holidays.
For reservations, contact 04-6327000.
Golden Phoenix
Hotel Equatorial Penang
1 Jalan Bukit Jambul
11900 Bayan Lepas
Penang
* Food portion served may vary as this is a review.