Japanese Buffet Dinner @ Spoon Cafe, G Hotel Kelawai, Penang
Japanese Buffet Dinner @ Spoon Cafe, G Hotel Kelawai, Penang
Bring your family, friends and loved ones for a delicious Japanese themed buffet dinner at Spoon Cafe. The contemporary and stylish cafe located at level 2 in G Hotel Kelawai is offering the buffet dinner with fully-fledged Japanese cuisines.
Executive Sous Chef, B.K. Ong and his team had ingredients transformed into delightful renditions without the use of MSG and alcohol (in compliance to Halal's requirements). There is the colorful mix of sushi, sashimi, tempura, cooked dishes and Japanese desserts.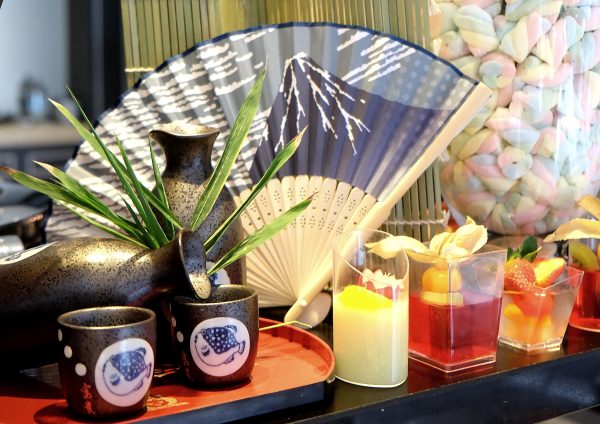 "The main rule with the food is not to be served in large quantities but instead dished up in small portions and with replenishing promptly done," shares director of communications Christina Tan.
On the whole it's a good option as it further enhances the freshness of the food.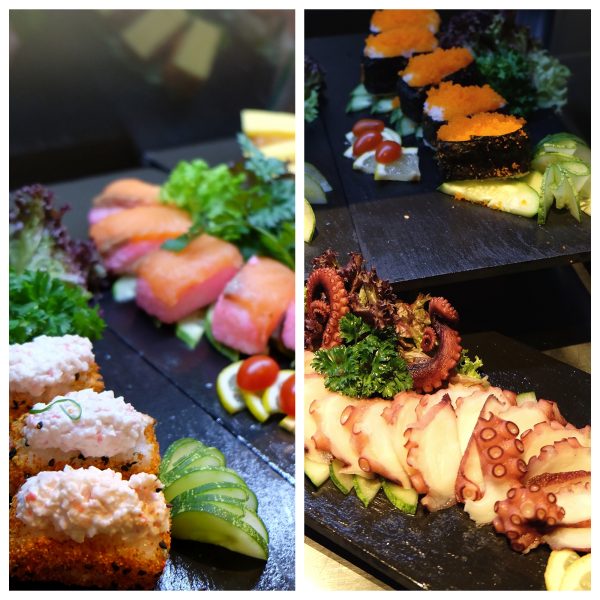 Assorted Sushi, Octopus and Sashimi
The salad counter offers a selection that includes seafood salad, Japanese salad with plum dressing, lotus root salad, kimchi salad and green salad. A bit of each brings out a refreshing bite.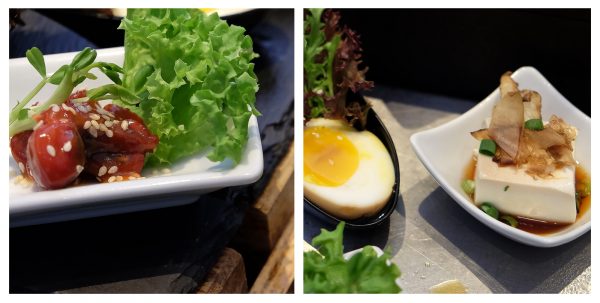 Lies glistening on a bed of ice is a variety of seafood. You will see a selection of  tiger prawns, mussels and scallops. On the higher side sits plates of cold cuts.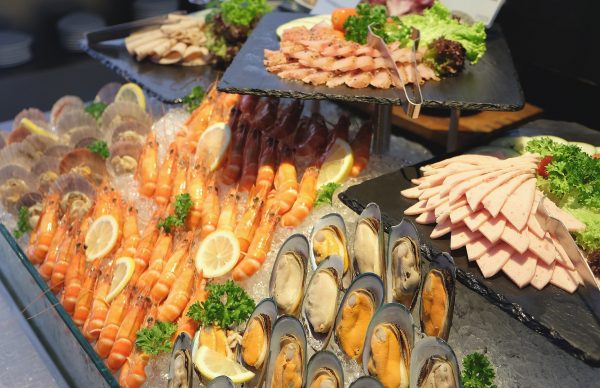 For those who might choose to have a soup, there is the Miso Shiru and the Sake No To-nyu Jiru. The latter is a rich creamy salmon miso soup with pieces of salmon swimming in it.
In addition to the soups, there is an array of cooked dishes with robust flavors of the country. Among them are the Salmon Teriyaki, Japanese Cheese and Mayo Baked Mussel, Tori MIsoyaki, Oden, Japanese Curry and the Dofu Dengaku flavored with nutty, sweet and salty flavors of miso sauce.
The dishes can be enjoyed with Ninniku Yaki Meshi (garlic fried rice) or steamed white rice.
Oyster Motoyaki
Salmon  Teriyaki
Buttered Baby Bean, Daikon and Edamame
Dofu Dengaku – beancurd with miso sauce
Spoon Cafe has a section dedicated to tempura. Fans of the Japanese deep-fried seafood and vegetables can look forward to lightly battered prawns, squid, fish, and even brinjal.
At the carving station is the Baked Seabass with Japanese Curry Remoulade. The seabass tasted fresh and goes well with that creamy smooth remoulade, a wonderful medley of mayonnaise and curry.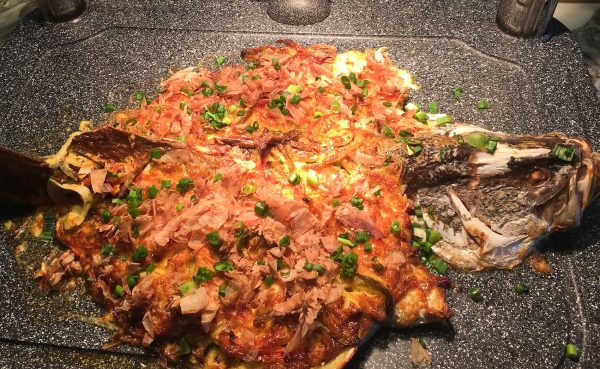 Baked Seabass with Japanese Curry Remoulade
At the live action station, feast your eyes at the chef while he prepares teppanyaki dishes using shrimps, boiled scallops, mushrooms, leek, ramen and tender slices of beef and lamb.
Desserts come in the form of mouth-watering cakes, pastries, and ice cream in Japanese flavors. A chocolate fountain with assorted fruits is also in sight.
Some unusual Japanese delicacies also make an appearance, notably the Mizu Yokan, Purin, Goma Cheese Maki, Green Tea Cheese Cake, Dorayaki, Green Tea Red Bean Mousse and Hokkaido Cup Cake.
In addition, the Zenzai Soup offers traditional thick sweet red bean soup with mochi filled with black sesame paste.
Mizu Yokan
The Japanese Buffet Dinner is available every Friday and Saturday from 6.30pm to 10.30pm, and it comes in at a wallet-friendly RM105 per person. Children from age 6 to 12 years old and senior citizens 60 years and above can enjoy the meal at RM78. Guests can opt for free flow of house beer or wine by just adding on RM65 per person.
Besides wines there are soft drinks, beer, mocktails and cocktails. Spoon's heritage cocktails include playful names like Chili Lada and Lychee Smash. For those who are curious about the signature Pomegranate Mojito – it is a concoction made from spice rum, pomegranate syrup, soda water, fresh mint and refreshing lime.
Pomegranate Mojito
Other than the Japanese buffet dinner, Spoon Cafe is also offering their International Buffet Dinner at a promotional price of RM75 per person from Sunday to Thursday. Children 6 to 12 years old and senior citizens aged 60 years and above get to enjoy the meal at RM60.
For more information or reservation, call 04- 2190000.
G Hotel Kelawai
2 Persiaran Maktab
10250 Penang
* Many thanks to G Hotel Kelawai for extending this invitation